The Golden Rock at Kyaiktiyo is one of the nation's most revered Buddhist pilgrimage destinations — and a market near the sacred site is a thriving outlet for the wildlife trade.
Words & Photos KATIE ARNOLD | FRONTIER
Ma Thin Thin* has one of the most enviable commutes in Myanmar. Each morning she passes the Kyaiktiyo Pagoda as the first rays of sunlight caress the delicately balanced rock. She has taken the same path for the last 20 years and no longer stops to marvel at the sacred Buddhist site, preferring to head straight for Kyaiktiyo's other main attraction.
Hugging the cliff face below the Golden Rock is a narrow market which loops from one end of the pagoda to the other – a long, meandering thoroughfare of steep steps and precariously placed market stalls. 
Children scramble over each step using every available limb, monks scurry past with there crimson robes tucked between their legs and the elderly cling to the wooden bannisters, wondering if the traditional medicine shops selling colourful remedies and exotic animals are worth all this effort.
It is a captive market for Thin Thin's most popular product, a medicinal ointment made from animal juices and used to treat aching muscles. 
"Rub this in and it will take the pain away in just three minutes," she says, while massaging the oil into the thigh of an exhausted woman. 
The oil is rendered from the decaying remains of deer, monkeys, pigs and other wild mammals which ferment in a black cauldron in the centre of her shop. The juices are sieved through a web of animal fat and herbs, which give the ointment a pleasant aroma. 
Beside the oil is a tiger skull – or so Thin Thin says, python skins are draped over the shop's display and a box at the front of the stall sells elephant bone to those suffering from a brain tumour.
"There are 54 Kayin villages near to the market where I buy my animals," says Thin Thin, "everyone knows they are the best hunters in Myanmar."
The Protection of Wildlife and Conservation of Natural Areas Law prohibits the "killing, hunting, possessing, selling, transporting, wounding or exporting" of all protected wildlife. 174 species are protected by this law and 103 are classified as endangered according to the IUCN Red List, compiled by the International Union for Conservation of Nature. 
The maximum penalty for breaking this law is seven years in prison or a fine of K50,000 (US$42). This fails to act as a deterrent when one python skin can sell for K70,000.
The forestry department inspects Kyaiktiyo market every few weeks but rarely finds any criminal activity.
"By the time we have travelled the 9.5 miles from our office to Kyaiktiyo they have already hidden their goods because there is spy network operating along the road" says conservation officer U Nyunt Aung, "We know they are selling it but we cannot do anything because we do not see it when we visit."
And the Kyaiktiyo authorities are not the only ones struggling to tackle Myanmar's illicit wildlife trade. In 2015, the forestry department detected just 33 wildlife crimes across the country.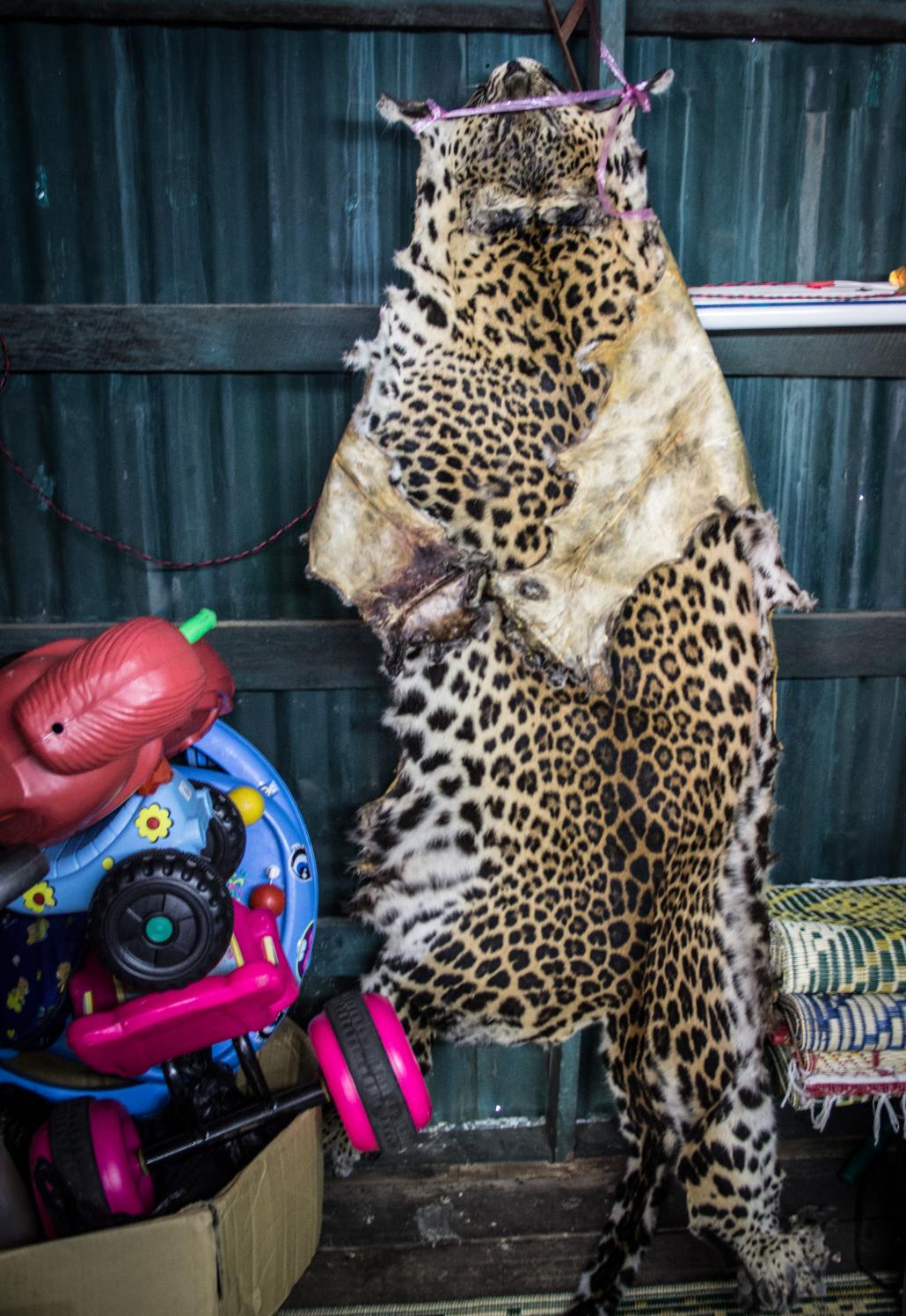 According to Nyunt Aung, it is the pagoda authority that prevents them from enforcing the law in Kyaiktiyo. 
"The main problem is the management, we need to convince them that they should be working with us to help remove any illegal businesses," he says.
The pagoda authority are responsible for registering and monitoring all economic activity conducted on pagoda property.
"The herbal and traditional medicines that you see for sale have been used since our ancestors' time and allowed by the management," says U Htay Win, chairman of the pagoda board of trustees. 
While he also said that only 10 shops practice traditional medicine in Kyaiktiyo, a quick count along the main thoroughfare revealed at least 35 outlets. 
The traditional medicine industry is controlled by the Traditional Medicine Council Law and the Traditional Medicine Drug Law, introduced to "enable the public to consume genuine, quality, safe and efficacious traditional drugs." 
Licenses are only granted to practitioners who have obtained a diploma or bachelors degree in traditional medicine. All the traditional drugs have to be registered and the manufacturers must have licenses to produce their products.
Ko Kyaw Zaw*, 25, is one of the youngest traders at Kyaiktiyo market. He practices traditional medicine with an official license from Nay Pyi Taw, issued after his graduation two years ago. 
His remedies however, have already deviated from the official textbooks. One of his most sought after products is the gall bladder of Burmese python, a bitter tasting sack of bile which must be consumed whole upon the onset of a stroke or seizure.
"Because of the forest law we are not allowed to kill or sell these sorts of wild animal" he admits. "We are only meant to sell traditional herbal medicine but we have an understanding with the authorities which means we can sell them."
The Myanmar Traditional Medicine Practitioners Association estimate that there are over 10,000 practitioners across the country, yet little is known about the impact the industry is having on wildlife populations. 
Only one conservation group has surveyed Kyaiktiyo market – and that was 15 years ago. Other research on the consumption of wildlife in Myanmar has been limited in its geographical scope. 
"Large volumes of threatened species are blatantly and openly being traded on the domestic market but we don't really understand what the wildlife is being sold for, or what group of people are buying them," said Chris Shepherd, regional director of TRAFFIC South East Asia. "Not enough attention is being given to the local consumption of wildlife even though it probably poses a major risk [to wildlife populations]."
Kyaw Zaw says the majority of wildlife on sale in Kyaiktiyo is consumed in Myanmar. "The main thing is not to sell them for foreign margins, that would be illegal."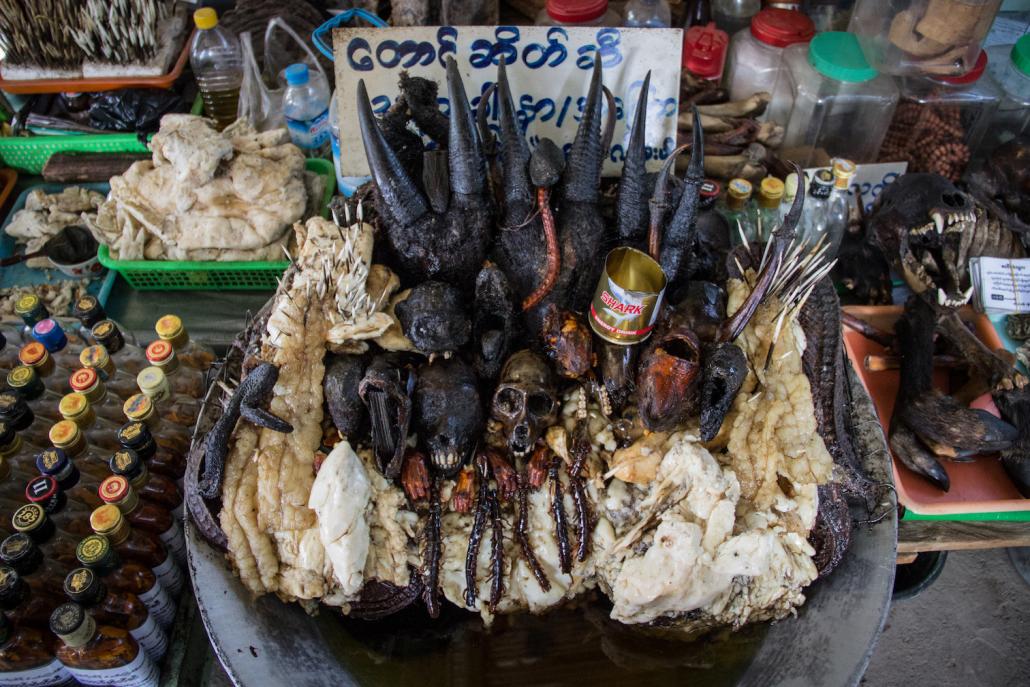 But prices rise as one travels deeper into Kyaiktiyo market. Ko Win Aung's* trophy shop is conveniently located at the bottom of the thoroughfare and can only be accessed by descending hundreds of steps. 
His exotic goods would look more at home in the northern border town of Mong La than Kyaiktiyo. Leopard and bear hides adorn the shop walls and a marbled cat is poised, ready to pounce in the centre of the shop – a victim of bad taxidermy as well as poaching.
"No photo," he shouts, as some tourists pointed their cameras toward the crooked cat. "If the authorities see any photos online then we get called to the office and told off."
Unlike his rivals further up the market, Win is not selling to local pilgrims. A foreign buyer recently purchased a leopard hide for K800,000 and hanging from the shop roof is a dried tiger penis, an aphrodisiac that is highly sought after in China. Kyaiktiyo, it seems, is already on the map for global trafficking syndicates. 
Business in Kyaiktiyo will continue to thrive until the law is effectively applied. But current attitudes suggest that might not happen until it is too late. 
"The number of customers has always remained about the same," says Thin Thin as she closes shop at the end of another successful day. "But it is getting harder to source animals. Sometimes we have to go a long time without getting anything new."
*Names have been changed. Top photo: A sign advertises python bones and gall bladders for use in traditional medicine — while another warns against taking pictures. (Katie Arnold / Frontier)