Workers and activists allege a crackdown on organised labour in Yangon's garment factories, including those supplying major European brands.
By KYAW LIN HTOON, NIKOLAJ HOUMANN MORTENSEN and PHYO THIHA CHO | FRONTIER
When Frontier met Ma Thin Thin Aye in December, the 33-year-old single mother from the Ayeyarwady Delta was trying not to think too hard about the future. She had two children and an elderly mother to care for, and had lost her job three months previously at the Infocham garment factory in western Yangon's Hlaing Tharyar Township. Since then, she had applied for jobs at four other factories but had yet to be called for an interview.
Thin Thin Aye had chaired the small labour union – known in Myanmar as a basic labour organisation – formed by workers at the Infocham factory, which is contracted by Myanmar Pou Chen Co, Ltd to manufacture logos for footwear supplied to global sportswear brand Adidas.
As demands on the workforce became more unreasonable, Thin Thin Aye and other senior workers tried to negotiate better conditions with the mostly Chinese factory administration.
"They forced the workers to carry loads even though they were employed as machine operators and silk-printers. They were not general labourers. And there was also rude and sometimes violent language used in the workplace," explained Thin Thin Aye.
The requests made by Thin Thin Aye and her colleagues ranged from graded bonuses for workers conducting more skilled tasks to partitions between male and female toilets. Because they believed managers were not negotiating with them seriously, they formed a union on July 29 last year, claiming to represent all 62 workers at the factory. On September 11, Thin Thin Aye and three other leaders of the union were summarily fired.
European brands implicated
Thin Thin Aye's case is not unusual, according to labour rights activists, who say that harassment and the unfair dismissal of workers who become actively involved in labour union activities is commonplace in the footwear and garments sector. Moreover, those who are fired for labour activity often find it difficult to find jobs at other factories, with some suspecting that factories share information on workers they consider troublesome.
What is notable, though, is that the practice appears to still be occurring at factories supplying a range of major European brands and retailers, despite these companies having policies in place that explicitly acknowledge workers' right to unionise.
The brands include not only Adidas but also global discount supermarket chains Lidl and Aldi, and Bestseller, a privately owned Danish clothing retailer and wholesaler.
An investigation by Frontier, in partnership with Danwatch, an independent investigative news organisation from Denmark, and Myanmar Now, has found evidence of discrimination against leaders of basic labour organisations at six garment factories across Yangon supplying the four brands.
The investigation also uncovered evidence supporting a range of other complaints, including inadequate time for toilet breaks and the regular use of abusive language by supervisors. Many of these practices are in violation of the brands' policies, and in some cases appear to be breaches of Myanmar law.
"The way some factory administrators are treating basic union [workplace] leaders and workers is unacceptable and in clear breach of the right to freedom of assembly and of association," said Confederation of Trade Unions of Myanmar executive committee member Daw Khaing Zar Aung.
Frontier contacted each of the brands in question. All said that they had investigated the allegations and were taking steps to address them, including holding meetings with suppliers.
In some cases they had referred suppliers to SMART Myanmar, a European Union-funded project that supports the sustainable consumption and production of garments that are made in Myanmar, by focusing on better use of resources and greater social responsibility.
The allegations come at a time when Myanmar's US$2 billion garment sector, whose exponential growth has been a rare economic success story, is threatened by the EU's decision to review Myanmar's duty- and quota-free access to the European market, where the bulk of garment exports are currently destined, because of allegations by United Nations investigators of grave human rights violations in Rakhine, Kachin and Shan states, and concerns about labour rights.
On February 22, an EU mission concluded a second monitoring trip to gauge progress on human and labour rights indicators before deciding whether to revoke Myanmar's trade privileges under the Everything But Arms scheme.
Europe accounted for 47 percent of garment exports in 2018, according to figures from the Myanmar Garment Manufacturers Association, and that figure is expected to rise to 60 percent this year.
Mr Jacob Clere, team leader at SMART Myanmar, said that large European buyers have helped to raise standards in the sector by improving occupational health and safety and addressing issues such as underage labour, discrimination and forced labour.
Initially some brands and retailers offered inadequate support to their suppliers, he said, but more recently they had become more involved. "They're not just doing audits but trying to build capacity among their suppliers," he said.
But because the brands do not own or manage the factories, the conditions faced by people working for their suppliers can still vary significantly Clere said.
Tackling issues such as unionisation has been more difficult, however. Many of the factories exporting to Europe are owned and managed by foreign investors who have shifted operations from countries such as China and Vietnam, where trade unionism is essentially banned. Their knowledge of Myanmar's laws can also be inadequate.
Trade unionism is also new to Myanmar. When SMART started working with garment factories in 2013, there were almost no unions. "Everyone's trying to figure out their rights and responsibilities in this system," Clere said. "What's frustrating is to see so many unnecessary disputes that spiral out of control for unnecessary reasons."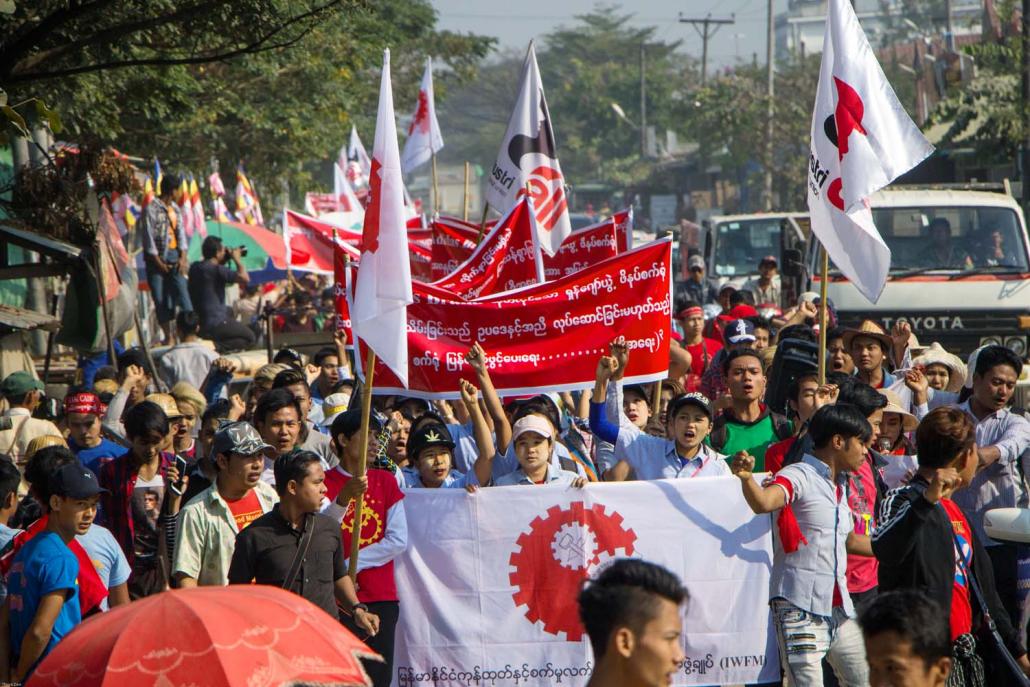 Strikes and crackdowns
The workers from the Fu Yuen garment factory had been on strike for 65 days when the owners sent in the thugs.
Nine rounds of negotiations at the township-level arbitration body had failed to reach any agreement on their 10 demands, which included increasing overtime rates and installing fans in the ironing department. The spark for the strike was the firing of 30 union members a week after the demands were issued. The factory remained open during the strike, as most of the 960-strong workforce continued working.
At about 7am on October 15, dozens of men armed with rubber truncheons and iron and wooden rods descended on about 200 workers who were gathered in front of the factory in the Shwe Pyi Thar industrial zone, on the northern outskirts of Yangon. Workers were badly beaten, as captured in videos whose contents were circulated on social and conventional media, with four hospitalised according to news reports.
Two weeks later, more than 30 civil society groups organised a march to City Hall to raise awareness about the incident. After the event, the 200 workers continued marching to the Yangon Region government office, where they were able to meet Yangon Region Chief Minister U Phyo Min Thein.
"We explained the situation well and emphasised that it was a breach of the law," said Daw Hla Ohnmar, one of the leaders of the factory's union.
Phyo Min Thein pledged to help resolve the conflict and arranged trucks to send the workers back to their strike camp. The next day, he visited the factory and negotiated with the owner, who agreed to re-hire the 30 union leaders. Finally, the strike was terminated.
While the workers are back on the factory floor, they have continued to press their other demands. Not only has the owner refused to fulfil any of them, union members are still facing discrimination, they say.
"The managers use threats to prevent non-union members from communicating with us. They've installed more CCTV cameras, even near the toilets," said Thet Htar Swe, the chairperson of the basic labour organisation at Fu Yuen.
When hiring new workers, the managers ask applicants whether they know union leaders. If they know or are related to a union leader, the factory won't hire them, she said. "Though they don't oppress us directly like in the past, they are clearly trying to create divisions between union and non-union workers."
The Fu Yuen factory produces garments for German discount supermarket chains Lidl, which has more than 10,000 retail outlets and 315,000 employees, and Aldi, although neither company lists the factory as a major supplier.
Mr Morten Vestberg, head of communications at Lidl Denmark, said the events of October 2018 at Fu Yuen were "unacceptable". In the wake of the incident the factory was required to enrol in the SMART Myanmar programme.
From October 17 to 24, Lidl's partner in Myanmar, Chicca & Distra GmBH & Co KG, "negotiated intensively" for the reinstatement of the fired union members, Vestberg said, and the company was "delighted" that an agreement was reached for them to return to Fu Yuen.
Asked about more recent allegations of discrimination towards union members at the factory, Vestberg said Lidl had already urged representatives of the factory management and the workers to meet, together with SMART representatives.
Reporting at the time of the crackdown on workers did not identify Aldi as a buyer from Fu Yuen, but our investigation discovered workers were producing clothes for its children's brand, Poco Piano.
Ms Katrine Milma, head of corporate responsibility at Aldi Denmark, said it took the case "very seriously" and had dispatched representatives to the factory to assess conditions.
"These are matters that are in no way in line with Aldi's ethical standards for labour rights. We very much want to dissociate ourselves from any discrimination against organized employees," she said.
"Aldi is considering the consequences this case should have. It is a dilemma whether to leave a factory or stay in order to improve conditions for the employees. As a starting point, we almost always choose the last one."
But factory managers at Fu Yuen insist there has been no discrimination against union members.
U Thein Swe became manager of the Fu Yuen garment factory in May last year. Three months later, he faced his first major challenge, when nearly a quarter of the factory's workers went on strike. He said the unions were too inflexible when negotiating.
"They just expected that everything they demanded would be fulfilled," he said. "Even when managers were trying to find a middle ground between the employer and employees, they just kept objecting.
"The emergence of labour unions is good – I welcome it. But I wish they didn't behave like they were so privileged," he said, adding that unions "should stand in the middle", between workers and employers.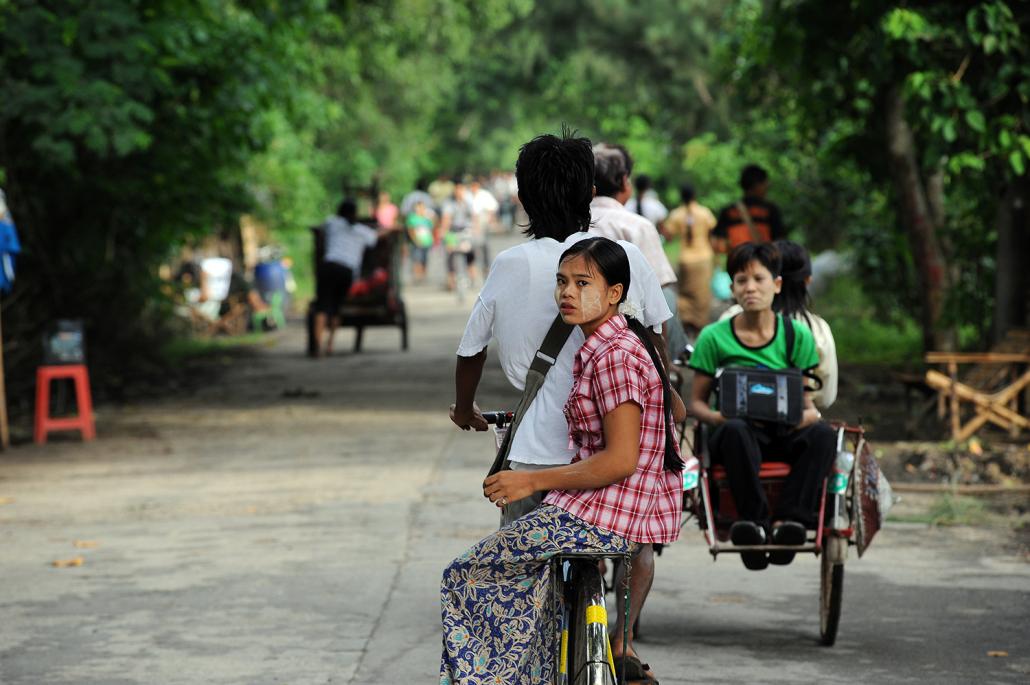 A sudden shuttering
The Fu Yuen workers at least still have a job. Those at the Shyang Jhuo Yue Co Ltd shoe factory in the Anawrahta Industrial Zone in Hlaing Tharyar Township have not been so lucky.
In late December, the factory, which supplies global sportswear giant Adidas, shut down after refusing to comply with a Yangon Region Arbitration Council ruling to reinstate a sacked workplace union member.
The CTUM says the decision by Shyang Jhuo Yue to lock out its workers was in breach of the 2011 Labour Organisation Law, because they had not been given adequate notice.
The factory is named as a primary supplier to Adidas on a list of the multinational's seven primary suppliers and contractors in Myanmar dated July 1, 2018.
Relations between workers and management at the factory began deteriorating in July last year when Ma Htay Htay Win, 24, a treasurer of the workplace union, submitted a request for annual leave and on returning to work 10 days later was told she was dismissed.
On November 29 last year, the Yangon Region Arbitration Council ordered Shyang Jhuo Yue to reinstate Htay Htay Win and compensate her for the two months when she was out of work. The factory ignored the order.
Shortly after the ruling, workers say that Shyang Jhuo Yue's general manager, Mr Mico Ho, told them that the factory would temporarily cease operations from December 10 to 27. They say he gave a commitment that it would not be permanently closed, but when they returned to work on December 27 they were told by management that the factory was shutting down.
The workers and the CTUM say the closure of the factory breaches six sections of the Labour Organisation Law. They say this includes section 37, which states that employers must give 14 days advance notice of a decision to shut down a workplace and can only proceed with the permission of the relevant conciliation body.
In mid-January, workers staged a protest demanding that the factory be reopened and that management respect the law, recognise registered trade unions and follow Arbitration Council rulings.
In a complaint lodged with the Arbitration Council on January 24, the factory's workers urged that it be directed to resume operations or arrange for them to be employed by the Shyang Peng Cheng Co Ltd shoe factory, at Maekhone village, Bago Region.
Shyang Peng Cheng, which the CTUM says is partnered with Shyang Jhuo Yue, is also named as a contractor by Adidas. Shyang Jhuo Yue refused to confirm the partnership to Frontier.
Khaing Zar Aung, who is also president of the Industrial Workers' Federation of Myanmar, warned that if Shyang Jhuo Yue continued to breach the labour laws and did not resume operations and reinstate its workers, union leaders would launch an "international campaign" highlighting its relationship with Adidas.
"Adidas might need to come to Myanmar and see the situation on the ground," she added.
Mr Stefan Pursche, a spokesperson for Adidas, told Frontier the company was aware of the situation.
"The supplier in question, Shyang Jhuo Yue, has informed us in advance about talks with the relevant trade union in connection with the closure of the plant and the planned protests," he said.
"To the best of our knowledge, management consulted extensively with the local Ministry of Labour to ensure compliance with legal requirements, including severance payments."
He said Adidas has actively encouraged the factory management to continue discussions with the CTUM, with the involvement of the Ministry of Labour, Immigration and Population, to address possible concerns.
Adidas, Pursche added, is "committed to ensuring fair labour practices, fair wages and safe working conditions in factories throughout our global supply chain".
Shyang Jhuo Yue's human relations manager, Daw Shwe Yee Myint – who is also the legal representative for the company's foreign directors, according to government documents – declined to be interviewed by Frontier. "I will contact you if we have something to tell the media," she said.
According to Directorate of Investment and Company Administration records, Shyang Jhuo Yue Co Ltd has six directors, five of whom are Taiwanese and one who is Japanese.
Htay Htay Win and her colleagues believe her dismissal was intended to send a warning to the factory's employees not to become involved in labour unions.
"I have more than four years' experience, but I cannot find [another] job," Ko Ye Lynn Bo, who was secretary of the workplace union at Shyang Jhuo Yue, told Frontier in late January.
Ye Lynn Bo says he believes that photos, addresses, citizenship card numbers and other personal information about union leaders and more than 130 other workers at Shyang Jhuo Yue was shared by its management with partner factories.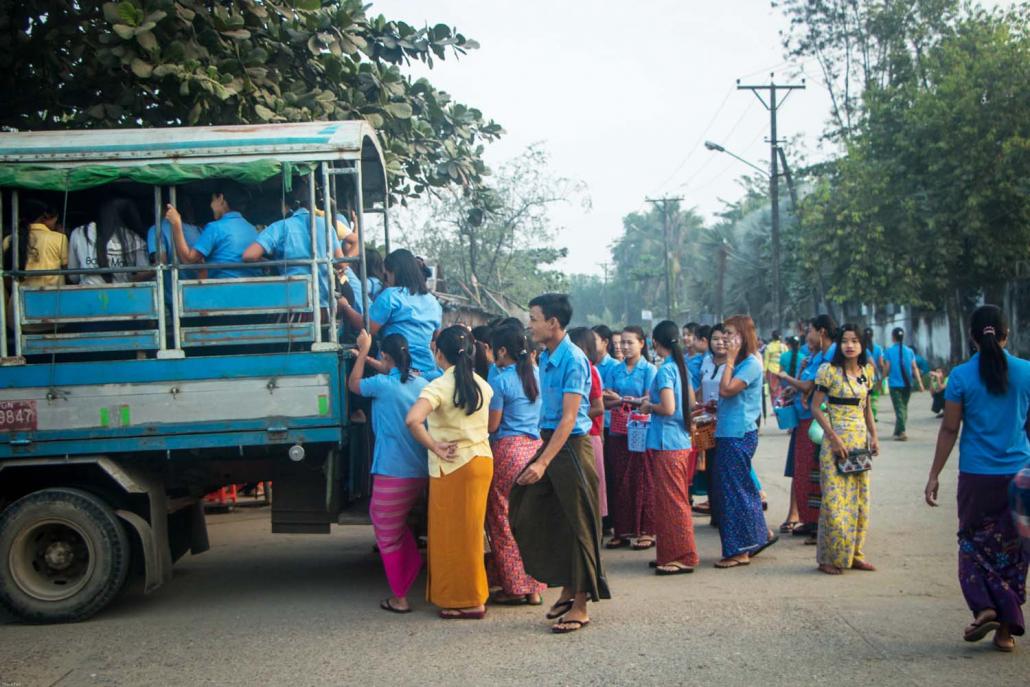 Rabbits in front of a beast
In January 2015, workers from the Costec factory in the Shwe Pyi Thar Industrial Zone demonstrated for a wage increase together with workers from two other factories, Elan Myanmar and Ford Glory Garment.
The protest drew press coverage the following month, when workers who had gathered to demonstrate outside the Elan Myanmar factory were set upon by thugs. Union leaders were arrested and the other demonstrators were later fired.
The crackdown killed off the basic labour organisation that had recently formed in the Costec factory; no union has been formed since. When Frontier interviewed three female workers from the factory, they were visibly scared, and insisted that their names were not used. They said they had not spoken to any union members for nearly three years.
"A few months after the protests, the factory fired all of our union leaders. Since that time we've been scared to do any union activities in our factory," said one worker, aged 23.
They had numerous complaints about their workplace, including a lack of clean drinking water, an unreasonable workload and abuse from supervisors, Chinese-Myanmar interpreters and line leaders. Two of those interviewed were 20, and said they had been at the factory for more than four years, meaning they started when they were just 16.
"We are scolded if we don't meet daily targets but even if we do they'll find some unreasonable thing to pick us up on," said one of the 20-year-old workers.
"My duties are the same as those of the A-Grade workers," she said, referring the factory's tiered salary system. "But I just get a C-Grade wage. It's not fair. We want more income so we can support our parents better."
Without a union in the factory, however, the three workers said they feel powerless. They are frightened of complaining to management, being "like rabbits in front of a beast".
Ms Maria Lassen, the social sustainability manager at the Danish retailer Bestseller, confirmed that Costec had produced goods for Bestseller since 2017.
She declined to comment on specific cases but said relationships between Chinese middle managers and Myanmar workers are "a general problem" in the industry and the company works with external parties who provide training for Chinese workplace leaders.
The company also collaborates with trade unions, including CTUM, "to avoid precisely the situation where workers are being fired [for wanting] to form a union", she said. "The challenge for us and the [Myanmar] trade unions is to get workers and factory owners informed about how a legally registered union works. If the regulations are not followed, it unfortunately causes workers to be fired."
MGMA chair U Myint Soe rejected the overall accusation that factory owners in Yangon were suppressing unionisation by firing union leaders.
"[Union leaders] were dismissed because they breached the agreements in their employment contracts," he said, citing infractions such as exceeding their holiday allowances, stealing, picking fights and failing to meet production targets.
He said factory employees would be better off if they spent less time "making excuses" and more time working hard, adding that union leaders needed to increase their capacity, particularly regarding negotiating and problem-solving skills. But foreign factory owners were also part of the problem, he said, mentioning that the MGMA is meeting senior representatives of foreign-owned factories to advise them on the rules.
"As foreign investors in this garment sector, they need to try to understand the labour laws well," he said.
TOP PHOTO: Hundreds protest on 18 January against the sudden shutdown of the Shyang Jhuo Yue Co shoe factory, supplying Adidas, in Hlaing Tharyar. (Thuya Zaw | Frontier)