The return did not begin as planned on January 23 and further delays are expected amid reports of growing uneasiness among refugees over the repatriation process.
By MRATT KYAW THU | FRONTIER
AMID INTENSE international and domestic interest, the repatriation of refugees from Bangladesh to Rakhine State was due to begin on January 23. It turned out to be a non-event.
Myanmar said it was ready to begin receiving returning refugees under a bilateral agreement signed on November 23. However, Bangladesh said it needed more time to check if those on lists provided by Myanmar were willing to be returned.
The November agreement provided for the gradual return of more than 655,000 mainly Rohingya refugees who fled to Bangladesh after August 25 last year under a process that guaranteed their "safety, security and dignity".
United Nations organisations and human rights groups say it is not the right time to begin the repatriations.
"The necessary safeguards for potential returnees are absent," a spokesperson for the Office of the UN High Commissioner of Refugees said on January 23.
Meanwhile in Rakhine, a flurry of activity continues in Maungdaw, Buthidaung and Rathedaung – the townships most affected by last year's violence – as the authorities continue preparations for the return of refugees.
Dozens of personnel have been deployed to the area, including Immigration officers with biometric printing devices and paperwork for National Verification Cards. The number of police has noticeably increased.
At the land border crossing of Taungpyo Letwe, about 65 kilometres north of Maungdaw town, the authorities have built one of two reception centres to process returnees.
During a visit Taungpyo Letwe just before the Arakan Rohingya Salvation Army attacks in October 2016, Frontier was struck by the atmosphere within the mixed Buddhist, Muslim and Hindu community, which seemed more harmonious than others in northern Maungdaw. Today the road leading to Taungpyo Letwe is lined by the charred ruins of Muslim homes.
When the repatriations eventually start, returnees will walk across a border bridge to Taungpyo Letwe, which is the gateway to Myanmar from Bangladesh. After being processed at the reception centre they will be transferred to temporary camps a few kilometres from Maungdaw – Hla Po Khaung for Muslims, Oh Tain for Hindus – and await resettlement.
Surrounded by a barbed-wire fence, the Hla Po Khaung site covers 124-acres and is being built to accommodate 30,000 people.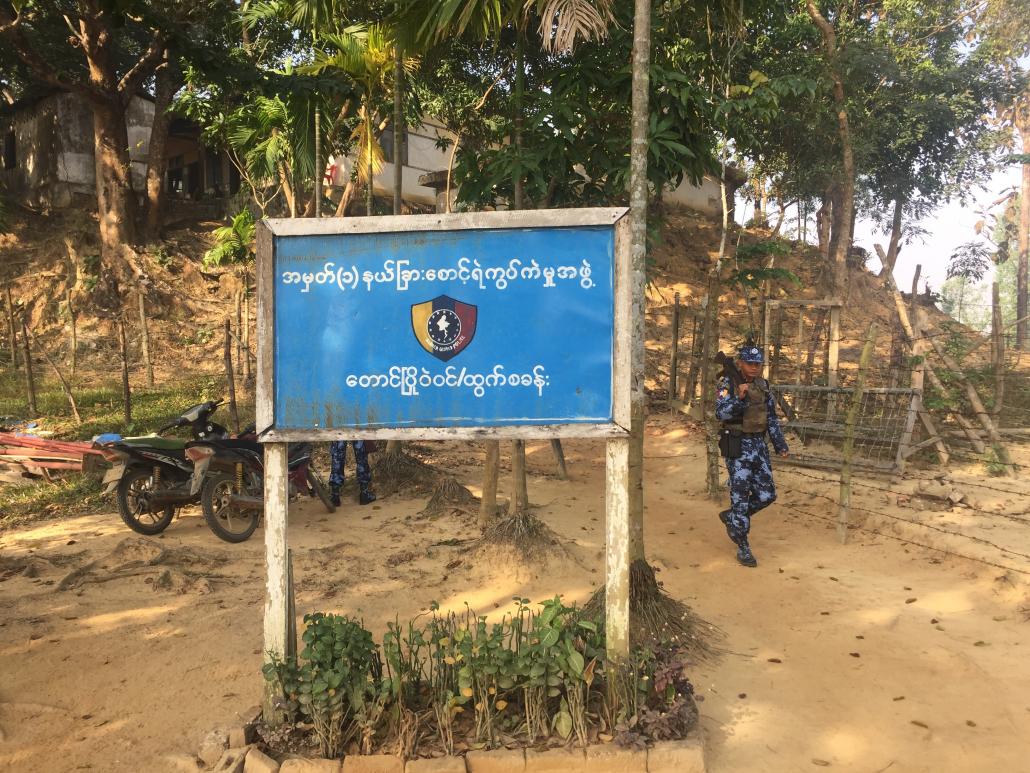 The government said 41 modular houses were being built at the camp near Taungpyo Letwe, each 18 feet square. It has also made arrangements for Muslims to cook for the returnees.
"We hired Muslims here to cook for Muslim returnees for their convenience," said U Ye Htoo, deputy director of the Maungdaw District General Administration Department, under the military-controlled Ministry of Home Affairs.
Men and women from Ayeyarwady Region, as well as local Mro and Daingnet, have been recruited by the government to work on construction and other projects needed for the repatriations.
The other reception centre has been built at Ngakhuya village, about halfway between Taungpyo Letwe and Maungdaw town, for refugees who return by boat across the Naf River.
Muslim residents of Ngakhuya, who said they did not want to be identified out of concern for their safety, spoke of relatives at camps in Bangladesh being uneasy about returning.
"We are in contact with our relatives in the camps and they want to return if the government gives guarantees on granting citizenship and returning their homes and land," said a 50-year-old Muslim man.
Ngakhuya is one of the villages that has received assistance from the public-private Union Enterprise for Humanitarian Assistance, Resettlement and Development in Rakhine, which was established in October and is headed by State Counsellor Daw Aung San Suu Kyi.
The village's main mosque and Hindu temple were destroyed in the latest round of violence and authorities have banned repair work, residents say. While the buildings remain closed, Muslims are praying at the home of a community leader and Hindus say they are waiting for permission to repair their temple.
Explaining the repatriation process to reporters on January 24, U Ko Ko Thaw, Immigration Department director for Maungdaw District, said lists of prospective returnees were being sent to Bangladesh and if their identities were verified at the reception centres "they will be accepted".
Ko Ko Thaw said immigration officials had a wealth of information, including household lists, to check the identity of returnees. "We can know very easily if they fled from Myanmar or not," he said. "We will not accept anyone who has not been scrutinised and if anyone is found to be a citizen of [Bangladesh], we will take legal action against them."
Although reports from Bangladesh indicate apprehension among Rohingya about being repatriated, the same is unlikely to be true for the Hindu refugees.
"I can imagine that the Hindus among the refugees would want to return and that they would most probably be accepted back by Myanmar authorities," said journalist and author Mr Bertil Lintner, a Swedish specialist on Myanmar who lives in Thailand. "But the Hindus make up only a small fraction of the refugee population in Bangladesh," he told Frontier on January 26.
During visits to Hla Po Khaung and Oh Tain villages, Frontier observed that the quality of the timber being used to build housing at the temporary camps was of inferior quality. More than 600 buildings are being erected for Muslims and more than 100 for Hindus and the building and other work has provided opportunities for local businesspeople. Work is continuing at the camp sites despite the government saying they are ready.
Lintner anticipates that the repatriation process will likely be affected by delays.
"The most likely outcome of this will be some official, diplomatic rhetoric about repatriation while very little is going to happen on the ground. There will be delay after delay," he said.
"I don't think the refugees would want to come back unless they are recognised as Rohingya, granted Myanmar citizenship and can return to the land they left behind, and all that appears out of the question. On the other hand, there is no popular support in Myanmar for any large-scale repatriation."
TOP PHOTO: Tents erected to house Muslim refugee returnees at Hla Pho Khaung in Maungdaw. (Mratt Kyaw Thu | Frontier)