Gender equality activists have launched what's believed to be the first self-defence training course in Yangon for women.
By JOSHUA CARROLL & THI RI HAN | FRONTIER
Michelle, a women's self-defence trainer, stood poised before Frontier's reporter as she demonstrated the techniques she is teaching her students. "You're attacking me, put your arms here," she said, gesturing at her shoulders.
Your dutiful reporter did as directed, and received a swift, disorienting palm in his face that sent him floundering backwards. "Sorry," said the trainer, as onlookers broke into laughter. In a real attack, the palm strike would have been hard enough to break an assailant's nose.
Michelle next demonstrated an evasive move, where an assailant grabs a woman from behind. It involved simply ducking from the attacker's arms. "This is easy," said Michelle, who goes by one name.
The palm strike and the evasion tactic are among 15 moves being taught to the first batch of students at the Myanmar Women's Self Defense Centre, founded in late February in a small, second-floor room in downtown Yangon. Although self-defence courses for women have long been available in other countries, the centre is providing something that until recently was unheard of in Myanmar; classes aimed specifically at helping women protect themselves from harassment and violence.
"This is good news for Myanmar's women," said Ma Deborah Nyi, one of the students. "We're not safe in our homes let alone outside; now we're learning how to protect ourselves," she said.
There are few reliable statistics but anecdotal reports suggest that public groping and other forms of assault, as well as domestic violence, are rife in Myanmar. The problem is compounded by a sexually conservative culture that encourages women to remain silent, and an inadequate legal system that effectively offers most men impunity from sex crimes.
None of these issues are unique to Myanmar, but it is only in recent years that public campaigns to empower women to fight back have become viable. More space for free association and expression and an explosion in internet access have spurred the efforts of feminists, including those who were pushing for equality long before the junta stepped aside.
The dangers facing women may be very real, but the centre is not trying to "sell fear," said Ma Evelyn Yu Yu Swe, who helped to found the course with Michelle. "A lot of self-defence courses use fear-based marketing, like 'oh look at the statistics on how many women get assaulted, better not be a statistic! Sign up for these classes today!'" she said.
"We're not trying to do that. Women want this, and the reason why we think the reaction has been so good is because we're tapping into something."
One of the first things the women learn on the course, which runs for eight lessons over four weeks, is confidence. "I make them shout in front of the whole class," said Michelle. Loudly confronting an attacker in public is likely to deter many men, who expect women to be submissive and frightened, the course's organisers say. But getting the students to raise their voices isn't easy.
"A lot of the women had a hard time shouting, because they were always taught to be quiet," said Ma Evelyn Yu Yu Swe. "So when you tell them to shout they're like 'I can't do that'. And they're in a safe room filled with other women. You know, they're in a class and they're still not able to shout, that's kind of sad."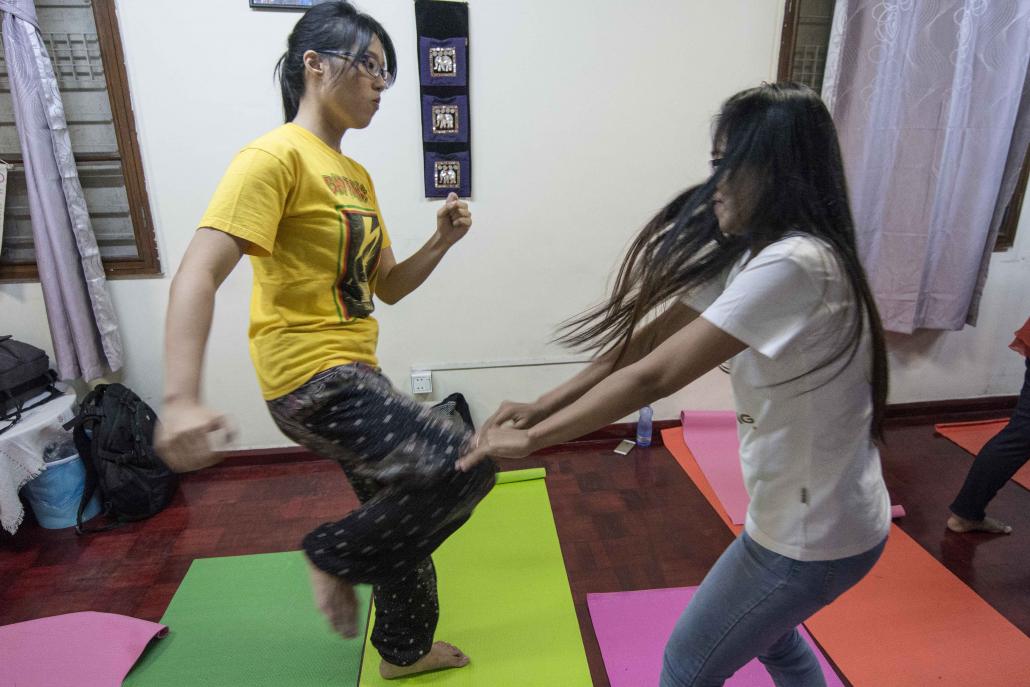 The organisers seem confident the students will find their voices. In the meantime they'll be taught other ways to deter attackers, including making eye contact and adopting a "fighting stance". They'll also learn how to block attacks with their arms and legs and, when necessary, to fight back. 
The notes from the centre's inaugural class list a series of questions for the group, including how to prevent sexual harassment. "Educate the men!" reads the answer, a resounding rejection of victim-blaming culture. "Can we do that while in danger?" the teachers ask, "No!"
The message is clear, that although the underlying causes for violence against women need to be addressed, the most urgent concern is training them to defend themselves when they're attacked.
The course includes training on the protection provided to women under the law. There are also lessons on sexuality and basic anatomy, which can have a profound effect on women raised to be ashamed of their bodies.
"If you know yourself, you know you are not very different from men, so you will be more confident," said Michelle.
"Women in this country are taught that menstruation is dirty, their blood is dirty, and they are dirty," said Rhoda Linton, an American women's rights campaigner who encouraged Michelle and Ma Evelyn Yu Yu Swe to set up the centre. "It puts them in the position of second class citizens. So when they learn that that's a lie, they begin to believe in themselves, and that's the first step."
Ms Linton sees a parallel between teaching menstruation in sexuality classes, and teaching a deflective self-defence move in which students twist their arms outwards to free themselves from an attacker holding their wrists. "Everyone can do that move, no matter how small," she said. "And when they experience that … there's immediate change: 'Oh I can do that!'
"In sexuality class we learn about menstruation and we begin to view our bodies differently… In self-defence there is that one move, those are two things early on that make them want to learn more."
Ms Linton, who has been working for the past year with the Metta Development Foundation, a Myanmar NGO, helped to set up what may have been the country's first women's self-defence class, in the Mon State capital, Mawlamyine.
Metta has also held a sexuality class for men in a central Myanmar village, which Ms Linton described as a great success. How, when and where to teach men to respect women is a question many seem to want to address, but self-protection comes first.
 "We have to educate men," said Ma Deborah Nyi. "That will take a long time I think; the first step is to learn how to protect ourselves from them."