An escalation in fighting between the Myanmar National Democratic Alliance Army and the Tatmadaw near the town of Mong Ko on the China border has emptied villages, while inflaming longstanding tensions over who controls the area.
By JAUMAN NAW, JAW TU HKAWNG and EMILY FISHBEIN | FRONTIER
When hundreds of displaced villagers began arriving in the northern Shan State town of Mong Ko in late August, cultural associations and religious groups joined together to coordinate a humanitarian response.
The villagers, who were fleeing fighting between the Myanmar National Democratic Alliance Army and the Tatmadaw, sheltered in churches and monasteries, while host community members donated food, basic items and funds, and nurses from a church provided voluntary health care services.
"Host community members are donating … in unity for IDPs [internally displaced people], without regard to their race or religion," said the response committee's coordinator, who, in common with several others interviewed for this report, spoke on condition of anonymity due to fear of reprisals.
Frontier spoke with six host community volunteers and three people who had been forced to flee fighting between the MNDAA and Tatmadaw in northern Shan State. They described how a patchwork of churches, monasteries, cultural associations and members of the public have been rallying to respond to humanitarian needs amid the fighting and displacement, with outside access to the area limited and aid promised by the MNDAA yet to arrive.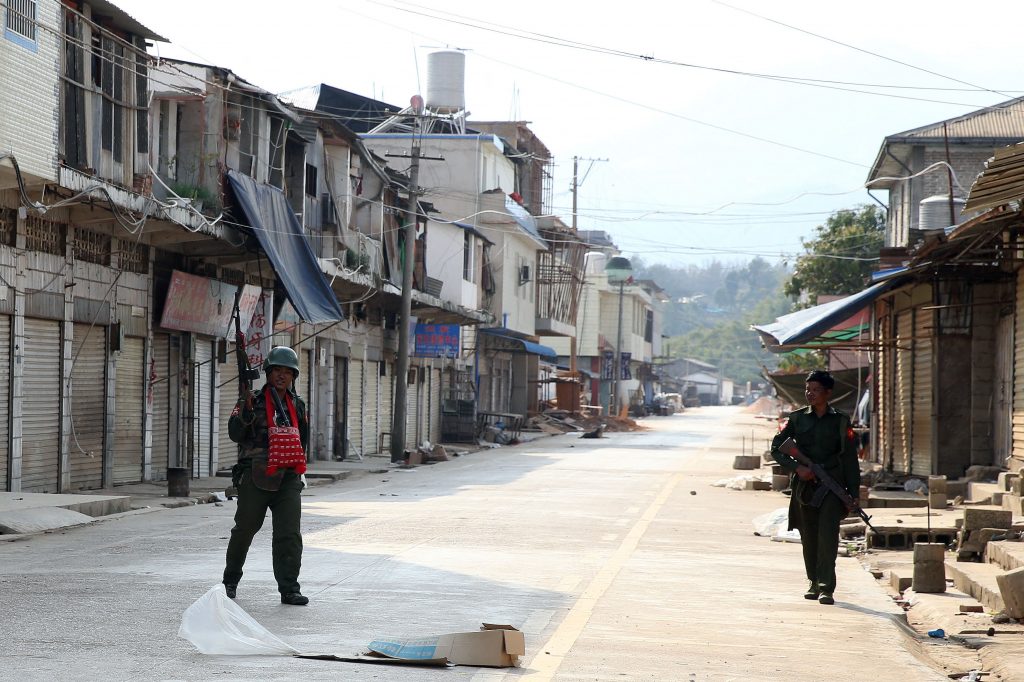 Decades of conflict
Mong Ko, a town in Muse Township on the China border, has been on the front lines of conflict for decades.
On New Year's Day in 1968, Communist Party of Burma forces led by Naw Seng, an ethnic Kachin, crossed the border into Mong Ko and quickly overwhelmed the local Tatmadaw garrison. The CPB rebranded the Mong Ko area to the west of the Thanlwin (Salween) River as its "War Zone 303". But having defeated the Tatmadaw, it soon came into conflict with the armed wing of the Kachin Independence Organization, the Kachin Independence Army.
In The Rise and Fall of the Communist Party of Burma, published in 1990, Bertil Lintner writes that the Mong Ko region had become a "stronghold" for the KIA since its founding seven years earlier; after the CPB invaded, fierce fighting raged until 1976, when the two groups reached a ceasefire.
While the Kachin are a strong presence in Mong Ko, the ethnically diverse region is also closely associated with the Kokang, a Mandarin-speaking Han Chinese group who are recognised by the government as one of 135 ethnic groups indigenous to Myanmar. Under the 1982 Citizenship Law, since the Kokang are deemed to be from an indigenous ethnic group, they are automatically entitled to full citizenship.
Most Kokang live in a mountainous region further east of Mong Ko, on the eastern bank of the Thanlwin, that is bounded by China's Yunnan Province to its north and east. Once nominally under Chinese rule, the Kokang region was ceded to British Burma in 1897, but remained virtually autonomous until it, like Mong Ko, came under the control of the CPB in 1968 and became known as War Zone 404, according to Lintner.
When the CPB broke apart in 1989, an ethnic Kokang commander named Peng Jiasheng established the MNDAA and took control of both the Kokang region and Mong Ko. Within months the group signed a ceasefire with the new military regime in Yangon, the State Law and Order Restoration Council, and in exchange received autonomy over its territory in northern Shan State, which became officially known as Shan State Special Region 1.
In 1995, the newly formed Mongko Region Defence Army broke away from the MNDAA and control of Mong Ko effectively reverted to the Tatmadaw. Since then, the region has been fought over many times.
Unlike Mong Ko, the Kokang region to the east remained under MNDAA control. Along with other parts of northern Shan, it was considered a major production region for opium, from which heroin is made, and in more recent years, methamphetamines. Since the early 2000s, its capital, Laukkai, has also emerged as a booming casino city, attracting both Chinese visitors and large numbers of migrant workers from lower Myanmar.
In 2009, after the MNDAA refused to participate in the Tatmadaw's Border Guard Force scheme to bring ethnic armed groups under its command, Tatmadaw forces attacked and captured Laukkai, sending Peng and his forces fleeing into China. Following the fighting, another MNDAA breakaway faction became a Border Guard Force and was installed by the Tatmadaw to administer the region, which under the 2008 Constitution became the Kokang Self-Administered Zone.
Peng and his troops returned in February 2015 and tried unsuccessfully to recapture Laukkai. Four months of intense clashes with the Tatmadaw, including airstrikes and heavy artillery fire, displaced tens of thousands of people who fled to China, and left thousands more internally displaced. Some civilians in China were hit by airstrikes during the fighting, infuriating Beijing.
Fighting erupted again in March 2017, when more than 20,000 people fled their homes, with many crossing into China and sheltering in border camps.
The MNDAA is a member of the Northern Alliance, along with the Kachin Independence Organisation, Arakan Army, and Ta'ang National Liberation Army. It is also, with the AA and TNLA, a member of the Three Brotherhood Alliance.
AA and TNLA troops allegedly fought beside the MNDAA in 2015 and 2017, while the three allies also launched coordinated attacks on various locations in Shan in 2016 and 2019, and were sometimes joined by the Shan State-based brigades of the KIA.
In 2016, the allies captured and briefly held Mong Ko, before withdrawing to avoid heavy civilian casualties.
'We buried them in my village'
The most recent spate of fighting in Mong Ko was first reported on July 4 by Kokang 311, a news and media Facebook page affiliated with the MNDAA, which accused Tatmadaw forces supported by a militia of attacking a COVID-19 information unit.
During intense clashes from August 26 to 31, the MNDAA claimed to have killed at least 28 Tatmadaw soldiers, including a major and captain, and said it had sustained two casualties. The Tatmadaw did not release its casualty figures but acknowledged that some of its soldiers were killed and injured in fighting on August 28.
Violence and instability has continued since then, with Kokang 311 reporting on September 10 that the Tatmadaw had abducted about 30 civilians in Laukkai under the pretense of COVID-19 prevention, armed them and sent them to fight against the MNDAA.
On September 25, Kachin News Group reported that plainclothes soldiers had occupied Nam Kut village, located just southwest of Mong Ko, and had threatened to shoot any villagers who tried to flee.
Frontier was unable to confirm these reports.
Further clashes on September 27 resulted in the deaths of seven Tatmadaw soldiers, Kokang 311 reported; the Tatmadaw has not yet released any statement.
Amid the ongoing fighting, the humanitarian toll is rising. Figures provided to Frontier by volunteers in the third week of September showed that 700 IDPs were sheltering in Mong Ko town, 200 in Hpawng Hseng, a village tract to its east, and 700 in Hpai Kawng village, near the border town of Pang Hseng, also known as Kyu Koke, which is about 25 kilometres west of Mong Ko.
On August 29, artillery shells hit a house in Nam Har village just south of Mong Ko town, killing four people, including a 10-year-old.
"They were staying at their home and the shells fell right onto their house … We buried them in my village," a Ta'ang villager told Frontier. Following the artillery barrage the villager fled to Mong Ko with his family the same day, and has since been unable to tend to his farm.
On September 25, a 40-year-old villager from Hpawng Hseng died after stepping on a landmine while foraging for mushrooms, and on September 27, artillery fire injured a woman and killed her nine-year-old son in a village outside of Mong Ko. On September 30, a 64-year-old man was injured by a landmine in Hpawng Seng.
Alliances and enemies
In a written response to Frontier on September 16 via Kokang 311, the MNDAA said it was waging a defensive war against the Tatmadaw because its request for a ceasefire in the name of COVID-19 prevention had been rejected.
The National Unity Government has also declared a "defensive war" against the junta. The MNDAA told Frontier that it did not have any formal communication with the NUG, but that Kokang 311 had posted a Facebook message of support for the NUG's announcement because the MNDAA "supports any means of action which prioritises the interest of the [Myanmar] nation and people".
On September 28, the Tatmadaw announced a ceasefire with all ethnic armed organizations across the country from October 1 until the end of February 2022, both as a "gesture of goodwill" and to promote COVID-19 prevention and control. The military will still engage in defensive operations, according to its announcement; the ceasefire also excludes the NUG's People's Defence Forces and has evoked skepticism from ethnic armed group officials, with Colonel Naw Bu of the KIO's information department telling Radio Free Asia he doubted it would lead to a full ceasefire or lasting peace.
Kokang 311 told Frontier on October 4 that the Tatmadaw had, since its ceasefire announcement, "constantly assemble[d] heavy troops" in Kokang, Mong Ko and Theinni, a town 114 kilometres south of Muse.
Asked by Frontier if its allies have been involved in the recent fighting in Mong Ko, the MNDAA did not directly reply.
Col Naw Bu from the KIO told Frontier in a telephone interview on September 14 that the KIA had not been involved in any joint offensive operations with the MNDAA, but would respond defensively if the Tatmadaw attacked areas under its control.
The Irrawaddy reported that the MNDAA sent a letter to the KIO on August 19, outlining its claim to the Mong Ko area and its plan to establish its own administration in the town.
The MNDAA declined to answer Frontier's question about the letter. Naw Bu confirmed that the KIO had received the letter from the MNDAA, and said it had responded by asking the MNDAA not to establish an administration in the area.
Naw Bu said the KIO regarded Mong Ko, along with Hpawng Hseng, where fighting is also occurring, as the land of the Kachin people for historical reasons.
However, he said that the KIO is continuing to allow MNDAA troops to live beside KIA soldiers in Mong Ko as a result of their joint participation in the revolution against the Tatmadaw.
"We are fighting together against the military dictatorship. The MNDAA is fighting against the SAC [Tatmadaw's State Administration Council], and so are we. We have the same enemy, so we must be tight-knit to fight against it," Naw Bu told Frontier. "Regarding land ownership, we will discuss it in accordance with history. But we must have true cohesion to fight against the military junta."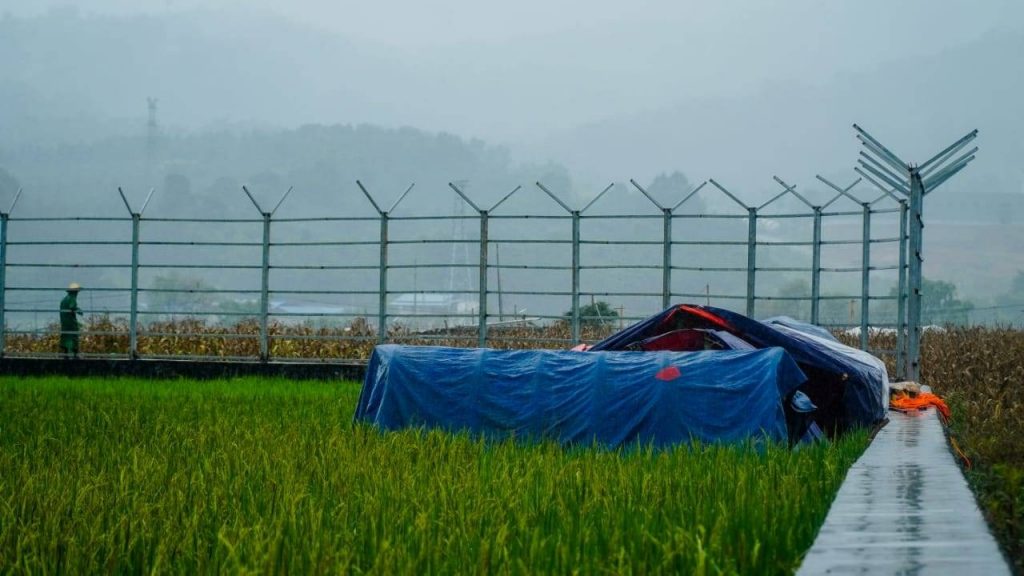 'The border is sealed by the fence'
There is another key player in the Mong Ko area: China.
When the CPB seized Mong Ko in 1968, it did so with strong support from Beijing, whose relationship with Ne Win's socialist government in Rangoon had deteriorated amid the Cultural Revolution.
Many of the ethnic armed groups that emerged in the wake of the CPB collapse also have close ties to local officials and businesspeople in Yunnan Province.
Borders in the area have historically been porous, with people and goods flowing in both directions. This includes people fleeing conflict: when the Tatmadaw invaded the Kokang region in 2009, 30,000 people crossed into China, while fighting in 2015 and 2017 sent tens of thousands more across the border.
But in early 2020, Beijing began building a barbed-wire fence along its border with Myanmar, allegedly to stop unauthorised crossings in both directions as part of COVID-19 containment measures. As of this July, the fence spanned around 600 kilometers of the nearly 2,000-kilometer border, while walls were also under construction in some areas as well, according to Radio Free Asia.
Radio Free Asia also reported on September 16 that Chinese officials had built an emergency border fence and installed CCTV cameras near Hpai Kawng village.
Sources told Frontier that no one displaced by the recent clashes has tried to cross into China.
"Not even a rat could enter China now. They have built fences – not one fence, but double fences. IDPs don't go to China," said a Shan IDP in Hpai Kawng.
The border fence has also complicated the aid response, making it difficult for individuals or groups on the China side to help IDPs.
In Hpawng Hseng, IDPs from two Kachin villages are sheltering in the jungle just 500 metres from the fence, according to Ah Doi, a volunteer who asked to be identified by a pseudonym. He said a group of Kachin women who married men in China and are living across the border raised funds through the Chinese social media application WeChat to buy dry food items.
After trying unsuccessfully to throw the food over the border fence, the women sent money via WeChat instead. "The border is sealed with the fence and now they have built it higher than before, so it is quite difficult to pass food by throwing. It is double-fenced and about 15 feet high," said Ah Doi.
Chinese authorities have also ordered the IDPs not to approach the fence, he said, but they have distributed rolls of rubber sheets to make shelter cover, as well as eight sacks of rice and eight barrels of oil.
The Kachin Baptist Convention (KBC) and donors from nearby towns and villages have also provided some food and basic items, Ah Doi said.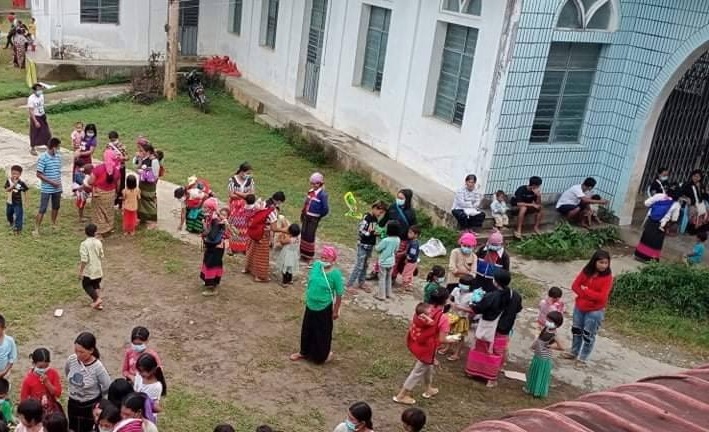 Locals respond
In an August 30 interview published on Kokang 311, the MNDAA's deputy district commander said the armed group was taking responsibility for the IDPs, including building 10 IDP camps.
Asked about its aid response, the MNDAA told Frontier that it planned to arrange temporary shelter, and had provided food, medicine and COVID-19 prevention supplies to IDPs.
However, volunteers told Frontier they were not aware of any aid from the MNDAA having reached IDP camps in Mong Ko, Hpai Kawng or Hpawng Seng. They also said they had received little or no aid from non-government organisations.
"Some NGOs contacted us, but they need a lot of documentation," said a member of the IDP support coordination committee in Mong Ko, referring to administrative processes that many international donors require before distributing funds to local groups. "[NGOs] also have transportation difficulties," he added.
The local committee was established by Mong Ko's Kachin, Chinese and Lisu cultural associations, and also includes members of the KBC and Roman Catholic church. IDPs in the town are staying in the compounds of a KBC church, Lisu church and Buddhist monastery.
The IDP support committee has bought food and necessities using funds donated by members of the diaspora and the area's residents, who have also donated food and blankets, and two KBC nurses are providing primary health care to IDPs, committee volunteers told Frontier.
In Hpai Kawng, IDPs from seven villages, including Kachin, Shan, Chinese and Ta'ang people, are staying in a KBC-run camp, joining more than 800 people who had been living there since before the coup, a member of the camp committee told Frontier.
They said that a civil society group in the town had provided funds, and a Shan monastery, Kachin churches and volunteer groups had donated food and other necessities.
But even with this support, the camp's facilities cannot accommodate the new arrivals, who have built their own shelters out of tarpaulins and bamboo. As is common in IDP camps in northern Shan State, the landowner also charges the KBC a fee for permission to stay on the land, said the volunteer. However, because of insufficient funds IDPs have had to contribute to this cost since 2016.
A further complication is a rise in COVID-19 cases in September. A member of the IDP coordination committee in Mong Ko told Frontier on October 7 that 140 people had tested positive in the KBC camp alone, and that the camp had been locked down for weeks. Some IDPs who had been staying in the Lisu church and Buddhist monastery had returned home due to fear of catching the virus, said the volunteer.
The MNDAA began its COVID-19 vaccination program on September 18 and as of September 28 it had delivered first doses to 791 people, according to Kokang 311, which also accused the Tatmadaw of interrupting its virus control activities through its offensive attacks.
On August 26, Kokang 311 reported that the Tatmadaw had blocked the transport of goods in some areas, causing food and medicine shortages.
Volunteers told Frontier that the Tatmadaw had not restricted aid in the areas where they were operating, but their activities have been closely monitored.
In Mong Ko, volunteers must report food deliveries, and administrators have compiled lists of the IDPs at each camp and have checked their health. They have also compiled an inventory of stockpiled relief goods, according to a volunteer on the local IDP response coordination committee.
"If something is related to the Tatmadaw, we have to inform and request them, such as for food transportation. We also have to make a request to the Mong Ko administrator," said one volunteer.
In Hpawng Hseng, Ah Doi said volunteers must store rice with the military administration, which rations the distribution to IDPs. "The military still allows us to import food if we inform [them] … but they control the quantity of rice sacks. For example, if we import 20 sacks, they keep 10 and give us 10. After we finish the first 10 sacks, they give us the remaining 10," he said.
Although volunteers said they are managing for the time being, they expressed concern about not being able to sustain the humanitarian response for an extended period, especially if the fighting continues and food access routes are affected. "[The situation] should be okay if it is only one or two months, but for the long term, we really need help and support," said a Catholic pastor in Mong Ko.