The remote northern town of Putao is poised to reap rich rewards from a project that capitalises on the production of a prized raw ingredient for perfume and incense – but it's not the only valuable natural resource in the area.
Words & Photos ANN WANG | FRONTIER
In the eastern foothills of the Himalayas, about 270 kilometres by road from Myitkyina, the Kachin State capital, Putao is about as remote as it gets. Indeed, its predecessor, Fort Hertz, was often described as the remotest outpost in the British Empire, and during World War II, the British garrison there was left alone by the conquering Japanese.
This isolation is still felt today by the town's 91,000 residents, mainly members of the Rawang and Lisu ethnic communities. During the four months of the rainy season, Putao is only accessible by air. The road south to Myitkyina can be barely passable at other times of the year. Most Putao residents do not have electricity; the first mobile phone link is due to go into service in July.
Despite its isolation, Putao is – like the rest of Myanmar – rich in natural resources. And its potential to supply a luxury market is about to be unlocked.
U Maz Nor Sl, 52, his wife and their two children live in a two-storey red wooden house surrounded by more than 1,500 agarwood trees. The plantation was established with seeds acquired by Maz Nor Sl's father during a trip to the mountains in the north in the 1980s.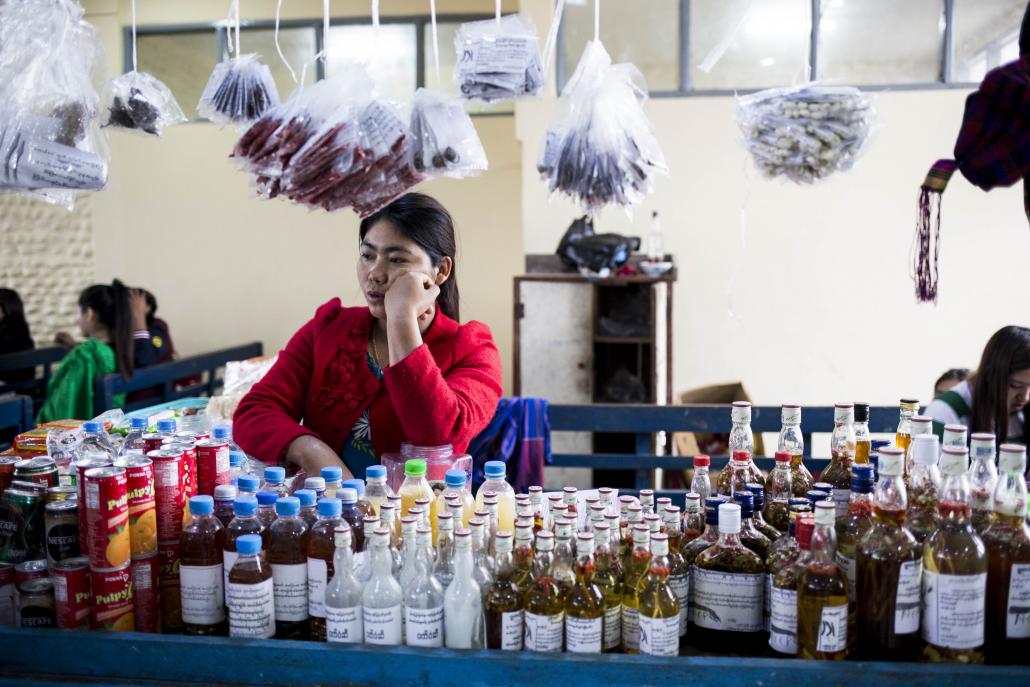 Maz Nor Sl, a Rawang and a native of Putao, has no idea that he and his family are sitting on a potential fortune.
Agarwood, known in Myanmar as thit mhwae, is native to Southeast and South Asia. It is one of the most expensive natural products in the world because of the demand for the fragrant oil it produces that is used to make perfume and incense. A kilogram of agarwood can fetch about US$13,000 (K15.25 million), Mr Gerard McGuirk, a sales director at plantation management company Asia Plantation Capital, told Time magazine last month.
In a report about illegal logging threatening the trees with extinction in Hong Kong, McGuirk said he'd heard reports of the highest-grade agarwood selling for up to $120,000 a kilogram. McGuirk valued the global agarwood industry at $6 billion, with the black market exceeding the legal trade in the timber.
The huge demand for agarwood has resulted in illegal harvesting that has decimated the trees in the wild. Agarwood is listed as a potentially threatened species under Appendix II of the Convention on International Trade in Endangered Species of Wild Fauna and Flora (CITES). Recorded global trade in agarwood oil in 2012 was 4,870 litres, an increase of 1,512 percent over the figure for 2004, CITES figures show.
"The absolute most valuable species of these trees is from here," said Mr Robert Walsh, managing partner of Yangon-based consultancy S&S Project Management, explaining why the company was doing business in one of the most remote areas of the country.
S&S Projects is planning to enrol up to 600 villagers throughout the Putao Valley by the end of October for a cooperative project to produce agarwood oil for markets in the Middle East and northeastern Asia.
Sparkles of passion shine in Maz Nor Sl's eyes when he talks about tending his agarwood plantation after returning from a long day in his paddy fields. Asked if he was aware of the prices agarwood fetched on world markets or the potential fortune he could realise from his plantation, Maz Nor Sl had no idea. It is common to see agarwood trees on villagers' plots throughout the Putao Valley, where the wood is used for cooking and keeping warm.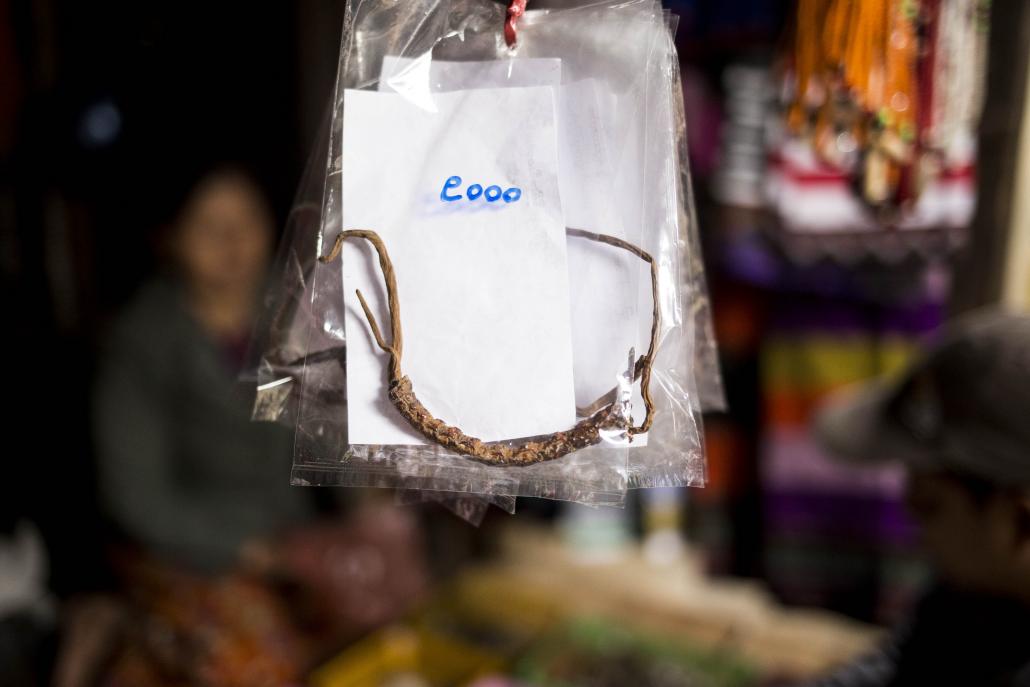 "Local villagers have no idea the value of agarwood up until now," Walsh told Frontier at a guesthouse in Putao that S&S Projects uses as a temporary office. Walsh, who has seen Maz Nor Sl's plantation while out exploring on his motorbike, said S&S Projects would not need to invest heavily to launch the cooperative in the valley because of the ready availability of agarwood. However, farmers would need advice on technology, processing and marketing, Walsh said.
"They have the trees and we have the know-how and the money to start a facility and nursery," he said.
S&S Projects, one of the few foreign companies operating in Putao, has identified other natural products in the area with international marketing potential. Walsh said they included wild honey, grapefruit, Sichuan pepper and caterpillar fungus.
Caterpillar fungus, shi pa dee in Myanmar, is hugely popular in China, where it is known as the Viagra of the Himalayas because it is believed to be a powerful aphrodisiac.
The fungus (Cordyceps sinesis) can be literally worth its weight in gold in China and is often sold in outlets that are decorated like jewellery shops.
"Caterpillar fungus can be found at the Tibetan Plateau and the Himalayas at an altitude between 3,000 and 5,000 metres," said German-born Mr Daniel Winkler, a fungi specialist who leads mushrooming tours to the Tibetan Plateau.
"It's basically [the larvae of] an insect being taken over by a fungus; the fungus digests the insect, and eventually grows out of the head of the caterpillar," Winkler told Frontier.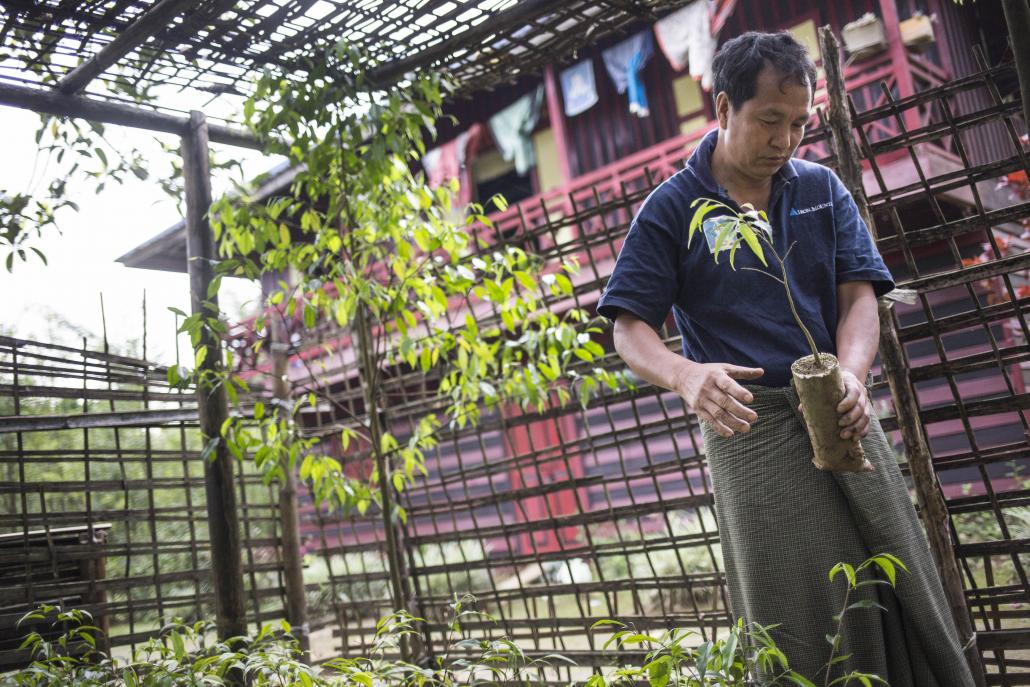 He said caterpillar fungus had been consumed in China for more than 500 years but had become hard to find there.
"Top universities in China are trying to cultivate it in the lab, but have yet to be able to scale it up to be sold for commercial use," said Winkler.
He estimates that about 95 percent of the annual harvest comes from Tibet. But the scarcity and value of the fungus has led to violence during the harvest season.
In 2010, seven men went missing in Nepal after a dispute over collecting the fungus; two were later found dead at the bottom of a ravine, said Winkler. He has long suspected the fungus was available in Myanmar but has not yet had a chance to visit.
Putao native U Tong Shing Phong, 30, has been collecting caterpillar fungus for the past eight years. He spends May and June in the mountains foraging for the fungus and sells it to brokers who come to Putao.
"This year is a good year; I sold one kilogram for about K300,000, just like last year," Tong Shing Phong, a Rawang, told Frontier. "But in 2013, the price was really low; one kilogram for K110,000."
As well as foraging for the fungus, he also began supplementing his income as a tourist guide this year and took two travellers on a one-week hiking trek.
"I want to be a guide, but will still collect the fungus, because there are not enough travellers coming up to Putao yet," said Tong Shing Phong, who spends most of his time hanging out with friends in Putao because of limited job opportunities.
Tong Shing Phong has heard rumours about the fungus being sold as a high-end luxury product in China but a lack of internet or phone connections in Putao means there's no way for him to research market prices. The price he's paid is determined by the brokers who visit once a year.
Tong Shing Phong would be astounded if he knew how much the fungus fetches on the Chinese market: nearly $8,500 (about K10 million) for 500 grams.
Top photo: U Maz Nor Sl, 52, his wife and their two children live in a two-storey wooden house surrounded by more than 1,500 Agarwood trees. The plantation was established with seeds acquired by Maz Nor Sl's father during a trip to the mountains in the 1980s. (Ann Wang / Frontier)