In makeshift camps along the Bangladesh border set up for Muslims fleeing violence in Rakhine State, State Counsellor Daw Aung San Suu Kyi's pledge to begin repatriation has received a cold reception.
By OLIVER SLOW | FRONTIER
COX'S BAZAR, Bangladesh — When State Counsellor Daw Aung San Suu Kyi took to the podium in Nay Pyi Taw on September 19 to deliver her briefing on the Rakhine crisis, Ma Sulina Katum was squatting on a small hill near Cox's Bazar, in Bangladesh, trying to create a home from nothing more than a piece of tarpaulin and some lengths of bamboo. Originally from Mawbill village in northern Rakhine State's Buthidaung Township, Sulina Katum, 70, had crossed the border into Bangladesh about a week before.
When Frontier met Sulina Katum two days later, on a sweltering blue-sky afternoon, she was squatting in the same spot, on the edge of a paddy field on the far reaches of the Thaing Khali Burma Para camp. She was exhausted and wiping away tears.
"I'm sick; I have diarrhoea – I think it's dysentery. I've taken some medicine, but it just isn't working," she said.
Sulina Katum is one of the estimated 420,000 Muslims – most of whom identify as Rohingya – who have crossed the border from northern Rakhine State since the Arakan Rohingya Salvation Army launched attacks on police and military posts on August 25. The fighting also displaced around 30,000 non-Muslims, including Rakhine, Mro and Hindus, but they have mostly sought safety in government-controlled areas.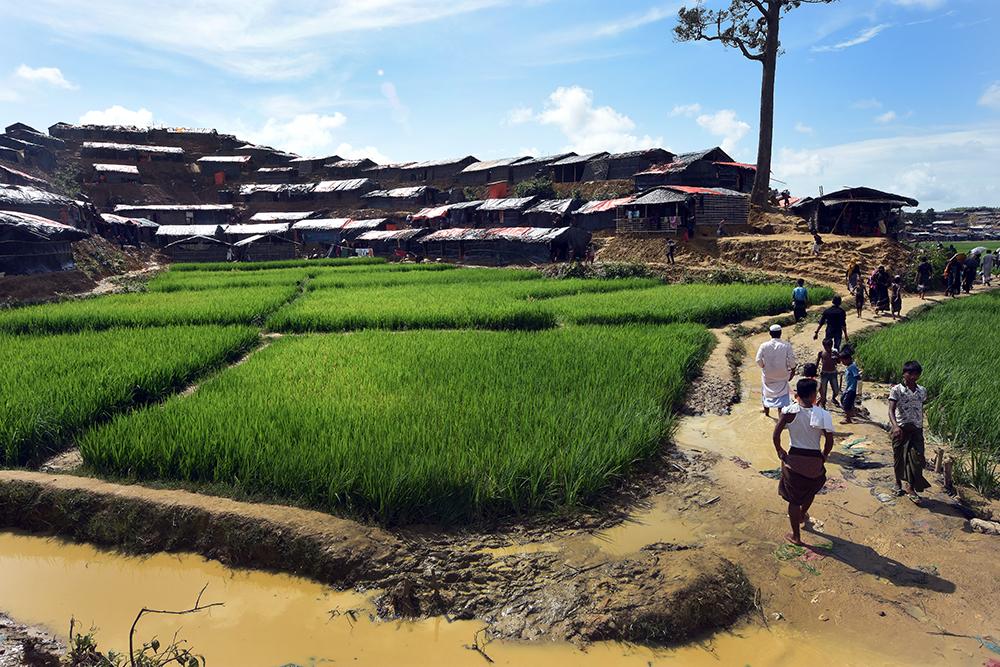 The ARSA attacks have prompted a campaign of violence that has seen around 200 villages razed. The government has said Muslims burned their own homes before fleeing.
But Sulina Katum said she left her village when security forces came to her village shortly after the August 25 attacks and told them to leave.
"They told us, you are good people and we are good people; you don't harm us and we don't harm you," she told Frontier. "The military asked us to move from the village, and when we moved we thought that they wouldn't harm us. But then they started burning houses and shooting at people."
Trading accusations
Due to ongoing media restrictions in northern Rakhine State, Frontier was unable to independently confirm this and multiple other accounts of arson and killing. The government and military have denied allegations of abuses against the state's Muslim community. In her September 19 address, Aung San Suu Kyi said security forces had been instructed to "exercise all due restraint". "Human rights violations and all other acts that impair stability and harmony and undermine the rule of law will be addressed in accordance with strict norms of justice," she said.
Speaking in Nay Pyi Taw on September 21 shortly after returning from Rakhine State, Senior General Min Aung Hlaing said the military was "taking careful measures within the framework of the law and rules" in responding to the ARSA attacks. "There are some people who are criticising or having negative view on the use of military personnel. But we are the ones who know about our country or our situation best," he said.
In contrast, all of those whom Frontier interviewed in Cox's Bazar said their homes had been burned by security forces, often in cooperation with "non-Muslim" vigilantes.
Sulina Katum says despite the hardships the refugees face in Bangladesh, she finally feels safe. A frail lady with a ragged face, she said the journey took about seven days.
"I feel better to be here," she said. "In Myanmar, many people were killed and it was difficult to come here."
Asked if she would like to return to her homeland, Sulina Katum said, "If we get rid of this government, get rid of Aung San Suu Kyi, I will go back. But not until then."
In her September 19 speech, Aung San Suu Kyi said Myanmar would adhere to the terms of a 1993 repatriation agreement with Bangladesh, and was "prepared to start the [refugee] verification process at any time".
"Those who have been verified as refugees from this country will be accepted without any problems and with full assurance of their security and their access to humanitarian aid," she said.
Many refugees who spoke to Frontier on September 21 said they would only return if their safety could be guaranteed. Some others were so scarred by the violence that they said they never wanted to return.
"I feel better being here," said U Ferul Mohammed, 75, a Rohingya who was standing in a queue waiting of at least 1,000 people waiting for food aid to be delivered at the Thaing Khali Burma Para camp. "The difference between here and Myanmar is like sky and soil, because there is no violence for us here."
It took Ferul Mohammed seven days to walk to Bangladesh from his village in Rathedaung Township, which he said was burned to the ground in early September.
Asked if he ever wanted to return, he began to cry and said, "It would be better if you kill me here, because I saw so many people being killed."
Overwhelming scale
In the camps near Cox's Bazar, the desperation and scale of the displacement are overwhelming. At one camp, on the edge of the Thaing Khali Moiner Ghama, a small fight broke out after a man began distributing vouchers for the collection of tarpaulins. The scene quickly grew chaotic; the frustrated man threw the vouchers into the air, prompting a wild scramble.
At another distribution point though there was more order as a small group of men waited patiently for food. At the edge of the crowd was Ma Rajami Begum, 27. She held an infant child as her three other children stood patiently beside her. Her husband had died during an attack on their village by security forces and vigilantes, she said.
"I'm not receiving any food," she told Frontier, as she stroked the head of one of her young sons. "All we have is a small amount of rice, but it is not enough. I'm just depending on Allah."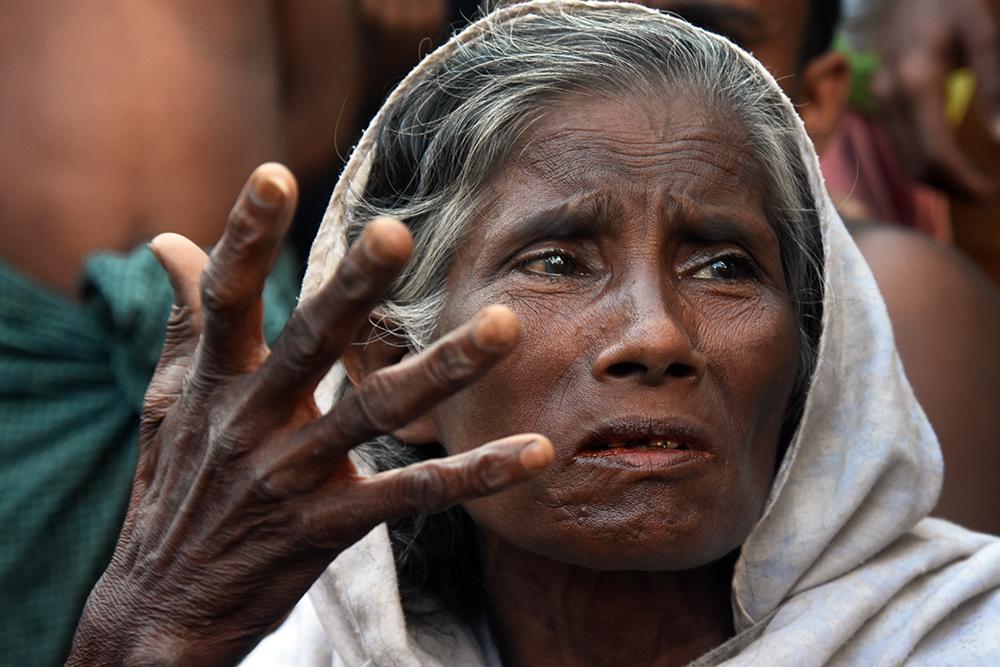 The frustration towards the government, and particularly towards Aung San Suu Kyi, was evident in many of the interviews Frontier conducted.
"What Aung San Suu Kyi said in that speech, it was just the usual," said one woman. "What does she mean, solid evidence? What evidence has she given to us Rohingya? Has she ever offered us evidence? I think not."
Like many refugees, a man who identified himself only as Mohammed said that when her party had swept to power in the 2015 general election, he was hopeful that she would speak out in defence of the Rohingya.
"I thought that because she is a humanitarian, because she got the Nobel prize, because she showed so much patience [under house arrest], I believed in her. She was working for humans, and we Rohingya are humans. I thought she would work to get us back our rights.
"But then she came to power. We can't talk about the government because they say one thing, then they do nothing. They are just lying, she is lying."
TOP PHOTO: Steve Tickner | Frontier