Writer Paul Theroux visited Myanmar in the 1970s while gathering material for The Great Railway Bazaar. Following in his footsteps decades later, little has changed on Myanmar's railways.
By OLIVER SLOW | FRONTIER
"Ever since childhood, when I lived within earshot of the Boston and Maine, I have seldom heard a train go by and not wish I was on it."
So begins Paul Theroux's 1975 book The Great Railway Bazaar, which starts on the 15.30 from London to Paris, traverses the Asian continent and ends in Moscow after he steps off the Trans-Siberian Railway.
Theroux and I share a love for locomotives and we both grew up within earshot of railway lines. While Theroux grew up near a legendary railroad, a house in which I was raised backed onto a condom-strewn, urine-smelling track connecting the Kent coast with London.
It did not diminish my love for trains and railway travel. Wherever you go in the world, the soothing motion of the train is infinitely more enjoyable than travelling by road.
Except, I had heard, in Myanmar. Every story I read about train travel in Myanmar spoke of an experience that was cumbersome and slow.
I read Theroux's book at a time when the government was planning to upgrade the country's creaking railway infrastructure and decided to follow in his footsteps.
"I had only one objective in Burma" Theroux wrote of his trip. "To take the northbound trains from Rangoon via Mandalay and Maymyo [now Pyin Oo Lwin] to the Gokteik Gorge in the Shan States, beyond which China sprawls." 
Wedged between India and China and on the cusp of Southeast Asia, Myanmar's opening has benefitted from its strategic location for regional trade. As Britain looked to build its empire in the late 19th and early 20th centuries, it was regarded in the same way. Railways were integral for trade.
"The French were building the Transindochinois line to Hanoi, the Russians had brought the Trans-Siberian almost to Vladivostock, the British had laid track to the very end of the Khyber Pass, and it was assumed that Burmese railways would extend in one direction to the Assam-Bengal line and in the other to the railways of China," Theroux wrote.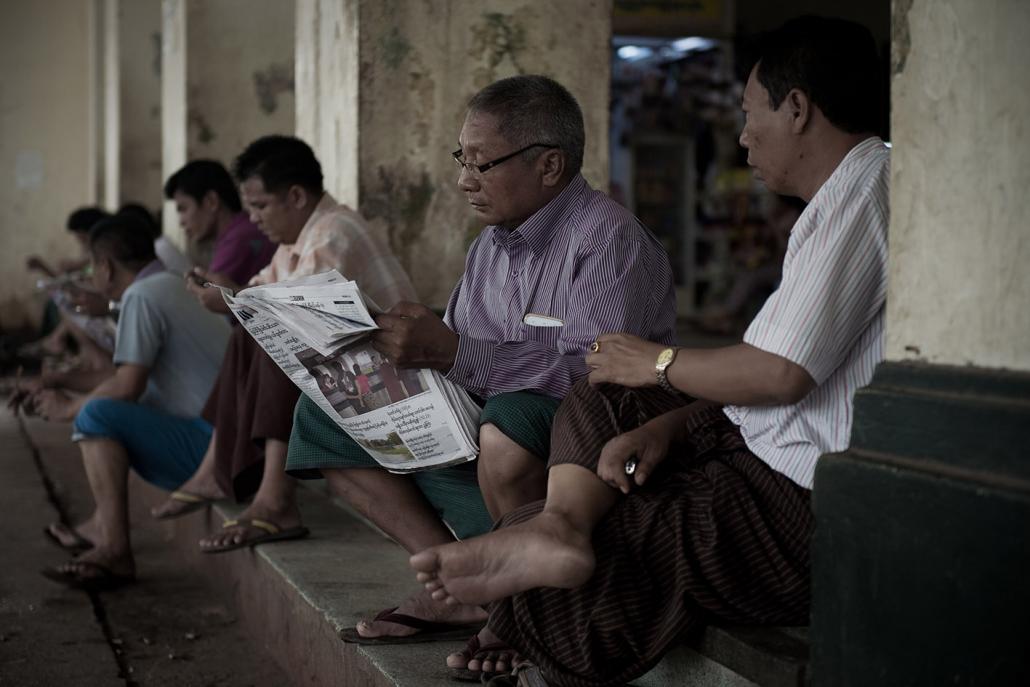 It never happened. Decades of isolationist military rule practically put an end to Myanmar's interactions with the international community and no link-up was made. Today, Myanmar's endless miles of railway end, for one line, in a pile of garbage and long grass at Lashio in Shan State, but the northernmost terminus is Myitkyina in Kachin State.
The upgrades planned by the government involve improvements to railway stations throughout the country, including Yangon Central.
Betel spit stains a corner of the station's lobby, and behind an iron grille staff write tickets by hand. Paint is peeling from the walls and an ATM machine in the corner – the only sign of modernity – is unplugged.
Along the track, a few hundred yards east of the station is a busy slum. Children play in drains filled with trash and adults relax outside simple bamboo homes.
Daw Tin Shwe, 86, was sitting outside her home beside her daughter, who was frying snacks. Daw Tin Shwe cannot remember how long she has lived in the home to which she moved from a small village in central Myanmar with her husband, who has long since died.
She rents her home from the government. A few months ago the authorities told her that she and her daughter would soon need to move to make way for the redevelopment of the station.
"I am very sad about leaving. I have been here for a long time and we have a close community here," said Daw Tin Shwe. "I don't want to move but we have no choice."
Her neighbour Daw Thein Myint told a similar story. Her family – which includes a son who is a maintenance worker on the railway – has lived there for 15 years but will also need to move.
It will probably be to somewhere on the outskirts of Yangon, she said.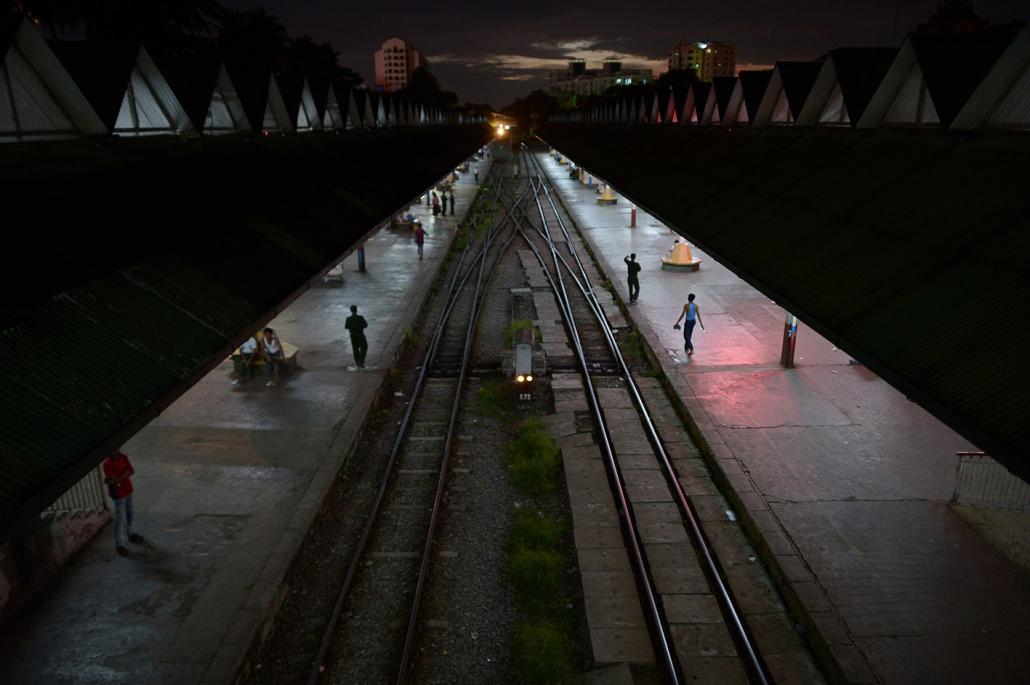 The Mandalay Express
The only class during Theroux's trip was "the equivalent of Indian third class". Today, Myanmar's trains offer two – Ordinary and Upper – but there is little difference between them; only soft seats, windows that require the deposit of half a fingernail to open and fans that blow air directly out of the windows.
Because the journey from Yangon to Mandalay can take between 12 and 16 hours – three officials told me three different arrival times – I paid for the K1,500 upgrade.
At 6am exactly, the carriages bumped and clunked and we rolled slowly through Yangon's eastern suburbs, rocking gently as we passed small villages gradually coming to life. An old woman hung out her washing and a Chinese man practiced tai chi on his balcony.
Within 30 minutes we were out of the city and into the flat paddy fields that would dominate the landscape almost all the way to Mandalay.
At Bago, a young family boarded. They were travelling just a few stops "because the train is easier than the bus". They lived close to the tracks and used the train for nearly all their transportation needs.
Our conversation – conducted mostly in broken English – dried up and the family tucked into a breakfast of rice and fish in tin lunchboxes. I resumed watching Lower Myanmar drift past.
There were few of the uncomfortable bumps I had been expecting and I rocked gently with the rhythm of the train, slipping in and out of sleep in what Theroux called the oppressive heat "that drugs the train passenger into thinking he is disappearing down Burma's gullet".
I was woken by two love-struck teenagers playing love songs to each other on their phones and after they disembarked, by a pair of teenagers. It was just after lunch and they were passing around a bottle of cheap whisky. I politely declined a swig offered to me and drifted back to sleep.
I awoke one last time in darkness and the view outside was of buildings. At 9.30pm – fifteen-and-a-half hours after leaving Yangon – we rolled into Mandalay.
My train to Pyin Oo Lwin was due to leave the next day at 4am so I checked into a cheap hotel near the station, broke my unwritten rule to "never eat luminous food" and went to bed.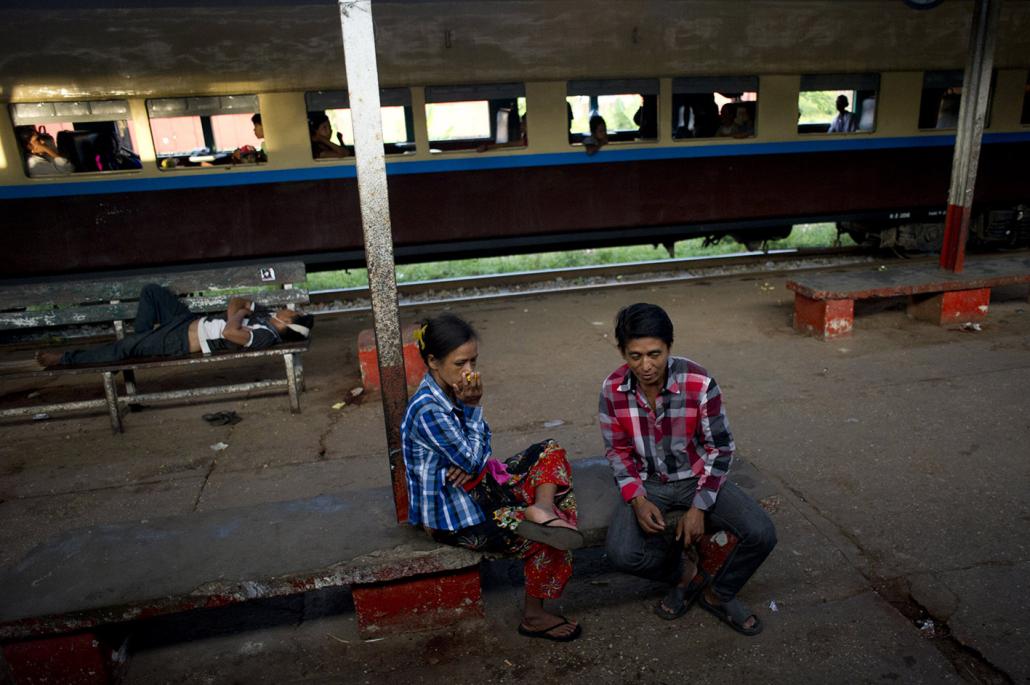 Local to Maymyo
The best way to travel to Pyin Oo Lwin from Mandalay is to ride "with two ponies, and a bullock-cart… the journey up can be comfortably made in two days," wrote George W. Bird in Wandering in Burma published in 1897.
Luckily, it's an easier journey today and the picturesque climb into the Shan hills takes four hours by train.
As we climbed, the pleasant smell of cheroot smoke filled the carriage. We passed colourful homes with well-manicured gardens where young women "chastely covered by sarongs to their armpits, dump buckets of water over their heads".
In Pyin Oo Lwin, a hill station known as Maymyo during British colonial rule, Theroux stayed at the Candacraig Hotel, a grand, red-brick mansion that sits on a ridge on the east side of town. The Candacraig was once a "chummery" for unmarried officers of the Bombay-Burma Trading Company.
Theroux enjoyed a pleasant stay at the Candacraig, writing kindly of its chief steward. When he returned decades later while researching Ghost Train to the Eastern Star he wrote of being embraced by the steward's children. "It was the sort of reunion I had hoped for when I set out to repeat my trip," he wrote of the encounter.
I was to have no such luck.
I parked my motorbike and walked around the hotel. Using the "discover now, apologise later" approach, I tested doors but could not gain entry to the building.
Around the back were some old wooden cabins, presumably former servant's quarters. The back garden was overgrown with grass and thickets of reeds were sprouting from an old, crumbling tennis court.
When I returned to the front of the hotel, I was greeted by a grouchy man in a stained white vest and tattered longyi.
"Closed," he barked.
"Is it a hotel?"
"No, closed."
Our exchange – if you can call it that – lasted another few seconds before it became clear that he would not budge and I left. I was later told that the Candacraig was being developed into a boutique hotel by international investors.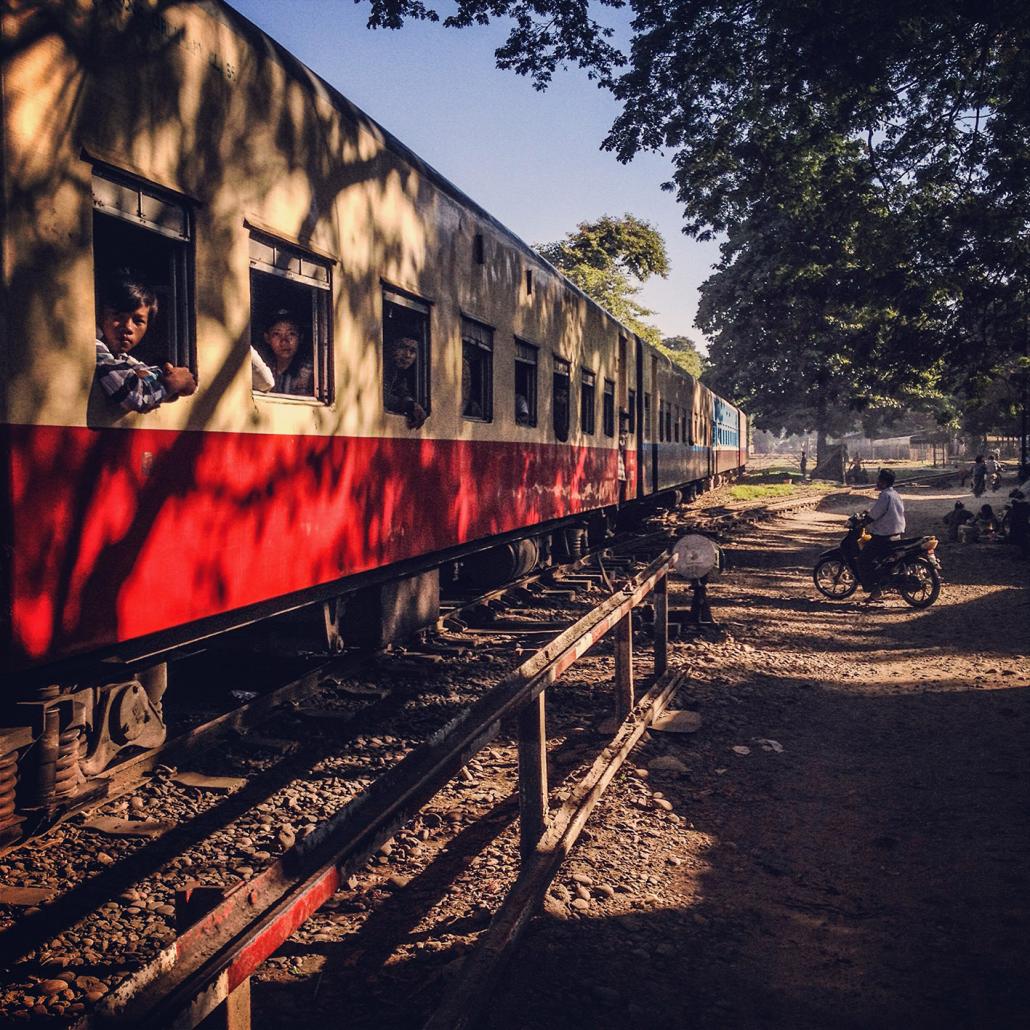 I had better luck across town when searching for the Pyin Oo Lwin home of Eric Arthur Blair, better known by his pen name, George Orwell.
Writing many years later in Homage to Catalonia, Orwell wrote that the air of Pyin Oo Lwin "might be that of England, and all round you are green grass, bracken, fir-trees, and hill-women with pink cheeks selling baskets of strawberries." The strawberry vendors have disappeared but the flora and fauna remains the same.  
I had the good fortune to meet a Myanmar hotelier with impressive knowledge of Pyin Oo Lwin,  who told me that Orwell had lived in one of three houses on the east side of town, near the Candacraig.
The three red-brick houses had once been identical but were in different states of repair. The one on the right seemed new, with a well-manicured garden and sturdy gates. The one in the middle needed some work but was a functioning home. The windows on the house on the left were boarded up and it had tiles missing from the roof and an overgrown garden.
I tried to enter the house on the left but was warned off by a snarling dog, so I turned my attention to the middle house.
As I walked up the path, a car entered the driveway. The driver flashed a smile and waved, a surprise considering I was intruding on his property.
The man introduced himself as U Soe Win and said he spends most of the year in Yangon but travels to Pyin Oo Lwin with his family three or four times a year to escape the smog of the former capital.
As we sat drinking tea, the dog that had scared me off next door trotted happily up the driveway and rested at his feet.
His had been a family home for generations so it was not possible that Orwell had lived in it, he said.
"Why don't you go and check that one?" he said, pointing to the crumbling building next door.
I silently sipped my tea, not wanting to reveal that I'd been scared off by the small dog sleeping blissfully beside him.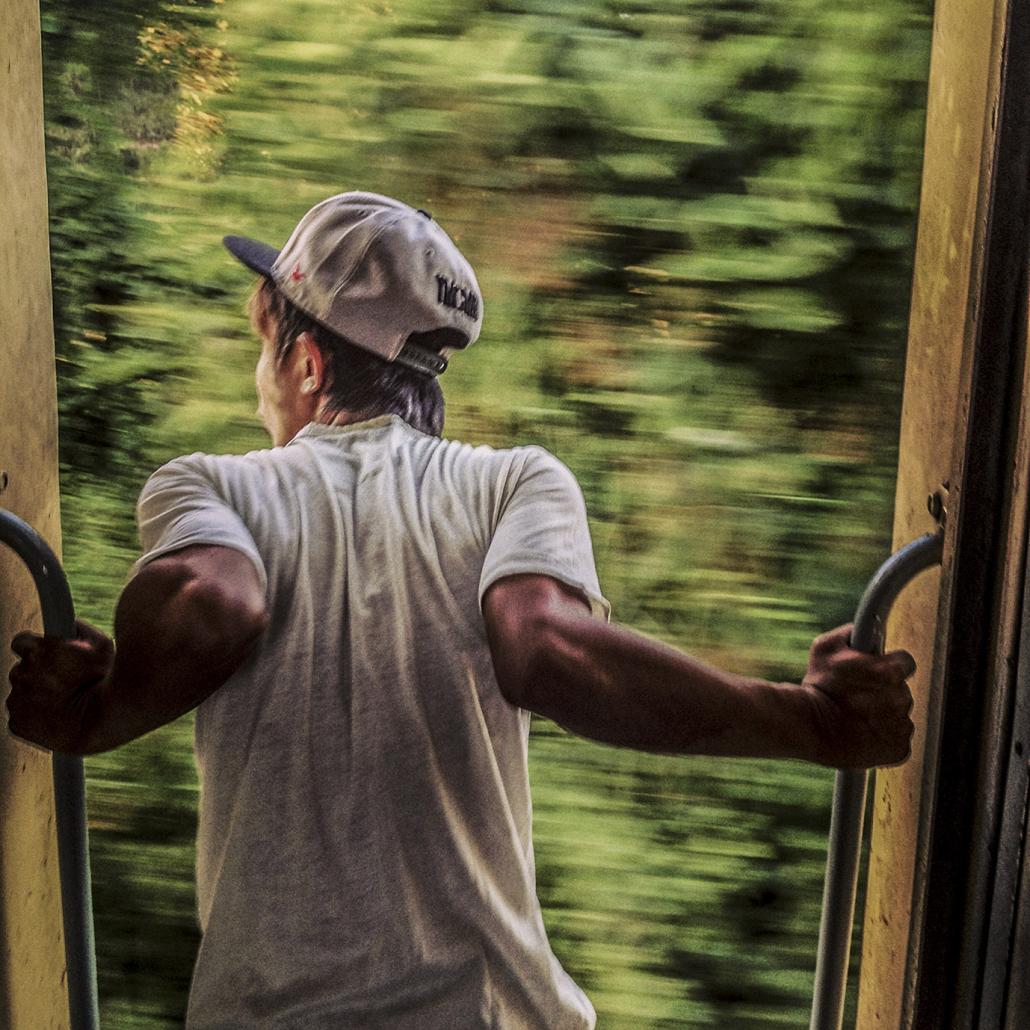 The Lashio Mail
The last leg of Theroux's Myanmar trip took him further east to the Gokteik Viaduct, a "monster of silver geometry in all the rugged rock and jungle".
At 102 metres (335 feet), the mighty trestle was the highest railway bridge in the world when completed in 1900. More than 100 years later it remains a colossal engineering feat, towering above the dense forestry below it.
On the train from Pyin Oo Lwin I befriended a mother and her daughter who were travelling to Lashio. The daughter spoke flawless English and we had an enjoyable few hours sharing stories and snacks as we rolled eastwards.
In mid-afternoon, the lively chatter in the chatter was silenced by the sight of the bridge in the distance, a contrast of silver against thickets of green.
A huge smile appeared on the mother's face. "She gets excited every time she sees it," her daughter said, also smiling.
We edged gradually closer, the bridge becoming larger and more silver until we were on top of it. We slowed to crawling speed and edged across, the screech of the tracks on the metal scaring birds from trees in the ravine below. Children leaned out the window, shouting. Selfies were taken. A group of teenagers threw beer bottles out the window. I tried to fix them with a steely stare but they were having none of it.
Then it was over. We entered a tunnel "smelling of bat shit and sodden plants," and when we re-emerged the Gokteik Viaduct was no more.
Title photo: AFP