At least five people have been killed in Mandalay today when security forces fired live rounds at peaceful protesters, after three more people died in Yangon overnight.
By FRONTIER
At least five people have been killed and 20 injured in Mandalay today, social welfare groups told Frontier, after police violently dispersed peaceful protesters.
Three men and two women were killed when police fired live rounds at protesters on several occasions in Maha Aung Myay Township, between the city's commercial district and the Ayeyarwady River.
Three people were killed and at least 10 injured in the morning when police used live rounds to disperse a sit-in against military rule staged by teachers, healthcare workers, students, monks and residents at the corner of 13th and 91st streets.
Images seen by Frontier show that one woman who died had been struck by a bullet to the forehead.
The protests continued through the afternoon, and security forces killed two more demonstrators.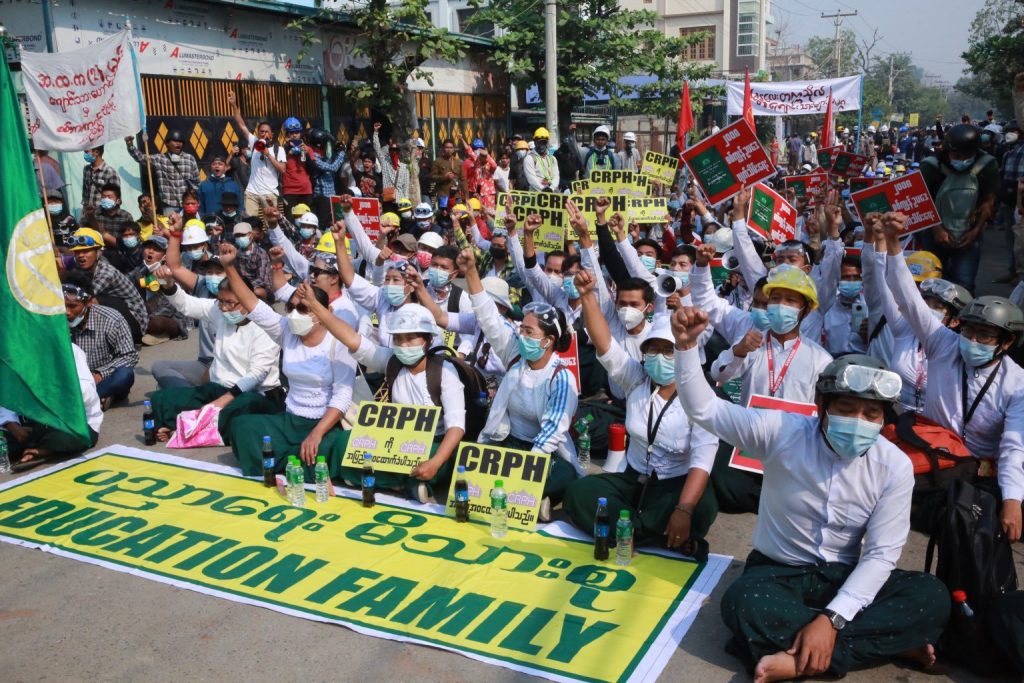 The toll may have been higher had local rescue teams not managed to evacuate at least 100 young protesters who were trapped in a residential neighbourhood between 41st and 42nd streets.
Many of them had taken refuge in local homes, from where they contacted rescue teams and friends for help. Using a network of scouts and lookouts, the rescue teams managed to evacuate the protesters in small groups through the narrow backstreets of the area.
Security forces have so far killed close to 80 protesters in the wake of the February 1 military coup and detained more than 2,000, forcing even Myanmar's staunchest allies to express concern at the regime's bloody crackdown on peaceful demonstrations.
Yesterday, a spokesperson for the Kremlin said it was "concerned" by rising civilian casualties.
"We assess the situation as alarming, and we are concerned about the information coming from there about the growing number of civilian casualties," Dmitry Peskov told reporters in Moscow. "This is a matter of worry for us. We are very closely monitoring what is happening there."
Peskov said Russian authorities are also weighing the possibility of suspending military cooperation with Myanmar.
Yangon night protests turn deadly
Meanwhile in Yangon overnight, two men were shot dead in eastern Thaketa Township and an 18-year-old man was killed by security forces in northern Hlaing Township as after-curfew protests against the military regime turned deadly.
About 200 people gathered today in Hlaing at a makeshift memorial near Sein Gay Har on Parami Road, where Ko Aung Paing Oo was killed last night. Although police and military personnel were sighted nearby, they made no attempt to disrupt the gathering.
Aung Paing Oo had been among a group of residents who, alarmed at the presence of police and soldiers in their neighbourhood, left their homes to protest.
"Residents did not want them to come into the area at night to arrest people … We wanted to drive them out," one resident said, adding that residents deployed Molotov cocktails against security forces.
"Police and soldiers used stun grenades to disperse us… Altogether four people were injured," he said.
His account was confirmed by another resident who saw the melee, while footage shared on social media showed residents hiding behind cars as loud bangs could be heard before they retrieved Aung Paing Oo, who had been shot in the head.
His brother, Ko Wai Lin Kyaw, confirmed he died hours later, after struggling to breathe through the night.
"The doctors could not do much for him as his head was burst," he said, sobbing.
Two people were also killed in Thaketa Township after police shot into a crowd of demonstrators just after midnight.
The crowd had gathered at the Thaketa Township police station to demand the release of protesters detained during a 10pm demonstration residents had staged in defiance of the nightly 8pm to 4am curfew.
At around 12:45am, police used sound bombs and live rounds to disperse the crowd, leaving two dead.
Ko Sithu was shot in the head. The 37-year-old trishaw driver was a husband and a father of two ­– one son and one daughter ­– a relative told Frontier.
Ko Aung Aung Zaw, 41, was shot in his torso. He was also a trishaw driver, a husband and the father of a 15-year-old son.
"His wife does not work. His son is a student and is waiting to attend Grade 10," a neighbor said.
Witnesses said three people were also arrested. – with AFP