More than five years after a woman disappeared while in Tatmadaw custody, a Kachin family waits for answers.
By PAUL VRIEZE | FRONTIER
SUMLUT HTU Ra's normally sunny face turns serious when asked how her family has coped with the disappearance of her sister, Sumlut Roi Ja, who was taken away by Tatmadaw soldiers almost exactly five years ago.
"It affected her husband and her daughter the most. He went into a depression, but now, after a long time, he has got better," said the 22-year-old Kachin woman. "My family also felt so sad, especially my parents. My mother is now getting better."
On a cool evening in mid-October in Mai Ja Yang, a Kachin Independence Army-administered town along the mountainous Myanmar-China border, Htu Ra told Frontier about her family's tragedy and the mystery surrounding her sister's fate.
The family, who live in IDP camps here, has tried hard to move on. Htu Ra is working at a women's rights NGO. Roi Ja's six-year-old daughter is attending primary school, while her husband, Daum Lum, has remarried and his wife recently had a baby. But they are pained by the lack of closure.
"I want an investigation into what really happened and for the Burmese soldiers to admit they really did it. But my parents are getting old and I don't want to upset them again," Htu Ra said.
On October 28, 2011, a few months after conflict resumed in Kachin State, ending a 17-year ceasefire, six government soldiers came down from their post on Mubum mountain, in Momauk Township. They entered the fields of Hkaibang Village, where Roi Ja, Daum Lum and her father-in-law were harvesting corn. The soldiers, from Light Infantry Battalion 321, ordered them to carry corn up to their isolated post.
On the way, Daum Lum and his father managed to escape, surviving a hail of gunfire from the soldiers as they ran away. Roi Ja, then 28, was taken to the outpost, where local villagers believe they saw her several days later from a distance. Shortly afterward she disappeared. 
Roi Ja's family and Kachin community leaders soon contacted the authorities to try and locate her but received no response. Human rights activists recorded the case as an assumed extrajudicial killing and provided Daum Lum with a lawyer, who tried in vain to file a complaint with the Kachin authorities and, later, at the Supreme Court. It rejected a writ of habeas corpus in 2012, saying there was no evidence that soldiers had detained her.
Three of the 17 soldiers at Mubum outpost were later captured by the KIA. In an interview with filmmaker Kevin McLeod for a documentary, one of the Tatmadaw soldiers admitted to participating in Roi Ja's abduction in an interview but offered no explanation of what they had done with her. For its part, the military said in a letter to DVB – which aired the documentary on Myanmar television in December 2015 – that all of the allegations were false.
With their legal options exhausted, Htu Ra said her family has been left to wonder what happened to Roi Ja. Occasionally rumours surface about her fate. Recently, word came that a soldier stationed at Sinlum checkpoint in Momauk told villagers that he was in the platoon that abducted Roi Ja and wanted to explain what happened.
"That soldier told them they had kept her at their post for 10 days. They were discussing whether she was a Chinese citizen," Htu Ra said. "Then, they wanted to bring her to a KIA post, but [he said] they killed her on the way."
While the military has conducted no public inquiry into Roi Ja's disappearance, it has been looking for her family members, according to Htu Ra. She said that twice in the past year she had been questioned by soldiers checking vehicles travelling between government and KIA areas and been forced to lie about her identity.
Most recently, she was questioned just a few days before her interview with Frontier at the Sinlum checkpoint while travelling to Bhamo. "The soldiers looked at my [Citizenship Scrutiny Card] and asked me: 'Are you Roi Ja's sister?' I lied and said I wasn't.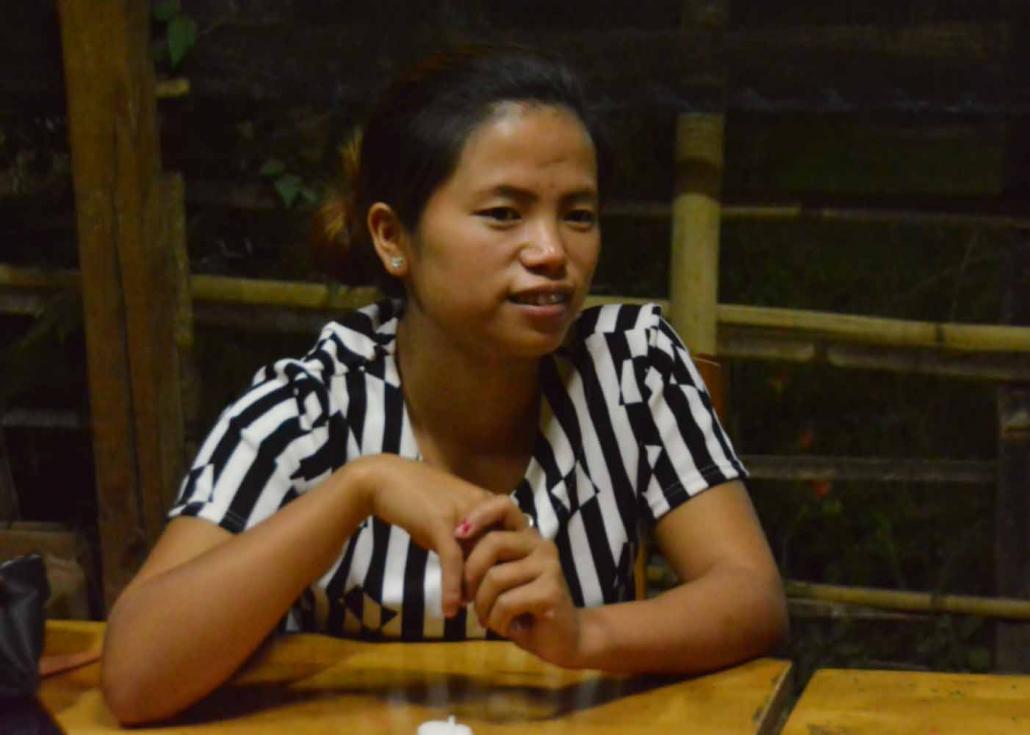 "I want to ask why they soldiers questioned me like that – I didn't do anything wrong. It's not safe for me to travel through government-controlled areas. Maybe it's because I gave interviews that were shown on TV," said Htu Ra, who nevertheless agreed to be photographed while discussing her sister's case.
The military has a history of launching legal action against  civilians who accuse its members of committing abuses, entangling them in a court system that lacks independence. In 2012, a school girl in Hpakant Township was killed after soldiers opened fire in her village following a nearby explosion.
Officers gave her father K100,000 in compensation, but took legal action after he filed a complaint with the Myanmar National Human Rights Commission. He was summoned for numerous court appearances and eventually fined under the Penal Code's Article 211 for falsely accusing the army of an offensive.
Kachin activists said Roi Ja's disappearance was one of many cases in the Kachin conflict where military personnel had committed abuses against civilians and never faced justice.
"All our Kachin people are scared because of that case. Especially in conflict areas, the women and girls feel unsafe. It has a big effect on our community," said Moon Nay Li, general secretary at the Kachin Women's Association Thailand, which documented Roi Ja's disappearance.
Soldiers rarely face justice for abuses, and even then only behind closed doors, at military courts. In what appeared to be a first, the army announced in September that it had sentenced seven soldiers to five years' imprisonment for the killing of five villagers in northern Shan State. It also let relatives of the victims briefly attend the trial.
U Han Gyi, coordinator of the Network for Human Rights Documentation Burma, which includes eight Thailand-based rights groups, said the military's admission of guilt in that case was unprecedented. However, there was little hope that past abuses would be addressed or new abuses prevented under the National League for Democracy government, he said, because the military retains almost total autonomy under the 2008 Constitution.
"Even though the NLD took office in April this year, human rights violations are increasing" because of expanded military operations in Rakhine, Kachin and Shan states, he said.
If Myanmar's process of national peace and reconciliation is to be successful, though, civil society should keep cases such as Roi Ja's disappearance in the spotlight until the military's impunity ends and the government takes responsibility for abuses and compensates victims and their families, he said.
The NLD has not defined its plans for peace and reconciliation, but State Counsellor Daw Aung San Suu Kyi is reluctant to delve into past abuses for fear of upsetting the fragile transition. 
Htu Ra said she wanted justice to prevail, but doubted that the authorities would ever properly investigate Roi Ja's fate. 
"I just want to know what really happened and hear from the soldiers who did what," she said. "The government is changing slowly, but Aung San Suu Kyi always says we shouldn't stir up the past. That's why I don't believe we will find out the truth. I feel hopeless about it."
Top photo: Sumlut Roi Ja and her husband Daum Lum are seen in their wedding photo. (Courtesy family)