Yangon's tiny Jewish community recently hosted a special group of foreign visitors hoping to learn more about their family histories.
By FLORIAN GUCKELSBERGER | FRONTIER
Mr Avi Salomon is trying to tell his family story, but can't seem to finish. Ms Sally Tuvel is sitting beside him in the Musmeah Yeshua Synagogue in downtown Yangon with the birth register of the city's Jewish congregation balanced on her knees.
"Avi, take a picture of this – this is your great-grandfather," she says, interrupting his story. Salomon takes a photo before Tuval's fingers continue turning the register's pages.
Half a dozen fans are moving the humid air about in the place of worship and although it's winter in Myanmar, the 11 tour group members are perspiring. The warm morning is a harbinger of a hot day and the guests from Australia, the United Kingdom and the United States have already visited the Shwedagon Pagoda. But their hearts are also beating with excitement and their sweat is mixed with tears of emotion as they explore their origins in the synagogue.
The person behind the visit is U Samuel "Sammy" Samuels. A slight man, he is wearing a button-down shirt and delicate glasses that he keeps pushing up to dab at his face. Samuels runs a travel agency and is the unofficial spokesman for Myanmar's Jewish congregation. He has his hands full navigating his guests around Yangon: the pagoda, synagogue, cemetery, downtown and an evening event. The day is as long as the programme is full. And yet today Samuels must be happy. For although the synagogue attracts about 30 tourists every day, a religious service is only held on the more important Jewish holidays – apart from that, the few dozen Jews still living in Myanmar do not meet regularly.
On this Wednesday in December, all that is forgotten and Samuels is tensely elated. For today is not only the culmination of Hanukkah, but also the special visit of his 11 guests leafing through the birth register. They are the children and grandchildren of Jews who fled Burma in two waves: the first in 1942 after the Japanese invaded and then in 1962 when the military seized power.
"I knew that my mother and some of her siblings were born in Burma," said Ms Mozelle Friedman, who lives in Australia. "But today I found out she had two more siblings that my family didn't know about. They died in childhood."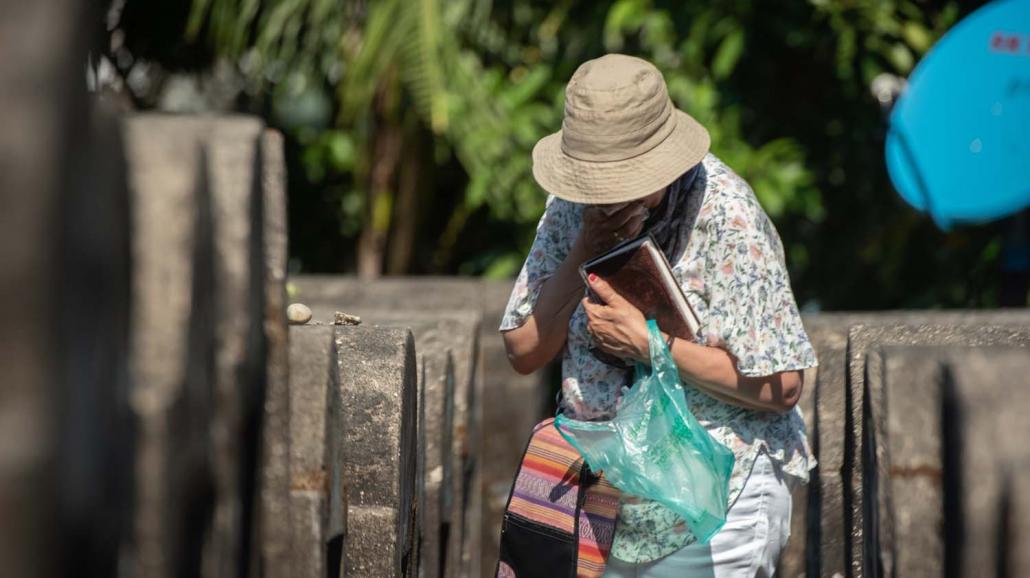 Like so many Jewish families, Friedman's escaped to Calcutta after the Japanese invasion began. Illness and malnutrition were the companions of the poorer Burmese Jews, many of whom fled on foot; one of her aunts died from the hardship of the journey.
Ms Lorna Alexis Ward, 70, may never know how her parents managed to get to London. She is the exception within the group because she grew up outside the Jewish faith, learning only when she was 13 that her Christian parents had adopted her as a toddler. It was another 17 years before she requested to see her birth certificate.
"The lady in the [birth registration] office wanted to know if I was mentally fit," said Ward, laughing. "And then she looks at the paper and says: 'Your father's name is Brimwin Dennis Sassoon Solomon'."
Ward waited until late in life, after her adoptive parents had died, to begin tracing her past. "I thought, now it's okay, now it won't upset them. And I found all the clues that ultimately brought me here," she said.
Unlike the family of Mozelle Friedman, whose father eked out a living as a soap maker, the Sassoon Solomons were one of the most prominent families in Rangoon. "They drove Rolls-Royces and Jaguars in the 1920s, and had domestic workers. They were rich," said Ward.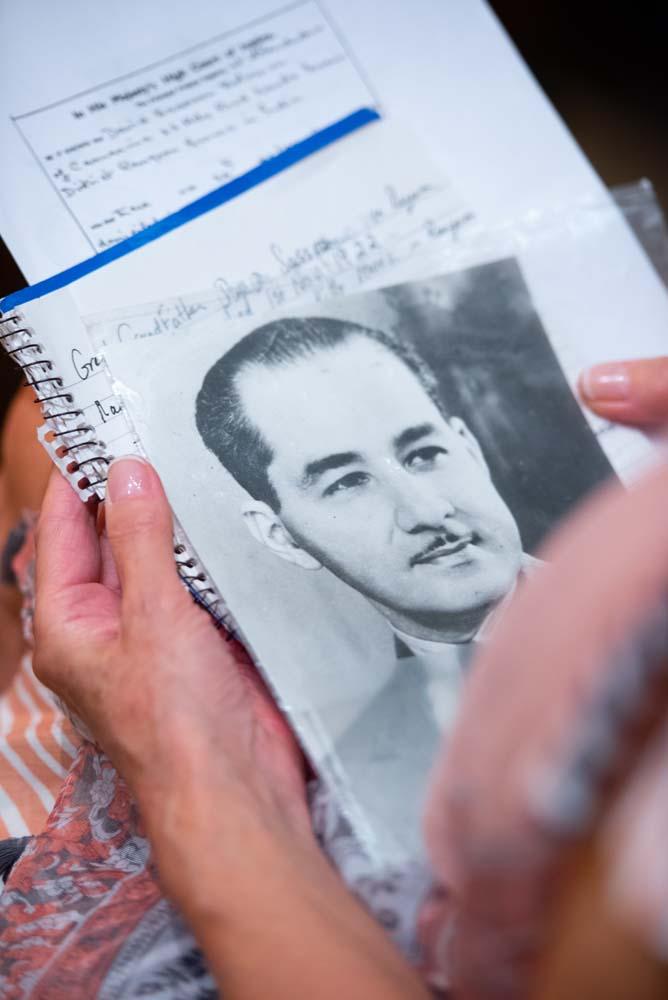 In contrast to this grand narrative, most of the group's memories of life in Burma decades ago have faded to fragments. "My mother talked about this narrow wooden walkway over the railway tracks. She had to cross it on the way to school. She was so frightened that her brother had to hold her hand," Friedman recalled. Her mother died last year. Later, at the Jewish cemetery, Friedman discovered the grave of her great-grandmother, over which she said a prayer and wept.
The Jewish cemetery in 91st Street is a quiet retreat in the tumult of the big city. The noise of overcrowded streets, wandering vendors and honking cars is muted. Hundreds of stone sarcophagi are the weathered witnesses of the heyday of Jewish life in Yangon. Salomon takes the opportunity to call his father via Facebook video link and show him the rows of graves. The cemetery provides an indication of the size of the Jewish community, which numbered more than 2,500 before the Japanese invasion and occupation. There was a Jewish quarter, a Jewish school and a Jewish mayor. Today there's just Sammy Samuels. The last names entered in the birth register are those of Samuels and his sisters.
"We're not dying out," he said, but the comment seems to be based more on hope than on reality. Then Samuels talks about being alone and recalls that his father, Moses, said that true strength lies in faith and not in numbers.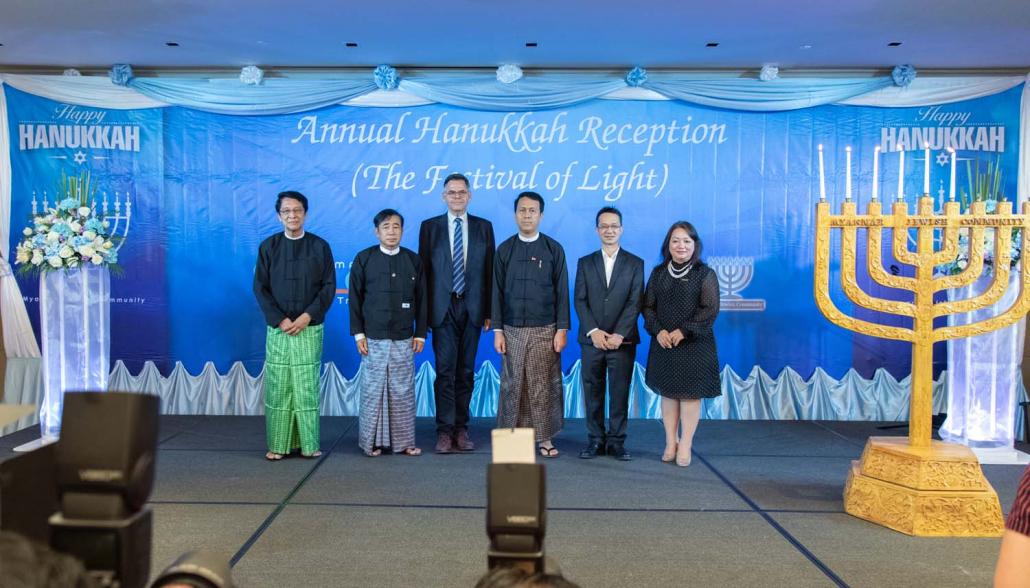 Nevertheless, the pride shows in Samuels' eyes as he greets 200 guests of all religious backgrounds at the Chatrium Hotel that evening. For the Jews it is a celebration of Hannukkah and the fact it is being celebrated in Yangon. The event is addressed by the Yangon Region Chief Minister U Phyo Min Thein, and the recently appointed Israeli ambassador, Mr Ronen Gilor. Then comes the food and dancing.
The mood is relaxed and Avi Salomon, Mozelle Friedman, Lorna Ward and the others are enjoying themselves. Gilor tells Frontier at the event he is confident it will be possible to renovate the dilapidated and partly overgrown Jewish cemetery, despite plans by Yangon City Development Committee to add it to the list of other cemeteries that have been relocated.
The group's visit came as the Rohingya crisis continues to make international headlines, contributing to a decline in tourists from Western countries at a time when the economy is flat. Some of Samuels's Jewish guests also had concerns about whether it was the right time to visit Myanmar.
"It's a tragedy. Not just for us Jews, for the whole country," said Samuels. "The other day I was asked why I keep talking about religious freedom; we Jews are just a small congregation. As if I only do it for myself! It's about the Muslims, Christians and Baha'i. If we don't talk about it, it'll get worse," he said. But he is careful with his words. In common with Gilor and other members of the Jewish congregation, Samuels refers to the "Rakhine affair" and does not speak of the Rohingya.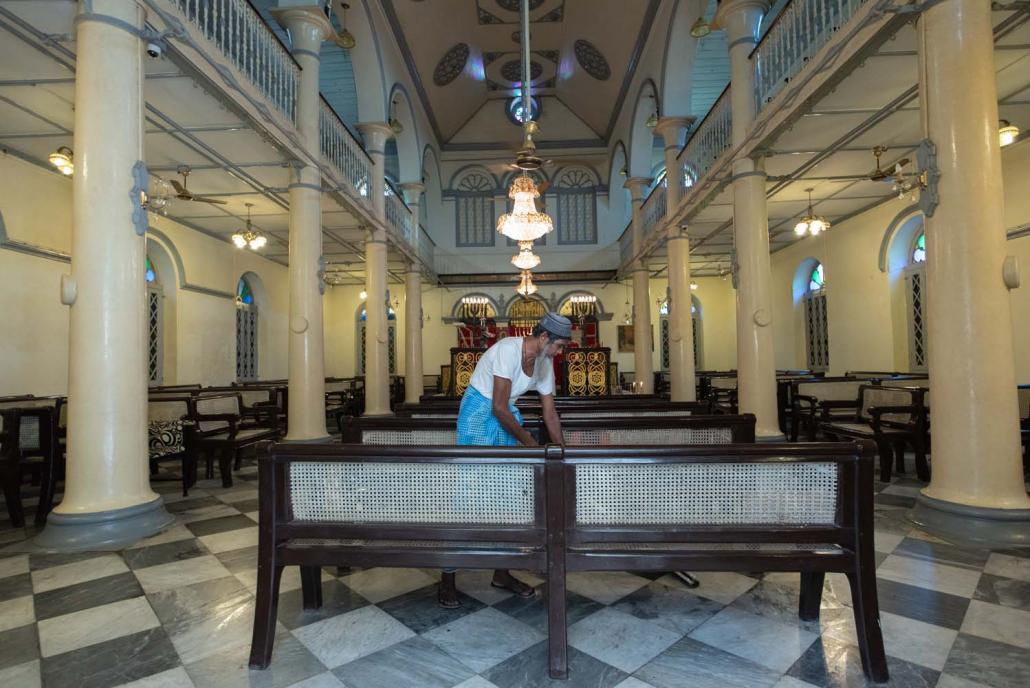 Each week on the morning before Shabbat, the 24-hour Jewish Sabbath that begins on Friday evening, U Mohamed Esat, an elderly Indian-born Muslim, slowly climbs the few steps of the synagogue. He reaches for his broom and begins the task of sweeping the sanctuary clean. Asked if he's aware of the Middle East conflict, Esat waves the question away.
Yes, he's heard about it, but it doesn't interest him. Israel and Palestine are the same distance from Yangon's only synagogue.
Like so many minorities, Myanmar's Jews seem to have accepted that the price of their undisturbed existence is political neutrality.
Samuels adheres to the unspoken rules and has embraced a concept he calls peace through tourism.
"We need an economy where people make a living and work together. Then we forget what makes us different. No matter what religion we belong to, we work together towards one goal: that our community does well," he said.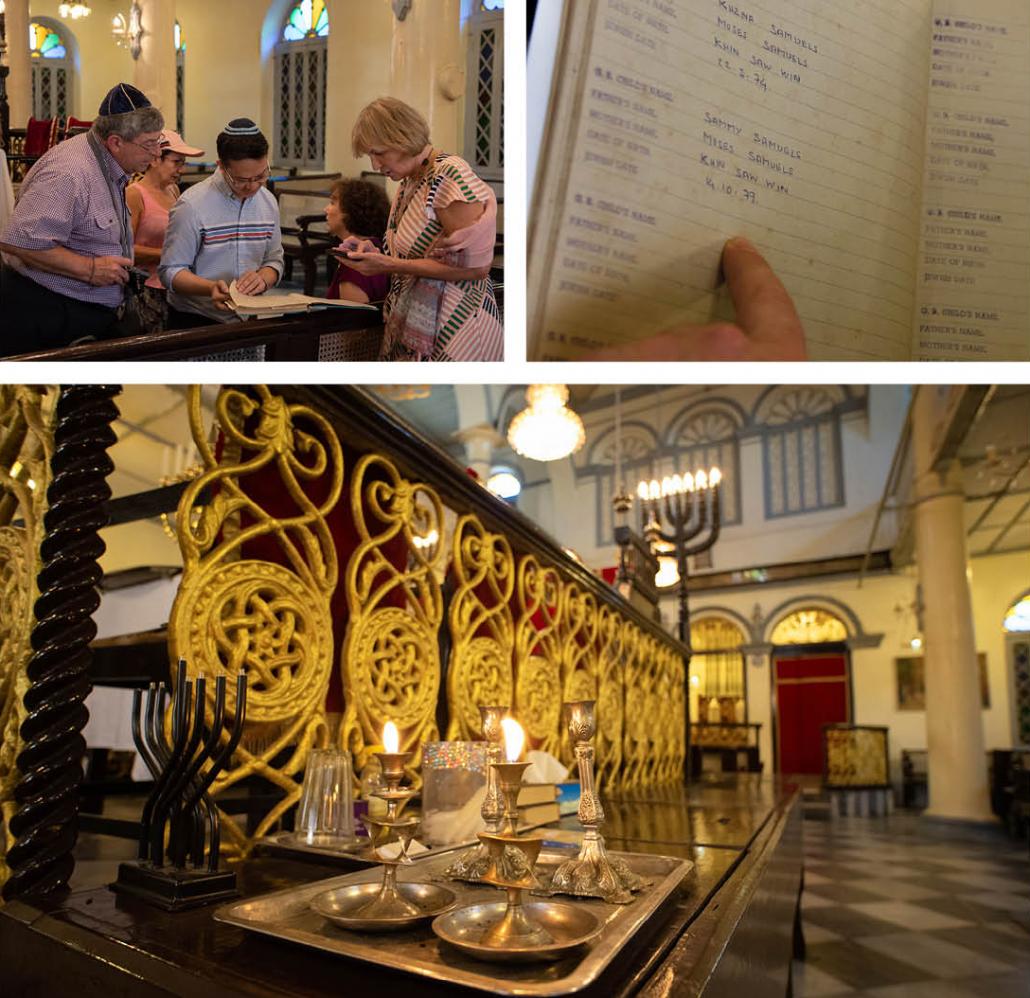 Meanwhile, Samuels retains the hope that one day there might again be a thriving Jewish congregation in Myanmar. Until then, he'll make sure the lights stay on at the Musmeah Yeshua Synagogue.
This article was written as part of the Goethe-Institut's Close-Up journalists' exchange programme. More information can be found at www.goethe.de/nahaufnahme and at #goethecloseup.
TOP PHOTO: Ms Lorna Alexis Ward (centre) and Ms Sally Tuvel (right) examine the birth register at the Musmeah Yeshua Synagogue in downtown Yangon. (Rajiv Raman | Frontier)