A small but growing group of Buddhists is fighting a determined campaign against the extreme nationalist rhetoric and hate speech that it says is a violation of what the Buddha taught.
By HTUN KHAING | FRONTIER
U AUNG THAN, 60, is a quail egg vendor who tries to make at least K12,000 a day on downtown Yangon's busy streets so he has enough money for his asthma medication.
On October 5, the full moon day of the Thadingyut festival of light, and one of the most important events on the Buddhist calendar, he travelled from his Thingangyun Township home to the Shwedagon Pagoda.
Aung Than's hopes of selling quail eggs to the crowds thronging the nation's most revered Buddhist site were short-lived. He was approached by a small group of monks and laymen who told him to leave the area.
According to video footage of the encounter posted on social media by a member of the group, the elderly vendor was banished from the Shwedagon's precincts because he is a Muslim. Prior to that, the video shows the group demanding that a dark-skinned man and woman selling SIM cards provide identification to prove they are not Muslim.
The post caught the attention of Ko Myat Kyaw, 37, who heads a committee formed earlier this year to campaign against the propagation of false Buddhist doctrine.
Myat Kyaw contacted Aung Than immediately and offered to help if he wanted to take legal action against the group.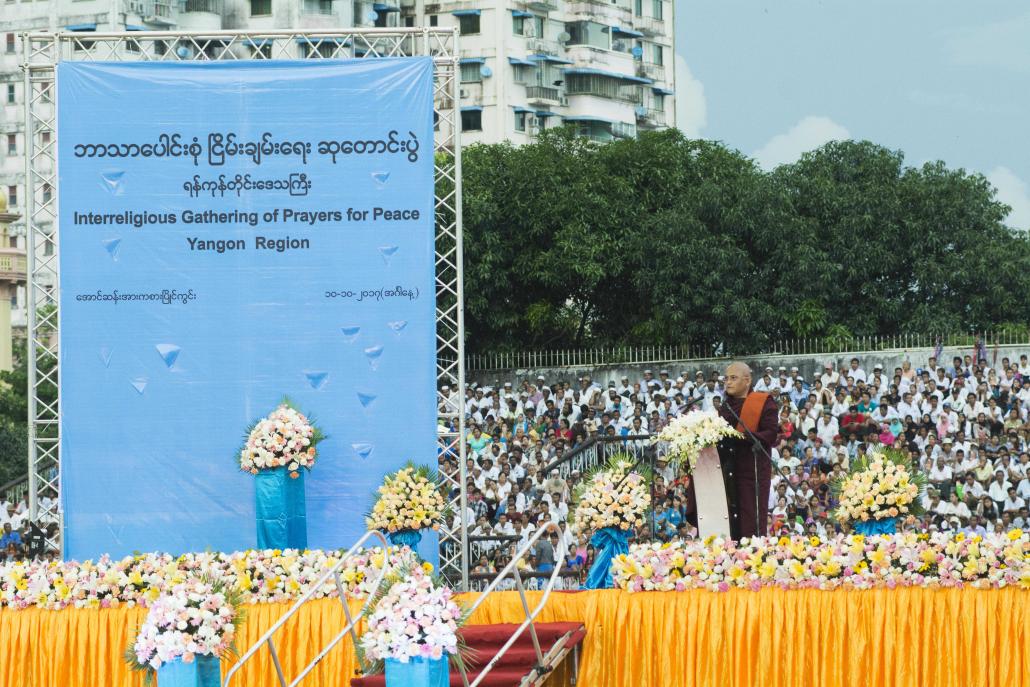 Aung Than declined the offer because he was worried that if he sought legal redress he might suffer negative consequences.
Myat Kyaw had hoped that legal action would help to prevent similar encounters at Buddhist sites.
"There are many pagodas in our country," he said.
The Anti-False Buddhist Doctrine Committee was established in April by Myat Kyaw and about a dozen others in response to hate speech by ultra-nationalist monks and laity. The committee quickly attracted support from other Buddhists appalled by the intemperate language used by extreme nationalists.
"If you propagate racial and religious hostility it will grow like cancer, as we have experienced in the past," Myat Kyaw said.
A target of the committee's campaign is the ultra-nationalist monk, U Wirathu. He welcomed the assassination in January of lawyer, constitutional expert and prominent Muslim U Ko Ni, has said Buddhist women were better off marrying dogs than wedding Muslims, and once described the United Nations special rapporteur on human rights in Myanmar, Ms Yanghee Lee, as a "whore".
In June, the committee gathered about 3,000 signatures in Yangon for a petition about Wirathu that was presented to the ministries of Home Affairs, and of Religious Affairs and Culture, and the supreme body representing the monkhood, the State Sangha Maha Nayaka Committee.
The petition asked for an opinion on whether Wirathu's behaviour and speech were in breach of Buddhist teachings.
Myat Kyaw told Frontier on October 11 that the committee was yet to receive a response from the three bodies.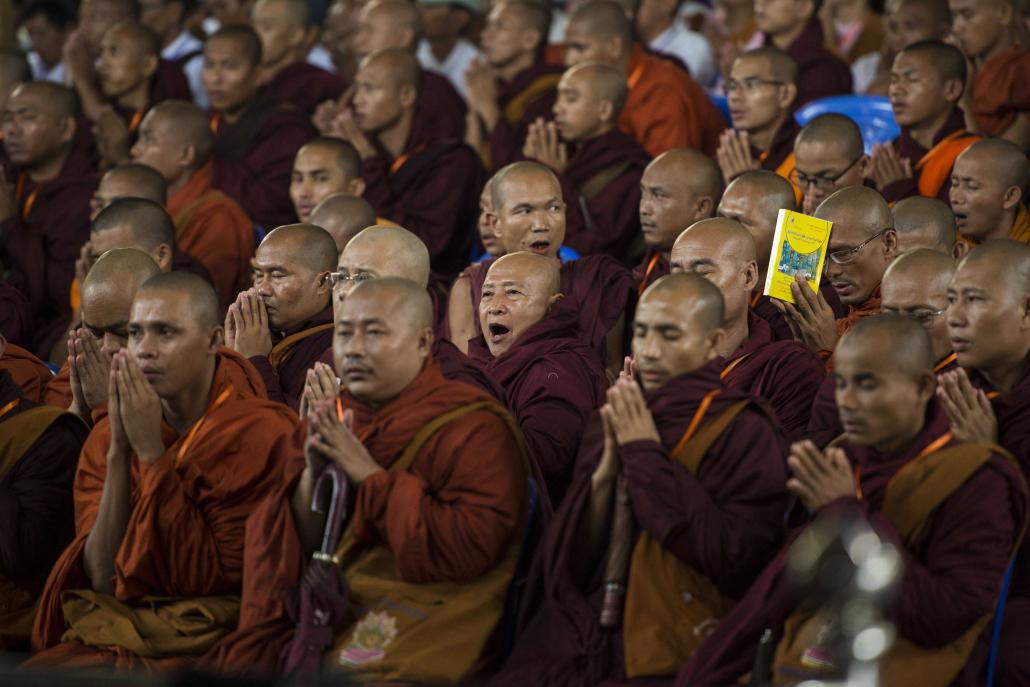 The committee, which is planning to establish branches in Mandalay and Magway regions, is also active in countering extreme nationalist rhetoric and hate speech on social networks with the help and support of its 46,000 members.
Myat Kyaw says the committee's members doubt that Wirathu is acting in accord with the Buddha's teachings. There is also concern about violations of the code of monastic discipline, the Vinaya, which prescribes 227 rules for ordained monks.
"It's my opinion that what Wirathu has said amounts to incitement among different races and religions and I very much doubt it is what the Buddha taught," he said.
Extreme Buddhist nationalism has emerged since the end of military rule and its growth has been supported by greater freedom of expression and the huge popularity of social media.
The communal violence that erupted in Rakhine State in June 2012 – five months after Wirathu was released from prison under amnesty after serving nine years of a 25-year sentence for a range of offences – was the first of a series of ugly incidents under the Union Solidarity and Development Party government. The worst violence outside Rakhine were the clashes at the Mandalay Region trading town of Meiktila in March 2013, which saw at least 40 people – mainly Muslims – killed.
Communal violence has continued under the National League for Democracy government, and there have been at least four anti-Muslim incidents outside Rakhine State so far this year.
In Yangon, nationalist mobs shut down two madrassas in Thaketa Township in late April and two weeks later there were heated clashes in heavily Muslim Mingalar Taung Nyunt Township after Buddhist extremists gathered there amid baseless rumours that some families were sheltering Rohingya.
In July, a mob attacked a house being built by a Buddhist at Kyaukpadaung, in Mandalay Region, because they wrongly believed it was a mosque despite the town having no Muslim residents, and in September, a Muslim butcher's shop was stoned at Taungdwingyi, in Magway Region.
Myat Kyaw welcomed the harder line that the NLD government has taken against fomenting religious hatred compared with the USDP administration.
"After the anti-Muslim activities in Thaketa and Mingalar Taung Nyunt, two monks and six men were taken to trial," he said.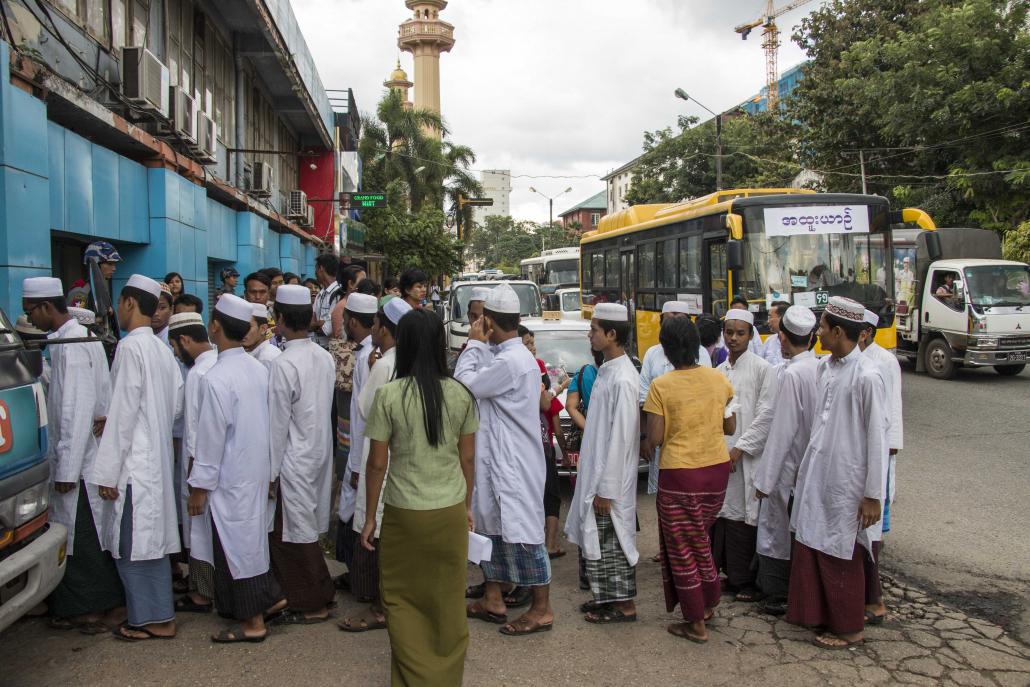 With the backing of the NLD government, the State Sangha Maha Nayaka Committee has moved against Wirathu and the extremist Association for the Protection of Race and Religion, popularly known by its Myanmar acronym as Ma Ba Tha.
In March, the committee banned Wirathu from preaching for a year and in May it ordered Ma Ba Tha to cease its activities by mid-July or face prosecution. Ma Ba Tha responded to the ban by changing its name.
Myat Kyaw's stand against extremism in the name of nationalism has earned him many enemies, and he often receives written threats.
He is undeterred and remains determined to continue the Anti-False Buddhist Doctrine Committee's campaign.
"Whom should I fear?" he said. "If you show fear to those who behave unfairly or unjustly, then injustice will prevail in our country and in the world," he said.
He is concerned that the activities of hardline Buddhist nationalists will sully Myanmar's international image and is worried that extremism will lead to more violence.
"The world was plunged into an inferno and millions were killed," Myat Kyaw said, "because one man, Adolf Hitler, believed in the supremacy of his race."
TOP PHOTO: U Myat Kyaw, founder of the Anti-False Buddhist Doctrine Committee. (Teza Hlaing | Frontier)