Millions of dollars in American aid have been pledged to fund "locally-driven" solutions to rampant drug addiction in Kachin, where local church-backed groups have so far led the response, sometimes taking the law into their own hands.
By EMILY FISHBEIN | FRONTIER
WHEN TU JA was growing up in the Kachin State capital, Myitkyina, he was ashamed of his father. The man had been a wealthy player in the jade trade at Hpakant, Kachin's mining hub 180 kilometres west of Myitkyina, but was wasted by heroin and other drugs by the time Tu Ja was in primary school. When his grandfather ejected the family out of exasperation, his mother found the five of them a place to live in another part of town and opened a small shop to support them. Tu Ja's father, who spent three stints in jail and one in a government-sponsored rehabilitation centre, died around seven years ago.
Tu Ja, now 19, told Frontier that he had kept his father's addiction secret, not even telling his girlfriend, and he did not want his real name mentioned in this report. "Tu Ja" is a pseudonym, used at his request.
Tu Ja's father died around two years before the formation of the grassroots Christian anti-drug movement Pat Jasan, which literally translates to "block and clean" in Jinghpaw. The movement has generated media controversy for its vigilante-style methods – which include apprehending drug users, beating them and confining them in its "detoxification" centres – and for its two missions in 2016 to destroy opium poppy fields.
When Tu Ja was 16, he joined his brother-in-law as a Pat Jasan volunteer. "I was like a spy in the neighbourhood and I reported back to Pat Jasan," said Tu Ja, although his stint as a volunteer did not last long before he returned to school. He has since gone on to open a shop.
The brother-in-law with whom he volunteered became addicted to heroin himself. He was detained by Pat Jasan and taken to one of its detoxification centres, where he remained for three months before running away. Tu Ja's mother has since become a volunteer and checks women suspected of being users during Pat Jasan raids.
The effect of his father's addiction on the family is a powerful incentive for Tu Ja to spurn drugs, unlike so many of his peers. "I don't think I am that different from other people," he said. "I just had that experience with my father."
'Locally-driven' solutions
While there appears to be no data on the scale of drug addiction in Kachin State, local perceptions and anecdotal evidence suggest it is widespread. Drug use is driven by a variety of factors, including scarce job opportunities for youth, the ready availability of cheap narcotics and the government's apparent reluctance to prosecute kingpins while arresting lower-level dealers and users, as reported by Frontier in January.
Drug addiction is especially prevalent in Hpakant and other mining settlements, where many workers use stimulants such as methamphetamine to be able to toil long hours and others are addicted to opium or its derivative, heroin. Myanmar is the world's second largest producer of opium, after Afghanistan, and poppy has been grown in Kachin and Shan states for decades, including in areas controlled by militia groups under Tatmadaw command. Meanwhile, production of methamphetamine, both in pill and the crystal form known as "ice", has surged over the last decade in Shan and is increasingly sold domestically.
Formed by church and civil society groups as a community response to Kachin's alarming rates of drug abuse and accompanying social and public health problems, Pat Jasan has close ties to religious groups including the influential Kachin Baptist Convention. The movement was founded following a KBC conference, and many of its committee members are Baptist pastors.
Pat Jasan says it has tens of thousands of volunteers, the large majority of whom are from the ethnic Kachin community, which is mostly Christian. The movement pursues a multi-pronged strategy by raising awareness, "taking action" by apprehending users through its volunteer network, and "detoxifying" them through Christian prayer and methods including massage and cold baths to ease the harrowing withdrawal symptoms. The movement stopped destroying poppy fields after violent confrontations with militias and poppy farmers in 2016.
In addition to Pat Jasan, a range of Christian faith-based centres have opened in Kachin, many of which also advocate complete withdrawal from drugs, or "detoxification", and some of which go further to provide vocational training and other forms of support with an eye to long-term rehabilitation.
Last December, the United States Agency for International Development unveiled plans to contribute US$6 million over the next five years to support "locally-driven" efforts to address the causes and effects of the drug abuse epidemic in Kachin.
In an e-mail to Frontier on June 7, US embassy spokesperson Ms Aryani Manring said the funding "exemplifies some of the ways that the United States is advancing locally-owned development, and empowering local actors to take the lead in addressing their own development challenges. USAID supports local ownership and self-reliance – this is part of the American vision of ending the need for foreign assistance."
Projects will be "designed by the people in Kachin", Mr Robert Kelly, USAID's HIV-AIDS senior technical advisor for Myanmar, reaffirmed last month. "People in Kachin are figuring it out; the US government wants to fund local solutions," he told Frontier.
USAID already funds public health programmes aimed at reducing HIV/AIDS among drug users in Kachin. How willing the American state agency will be to fund community-driven approaches that go against the grain of international evidence-based, human rights norms remains to be seen.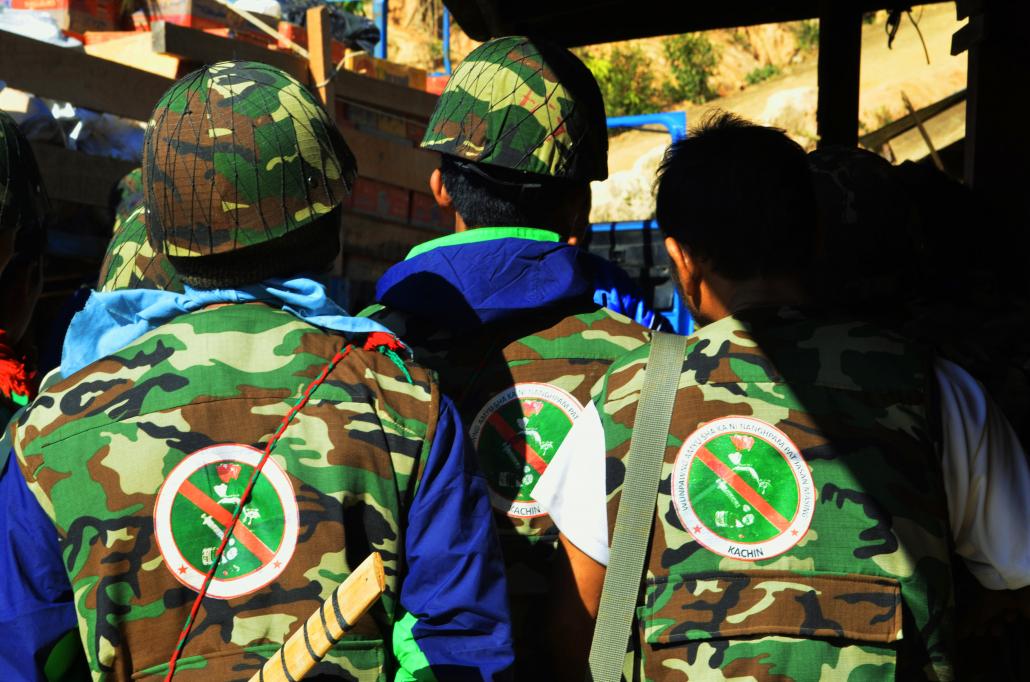 'A light in the darkness'
Tu Ja credits Pat Jasan with making Myitkyina's streets safer, but says its presence has become less noticeable and that its activities have slowed in recent years, while drug use and crime have crept back up.
"Now, Pat Jasan is kind of silent," Tu Ja said. "I feel in the past two or three years, it has become less safe in Myitkyina. When I saw Pat Jasan walking around, riding around the city on motorbikes, I felt like I didn't need to be afraid. But now, I don't see Pat Jasan."
Nhkum Tang Gun, who stepped down as Pat Jasan's spokesperson in February, told Frontier the movement had diminished because of "a decrease in our commitment and perseverance" as well as continued armed conflict between the Kachin Independence Army and the Myanmar military, which has hindered access to some communities.
Pastor Saulang Ting Ying, 28, also expressed concern about rising crime rates. "Pat Jasan is a kind of hope, a light in the darkness for Kachin people, but now, it is not active like before. When they slowed down in 2016-17, robbing, stealing, crime resumed. People are really thinking again that we need Pat Jasan."
Ting Ying acknowledged that many drug users relapse after exiting Pat Jasan's centres, but did not see it as a failure of the movement as much as a reflection of the motivation of different drug users. "As Christians, we believe our faith can cleanse on the inside; the outside treatment is just temporary," he told Frontier.
Kyang Bawm, administrator of Pat Jasan's Chang Mu detoxification centre on Myitkyina's outskirts, estimates that seven out of 10 users who leave the facility relapse into drug use.
Tang Gun acknowledges that addicts are beaten but does not characterise this as violence, which he said is against Pat Jasan's policies. All beatings, he said, are justified according to the situation. Users detained by Pat Jasan have the option of agreeing to be admitted to one of its detoxification centres or being handed over to the police. If they agree to the former, they are told they will also be beaten. Tang Gun said that because users are told in advance, the beatings are regarded as consensual. Users may also be beaten if they are caught trying to escape a centre.
"Our policy from the beginning has been not to be violent," he said. "Legal punishment can range from fine and jail to the death penalty. In the case of detoxification centres, beating is a punishment. It doesn't mean we use violence against them. Rather, we make an agreement on the type of punishment and get their voluntary consent."
Tang Gun said Pat Jasan volunteers may also respond in self-defence when a drug user violently resists being apprehended and detained.
On being successfully apprehended, many drug users would opt for beatings under Pat Jasan because harsh prison sentences await even minor drug offenders in Myanmar. Amendments passed in February last year to the 1993 Narcotic Drug and Psychotropic Substances Law annulled the mandatory imprisonment of any drug user who had failed to register as such with the Ministry of Health and Sports, but section 16 of the law still says that anyone found in possession of a small amount of narcotics, such as one or two amphetamine pills or a gramme of marijuana, is liable to five to 10 years' imprisonment.
Sut Ring Naw Naw, a teacher at a private social sciences school who considers himself an advocate of nonviolence, does not view Pat Jasan's use of beatings as a problem, but he's concerned that some volunteers deviate from Pat Jasan's rules. "Pat Jasan may need to use force, but not torturing," said Sut Ring Naw Naw, 23. "Pat Jasan's goals and hopes are good, but some of their volunteers' techniques are wrong. Some are abusing their power."
Pat Jasan sometimes uses chains or stocks to hold users experiencing severe withdrawal symptoms. Tang Gun said this was a "last option" when users pose a potential danger to volunteers or to themselves. Tu Ja expressed support for Pat Jasan's beating and chaining practices; he said Pat Jasan "might beat people, they might chain people. It's how it should be; I support it. If they do it, it is because that person made a mistake."
Ting Ying said many non-government organisations had come to Kachin in the past decade and spoken about human rights and "this education caused some people to complain about beating up drug users".
Ting Ying argued that community interests needed to take precedence over a Western notion of individual human rights.
"Kachin people have a very community-based society," he said. "We don't look at individual rights as Western people do. We look at community rights to live freely, peacefully without any drug disturbance. Those who steal or disturb others must be punished, not for using drugs but for disturbing the community."
Reverend Hpala Lum Hkawng, who is the secretary of the Pat Jasan committee for Waingmaw Township, also described beatings as a restorative measure that helps to alert users to their mistakes. "We don't do it as torture; it is a kind of discipline," he said. "Drug users need to be woken up, reminded that they are doing something wrong."
Lahtaw Seng Myu Awng, 29, a pastor and volunteer at a Baptist education and leadership centre, said being beaten was better for a drug user than facing the criminal justice system.
"[Foreigners] always see the way Pat Jasan strikes people as a violation of human rights, but they don't know that prison in Myanmar is worse than being beaten. The user knows what the conditions are," he said, adding that if there were a good alternative to the beatings, he would support it.
"Striking [drug users] reminds them that they've done something wrong," Seng Myu Awng said. "Pat Jasan is taking action to support our identity, our value as a Kachin nation."
'As easy as buying fruit'
People from the Kachin community who spoke to Frontier doubted that the government and law enforcement were capable or willing to solve the drug crisis in Kachin, citing alleged corruption and apathy.
"Sometimes we feel that despite our intense efforts, if the government doesn't take serious action against drug dealers, [our work] won't be that effective," said Ja Kashin Tang Raw, founder and director of Ram Hkye Shalat, a Christian faith-based rehabilitation centre on the outskirts of Myitkyina that also goes by the English name Care Hands Youth Reform Organisation. Founded in 2011, Ram Hkye Shalat is entirely run by reformed drug users. It relies on baths, massage, spiritual study and community welfare activities to free users from addiction, but does not imprison or beat users.
A 29-year-old former addict and current volunteer interviewed by Frontier at Ram Hyke Shalat said drugs were easily available when he was introduced to methamphetamine, in the form of pills known by the Chinese name of ya saw, and locally as Number 8, by fellow soldiers about 10 years ago while serving in a Border Guard Force militia unit.
"The police didn't arrest anyone using drugs. It was so easy to get drugs, as easy as buying fruit and vegetables," said the man, who is from the town of Pang Wa in Chipwi Township on the Chinese border.
Kyang Bawm said the government should give Pat Jasan formal powers to arrest and detain drug dealers and users, because Pat Jasan, with its broad network of volunteers, can often arrive at the scene quickly and catch users and dealers with drugs in-hand. Waiting for the police to arrive often gives suspects time to escape, leaving the group little choice but to take matters into their own hands.
Seng Myu Awng said, "We need the government to cooperate with Pat Jasan, because we are here, at the right place, to take action."
Some speculate that, in the context of the civil war in Kachin, allowing youth to become addicted to drugs is part of a deliberate strategy by Myanmar authorities to weaken the strength of the Kachin people.
"I have seen many of my neighbours and friends gone away because of drugs. Old people are attending the funerals of young men, young women," said Ting Ying. "It's very threatening for our nation, a slow genocide."
Seng Myu Awng said Kachin's "future leaders are being killed", adding, "We see the drug issue as an identity issue, that's why we feel like it's a slow genocide. Drugs are threatening our existence as a Kachin nation."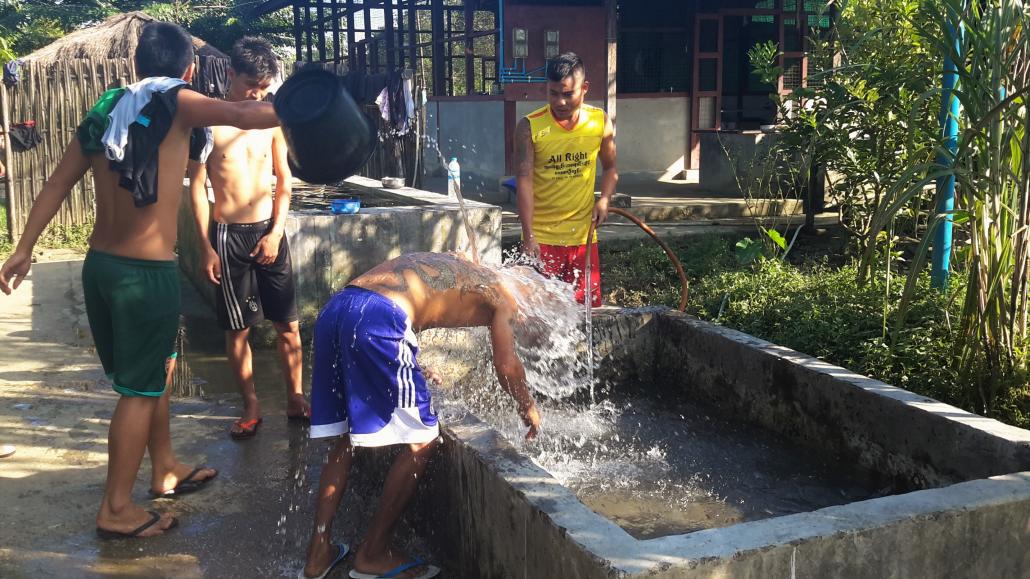 Reducing harm
Contrasting with Pat Jasan's approach, internationally-funded "harm reduction" programmes, which address drug addiction from an international human rights and public health perspective, have existed in Kachin since the 1990s. While detoxification programmes seek to immediately break users of drug addiction, harm reduction programmes try to reduce the health risks, including the spread of HIV/AIDS and other infectious diseases, for drug users and their families.
The Substance Abuse Research Association, a Yangon-based NGO founded in 1999, is currently one of four organisations with harm reduction activities in Kachin, and is funded by the Global Fund to fight AIDS, Tuberculosis and Malaria. At its drop-in centre in Myitkyina, SARA has a needle exchange facility where users can return a used needle in exchange for a clean one, and provides counselling, testing for transmitted diseases, and training on safer injection methods and on how to prevent and respond to overdoses.
Harm reduction methods have had to contend with community opposition but this is not unique to Kachin, or to Myanmar. "Many people don't really understand or accept harm reduction; people think we are supporting drug use," said SARA's area coordinator, Dr Myo Min Min. He said a common misconception was that the needle exchange programme increases the number of needles in circulation.
SARA works with some Christian rehabilitation centres, but has made only limited headway with Pat Jasan. When its drop-in centre moved recently to a different neighbourhood, the number of daily visitors fell from about 100 to between 30 and 40 because many visitors feared being arrested by the police or detained by Pat Jasan on their way to the centre. "Community resistance is still a challenge," said Myo Min Min. "We sometimes have difficulties because people say [harm reduction] is an international concept and not suitable to the local context, [but] we need a balance."
Kyang Bawm said harm reduction programmes contribute to the littering of public places with used syringes; he did not seem to be aware of policies to collect syringes. "They only distribute and never collect them back, so what about the risk for children or other adults who could be hurt from used syringes?" he said. Nonetheless, he lets harm reduction organisations deliver antiretroviral medication to HIV-positive users at his centre.
Sut Ring Naw Naw is more supportive of harm reduction as part of a mixture of approaches towards drug addiction, saying "harm reduction should be there because most people don't want to stop using drugs." At the same time, he doubted how effective it ultimately was. "Heroin addicts are the trickiest in the world; they are the best [con] artists. They can trick nurses, doctors, parents, friends, so [harm reduction] is not working."
Ting Ying said harm reduction methods were needed "to some extent" to help stop the spread of diseases such as HIV/AIDS through the use of shared needles, and that they show "a good intention". However, he felt that, ultimately, "The harm reduction approach makes drug users feel safe to use drugs and safe to convince other people to use drugs."
Seng Myu Awng agreed: "I don't see harm reduction as the solution to the drug issue. It is not helping [users] to stop using drugs, but supporting the way they use drugs. We don't want the harm that will fall upon users and their families to be just reduced, but stopped."
Strings attached
Despite disagreement over the approach to take towards rampant drug addiction, those in Myitkyina who spoke to Frontier expressed cautious optimism that the new USAID funds could help in fighting the scourge by supporting public education, improving infrastructure at rehabilitation centres and creating new jobs, among other areas of need.
At the same time, Ram Hkye Shalat's director Tang Raw hesitated to put too much hope in foreign aid. He said his centre had not received international donor funds in its eight years of operation, during which it has assisted more than 800 users. Tang Raw wants to seek external funding to upgrade the centre and support vocational training but worries that he will miss out because he lacks experience and know-how in engaging foreign donors.
Ting Ying also expressed some reservations. "Many projects came here, but none succeeded [in eradicating the drug problem]. We should ask why?" He added that the conditions attached to foreign aid can inhibit programmes from adopting more locally grounded strategies.
"Financial support from USAID could enable us to do our work without financial barriers. We just hope it is not controlled with [donor] policy," Ting Ying said. "If USAID sticks to international standards and policies, it will be very difficult to work with our own approach."
"The worldview [of those in Kachin and the US] is quite different; the definition of rights can be very different," he said, adding that drug abuse programmes were needed in areas controlled by non-state armed groups as well as in areas under Myanmar government control.
"Donors should look at people in all areas. International aid, if it aims to [support] Kachin State, should be for the whole state, all groups, all actors."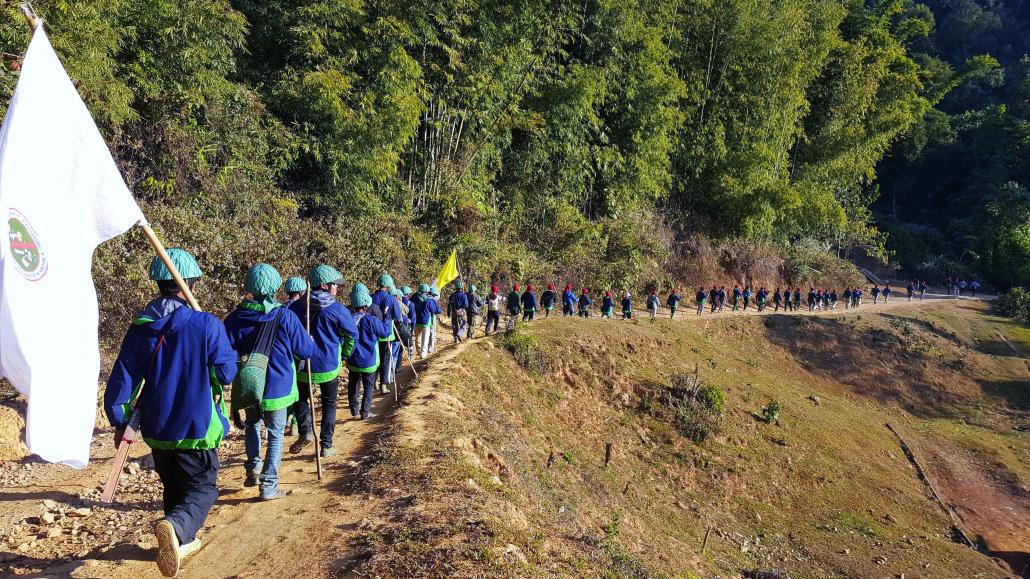 TOP PHOTO: Volunteers from Ram Hkye Shalat pray together with community members in Putao, northern Kachin State, in 2015. The faith-based group was founded in 2011 in Myitkyina, where it runs a rehabilitation centre. (Supplied)