KFC launches its first outlet in Myanmar and faces supply chain challenges.
By HANS HULST | FRONTIER
Those yearning for Western fast food rejoiced on July 7 when KFC's first outlet in Yangon opened officially a stone's throw from Bogyoke Aung San market in the city's commercial heart. Hundreds of Yangonites thronged the eatery to sample the fried chicken made famous by its founder, Colonel Sanders, as they had done when it first opened its doors on June 30.
KFC was launched in Myanmar by Singapore-listed Yoma Strategic Holdings in partnership with American fast food conglomerate Yum! Brands. The venture encountered some challenges in the run-up to the opening, said JR Ching, KFC Myanmar's managing director.
"If you want to identify the biggest challenge, it is probably developing the supply chain," Mr Ching said. "KFC has very high standards regarding the quality of their suppliers and the quality of the product. Given the infrastructure and logistic standards currently existing in Myanmar, reaching that quality level was one of the most difficult aspects of the launch."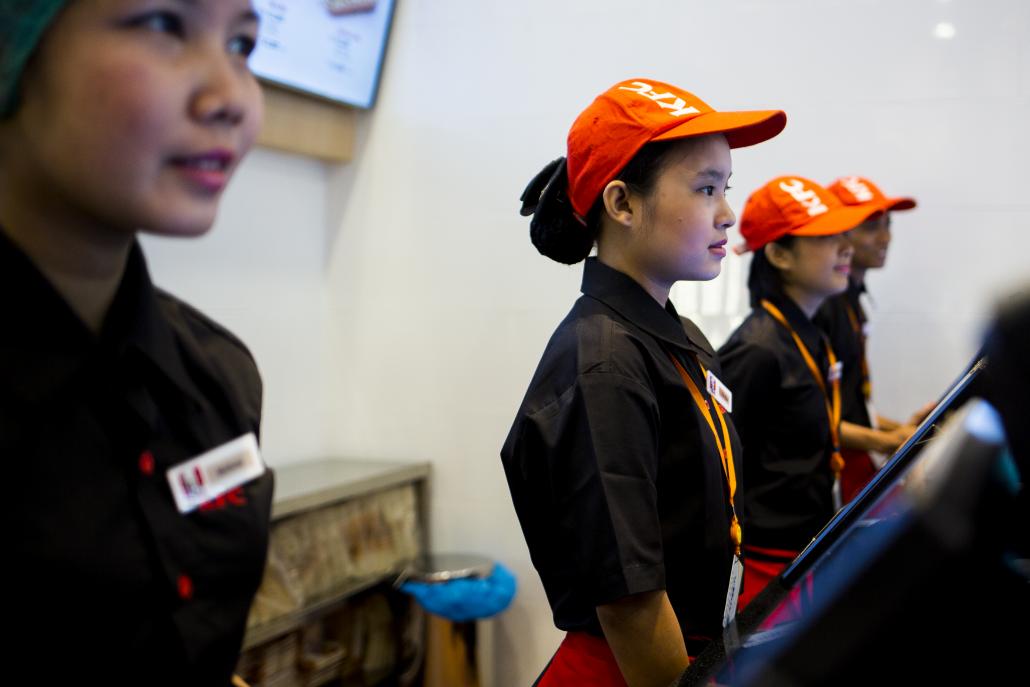 KFC declined to confirm if its chicken meat is supplied by Charoen Pokphand (CP) Foods, a subsidiary of one of Thailand's biggest conglomerates. However, CP Foods Myanmar marketing manager U Kyaw Zaw Lin told Frontier that the controversial Thai-based company is indeed supplying KFC with chicken.
"They can't buy from the wet market here," U Kyaw Zaw Lin said. "CP Foods is the only ISO 9001 certified supplier in Myanmar. Basically KFC can only work with us."
CP Foods was in the news last year when a six-month investigation by the Guardian found that hundreds of men, many from Myanmar, were bought and sold to work on Thai fishing boats against their will. CP Foods bought fishmeal from suppliers that owned fishing boats crewed with slave labour, the Guardian said.
CP Foods' diverse range of products is sold to big supermarket chains around the world, including Wal-Mart, Tesco, and Myanmar's own City Mart Holding.
Other suppliers to KFC Myanmar include Yangon-based Grand Cherry Xeno Trading Company, an equipment distributor, and Frosty Boy, an Australian maker of soft ice, cold beverages and frozen yoghurt.
Mr Ching said another challenge was finding employees with the necessary skills. This lack of capacity was tackled by sending Myanmar staff to the Philippines capital, Manila, for three months of intensive training.
Around the world, the expansion of Western fast food chains, with their tried-and-tested formulas and big marketing budgets has proved to be practically unstoppable. In Myanmar, as in other developing countries, KFC will invariably be a luxury targeted at the burgeoning urban middle class. A two-piece "Hot N' Crispy" meal costs K3,500 – roughly equal to Myanmar's average daily wage.
What effect does Mr Ching believe KFC's arrival will have on Myanmar's emerging fast food scene?"We feel that Myanmar offers such great opportunity and that the market is growing," he said. "In our opinion, the market is so large that it can accommodate KFC as well as the local, existing fast food outlets."
This first KFC outlet will surely not be the last, added Mr Ching, referring to plans to open more outlets before the end of the year. They would "probably" be in Yangon, he said, but declined to elaborate. KFC is the first of the "Big Three" – KFC, McDonalds, and Burger King – to set up shop in Myanmar. Some Asian-based chains – including The Pizza Company and Lotteria, based in Bangkok and Seoul respectively – have beaten Colonel Sanders to the punch during the past two years.
In August, Pizza Hut, another Yum! Brands franchise, will open its first outlet in Yangon, on Dhammazedi Road in Yangon's leafy Golden Valley neighbourhood.