It's been 50 years since the national team qualified for the most prestigious competition in Asian football and hopes are high that the wait will soon be over.
By HTUN KHAING | FRONTIER
A FEVER of excitement and optimism is gripping Myanmar football fans, and it's been half a century in the making.
In its Asian Cup Group A qualifying matches, Myanmar plays Kyrgyzstan in Incheon in South Korea on March 22, and five days later meets Macau at Thuwunna Stadium in Yangon.
If Myanmar wins both matches it will qualify for the finals of the Asian Football Confederation's Asian Cup for the first time in 50 years.
Myanmar currently sits third in Group A on five points, two behind Kyrgyzstan. India has 13 points and has already qualified, while Macau sits bottom of the table with zero points. The upcoming clash between Myanmar and Kyrgyzstan will be critical to determine who advances to the finals, which will be held in United Arab Emirates in January and February next year.
The first and last time Myanmar competed in the finals of the Asian Cup, the region's most prestigious prize in football, was in Tehran in 1968. Burma – as the country was then known – finished runner-up to host side, Iran, in what was the fourth AFC Asian Cup.
At that time, Asia was divided into four zones and the best teams in each played that of the host country for the Asian Cup. It was the golden age of football in Burma, which was the top team in western zone 2. The other teams were Israel (western zone 1), Hong Kong (central zone) and Republic of China, now Chinese Taipei (eastern zone).
The match against Kyrgyzstan in South Korea on March 22 was due to have been played in the Muslim-majority Central Asian country on September 5 but the crisis in Rakhine State prompted a change of date and venue. Myanmar had proposed playing in another member country of the Association of Southeast Asian Nations, but the AFC opted for Incheon.
U Ye Naing Win, founder of Myanmar Special Football Agency, which acts on behalf of footballers in the country, said Myanmar would be in a strong position if it wins against Kyrgyzstan. When the two sides met in Yangon last October, the match ended in a 2-2 draw.
Myanmar are hot favourites to defeat Macau when they meet in Yangon on March 27, but cold weather could be a challenge for the encounter in South Korea.
"Myanmar players can't play well if the weather is cold; their capabilities gradually decrease," Ye Naing Win told Frontier.
He said an example of the impact of cold weather on players unaccustomed to it was the performance of the Myanmar side at the U-20 FIFA World Cup in New Zealand in 2015. Myanmar suffered crushing defeats and did not advance past the group stage, and Ye Naing Win said the young players looked worn out.
However, there have been many positive developments since then and they are contributing to the buzz over Myanmar's chances in the Asian Cup.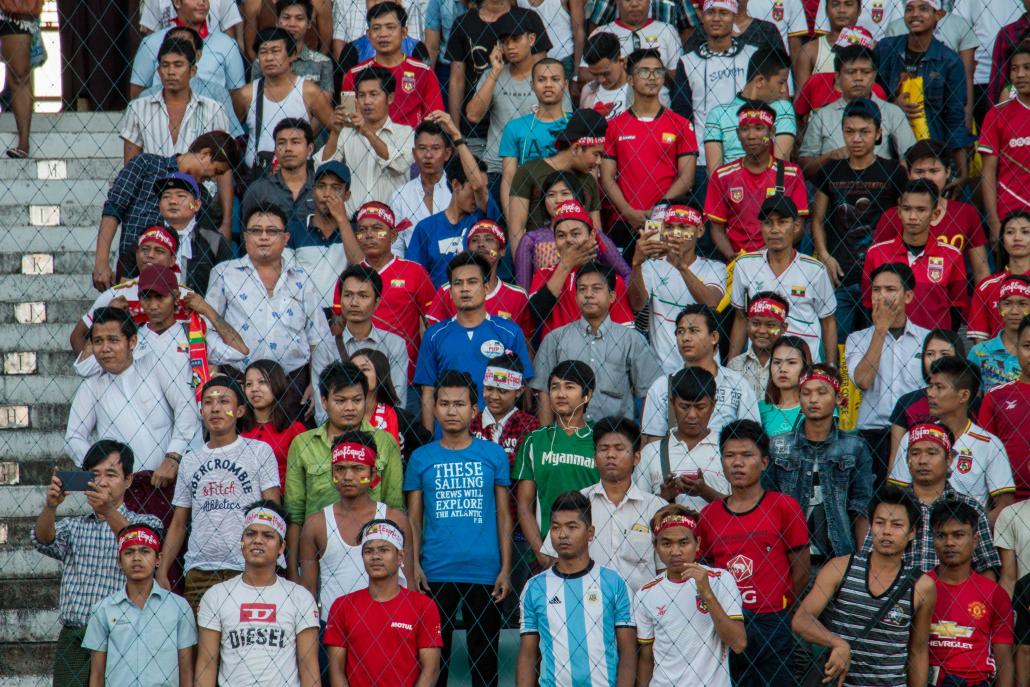 Some top players have been recruited to play in Thai League 1 clubs. Two of Myanmar's best strikers, Aung Thu and Kyaw Ko Ko, are playing for Bangkok-based Police Tero and Chiangrai United, respectively. They are among about eight Myanmar players with T1 clubs.
An upside of their departure to play abroad has been more opportunities at home for talented young players to progress, which has given the sport a boost.
"It seemed to be hopeless for footballers before; now there is more motivation to try harder and they envy the players who are playing in other countries," Ye Naing Win said.
"The capabilities of Myanmar players are the best for years and if we exploit this situation in the best way, we can qualify [for the Asian Cup]," he said.
U Tin Aung, a star of the golden age of Myanmar football 50 years ago when he was a goalkeeper and the national team won every major Southeast Asian championship between 1965 and 1973, highlighted the importance of the 90 minutes in Incheon on March 22.
"If we fail, the match against Macau in Yangon is meaningless," he said.