By YE MON | FRONTIER
NAY PYI TAW — A lawyer for two jailed Reuters journalists has said their families would write to President U Win Myint asking him to review their conviction under the Official Secrets Act, after Myanmar's Supreme Court rejected their appeal on Tuesday morning.
Supreme Court Justice U Soe Naing told the court in Nay Pyi Taw that he upheld the sentencing of journalists Ko Wa Lone and Ko Kyaw Soe Oo to seven years each in prison by the Yangon Northern District Court, which was later upheld in an appeal to the Yangon Region High Court. The judge did not explain his ruling.
Defence lawyer U Khin Maung Zaw told Frontier at the Supreme Court that the best option now available was for the families of the journalists to send a letter to the president, who might agree to review the case, and could issue instructions to the Union Attorney General if he believed the verdict was unfair.
"A presidential pardon is the best hope for the release of the two journalists. It wouldn't need to take long," Khin Maung Zaw said. He said that lawyers representing Wa Lone and Kyaw Soe Oo were preparing to send a letter on behalf of the families "as soon as possible".
On hearing the Supreme Court verdict on Tuesday, the wives of Wa Lone and Kyaw Soe Oo, who attended the court, both burst into tears. Wa Lone's wife Ma Pan Ei Mon told Frontier she had been hoping at least for a reduced sentence for her husband.
Wa Lone did not want to file a special appeal to the Supreme Court, she said. "He wants to stop pursuing the judicial channel."
The case has been criticized internationally as an assault on press freedom, but domestic support for the journalists has been limited, partly because of public anger with the media over its coverage of the crisis in Rakhine State. State Counsellor Daw Aung San Suu Kyi has spoken out in defence of their sentencing.
Wa Lone and Kyaw Soe Oo were arrested in December 2017 while investigating the killing of 10 Rohingya men during a military campaign against the Muslim minority in Rakhine State.
A Yangon district court judge sentenced the pair in September 2018, ruling that they possessed "secret" documents that could have damaged national security.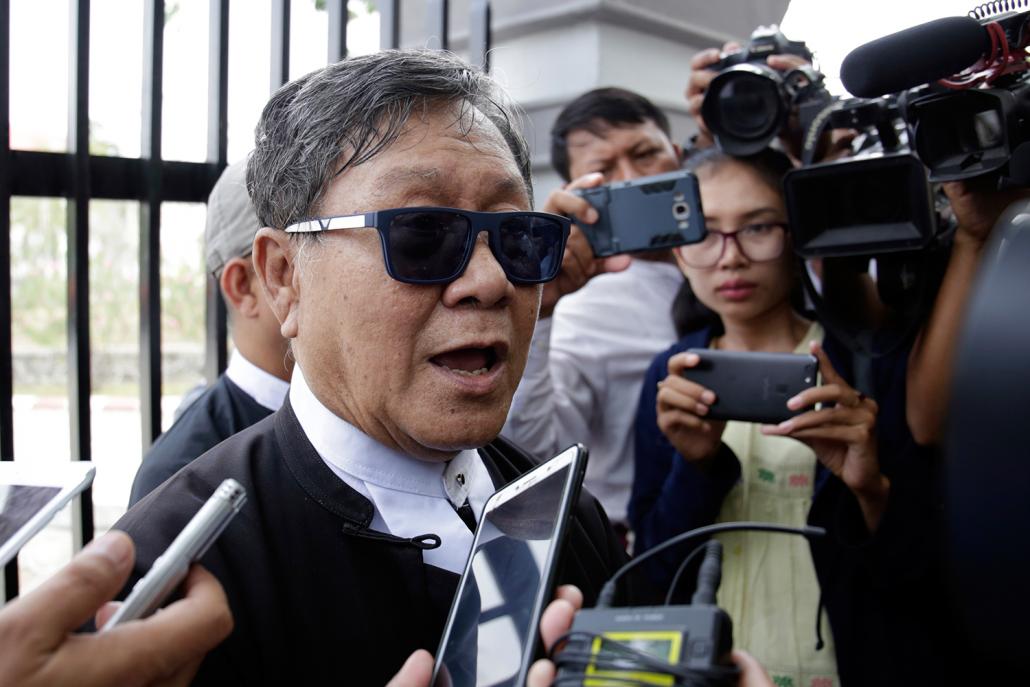 Defence lawyers appealed to the Supreme Court on the grounds that the journalists were set up by police, a claim supported by a police witness for the prosecution, who had testified that documents were planted on the pair.
The Yangon High Court rejected an earlier appeal in January, on the grounds that lawyers acting on behalf of the two journalists had failed to submit sufficient evidence proving their innocence.
Mr Phil Robertson, Asia director for Human Rights Watch, said that Wa Lone and Kyaw Soe Oo should never have been arrested, much less prosecuted, for doing their jobs as investigative journalists.
"Sadly, when it comes to media freedom, both Myanmar's military and the civilian government seem equally determined to extinguish any ability to question their misrule and rights violations," he said in a statement on Tuesday.
"These two journalists are just the most prominent victims of this pernicious campaign against freedom of expression that is rapidly spreading in all parts of the country."
Mr Charles Santiago, Malaysian MP and ASEAN Parliamentarians for Human Rights board chair said APHR was "appalled" by Tuesday's ruling.
"It is highly disappointing that the Myanmar government continues to treat journalists as criminals while at the same time shielding those responsible for unspeakable crimes from justice," he said.
"Convicting these journalists was yet another way for the government to censor information about the atrocities taking place in Rakhine State and elsewhere in the country."
Wa Lone and Kyaw Soe Oo's investigation into military atrocities was completed by their colleagues at Reuters and published in February 2018. Last week it won the 2019 Pulitzer Prize for international reporting.