The possible introduction of a ban on logging has already affected the timber industry in Kayah State, where questions are being asked about the transparency of Myanma Timber Enterprise.
By MRATT KYAW THU | FRONTIER
As conservationists welcome reports that the government is considering a one-year national logging ban, sections of the timber industry have been preparing for such a move for months.
Loggers stopped felling trees in the vast forests of remote and rugged eastern Kayah State about three months ago, and their only activity since then has been transporting logs to a timber collection depot in the state capital, Loikaw.
The reported proposal to halt logging from May 31 has left those who make a living from the country's diminishing forests, including loggers and the owners of trucks hired to haul logs out of the jungle, worried about the future.
"We stopped some of our operations about five or six months ago when we first heard the talk about a ban," said U Khaw Phalow, manager of Loikaw-based Sure Trading Co Ltd, also known as Josh Sure Trading, one of the biggest logging companies in Kayah.
Despite the absence of an official announcement, there's widespread expectation that the ban will take effect at the end of May and apply to logging by the government's Myanma Timber Enterprise and the private sector.
Among those who would be affected is Ko Thiha, who works as an assistant on a truck that carries logs to the depot in Loikaw. He first heard about the ban two months ago. More than 80 trucks carry timber daily from the forest to the depot. Thiha said there was not much felled timber left.
"I think that all the logs piled beside the roads in the forest will have been collected next week. We are hurrying faster than ever to finish our job," he said.
Reform underway
A logging ban will have far-reaching repercussions for Myanma Timber Enterprise, an agency of the Ministry of Environmental Conservation and Forestry that proclaims on its English-language website the motto: "Myanma Timber Our Treasure Sustainable Forever".
U Tint Lwin Oo, the assistant general manager of the MTE's Extraction Department in Loikaw, said it was undergoing reform "but we don't know the exact details".
The organisation would have to be restructured if there was no more logging, he said. "And even if there is no more logging, we have to manage the raw wood (timber that has been logged and stacked beside roads in Kayah for collection)."
Extraction is one of eight MTE departments, along with Planning and Statistics, Administration, Export Marketing and Milling, Local Marketing and Milling, Wood-based Industry, Engineering and Finance and Accounts.
Tint Lwin Oo said the reform process would result in the elimination of some departments because a logging ban would make them redundant.
He indicated that there was apprehension over the future among MTE staff who did not know what they would do if they lost their jobs.
"We have to wait for orders from above," Tint Lwin Oo said.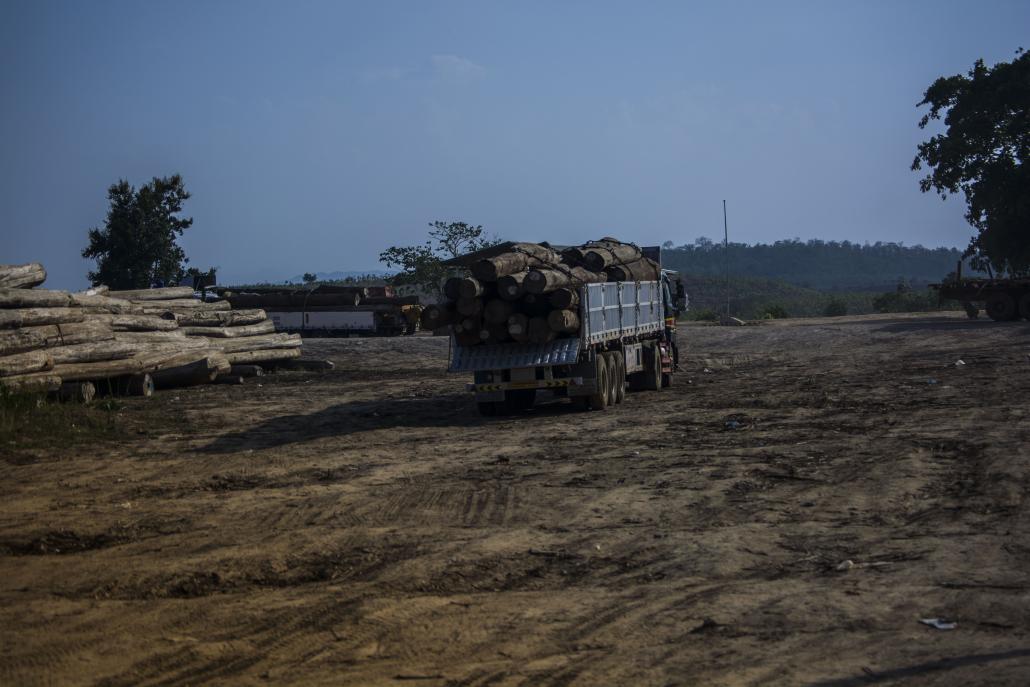 The logging target for Kayah this year was 5,000 tons of teak and 6,000 tons of hardwood. So far, 400 tons of teak and 1,000 tons of hardwood have been harvested.
Tint Lwin Oo said he did not know how much of Myanmar or of Kayah was forested and it was hard to say if it was good or bad to continue felling trees.
"For example, if we know much cash is in our pocket, we can buy whatever we want. But if we don't know, we cannot. It's like that with the country's forests," he said.
The Extraction Department at Loikaw said there were three big private logging companies and three smaller concerns in Kayah. Of the big three, two are operated by militia groups: the Ah Shae Than Lwin company, run by the Karenni National People's Liberation Front, a Border Guard Force under Tatmadaw direction since November 2009; and the Kayah Htarni company, owned by the Karenni National Progressive Party, that signed a bilateral ceasefire with the government in March 2012.
This means that a big share of the logging industry in Kayah is under the control of armed ethnic groups, with which smaller concerns must negotiate to log timber in their areas.  Kayah is roughly divided by the Thanlwin (Salween) River, with the western side controlled by the KNPLF and the government and the eastern side by the KNPP, that called in August 2012 for a halt to logging in the state.
"We will be happy if the government stops logging," said U Khu Thaw Reh, the manager of the KNPP's liaison office in Loikaw.
Action against illegal logging has been stepped up in Kayah during the past three months but sources there say the crackdown by the MTE has affected only small operators.
Amyotha Hluttaw MP U Aung Kyaw Soe (National League for Democracy, Shadaw constituency), said there was a lack of transparency over the activities of the MTE in Kayah. "We don't know exactly who recommended which company; some are associated with the government, some with armed groups, and among them are some doing nothing but illegal extraction," he said. The lack of transparency from the MTE concerned the tons of timber permitted to be harvested and the areas from which it could be taken.
Corruption allegations have long swirled around the MTE in Kayah State. Its director, U Tin Maung Than, declined to be interviewed by Frontier.
"We know some people are involved in corruption and we will investigate what happened in Kayah State under the previous government," said Aung Kyaw Soe.
U Tint Lwin Oo said he knew nothing about illegal extraction and his office was only following orders from above.
If the logging ban is introduced, it would be the second big measure aimed at conserving the country's forests, after a ban on raw log exports that took effect in April 1, 2014.
Britain-based watchdog, the Enviromental Investigation Agency has expressed concern that uncertainty over the introduction of a logging ban had resulted in a surge of logging in some parts of Myanmar.
EIA campaigner Ms Faith Doherty also addressed rumours that any ban would apply only to teak and not to other hardwoods.
"A moratorium on logging would be helpful but it should be a total moratorium," Doherty told Mongabay, a California-based environmental science and conservation news website, referring to the rumours of a teak-only ban.
"Secondly, these rumours are currently driving excessive logging – especially for teak in anticipation of a ban; there is currently illegal trade of timber including teak that is being smuggled across the Myanmar-China border through Burmese controlled territory as well as the Kachin State where different ethnic armed groups are taxing trucks transporting the timber through their territory," Doherty said.
In a September 2015 report, EIA said Myanmar was losing two percent of its natural forest cover every year.
The country lost a total of 1.7 million hectares of forest cover between 2001 and 2013, EIA said in the report, that predicted forest loss could reach 30 million hectares by 2030.
In a March 2014 report, EIA said an analysis of forestry and trade figures revealed a US$6 billion "black hole" in illegal logging and timber exports that the watchdog blamed on widespread criminality and official corruption.