The outflow of Muslims from Rakhine State has slowed in recent days – but with more than 430,000 having crossed the border in less than a month humanitarian actors are struggling to catch up, with shelter, food and healthcare resources in short supply.
By OLIVER SLOW | FRONTIER
IN LATE August, U Nurul Amin left his village on the outskirts of Sittwe and travelled to northern Rakhine State to visit relatives living in Rathedaung Township.
The timing of his trip coincided with attacks by Rohingya militants on police outposts on August 25 that led to a heavy-handed crackdown by security forces in Rathedaung, as well as Maungdaw and Buthidaung townships.
"Suddenly the violence started. The military, along with a group of Rakhine, started attacking people and burning villages. I tried to go back home, but it was not possible," he said.
Nurul Amin was speaking to Frontier at a makeshift camp for refugees at Shah Porir, on Bangladesh's southern trip, across the Naf River from northern Rakhine State.
A frail 65-year-old, Nurul Amin had spent the previous three weeks hiding in villages in northern Rakhine. On September 21 he paid 2,000 Bangladeshi taka (K33,000) to cross the river to the relative safety of Bangladesh.
"I have spoken with my family; they know that I am here, that I am safe," he said. "It's too risky for me to go back. The situation is very difficult, and I cannot move anywhere."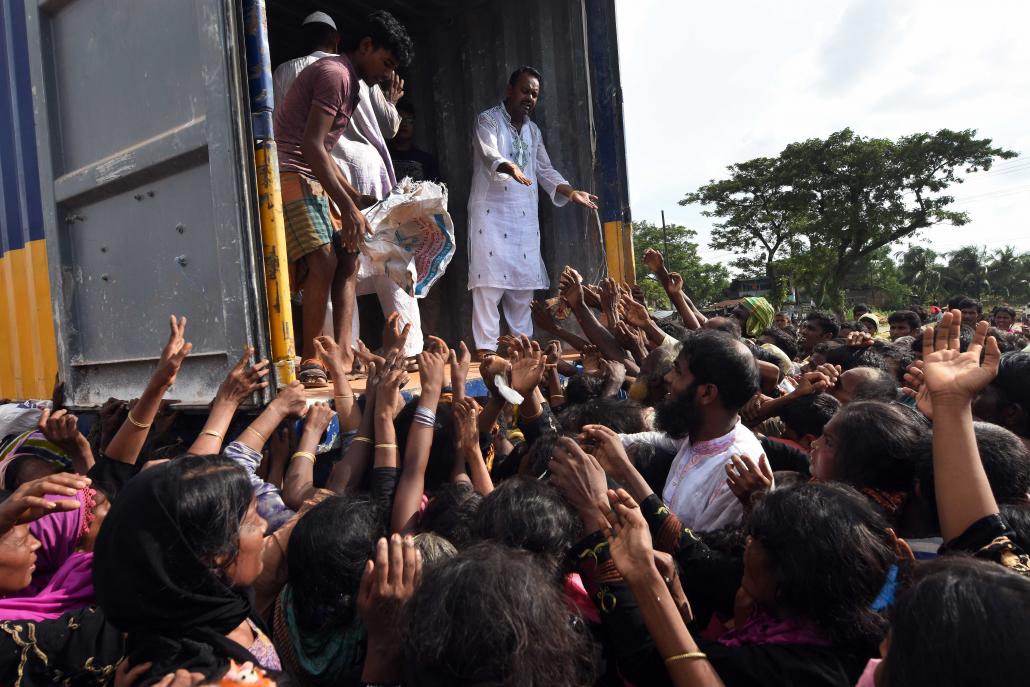 An estimated 436,000 people – mainly Muslims who identify as Rohingya – have fled to Bangladesh since August 25. Monitoring groups and local residents say that the number of people crossing the border has slowed in recent days, but there are still some who are willing to make the journey.
All of those whom Frontier interviewed said that they felt safer in Bangladesh.
But there are hardships when they arrive. Despite large-scale support from Bangladeshi and international human actors, the sheer scale of the movement has left actors grappling to catch up, with shelter, food and healthcare resources in short supply.
Visiting the camps this week, Mr Filippo Grandi, UN High Commissioner for Refugees, said that the needs of the people arriving in Bangladesh are "enormous".
"Despite huge challenges at the beginning, there was a phenomenal outpouring of local generosity and support. International support is also now being stepped up, under the leadership of the [Bangladesh] government. But these efforts must be accelerated and sustained," he said.
The outpouring of support from the local population for the refugees is impressive. Frontier met dozens of private donors who travelled across the country to lend assistance. But this support comes with its own challenges. Many of the deliveries are being made on an ad-hoc basis, creating congestion on already crowded roads and resulting in people being hit and killed. Fights have broken out between people desperate for any form of assistance.
In an effort to improve the efficiency of aid distribution, the Bangladeshi government on September 23 deployed the military to help out. While still chaotic, the arrival of Bangladeshi soldiers has brought a semblance of order to the camps. There is less fighting at food distribution points, for example, and the military is turning away those who do not have a satisfactory reason for visiting.
Many of the new arrivals to Bangladesh are travelling by boat to Shah Porir, an island at the mouth of the Teknaf River. From there, it's a 30-minute trip by boat to the mainland, and then a bus journey of up to five hours to the refugee camps. Residents and members of the Border Guards Bangladesh, who patrol the shore, told Frontier that the number of arrivals had decreased in recent days, but that some people were still making the journey.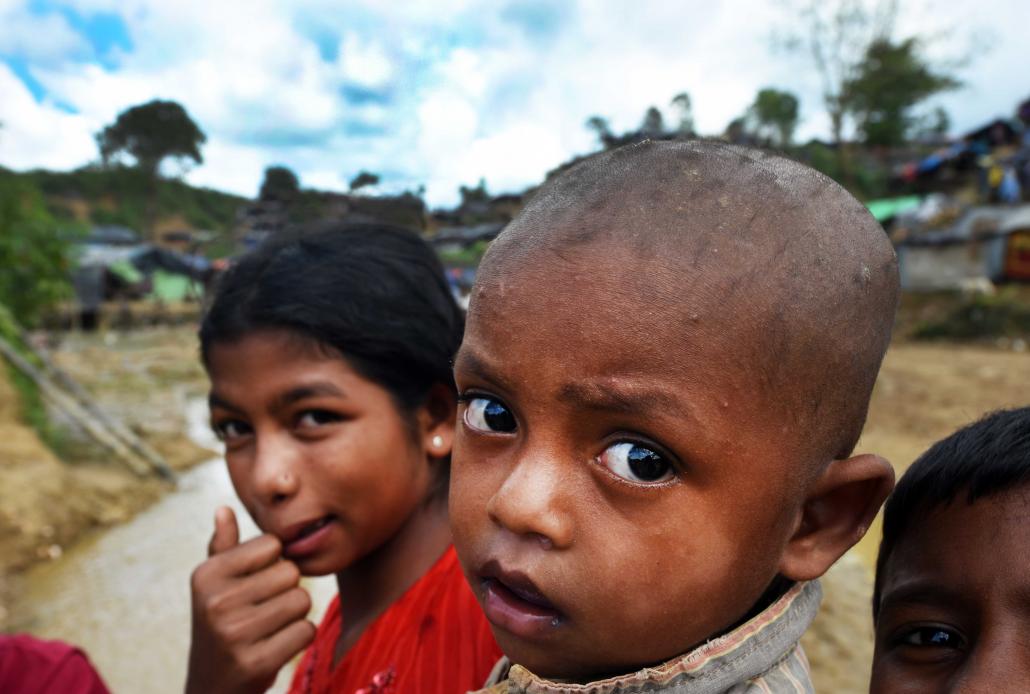 Standing at the jetty on the eastern side of Shah Porir on September 23, Frontier saw two villages burning in northern Rakhine State, on the opposite shore of the Naf River.
Ma Shajeda Begum, 40, arrived at Shah Porir on September 22. Frontier met her a day later on the jetty at Teknaf, as she was waiting for a bus that would take her further north to the camps. Surrounded by her three children, her only possession was a parcel of food that had been handed to her by a private donor.
She said her husband had been killed when the military and Rakhine vigilantes attacked their village in Maungdaw Township in early September, and that she and her children had been travelling through villages in northern Rakhine for several weeks. Her crossing into Bangladesh was paid for by a religious leader in Bangladesh.
"I have relatives at Nayapara [a refugee camp 20 kilometres further north] and will go there. We are safe now, so I'm happy to be here," she said.
New arrivals at Shah Porir are often taken to makeshift shelters on the island. One of those is Shan Puri Boraw Madrassa, which since August 25 has acted as a refuge for those fleeing violence over the border.
Mr Jashin Uddin, 26, who is managing the madrassa, said that an estimated 40,000 people had taken shelter there in the past month.
"We are providing some food for them, and also some medicine if they need it. They usually stay for one night, before moving on to the mainland," he told Frontier on September 23.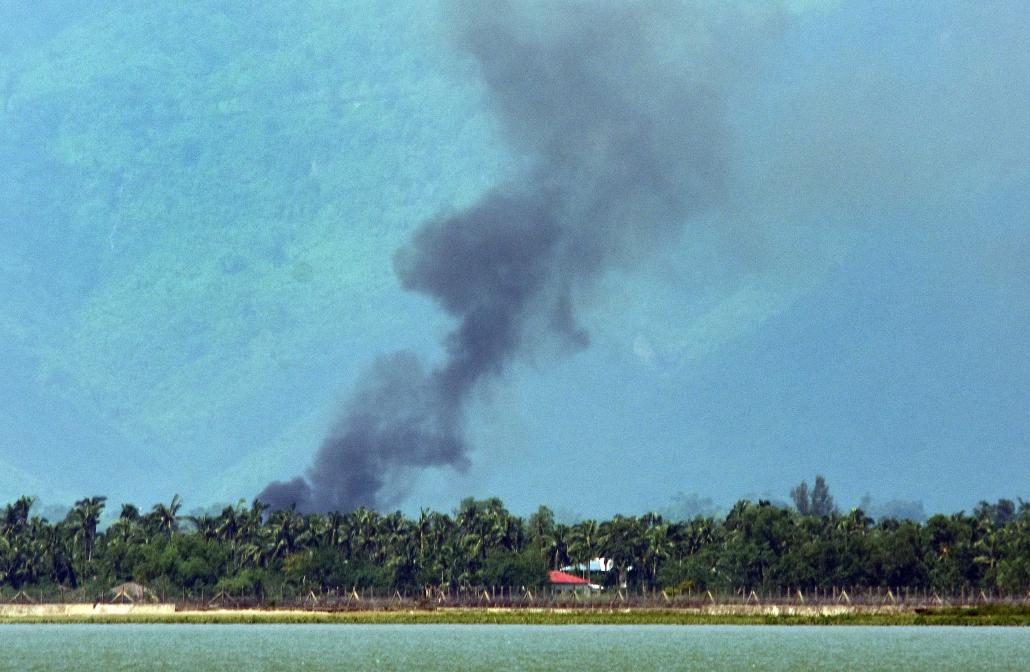 Jashin Uddin said that the number of people arriving at the madrassa had slowed in the past two or three days, with just a few dozen people staying there each night.
Ma Nur Aisha, 30, was sheltering in the mosque with her three daughters on September 23. She told Frontier that her husband had been killed when the military, Rakhine youth and soldiers from the Border Guard Police, attacked her village in early September.
"Four or five people were killed in our village, including my husband," she said. "When the military started firing, all the people started my running; my husband was running and he was hit by a bullet."
Due to government restrictions on reporting in northern Rakhine State, Frontier has been unable to confirm the allegations against security forces by Shajeda Begum, Nur Aisha and many other refugees. The military and government have regularly denied accusations of abuses by security forces, however.
Asked what she would do next, Nur Aisha looked lost.
"I don't know what we will do. My daughter's husband is with us, so we will go with him," she said. "But after that, I don't know."
TOP PHOTO: Many refugees have set up makeshift shelters in the Thaing Khali Burma Para camp near Cox's Bazar. (Steve Tickner | Frontier)