A number of candidates have been disqualified from the November 8 election late into their campaigns, for reasons that lay bare the contest's discriminatory citizenship rules.
By SWE LEI MON | FRONTIER
U Hla Win's dreams were smashed to pieces on October 12. The Rakhine Muslim was running as a Democratic Party for a New Society candidate at the time because, he said, he badly wanted to help those suffering religious and ethnic discrimination.
But, with just over three weeks to election day, and more than a month into the campaign period that began on September 8, Hla Win was summoned by the Yangon Eastern District election sub-commission and told he was ineligible to be a candidate; the Union Election Commission had determined that his father was not yet a citizen when he was born.
Hla Win's Citizenship Scrutiny Card (popularly called a "national registration card", or "NRC") designates him as half "Bengali" and half Bamar, though he says he, his parents and his grandparents were born and raised in Myanmar.
In the rare instances that they receive citizenship documents, members of the Rohingya community of northern Rakhine State are generally labelled "Bengali", implying that they are immigrants from Bangladesh without roots in the country. However, Hla Win did not identify as Rohingya to Frontier.
"I was campaigning and working really hard with my party in my township, gaining support, when I was summoned by the sub-commission. I went to its office full of curiosity," said the 40-year-old, who described himself as a decades-long supporter of Daw Aung San Suu Kyi – until her party took power in 2016 and then failed to live up to its ideals, he said.
"When the district chair told me, in front of about 20 other people, that I had been disqualified, I was speechless."
Section 10(e) in each of the laws governing elections to the upper and lower houses of parliament and regional assemblies stipulates that a candidate is ineligible if at the time of his or her birth one or both parents is not a citizen.
Hla Win, who had been a candidate for the Yangon regional parliament in the commercial capital's multi-ethnic Thingangyun-1 constituency, said his father was born in Maungdaw Township in northern Rakhine.
"My ancestors lived in Myanmar, so we all are Myanmar Muslims. My grandparents were issued National Registration Cards in 1959, and my father also held an NRC," he said
He was referring to a once-ubiquitous form of national ID, issued as a three-fold card, that is now obsolete. Besides passports, which very few held at the time, there is no other document by which people could in practice prove citizenship before 1990.
After 1990, with the gradual implementation of the 1982 Citizenship Law, NRCs were replaced by CSCs, also known as pink cards because of their colour. But because of alleged discrimination in the application of the law, many Muslims who held NRCs were not issued with CSCs. Although the 1982 law narrows automatic entitlement to citizenship to members of ethnic groups the government considers native – an official roster that excludes most Muslims – the law says those who are "already a citizen" under pre-existing laws are still eligible. The law also grants citizenship to people whose families have made Myanmar "their permanent home" for three generations, which Hla Win insists is the case with his family.
"The immigration department issued my father a temporary registration card instead of a [CSC], but he received a [CSC] last year," after 19 years of waiting, said Hla Win.
Temporary registration cards, popularly called "white cards", were mostly held by Rohingya and granted residency but no citizenship rights, besides the right to vote in the 2008 constitutional referendum and 2010 general election. Former President U Thein Sein cancelled their validity in early 2015, ahead of the election that year, causing mass disenfranchisement that persists to this day.
"In 1990, my father wanted to change his old NRC to a new [CSC] and they demanded documents going back three generations. But how can we keep documents from 60 years ago?" Hla Win said. "So, my father lost his citizenship and became 'Bengali'."
Hla Win is one of nine candidates who were disqualified well after their campaigns had gotten underway and official deadlines for appealing disqualifications had passed. None have been offered any compensation for their campaign expenses, or for any other reason.
Seven of the other candidates – in Yangon and Mandalay regions and Kayah, Shan and Rakhine states – were disqualified under the same citizenship grounds as Hla Win, and all are of Muslim or Chinese descent. Two were from the People's Pioneer Party, two were independents and one each were from the Union Solidarity and Development Party, Democratic Party of National Politics and Democracy and Human Rights Party.
An additional contender – U Aung Maung, a USDP candidate in Sagaing Region's Kantbalu Township who was in the process of retiring as deputy director of the Department of Consumer Affairs – was disqualified because section 10(k) bars civil servants from standing for office.
District election sub-commissions accepted candidate applications (besides for ethnic affairs minister positions, which had to be submitted to state and regional sub-commissions) up until August 7, then reviewed the eligibility of each candidate between August 11 and 17. As part of that review, candidate information was checked against records from the Department of Immigration. Candidates that were rejected then had one week to appeal the decision. At the end of August, sub-commissions published approved candidate lists, called Form 10s, and posted them publicly at their offices.
Election officials told Frontier the recently disqualified candidates were initially declared eligible after district sub-commissions checked with district immigration departments. But the UEC later sent candidates' information for extra scrutiny to Union-level officials from the immigration department and the Ministry of Home Affairs, who subsequently found some of them to be ineligible. Several observers and legal analysts say officials would only have given such extended scrutiny to candidates whose CSCs include foreign identities, such as "Bengali" or "Chinese".
Data from regional and state sub-commissions shows that 6,969 of 7,026 applicants were certified as candidates by the end of August. On September 1 The Irrawaddy reported that 31 applicants had been rejected by sub-commissions, and 26 had withdrawn their applications.
On October 17, the UEC deregistered the United Democratic Party, nicknamed the "rose party" because of its logo, for breaching the Political Parties Registration Law by accepting foreign funding. This resulted in the automatic disqualification of its more than 1,130 candidates, bringing the total number of electoral contestants down to 5,651, which is 423 fewer than in the 2015 election.
The UDP's dissolution came just weeks after the party's founder, U Kyaw Myint, an alleged money launderer and former exile in Canada, was arrested for escaping from custody in the late 1990s while serving a 10-year sentence in Myanmar for violating business laws.
The recently disqualified candidates, including those from the UDP, were barred after ballots for the election had already been printed. The UEC has explained that any votes cast for these candidates would be counted as invalid, and has said that voters would be informed about their disqualification at polling stations.
'They smashed my legs'
Hla Win said he had submitted all the necessary documents to his district sub-commission on time, and that the sub-commission had interviewed him in person before approving his candidacy.
"I passed all the tests and was allowed to run as a candidate on September 1," he said "But then, with just 20 days to go [till election day] – while I was running with confidence – they smashed my legs."
U Min Ko Aung, secretary of the Yangon Eastern District sub-commission, said the UEC told his sub-commission in the second week of October that Hla Win was ineligible under 10(e) of the election laws because the Ministry of Labour, Immigration and Population had determined that his father was not a citizen when he was born.
"I don't know [the full process] and I don't want to comment on whether any error was made by the immigration department, but for us, if the candidate is legally ineligible, we have to remove him as soon as we know," he told Frontier on October 20.
He said each district sub-commission sent candidate applications to the UEC in Nay Pyi Taw, which forwarded them to the Ministry of Labour, Immigration and Population and the Ministry of Home Affairs for further checking, and if either ministry told the UEC that candidates were ineligible, the commission was responsible for taking action.
The DHRP's U Aye Win – a Rohingya candidate who was seeking election to the Pyithu Hluttaw seat of Maungdaw Township in Rakhine State – said he had already spent big on his campaign when he was told on October 1 he was ineligible because his parents allegedly did not become citizens until 1990, several decades after Aye Win was born.
"I used a lot of money and time, and the decision is insulting to my parents. My father served as the chief of police in the towns of Maungdaw, Rathedaung and Thandwe [in Rakhine] and Dawei [in Tanintharyi Region], and the sub-commission accused him of not being a citizen," said Aye Win.
Before him, four DHRP candidates, all of whom identify as Rohingya, were disqualified in August because of the alleged citizenship status of their parents.
Because the appeal period had expired, Aye Win said he had no way to contest the decision. He said he plans to sue the UEC for accusing his father of not being a citizen, though he did not say what law he would file charges under.
U Thu Rein Htut, secretary of the Rakhine State election sub-commission, confirmed that the appeal period ended on August 31. "U Aye Win is already listed on the ballot papers so we have to cross out his name and party logo with a red pen," he told Frontier.
Min Ko Aung from the Yangon Eastern District sub-commission agreed that there is no way for candidates to overturn their disqualification after the appeal period has passed.
But advocate U Myint Thwin, a member of the Myanmar Legal Aid Network and a legal consultant to the Yangon School of Political Science, said the comments from Min Ko Aung and Thu Rein Htut contradict electoral law.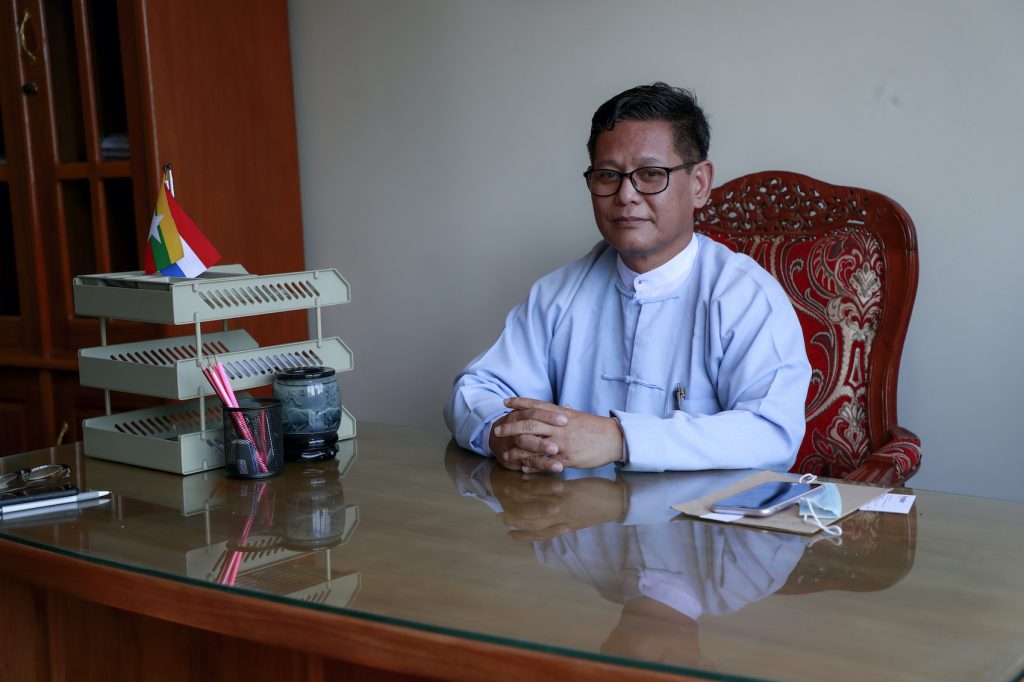 "The sub-commission does not have the right to say that [no appeal is possible]," he said. "In the case of a disqualification, it has to arrange for candidates to be able to appeal during the week following its decision. It is not in their power to say, 'You cannot submit an appeal because the time has run out'."
But Myint Thwin was also critical of the disqualified candidates.
"Those who want to be lawmakers should already be proficient in the law and know their own rights [in domestic law and] and international conventions," he said.
Myint Thwin said candidates who were told they could not appeal the decisions should launch legal proceedings against UEC officials.
Hla Win said the district sub-commission had told him to petition the UEC directly if he wants to challenge his disqualification.
"My party and I sent a letter of complaint to the UEC two days ago," he told Frontier on October 18. "They haven't replied yet."
As of November 4, he said, he still has not heard back.
The rose party effect
The number of candidate disqualification in this year's election is, however, lower than in 2015. That year, out of 6,189 applicants, 99 were rejected as candidates and 24 were later reinstated on appeal to higher levels of the UEC. Most of the disqualifications were, like this year, for reasons of citizenship. Five of the six parties fielding mostly Muslim candidates in 2015, including those of Rohingya and Kaman ethnicity, saw more than half of their proposed candidates ruled ineligible in this way.
United States-based observer group the Carter Center said the enforcement of citizenship requirements was selective. "Multiple [election] subcommissions acknowledged that not all candidates were equally scrutinized on citizenship grounds," the group's 2015 report said, "and that they sought to identify individuals for scrutiny based in part on indications of foreign ancestry in application documents, or at times, physical appearance alone."
However, no candidates were disqualified after campaigning had begun in 2015, meaning no one had to waste resources on races that they were ultimately barred from competing in. Moreover, one of those who have recently been deemed ineligible had been cleared to run in both the 2010 and 2015 general elections.
The USDP's U Hnin Wai was elected to the Amyotha Hluttaw seat of Kayah-12 in 2010 and sought re-election in 2015 but was defeated by the National League for Democracy's Sai Pan Pha.
The 48-year-old registered to contest Mese-2 in the Kayah State Hluttaw against the NLD's U L Phaung Sho, the former chief minister of the state who was impeached in September. On October 12, the Bawlakhe District sub-commission disqualified him as a candidate under 10(e) after being told by the UEC that his father was a Chinese national who held a Foreigner Registration Certificate when Hnin Wai was born.
U Kyaw San Win, secretary of the Kayah State election sub-commission, told Frontier on October 22 that Hnin Wai was able to stand as a candidate in 2010 and 2015 because the immigration department had failed to conduct a thorough background check.
Kyaw San Win blamed the "weakness" of the immigration department for not discovering in 2010 and 2015 that Hnin Wai was in breach of 10(e). "When the department conducted a detailed check this year, it found that his father was a Chinese citizen," he said.
Hnin Wai maintains that his father is a Myanmar citizen. He attributed his disqualification to the fact that when he was issued a national ID card as a boy, it mistakenly listed his step-father, a Chinese national, as his father.
"When I became an adult, I tried to have my real father listed on [my CSC], but the immigration department refused because I could not produce the documents it requested. I could not produce my parents' marriage certificate because they died when I was young," he said.
Hnin Wai said he suspected that a rival candidate had complained about him to the UEC, but the state sub-commission denied this, insisting it was Union-level immigration officials who had reported the breach.
U Chan Lian, executive director of the Hornbill Organization, an election monitoring group, said political parties and candidates were coming under closer scrutiny this year because of the controversy over the United Democratic Party, or "rose party".
Chan Lian said the UEC, the immigration department and the police had made a "big mistake" by allowing the UDP to register and field candidates.
"The rose party has contested elections since 2010. When a political party seeks to register with the UEC, the immigration department and the police are required to conduct detailed checks, including on the places of birth of its leading members," he said. "The controversy over the party occurred close to the election, which should not be the case. It was the fault of the UEC as well as the ministries."
Deputy Minister of Labour, Immigration and Population U Myint Kyaing, and the ministry's permanent secretary, U Aye Lwin, declined interview requests from Frontier, saying they were too busy.
Chan Lian said it was unreasonable for candidates to have to pay the price for official negligence after they had already invested time, money and effort into their campaigns.
"If candidates are rejected during the nomination process, parties and candidates can tolerate this. But it's not fair to disqualify candidates who successfully registered and have already begun campaigning," he said. "It dashes all hope."
Opinion split over 10(e)
U Kyaw Zeya, vice-chair of the People's Pioneer Party, saw two of his party's candidates disqualified under section 10(e) of the election laws this year. He believes the section should be abolished to leave only 8(b), which says a candidate must be a "citizen who was born of parents who are citizens". This could be interpreted to mean that a candidate's parents can have acquired citizenship after the candidate was born.
"They didn't know their fathers weren't citizens [at the time of their births] when the immigration department found that to be the case," he said. "Some people don't know everything about their parents."
Kyaw Zeya said the disqualified candidates and their parents all have CSCs, denoting full citizenship. "They should not have been disqualified; section 10(e) limits the people's rights," he said.
However, some legal experts and political analysts say 10(e) is necessary because of the great responsibility that comes with lawmakers' ability to draft, amend and approve legislation, and because they have the opportunity to occupy some of the nation's highest positions, for instance as government ministers and parliamentary speakers.
Advocate Myint Thwin said section 10(e) helps ensure that foreign spies do not infiltrate the legislative or executive branches. "Human rights are not the same as citizens' rights. We have to check whether an election candidate's parents are real, legal citizens," he said. "This may not be as important for every citizen, but it is for deciding who is allowed to enter our government."
Chan Lian of Hornbill said he also opposes abolishing 10(e) because, he said, the children of foreigners should not be able to form political parties or enter government roles.
Myint Thwin said that if the parents of all 6,969 election candidates were subjected to the same scrutiny as the recently disqualified candidates, many more would have been found to be ineligible.
He said that because members of non-native ethnic groups "have to wait three generations to become a citizen" under the 1982 Citizenship Law. "If we check all the candidates, especially those aged over 60, we might find that one of their parents was not a citizen when they were born."
"It seems that the immigration department checked only by looking at the information on people's [CSCs]," he said, suggesting that only those marked on their cards as Muslim or Chinese – or whose names sounded like they might be – received adequate scrutiny.
U Aung Myo Min, executive director of Equality Myanmar, which promotes human rights education, said the next parliament should consider amending the election laws and the citizenship law. He said the latter deprived many residents with ancestors from the Indian sub-continent and China of their citizenship rights, despite their families having lived in Myanmar for generations and having previously been granted citizenship.
He said the country has nothing to gain by preventing qualified people who want to work for the good of the country from being elected just because their parents were not citizens when they were born.
Meanwhile, disqualified candidate Hla Win thinks aspiring changemakers should look beyond elections. There are many ways to be active in politics outside of parliament, he said. He will remain a DPNS party member, working with it on the same issues he hoped to tackle as an MP: standing up for those discriminated against based on their race, religion or gender, and for sex workers.
"I have news for the people who have rejected my candidacy: I'm not running away from politics just because you've turned me down." he said. "I didn't run to gain power; I ran to make a change in people's lives."