By KYAW YE LYNN | FRONTIER
YANGON — Electricity prices need to rise before the government can move forward with plans to meet demand for next hot season, a senior Ministry of Electricity and Energy official says.
With many areas of the country suffering from crippling power cuts, the ministry earlier this month announced a range of potential solutions to meet demand in the next few years, including liquefied natural gas barges, imports from China and Laos, and solar photovoltaic projects.
U Han Zaw, deputy director general of the Department of Electric Power Planning, said the ministry was under pressure from the government to come up with solutions to the power shortages, which have forced the ministry to introduce scheduled outages since late April and prompted significant public criticism.
"It is our responsibility to find ways to prevent blackouts like these in the future," Han Zaw told Frontier in an exclusive interview.
The supply cuts follow delays to three proposed power plants fuelled by imported liquefied natural gas.
Myanmar presently relies on a combination of hydropower and gas-fired plants, but during hot season many dams are unable to generate power due to lack of water. Most of Myanmar's domestically produced gas is exported, which leaves little room to expand the use of gas-fired plants.
Although power supply should improve once the monsoon rains begin to refill the dams that provide water for the country's hydropower plants, the cuts are expected to worsen in the years ahead due to annual electricity demand growth of 10 to 15 percent.
"We are like most farmers in Myanmar – we depend largely on rainwater," Han Zaw said, referring to Myanmar's reliance on hydropower. "We have to change it … We need to diversify into other sources."
Price rises
Han Zaw said the ministry was confident that it could avoid blackouts in 2020 through short-term solutions, but these would be relatively costly and require price rises.
Electricity supply in Myanmar is heavily subsidised, particularly for home users – the K35 to K50 per unit (1 kilowatt hour) that they pay is thought to be among the lowest in the world. Prices have not risen since 2014, despite a growing reliance on power from more expensive, privately run operations.
"First things first. All these plans will only be [possible] after an electricity price increase," Han Zaw said. "Buying electricity from other countries or generating power from LNG plants will cost at least K100 [a unit]. That's about three times the current [base residential] rate … so a price hike is inevitable."
The ministry has been working on a revised tariff regime for more than a year, but the government has delayed introducing the new rates.
Frontier understands the tariff increase plan has been finalised since December but is still waiting final approval.
"Almost everything is ready. What we need is the green light from someone," said one senior official, in an apparent reference to State Counsellor Daw Aung San Suu Kyi.
Writing in the Myanmar Times last year, Mr Guillaume de Langre, energy research manager at the International Growth Centre, said that by early 2018 the average cost of supplying 1kWh had risen to K108 – more than three times the lowest tariff that home users pay.
As a result of these subsidies, the Ministry of Electricity and Energy is expected to lose K630 billion in the 2018-19 financial year. Left unaddressed, these subsidies will balloon to more than K1.5 billion annually in the years ahead as demand rises and more power projects come online, according to de Langre.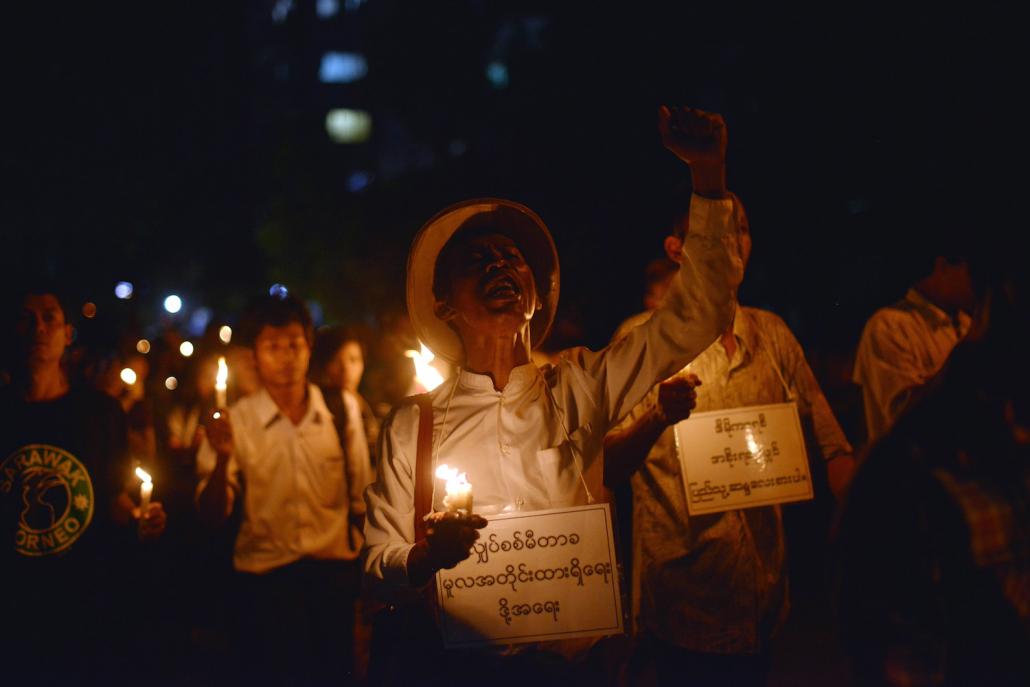 The power plan
The ministry is considering several options to meet demand next hot season and in the years ahead.
Earlier this month, officials said they plan to call a tender for the provision of around 1,400 megawatts of additional capacity, to be supplied from barges in three potential sites: Thilawa in Yangon Region, Pathein in Ayeyarwady Region and Kyaukphyu in Rakhine State. The barges would generate power from LNG.
Han Zaw said the tender would be called by early July so that there is enough time to select the winner and have barges in place for next hot season.
He added that the government had already given verbal approval to the plan and the ministry was just waiting for the "paperwork" to be concluded.
In July 2016, the government called a tender for a five-year contract to supply 300MW of emergency power capacity, beginning the following year. It soon selected two winners – a consortium comprising United States-based APR and Myanmar's National Infrastructure Holdings, and Turkey's Karpowership – but the projects never moved forward due to an inability to agree on pricing.
Han Zaw said the ministry would speed up the tender process by making it invitation only. It would only consider unsolicited bids only from high-profile companies or consortiums.
"Unlike [in 2016], we would selectively invite high-profile companies to avoid wasting time," he said.
The ministry is also considering buying electricity from China and Laos to alleviate shortages. At a press conference earlier this month, deputy permanent secretary U Soe Myint said the ministry would buy "1,000MW" over the next two years under a proposal from China Southern Power Grid.
However, Han Zaw said that negotiations were still ongoing between the ministry and companies from both countries, with no deal yet reached.
The lack of a high-voltage transmission line to Yangon meant that power imports from China or Laos would most likely be used to supply border areas, such as Shan or Kachin states, rather than the national grid.
"By doing this we can reduce power losses and avoid the construction of a high-voltage power transmission line," he said.
The ministry is also planning to issue a call for expressions of interest for on-grid solar PV projects ranging in size from 100MW to 200MW.
One key advantage of solar projects is that they can be installed relatively quickly – as little as six months to a year.
"Actually, we just want small-scale solar projects with electricity productivity of up to 100MW because we think it will be easier to attract investment," he said.
However, the ministry will consider proposals for projects up to 200MW because production will fall during rainy season when there is less sunlight.
The ministry is also trying to reduce electricity consumption, Han Zaw said. Research had shown that power usage was highest between 5am and 11am and 5pm and 11pm, when most households do their cooking. Encouraging people to switch from electric to liquefied petroleum gas (LPG) cooking stoves would reduce demand, he said.
"So we are also trying to find a way to make LPG accessible so people can use it for cooking," he said.