A conservation camp for elephants who lost their jobs because of a logging ban in the Bago ranges has become a refuge for two young calves left motherless by poachers and disease.
By ZON PANN PWINT | FRONTIER
TWO YOUNG elephants whose lives were disrupted by the untimely deaths of their mothers have found a safe and caring refuge at a camp housing pachyderms left unemployed by a logging ban in the Bago ranges.
Mary and Yu Yu Htay became friends after arriving within days of each other last month at the Winga Baw Elephant Conservation Camp, near Phayagyi in Bago Region's Daik-U Township.
Mary, fondly named by camp staff because she was rescued on the eve of Christmas, grew up wild in jungle near the Ayeyarwady Region capital, Pathein.
A poacher killed Mary's mother for her hide last December.
The distraught calf was found roaming with a herd of cows about five kilometres from where her mother's body was found.
The cows' owner alerted the Forest Department and it handed Mary to the care of the Winga Baw Elephant Conservation Camp on January 17.
"She is being nourished by milk formula," U Myint Soe, the camp's in-charge, told Frontier as he watched a keeper feed Mary, her dexterous trunk holding the feeding bottle.
After telling Mary's story, Myint Soe introduced Yu Yu Htay, a playful five-month-old. The calf, who was three months old when her mother died of disease, arrived at the camp a few days before Mary.
"Yu Yu Htay has a friend now," he said.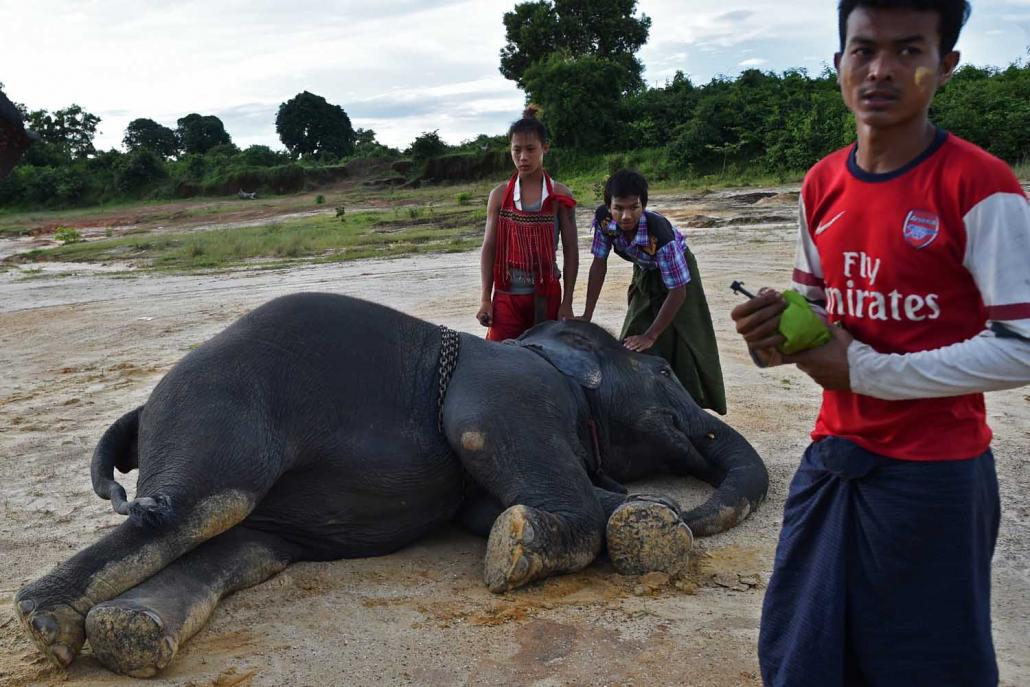 Winga Baw, a 34-hectare (84-acre) former timber camp for logs felled in the nearby Bago Yoma, opened as an elephant conservation camp on November 3, 2016. Near the 40-mile point on the Nay Pyi Taw Highway, it is one of several such camps opened by the department in the aftermath of the decision last year by the Ministry of Natural Resources and Environmental Conservation to halt logging in the Bago Yoma for 10 years.
The camps provide a home for elephants that have worked in the industry and have quickly become destinations for lovers of the animals, who can enter for a small fee. For the elephants, the camps are also a refuge from poachers.
A total of 133 wild elephants were known to have been died between 2010 and 2016, of which 72 succumbed to natural causes and the rest were killed by poachers, the Minister for Natural Resources and Conservation, U Ohn Win, was quoted as saying at an elephant conservation action plan workshop in Nay Pyi Taw on January 16.
The minister said most poaching of elephants occurred in Ayeyarwady, followed by Bago and Yangon regions, the Democracy Today newspaper reported.
Wild elephants were threatened by poachers because their habitat was being destroyed, including areas inundated by dams, said U Tint Wai, a mahout at the Winga Baw camp with 18 years' experience training the animals to work in the logging industry.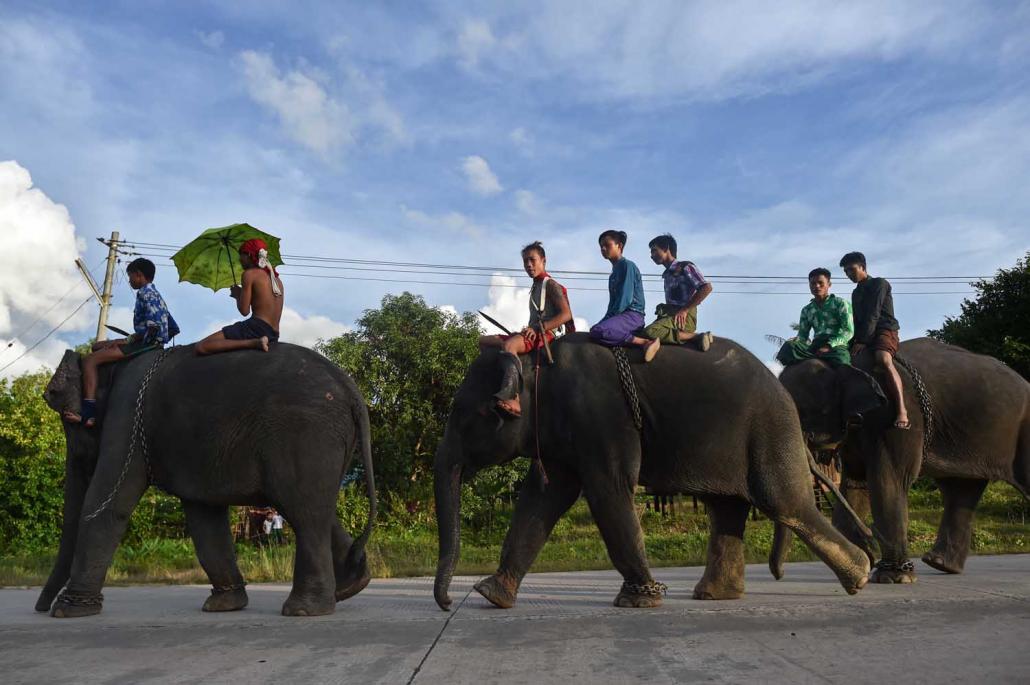 "They trespass in human settlements when they are hungry," Tint Wai said, explaining the most common reason for encounters between wild elephants and people.
Daw Tin Win Maw, founder of the Green Hill Valley Elephant Camp near Kalaw in southern Shan State, the country's first and only private elephant camp, said rangers, regular patrols, a bigger budget and better technology were needed to protect elephants from poachers.
Tin Tin Maw, whose father worked at Myanma Timber Enterprise and whose uncle is an elephant veterinarian, has been passionate about the animals since she was young.
She founded the Green Hill Valley camp in 2011 to care for seven retired elephants aged between 40 years and 70 years, and a calf that had been separated from its mother. The retirements were well deserved: Elephants in the logging industry start work when they are 18.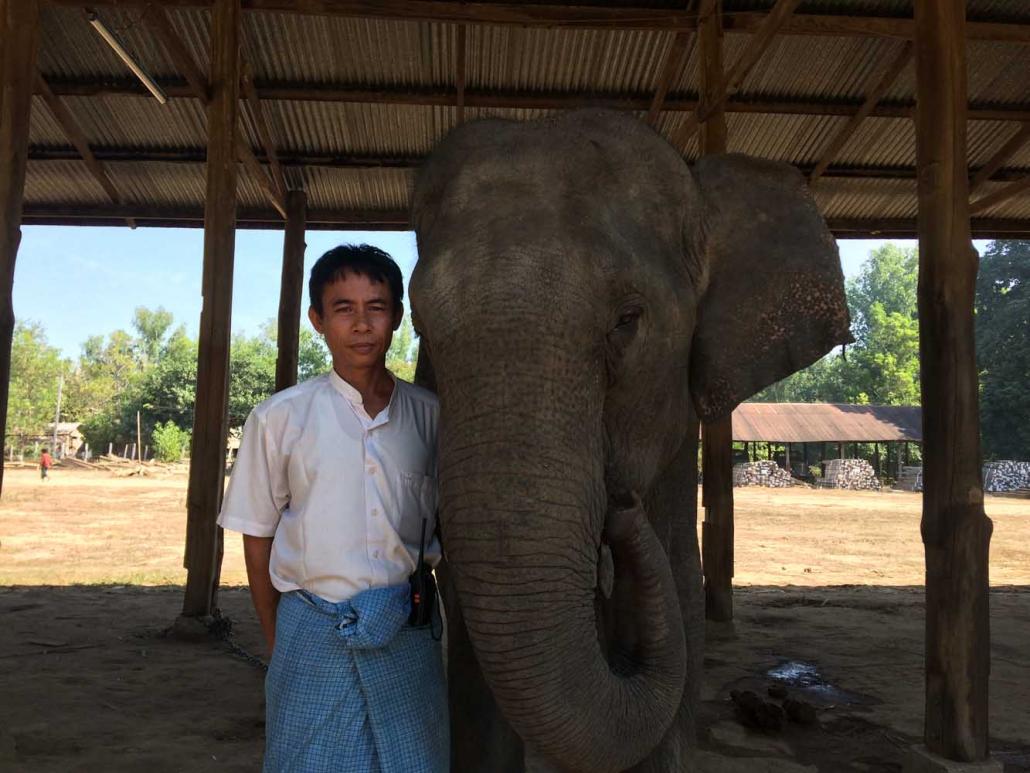 Tin Tin Maw is an advocate of responsible elephant tourism. She does not allow the animals to be ridden and disapproves of their use in circuses.
The Winga Baw camp is home to 13 elephants from a former timber camp in the Bago Yoma. Most are youngsters but they include two females aged 22 and 23, one of whom gave birth to a healthy female calf on January 21. It was named "Chit Thamee" (Beloved Daughter).
Set amid natural forest, the camp has special open-sided accommodation for the elephants, thatched cottages for its keepers and a shallow stream where the animals enjoy taking a bath.
"People's awareness about these gentle giants has increased; some don't like them to perform in shows and some don't even encourage riding an elephant," Tint Wai said. "Some people are even hostile to the act of threatening an elephant."
TOP PHOTO: AFP