A recent electricity price hike has fuelled optimism among companies selling rooftop solar systems to factories, but a lack of knowledge and financing challenges continue to hold back sales.
By THOMAS KEAN | FRONTIER
JUNE 25 was a good day for Mr Kapil Seth.
The government had just announced a big electricity price increase from July 1, and businesses and households were nervously trying to calculate how much their bills would jump. But for Seth, the CEO of Mandalay Yoma Solar Energy, the price rise made his company's rooftop solar systems much more financially attractive. And he wanted people to know about it.
"We got the tariff calculator up on the website in four hours so that people could check how much they would save with solar," he told Frontier. "We sent out messages to all our clients. Most were really interested in learning what [the increase] was going to cost them. Many are going to see their bills double."
At the new rates, rooftop solar systems are starting to seem like a savvy investment, particularly for industrial and commercial users. If you bought a solar system before June 25, you could expect to recoup the cost in around seven years – an annual return of about 15 percent. The price increase wasn't as steep for commercial users as households, which had previously been receiving much larger subsidies. Even so, Seth said that some businesses would now see a payback of less than four years – a massive 25pc year-on-year return.
Seth said that businesses Mandalay Yoma had previously ignored because it considered them too small are starting to make enquiries, and it's getting calls from households. "A lot of smaller factories are starting to reach out. We would never have even targeted most of those companies in the past."
"The fact is that solar is the cheapest cost [power] option today … if you install a solar rooftop system, you will see savings straight away," he said.
But for now the market for industrial and commercial customers is tiny. Mandalay Yoma is the largest player, with more than 25 completed projects from Lashio in Shan State to Dawei in Tanintharyi Region, and it claims to have about 80pc market share. But the combined capacity of its completed projects is still only 2 megawatts – a fraction of what has been installed in neighbouring Thailand or Vietnam.
Most solar systems sold in Myanmar are for rural mini-grids and are made feasible by co-financing from the World Bank.
The biggest challenge for companies selling rooftop systems is convincing prospective customers that the technology works and the financial savings are real, said Mr Allen Himes, managing director of Indigo Energy, which began operations in Myanmar in 2012.
"It's not a slam dunk," he said. "Sometimes when we call people they just say, 'We don't believe in solar,' and then hang up the phone. Just like that."
Even for businesses that agree to meet an Indigo Energy sales representative, there's still often deep scepticism about the promised benefits of solar power.
"I think part of it is just the fear of the technical side, they don't understand it and think that we're going to cheat them," Himes said. "There's also not usually a calculated, analytical approach to buying solar. It's more a feeling, people believe in the technology. I do think it's going to improve – we're more optimistic than we were – but it's not like the price increase is a silver bullet."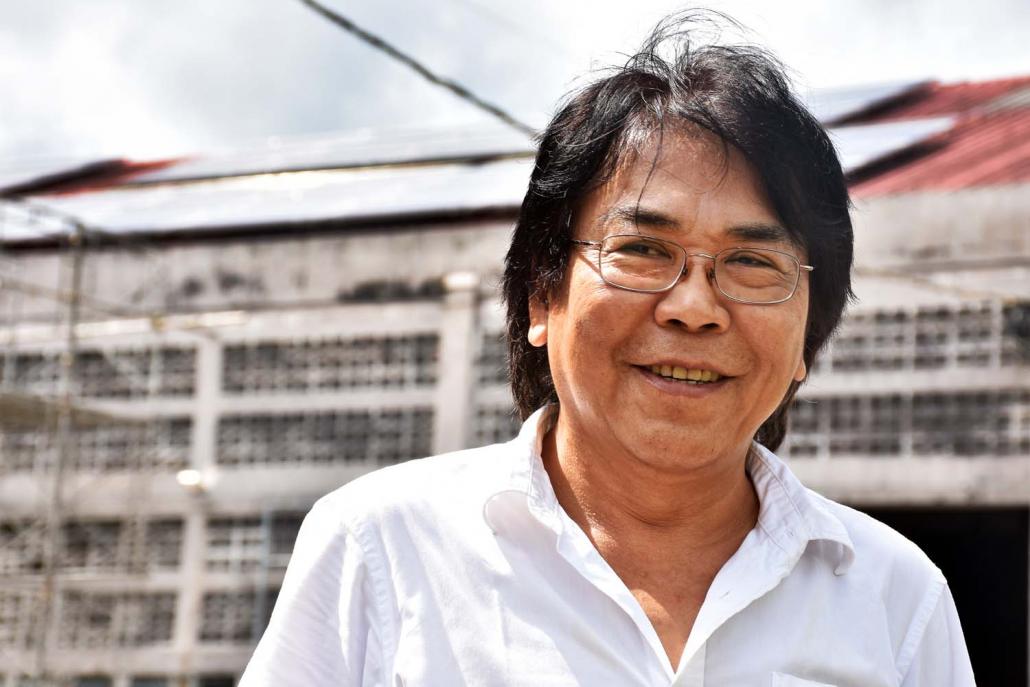 With a degree in physics and marketing, a minor in accounting and an interest in technology, U Tin Sein is not your typical Myanmar industrialist.
As he showed Frontier around his mackerel-canning factory in Yangon's Dagon Seikkan Township on a recent September afternoon, Tin Sein proudly pointed to modifications and additions he'd made to the workspace to increase efficiency, improve hygiene and make his factory a more comfortable place to work.
The US$90,000 (about K138.4 million), 75-kilowatt solar system on the roof is just his latest effort to keep up with competition. Although the day was slightly overcast, the system was still churning out more than 60kW to power the factory's freezers and water pumps.
Financially, a solar system is a no-brainer, Tin Sein said. But he understands why many businesses are reluctant or unable to pay the high up-front cost. With bank loans at 13.5 percent, the returns don't look so attractive.
Tin Sein benefited from a grant from RBF Myanmar, a three-year project established under a Danish development initiative that covered 60 percent of the system's cost. But he said he had been planning to install the system before he learned about the grant programme.
The slow uptake of solar in Myanmar is about more than financing challenges, he said.
"People here, many of them don't know exactly where their costs are going," he said. "And they don't realise how important it is to maximise your output."
Tin Sein has reconfigured his factory's operations so most of the energy-intensive activities occur during the middle of the day. He's added new freezers and a machine to wrap his cans in plastic to take advantage of all those extra kilowatt-hours of power the solar system is pumping out. "If it's free, why not use it?" he asked.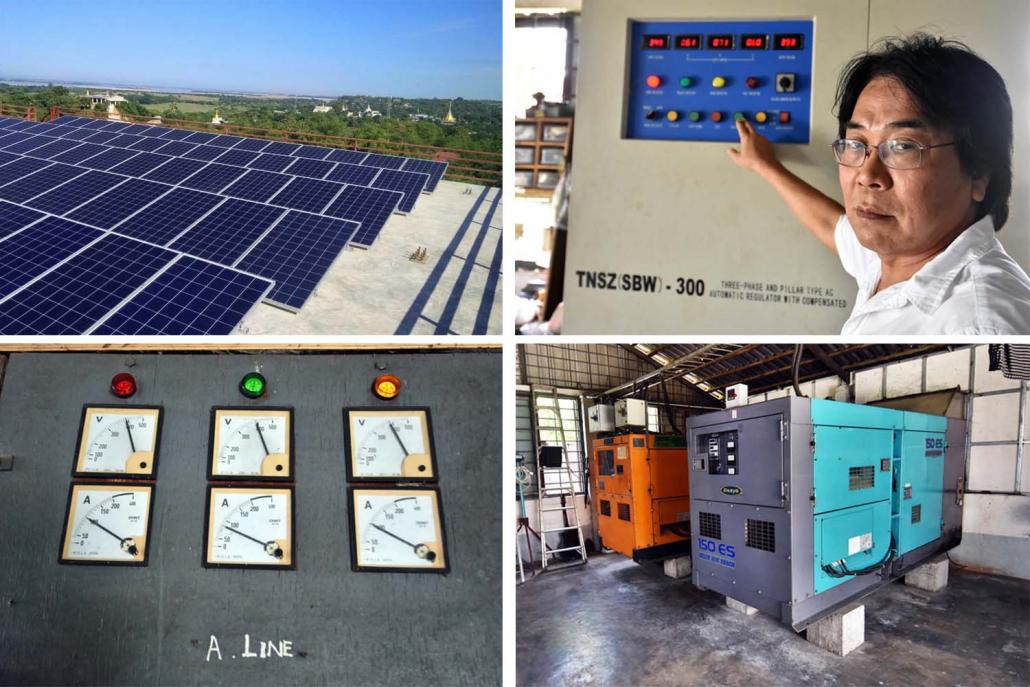 Tin Sein also keeps a small book in which his staff record his electricity meter reading three times a day, so he can see how much he's consuming. The impact since April, when he had the system installed, has been dramatic.
"Before I was paying K3 million, sometimes K3.5 million a month – and that's before the prices went up," Tin Sein said. "Now my monthly bill can be as little as K700,000."
Tin Sein's system was designed and installed by Quasar Resources, a Yangon-based company set up in 2013 to pursue energy infrastructure opportunities in Myanmar. Founder U Lin Tun, who previously worked in the power business in the United States for 25 years, said solar was now so cheap relative to other sources that its growth in Myanmar would be driven by economics more than environmental considerations.
Rooftop systems on factories could also help to alleviate Myanmar's chronic power shortages, he said. "Yangon alone has 29 industrial zones accounting for perhaps 50 percent of load. If you tackle even some of this, you'll have more power to distribute elsewhere."
But the potential for rapid growth has also brought an influx of new operators, some of which appear to have little experience in design or installation. Tin Sein said he has received phone calls from businesspeople he knows who have bought cheap systems, and soon discovered roof damage and leaks due to shoddy installation work.
"Some people do business the wrong way – just hit and run," he said.
The market is developing amid a relative paucity of regulation. Rooftop solar systems produce what's known as "captive power" – power that's for a single user and doesn't get transmitted to the grid. In a lot of ways it's like running a generator. That means the Ministry of Electricity and Energy is not a necessary player – something most in the industry seem happy about, despite the risks it poses in terms of bad customer experiences.
The government could still introduce policy measures to encourage growth, such as net metering or a feed-in tariff, which compensate households or commercial users if they produce excess electricity and put it back into the grid. A renewable energy target may also encourage uptake, with rooftop solar being part of a larger strategy to increase overall renewables use.
But Himes said he would much prefer to "keep the government out of it". Even policies designed to help the industry can have negative consequences. Uncertainty over whether the government plans to introduce net metering or a feed-in tariff would be "worse than nothing" for the industry's growth, Himes said, because buyers might hold off until the government's policies become clear.
"The only thing that I wanted before the electricity price increase was the electricity price increase," he said. "They answered my prayers so now we're just pushing ahead."
TOP PHOTO: U Tin Sein (right) estimates that the solar system will save him US$23,000 annually and he will recover the full cost in just four years. (Steve Tickner | Frontier)