Dry season conditions are always harsh in central Myanmar, but El Niño has exacerbated the situation this year and the water supply outlook is already grim.
By MRATT KYAW THU | FRONTIER
Drought conditions linked to an El Niño climate pattern that the Meteorology Department says will be the strongest in five centuries are already bringing misery to residents of Myanmar's central dry zone.
They face a long wait for rain: Issuing its warning late last month the department said the effects of El Niño will delay the onset of the monsoon, which is not expected to reach upper Myanmar until early June.
Drought conditions during the dry season are nothing new in the dry zone, where the main cities include Magway, Chauk, Yenangyaung and Saytotetayar in Magway Region and Kyaukpadaung and Myingyan in Mandalay Region.
Conditions during this dry season are the worst in five years, say residents, who are already enduring water shortages. Man-made ponds started to dry up before the end of March and groundwater supplies are decreasing.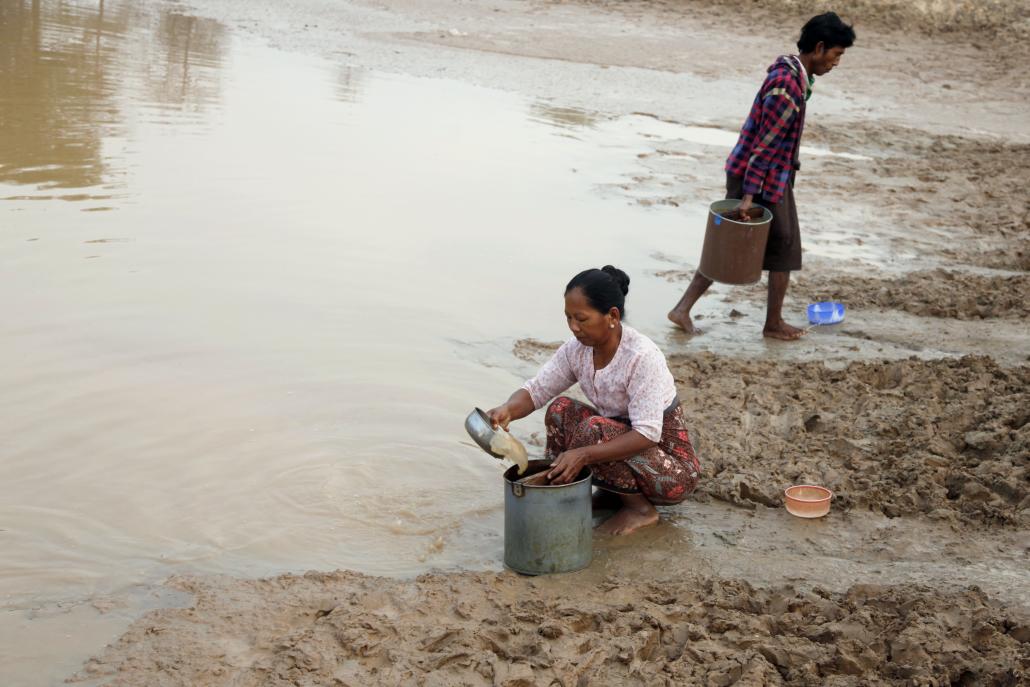 In the small villages in Kyaukpadaung Township, almost every family member has to rise at 3am or 4am to collect water to be sure of having enough for drinking and cooking for the day. Poor families carry the water in buckets, while those who can afford it use bullock carts with tanks. The low level of the ponds means the water is muddy.
Every village in the township has its own pond and a pump, the cost of which was supported by the government. The ponds have adequate water supplies only for the first two months of the dry season.
Of the township's 339 villages, 17 have already been seriously affected by water shortages.
"Our village pond has enough water for this month, but is likely to dry up soon and we are not sure what we will do," Ma Nway, a resident of Paukthit village, told Frontier.
"In previous years, we were able to rely on water from other villages that have good ponds but that will not be possible this year because every village is in trouble," she said.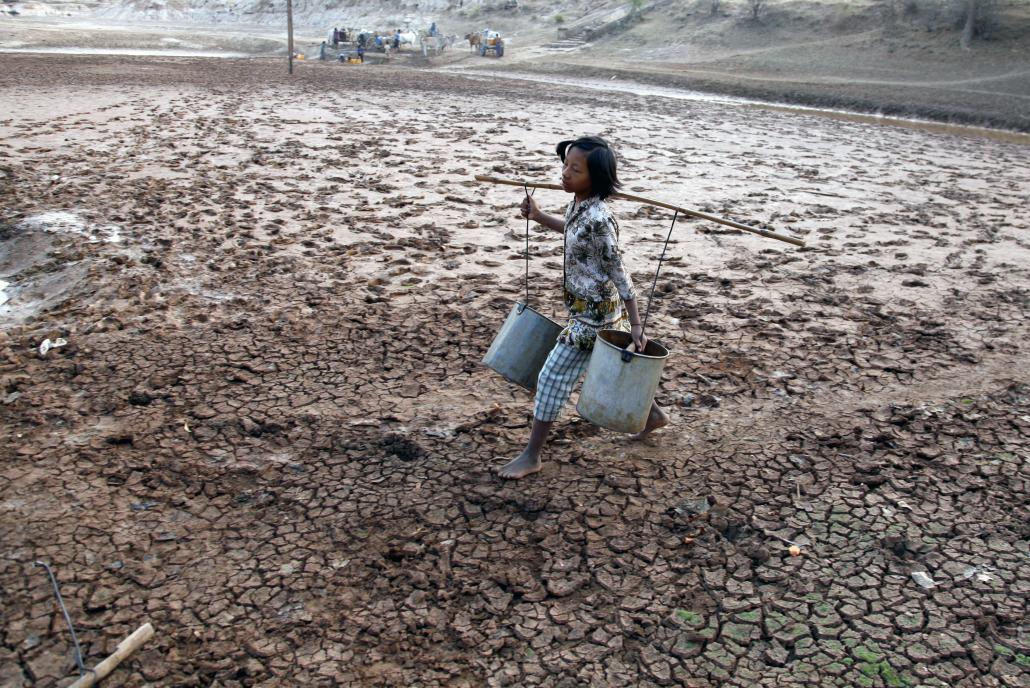 Most ponds are 15 metres by 15 metres (50 feet by 50 feet) and at the end of the rainy season are about 4.6m (15 feet) deep. They start to dry up in the last week of February and will be empty in April.
Some villages rely on small wells that ooze meagre amounts of water. In villages with wells, residents queue in order of seniority to collect the water. Declining water supplies from the wells is a worry for villagers.
U Aung Soe, the headman of Linnyawsan village, about a 30-minute drive from Kyaukpadaung, said its 550 residents were relying on two small wells to provide clean water for drinking and cooking.
"We used to have three small wells but one was destroyed by the authorities when they built roads between villages," he said.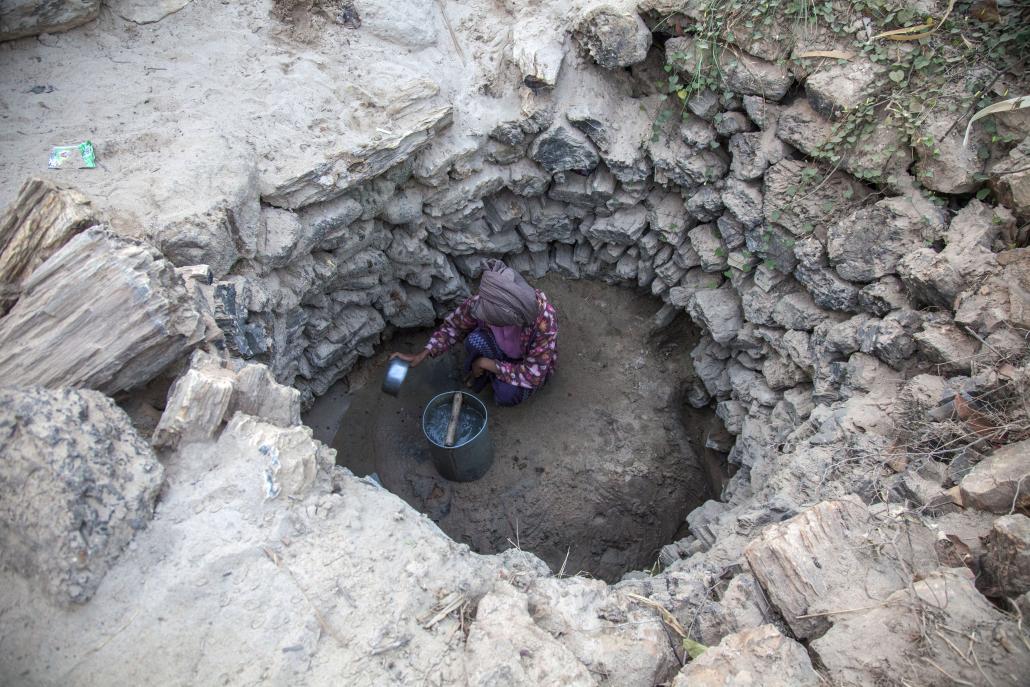 Tempers can fray easily because of water shortages.
At an isolated village in Magway Township six years ago, a dispute between two men over seniority in a well queue led to a fight in which one was fatally stabbed.
The incident occurred in Innetkone village, which is about two hours from Magway and inaccessible by car, headman U Aung Theik, told Frontier.
"We decided after that to limit those in the queue to no more than three buckets for each family and if they don't follow the rules they are fined K3,000," he said.
Innetkone, with 1,200 residents in 265 households, relies on two small wells. With each family collecting three buckets of water a day from the wells, there is concern about future shortages.
In many villages, broken pumps have created added hardship for residents. Most of the pumps were installed in the 1970s but are difficult to maintain and many have broken down.
When they were installed about 40 years ago, the machines were pumping water from an average depth of about 152m (500 feet). Villagers said water from that depth is no longer suitable for drinking or cooking.
To help cover the cost of operating the pumps, villagers pay K30 for five gallons and K150 for a drum of water.
"We want to fix the pumps but it will cost money," said U Aung Theik. "We estimate it would cost K23,000,000 (about US$18,765) to dig a new well but we can't afford it," he said.
The pumps break down every two months but when operating are pumping from a depth of about 200m (660 feet), though the water is barely drinkable. The groundwater level has fallen during the last three years, U Aung Theik said.
The pumps are the responsibility of the Ministry of Livestock, Fisheries and Rural Development and if villages want to repair them from the government budget they need to submit funding applications.
Up to K500,000 is provided at township level and is easy to obtain but requests for higher amounts require applications the state or regional level, according to ministry guidelines seen at Kyaukpadaung Township. The process takes one or two months.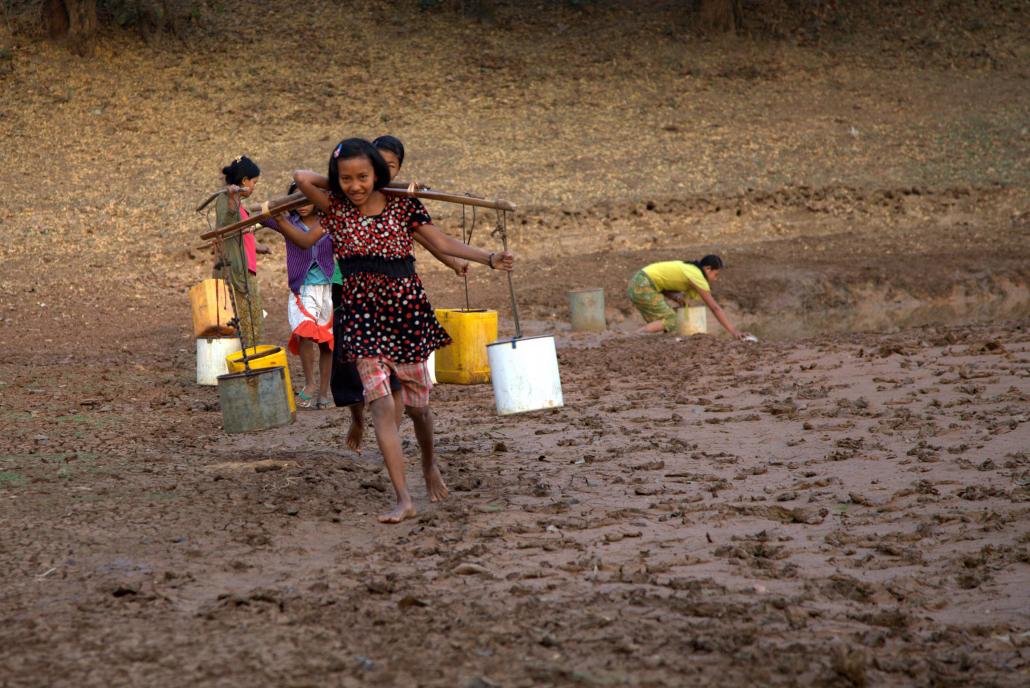 U Aung Theik said he sought help from Magway City Development Committee in 2012 and from Rural Development in 2014 to apply for a grant to have the pumps repaired.
He said he contacted both because he was not sure who to approach.
"A group of MCDC people came to the village, they said, to check the water quality and the soil, but they never returned and the pump still needs repairs," U Aung Theik said.
Villages around Kyaukpadaung are fortunate in being able to collect clean water from a big military base on the outskirts of the town.
"We have been supporting all the people who want to come to the base to collect water," said Lieutenant Kyi Lwin Oo.
However, the military has prohibited the collection of water in tankers and other vehicles and civilians are restricted to using buckets.
After the Union government last month warned all General Administration Department offices in central Myanmar to prepare for El Niño, the Kyaukpadaung Township office formed a working committee and put aside 300 gallons of petrol to transport water to drought stricken villages.
"Committee members are going around the villages every week to check their situation," said U Myint Thein, a senior clerk at the office. Villagers say they are still waiting for the township authorities to visit.