Yangon's power infrastructure is decayed and disorganised. The city needs more power, but first it needs a grid that can handle it.
By JARED DOWNING | FRONTIER
It was a tough hot season for Yangon power. As El Niño baked the city, technicians doled out power cuts like blackjack dealers just to keep the aged transformers from catching fire under the load from air-conditioners and refrigerators.
Concrete poles, insulators and tangled nests of overhead lines, some a century old, dried and cracked in the sun, then flashed and sparked as the first rains broke last month. Within days, three people were electrocuted on the street.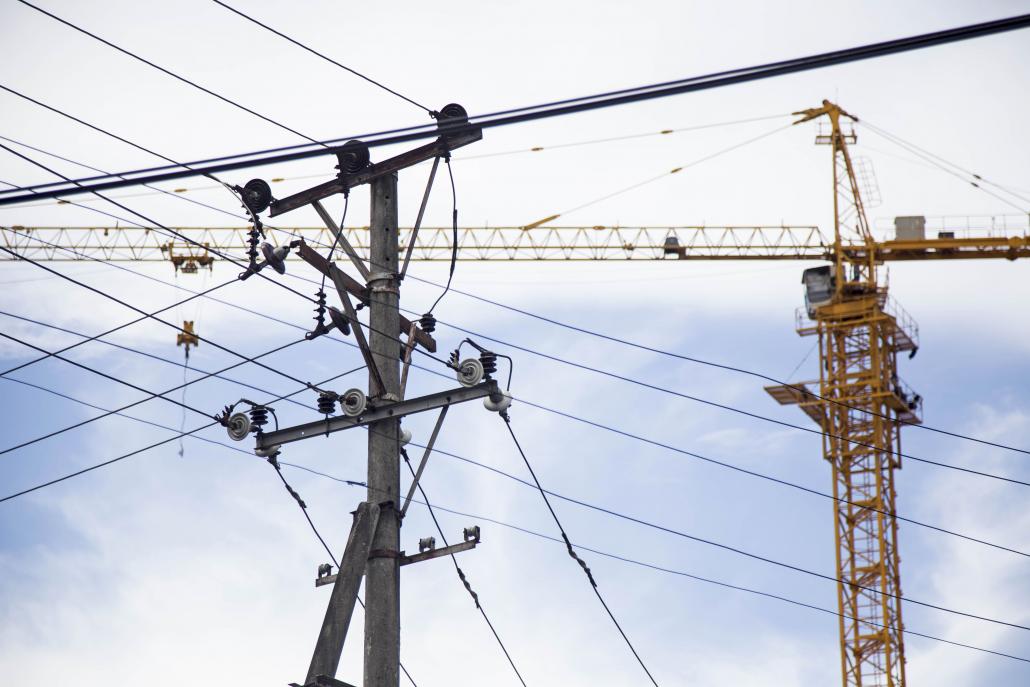 Yangon Region Chief Minister U Phyo Min Thein discussed the situation at a news conference last week at the Yangon Electricity Supply Corporation. He spoke about colonial-era power lines that will be used to serve 200 new high-rises, and how the city consumes half of the country's power but loses more than one-tenth of it as it buzzes through a decayed, patchwork infrastructure.
The grid is a problem, acknowledged Mr Vikram Kumar, country manager of the International Finance Corporation, a member of the World Bank Group. "A lot of the power failures you see in the last month have not been just because of a shortage of power, they've also been because of the condition of the grid itself," he told Frontier.
Myanmar is scrambling to quintuple its generating capacity by 2030 and build transmission lines with twice the capacity. But even if Yangon had enough raw power, its distribution system wouldn't be able to handle it.
Rewiring
Yangon consumes half of Myanmar's power – about 1,250 megawatts – which is supplied from nearby gas-fired plants or hydroelectric dams far from the city, via 66, 132 and 250 kilovolt transmission lines. After the electricity enters the city it trickles down a network of substations, where transformers eventually split it into 6.6, 11 and 33 kV lines for distribution to homes and businesses.
The Asian Development Bank said in a 2013 report that most of the 6.6 kV lines, which are mainly in Yangon, were already outdated "and need to be phased out and replaced with those capable of handling higher voltage".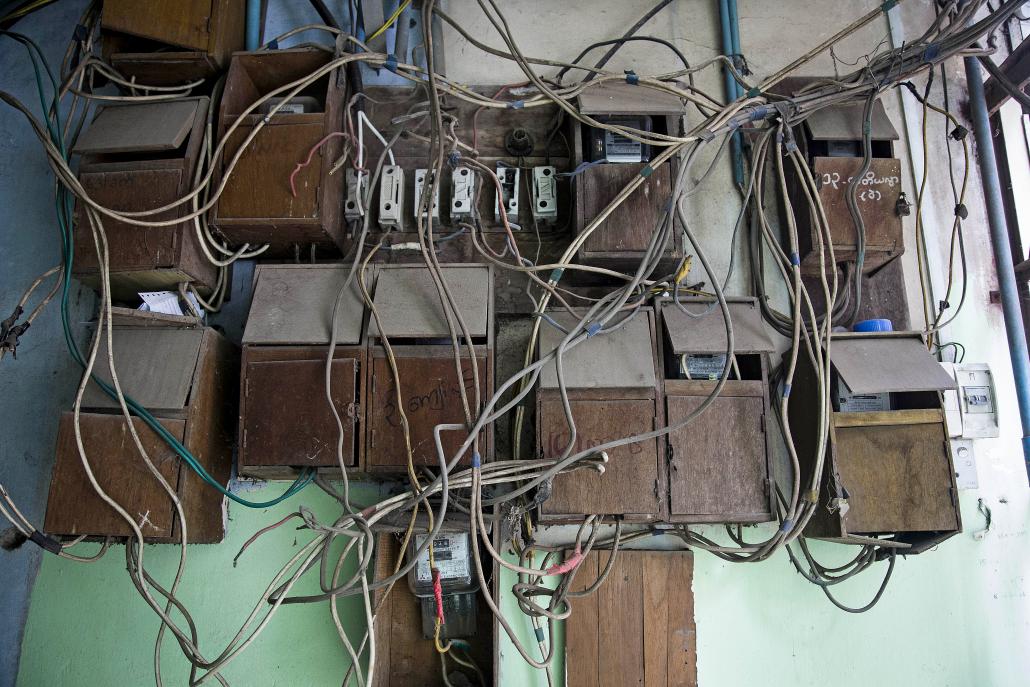 Some of the low-voltage lines, especially in the heart of the city, were installed underground in the colonial era and are too costly to dig up and replace. Overhead, decades-old tangled nests have grown one cable at a time, each wire twisted onto the main line ad hoc.
Deciding what area gets blacked out and when can be very precise and deliberate. From substation computers, YESC technicians stand ready to cut power to a street or a neighbourhood if the load from lights, TVs, refrigerators and air-conditioners grows too high for their struggling transformers to handle. When one street has been without power for an hour or two, it will be time for another to take its turn in the dark.
The National League for Democracy government has pledged to improve Yangon's power grid, promising 150 new transformers in its first 100 days.
A complete upgrade will be costly. The IFC estimates that rehabilitating the Yangon grid would cost more than US$1 billion over the next five to seven years.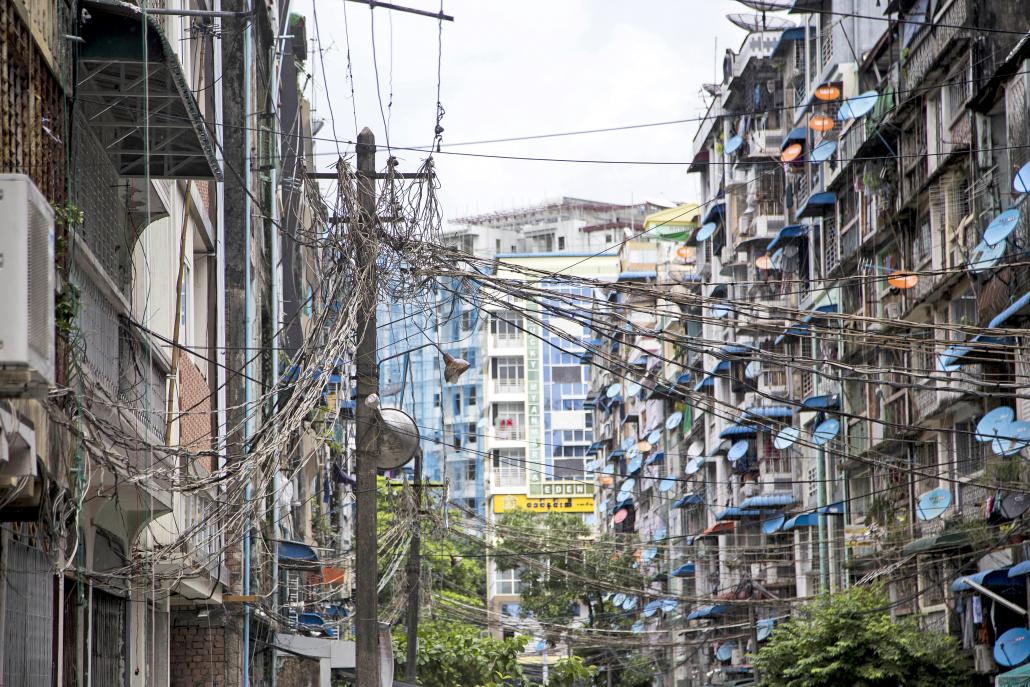 "There has been no significant investment in the grid over the last five years, except for the recent financing provided by ADB and JICA," Kumar said, referring to loans of $60 million and $27 million from the ADB and the Japan International Cooperation Agency, respectively.
There's a plus side to the situation. "With very smart, low-hanging-fruit kind of investments, one can really save a lot of power quite easily," Kumar said.
These "low-hanging-fruit" investments include straightforward improvements, such as replacing the wire tangles with modern, bundled aerial conductors and better training for substation operators. The city has improved distribution efficiency in recent years, with ambient loss falling from 21 percent in 2007 to 12.5 percent in 2013. Kumar said an investment of between $40 million and $50 million could save as much as 75 megawatts.
Power biz
The World Bank is providing Myanmar with a $400 million interest-free loan to expand and improve power distribution infrastructure, but mainly in rural areas, not Yangon.
It isn't that Yangon isn't important, Kumar said. Rather, Yangon is the centre of Myanmar's surging market. So why not let the market power Yangon's power?
In 2014, the IFC signed a mandate with the Ministry of Electric Power to corporatise the YESC, with the objective of transforming it from an inefficient public utility to an attractive investment opportunity, as the Ministry of Communications and Information Technology did with MPT.
"There's no reason why the state cannot be a large shareholder, and yet the utility behaves like a private company," said Kumar.
The IFC would have 20 percent equity under the plan, and bring in its own experts and consultants to establish managerial independence, financial transparency and other practices historically lacking in Myanmar's public enterprises.
The plan lost traction. The previous Union Solidarity and Development Party government never completely warmed to the idea of private stakeholders in the city's power supply.
The change of government has paved the way for the plan to be revived. Kumar said the National League for Democracy has "committed itself to the YESC corporatisation process".
It's a promising start, but Kumar hopes "corporatisation" ends up as more than a mere label. "I hope that this materialises in the form of an equity investment from IFC into YESC so that we can drive and support the transformation process from the inside as a partner and not just as an external advisor."