As the influential distilleries industry opposes lifting an import ban, the illegal trade in whisky and other spirits is estimated to be costing at least US$13 million annually in lost tax revenue.
By KYAW YE LYNN | FRONTIER
SUCCESSIVE GOVERNMENTS have never officially allowed the import of whisky and other alcoholic beverages since the democratic period that followed Burma's independence from Britain in 1948.
In 1995, the military junta formally banned imports of alcoholic beverages and some food products in a move aimed at supporting domestic production, although exemptions were granted to hotels catering to foreigners as well as duty-free shops.
Imports of alcoholic beverages were banned because they were not regarded as an essential product in Myanmar, said U Zaw Min, deputy director at the Department of Trade, under the Ministry of Commerce.
Alcoholic beverages were regarded as essential by only a few people, most of them foreigners, Zaw Min said.
"Former military governments even banned foreign biscuits because they were regarded as non-essential goods," he told Frontier.
Zaw Min said all governments had a consistent policy to reduce the production and consumption of alcohol because Myanmar was a predominantly Theravada Buddhist country.
"They assume that consumption rates will rise if imports of alcoholic beverages are allowed," he said.
Devout Theravada Buddhists live by five precepts, of which the last urges them to refrain from consuming alcohol and other intoxicants.
Strict controls imposed on domestic alcohol production by military regimes between 1962 and 1992 contributed to high demand, which was partly met by smuggling on a large scale. One of the most coveted tipples was Johnny Walker Black Label.
Liberalisation delay
In 1992, the junta partly liberalised the state monopoly in the liquor market and allowed the private sector to establish distilleries.
A year later, U Zaw Win and his brother seized the opportunity to enter the market and established Asia Beverages Co Ltd, which has grown to become one of Myanmar's leading makers and distributors of whisky.
"At that time, alcohol was necessary; there was huge demand that matched production in the early years," Zaw Win told Frontier in an interview in ABC's office in Yangon's Kamaryut Township.
By 1994, there were 250 distilleries throughout Myanmar, he said.
As ABC expanded, and its High Class brand whisky became one of the country's top selling liquor products, it continued to seek new opportunities.
In 2014, ABC together with Singapore-listed Yoma Strategic Holdings Ltd, and private equity fund manager, Delta Capital Myanmar, formed a joint venture, Access Myanmar Distribution Co Ltd, which has a network said to cover 80 percent of the country.
In May this year, Paris-based Pernod Ricard S.A., a global leader in distilled beverages production and distribution, acquired a majority stake in AMDC.
"The main purpose is to upgrade High Class whisky because we believe the market will be liberalised sooner or later," Zaw Win said.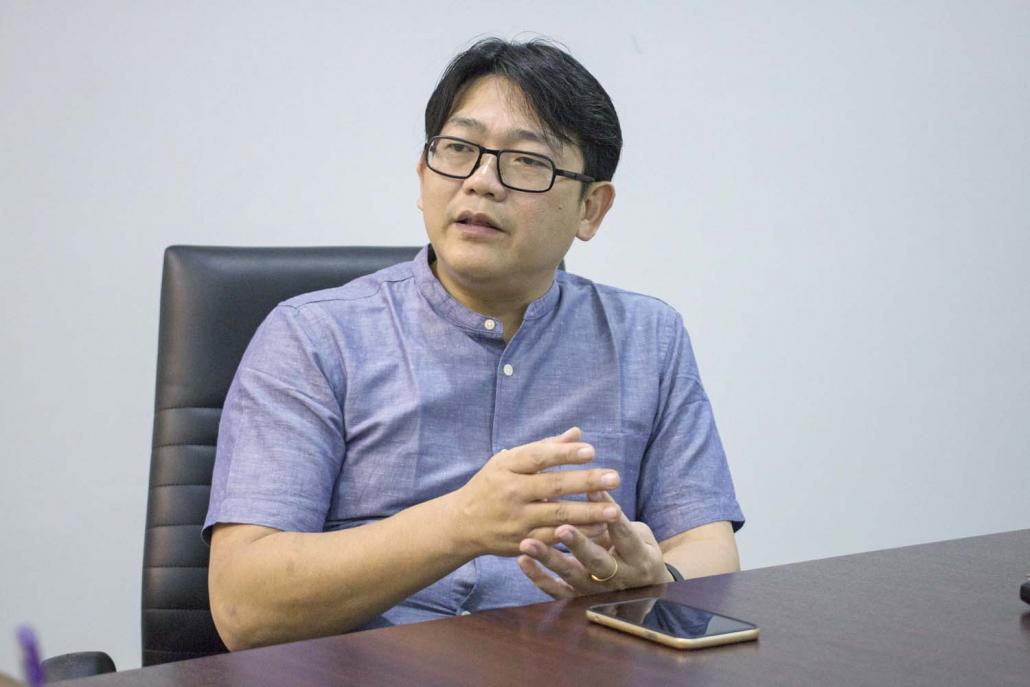 In 2013, the Union Solidarity and Development Party government pledged to introduce a phased liberalisation of the market amid criticism over a crackdown on imported alcohol products. 
During the crackdown, a Ministry of Commerce mobile task force raided the Yangon warehouse of Premium Food Service Products Co Ltd, a company that shared some directors and shareholders with the country's biggest supermarket chain, City Mart Holding Co Ltd. Following the raid, City Mart decided to suspend sales of imported alcohol.
Five years on, the import policy on distilled products such as whisky, vodka and gin, remains unchanged, although the USDP government allowed the import of wines in late 2015.
The Commerce Ministry said there were three main reasons why it had no plan to propose changing the policy, at least for the remaining term of the National League for Democracy government. It said they were the trade deficit, the absence of any push by domestic producers to change the policy and because the industry was not ready to compete against foreign rivals.
"Without a strong push, we can't propose any change [to the foreign liquor import policy]," Zaw Min at the Department of Trade said.
"A foreign group is pushing for the policy to be lifted but it is only interested in making a profit," he said, adding that the ministry had to consider the interests of domestic producers.
Despite Zaw Min's comments, it is understood that the Myanmar Retailers Association and the Myanmar Hoteliers Association have been lobbying the government to allow liquor to be imported to meet high demand since the transition to democracy began in 2011.
Domestic opposition
Among those opposed to easing the liquor import ban is liquor tycoon U Aung Moe Kyaw, owner and chair of International Beverages Trading Company Group, which was reported in a 2014 study to dominate the domestic whisky market with an 80 percent share that was generating revenue of US$100 million a year.
In 2013, Aung Moe Kyaw entered the beer market, when his Alliance Brewery Company formed a joint venture with Heineken to build a brewery. The joint venture, APB Alliance Brewery Co, in which Heineken has a 57 percent share, went into production at Hmawbi, on Yangon's northern outskirts, in 2015.
It competes against Myanmar Brewery, which makes the market-dominant Myanmar Beer, and Myanmar Carlsberg Co Ltd, a joint venture between Denmark-based Carlsberg and Myanmar's MGS Breweries, that also began making beer in 2015, at its brewery in an industrial zone at Bago.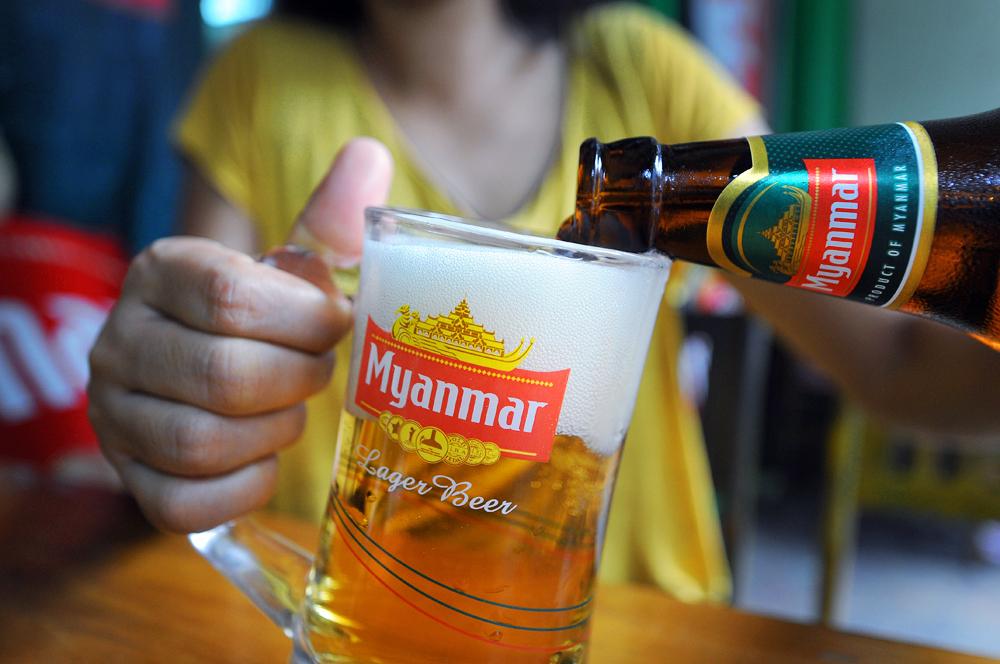 Although Aung Moe Kyaw is only a member of the Myanmar Liquor Association, another association official told Frontier on condition of anonymity that no-one from the organisation could speak to the media without the IBTC chairman's approval.
MLA secretary (2) U Soe Lwin declined several Frontier requests to be interviewed in recent weeks. Frontier requested an interview with IBTC several times but received no response.
"The IBTC chair is strongly opposed to market liberalisation and would oppose any move that he regarded as a threat to IBTC's position in the market," said the MLA member, a spirit manufacturer.
"The MLA has never discussed market liberalisation because U Aung Moe Kyaw has made clear that it is too early to discuss the issue," the MLA source said.
Aung Moe Kyaw spoke out against liberalisation in 2014, telling the Myanmar Times that although the import of some foreign alcoholic beverages should be allowed, domestic liquor producers needed to be protected.
"Our industry has created many job opportunities for local people, and it deserves protection," he told the newspaper.
Other domestic producers said they would welcome liberalisation if it was introduced for the highest priced segments of the market.
Zaw Win of ABC said most liquor smuggled into the country sold for at least K7,000 a bottle, a higher price than domestic products.
He said that if the government allowed foreign liquor to be imported, it should have a minimum retail price of K7,000 a bottle to prevent cheap imports undercutting domestic producers.
"Such [segment-by-segment] liberalisation is a win-win-win solution," Zaw Win said.
He estimated that relaxing the import ban  would generate at least $13 million in tax revenue each year.
"That's based on the minimum volume and minimum price," he said.
Black market thrives
Imported liquor is sold legally at 21 of 65 duty free shops operated by 13 companies in Nay Pyi Taw, Yangon and Mandalay international airports under licences granted by the General Administration Department, under the military-controlled Ministry of Home Affairs.
A GAD source who spoke on condition of anonymity said he could not provide information about the companies and referred Frontier to the Customs Department, under the Ministry of Planning and Finance.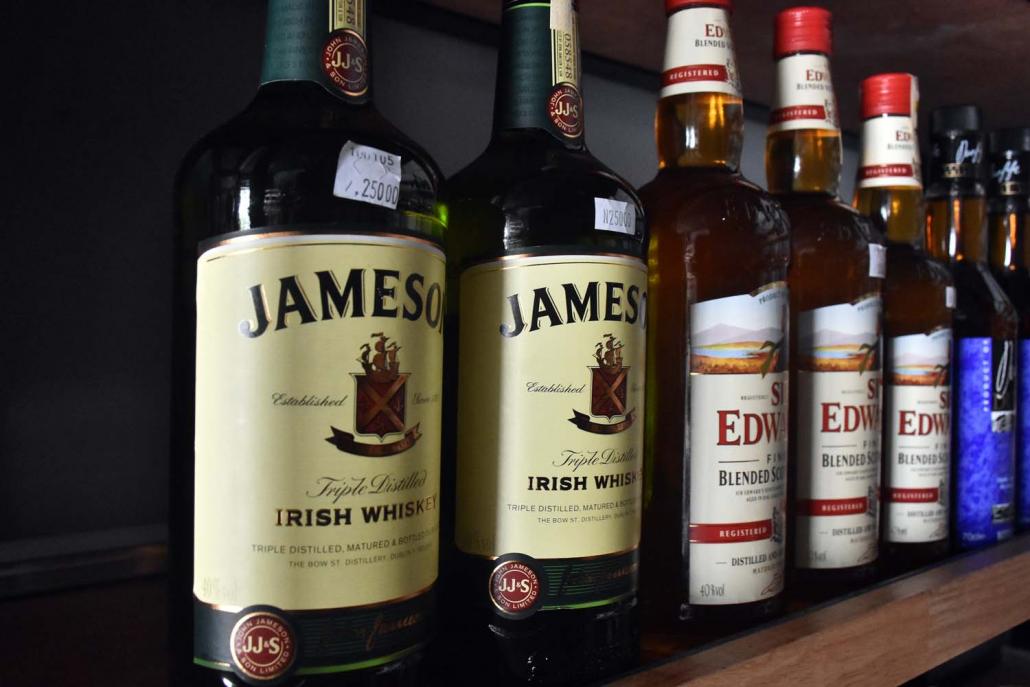 Customs Department director general U Kyaw Htin agreed to be interviewed by Frontier but then cancelled after learning about the topic and arranged for his office to send some statistics.
They showed that 494,740 litres of spirits worth US$2,173,302 was imported in 2016-2017, jumping to 1.3 million litres worth $7,940,692 in 2017-2018. For the current fiscal year, 427,239 litres worth just over $2.9 million was imported by the end of July.
The Customs Department figures also show that illegally-imported liquor worth K120 million was seized in 20 separate incidents in 2017-2018. They show that one consignment of illegally-imported foreign liquor worth K12 million had been seized this financial year to the end of July.
Zaw Win of ABC said illegal imports were believed to far exceed the volume of alcoholic beverages brought into the country legally.
"Based on what's available in the market, the amount must be at least three times more than legal imports," he said.
A member of a Commerce Ministry mobile task force, which targets smuggled products, accused the Customs Department of not doing enough to combat illegal trade. However, he acknowledged that porous borders and the activities of armed ethnic groups made it difficult to prevent smuggling.
"In Myawaddy, there are two official border gates but there are another 29 unofficial crossings being used by smugglers and it is impossible to stop them," said the Trade Department official, who requested anonymity because he was not authorised to speak to the media.
"Armed rebel groups are deeply involved in smuggling and that makes the situation more complex," he said, adding that a mobile task force team had once been threatened at gunpoint by a member of a Karen armed group.
"He said he was acting to defend the group's income-generation activities and was not afraid to shoot," the official recalled.
The involvement of armed ethnic groups in smuggling was a reason why the USDP government had abolished the mobile task force teams in late 2015, but they were re-introduced by the Commerce Ministry in July and deployed in Shan, Kayin, Mon and Kachin states.
Despite the import ban and the crackdown at border trade checkpoints, foreign alcoholic beverages remain widely available, especially in Yangon.
After the import ban was formalised in 1995, some businesses formed networks that collaborated with hotels to secure supplies, while others continued to rely on black market channels.
Zaw Win said he had noticed since he was a teenager that foreign alcohol products were freely available at restaurants and other places.
"When I asked why, the answer was always because customers wanted it," he said.
The answer made Zaw Win wonder why the ban was needed.
"I haven't got a satisfactory answer yet," he said.
TOP PHOTO: Steve Tickner | Frontier
Correction, October 8: This article previously stated that a warehouse operated  by City Mart Holding Co Ltd was raided by a Ministry of Commerce mobile task force. The warehouse was operated by Premium Food Service Products Co Ltd, a company that shares some directors and shareholders with City Mart. Premium Food Service Products has since ceased operations.
Correction, October 15: This article previously stated that U Aung Moe Kyaw was chairman of the Myanmar Liquor Association. He is a member of the MLA.