Recent fighting in Kachin State has caused further misery for thousands of civilians displaced by conflict since 2011, some of whom are living in the open in freezing overnight weather after their IDP camp was shelled.
Words & Photos STEVE TICKNER | FRONTIER
THOUSANDS OF displaced civilians are on the move again in Kachin State, enduring miserable conditions after they fled camps near a strategic hilltop outpost seized by the Tatmadaw following months of bitter fighting with the Kachin Independence Army.
The capture of the KIA outpost at Gidon (also known as Gideon) in mid-December followed a Tatmadaw offensive launched in September that involved the use of heavy artillery, mortar fire, air strikes and ground forces.
The fighting is reported to have emptied two camps near Gidon, which is close to the border with China and about 65 kilometres north of Laiza, the de-facto capital of the Kachin Independence Organisation, of which the KIA is the armed wing.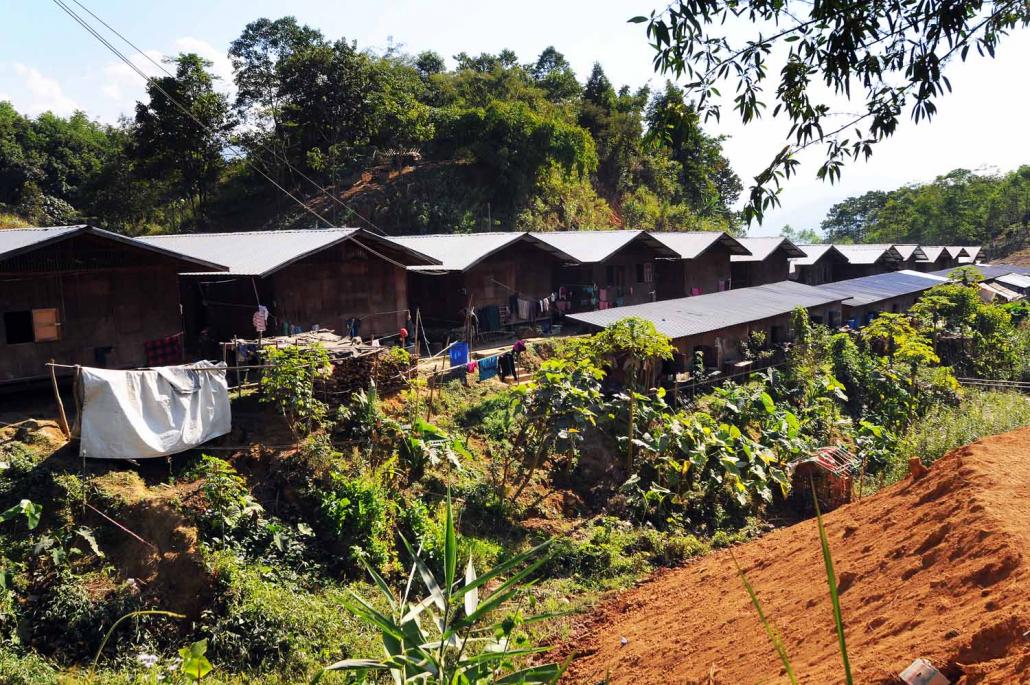 Maga Yang camp, about 12 kilometres (7.5 miles) east of the Gidon outpost, was home to 2,585 IDPs in 585 families. The nearby Zai Awng camp, with 2,856 IDPs in 600 families, was about the same distance from another KIA outpost, Lai Hpawng, which was seized by the Tatmadaw on December 27.
"The residents of both camps are on the move," Zaw Raw, who leads the KIO's humanitarian agency, the IDP and Refugee Relief Committee, told Frontier in Laiza late last month.
"They became very frightened after the Zai Awng camp was shelled by the Tatmadaw on December 27; they are living by the roadside in freezing overnight weather and they lack shelter, food, sanitation, medical support and any sense of security," Zaw Raw said.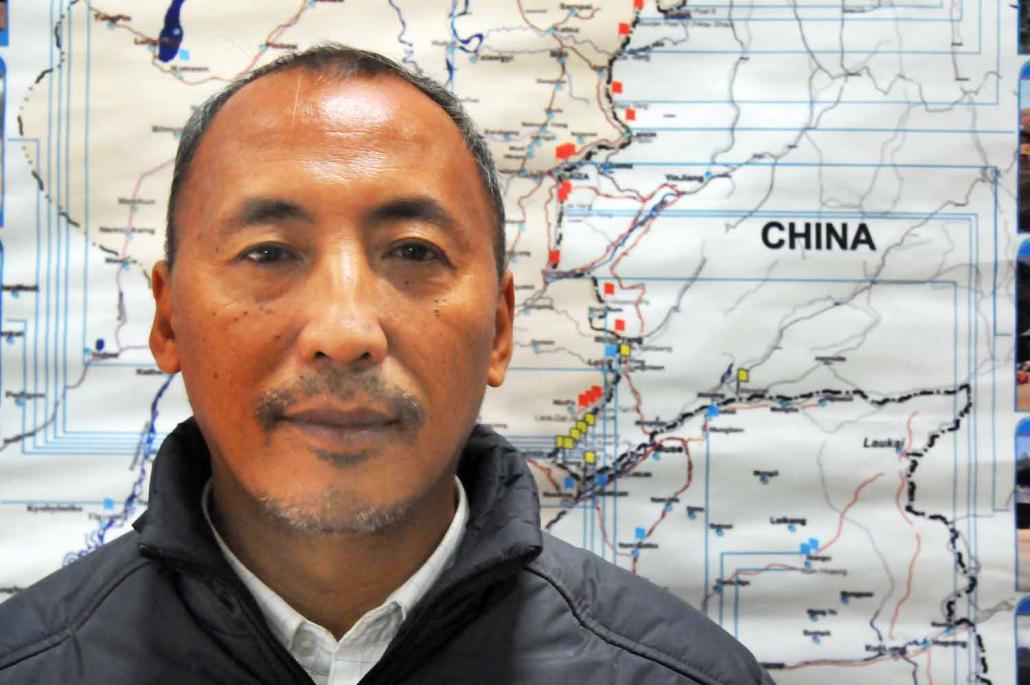 "The residents from these camps are completely cut off from assistance, except what can be provided locally, and international NGOs are completely prohibited from operating in these areas by the Nay Pyi Taw government and the Tatmadaw," he said.
Zaw Raw said a few families had returned to Zai Awng after the shelling incident but most were staying on the road away from the camp.
"It is really hard [for them], because they didn't want to go. Shelter is an urgent need; for food they are happy at the moment but we have concerns for the long term," he said.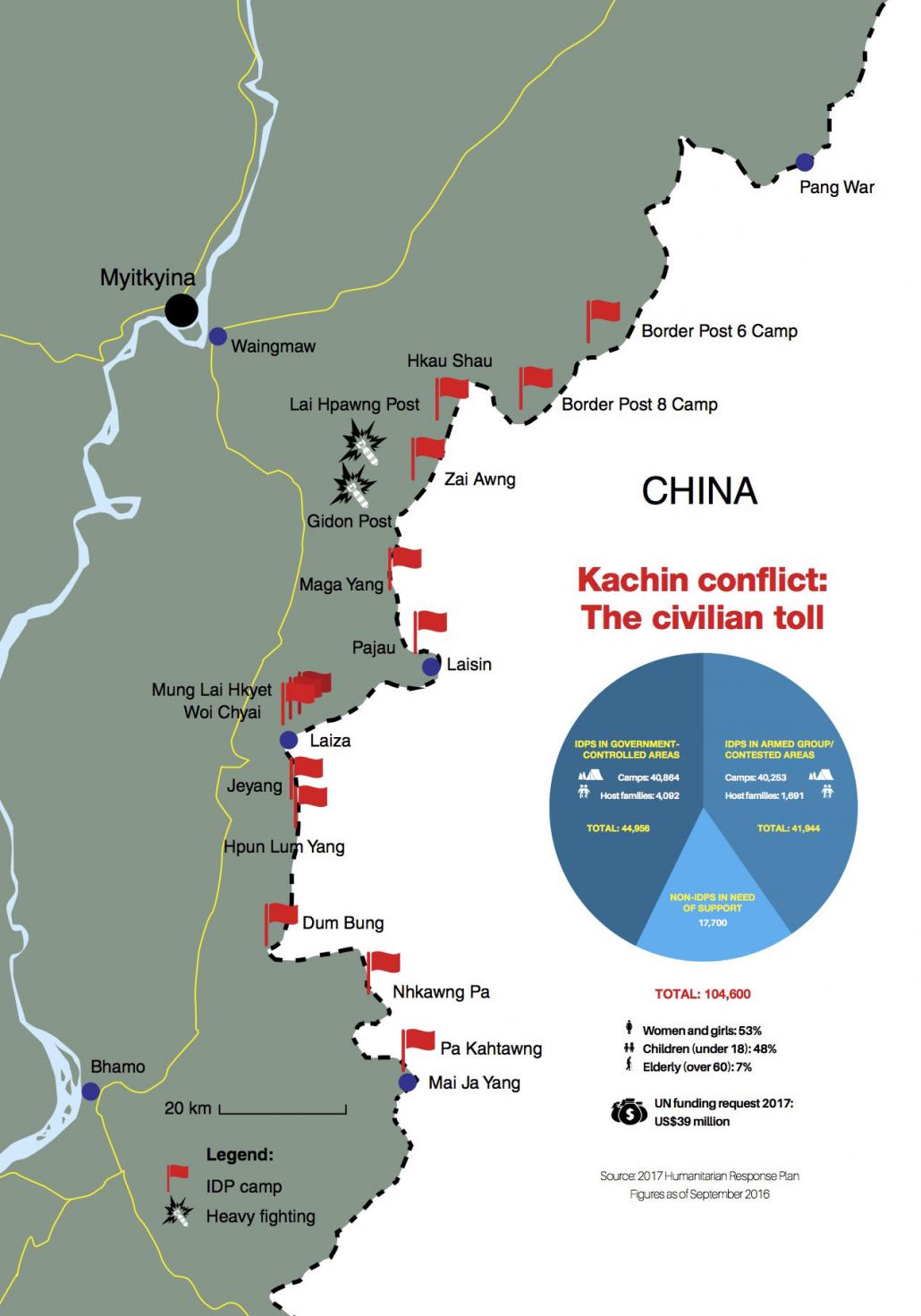 The Tatmadaw offensive, which defence analysts say is apparently aimed at splitting the territory under KIO control, has also created anxiety among the thousands of IDPs in camps in and around Laiza, which has a population of about 5,000.
They are among the estimated 100,000 displaced by fighting in Kachin and northern Shan State since the collapse in June 2011 of a ceasefire signed by the Tatmadaw and the KIO in 1994.
According to IRRC and UN figures, the camps within KIO territory in Kachin State are home to about 40,000 displaced people.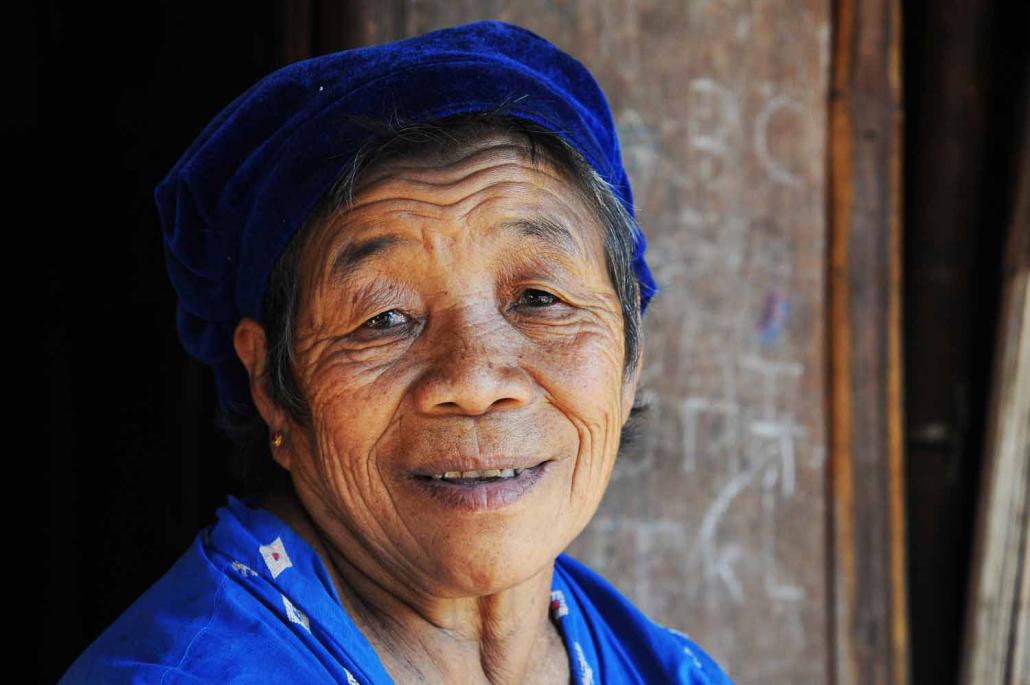 These IDPs have effectively been cut from international support since April, when the government introduced a new travel authorisation process less than a month after taking office.
The changes mean that the UN and INGOs can no longer distribute aid in non-government areas, in part because of government concerns that relief supplies were being diverted to ethnic armed groups. Instead, the government has issued an order requiring IDPs in areas under armed group control to collect food and other relief supplies from authorised distribution points in government-controlled areas.
The UN has refused to participate, arguing that the new system would require civilians to put themselves into danger to receive aid. When Stephen O'Brien, the global head of United Nations Office for the Coordination of Humanitarian Affairs, visited Myanmar in October, he urged the authorities "to drop their demand for displaced people in some areas to cross an active conflict line in order to receive humanitarian assistance", the agency said in a statement at the time.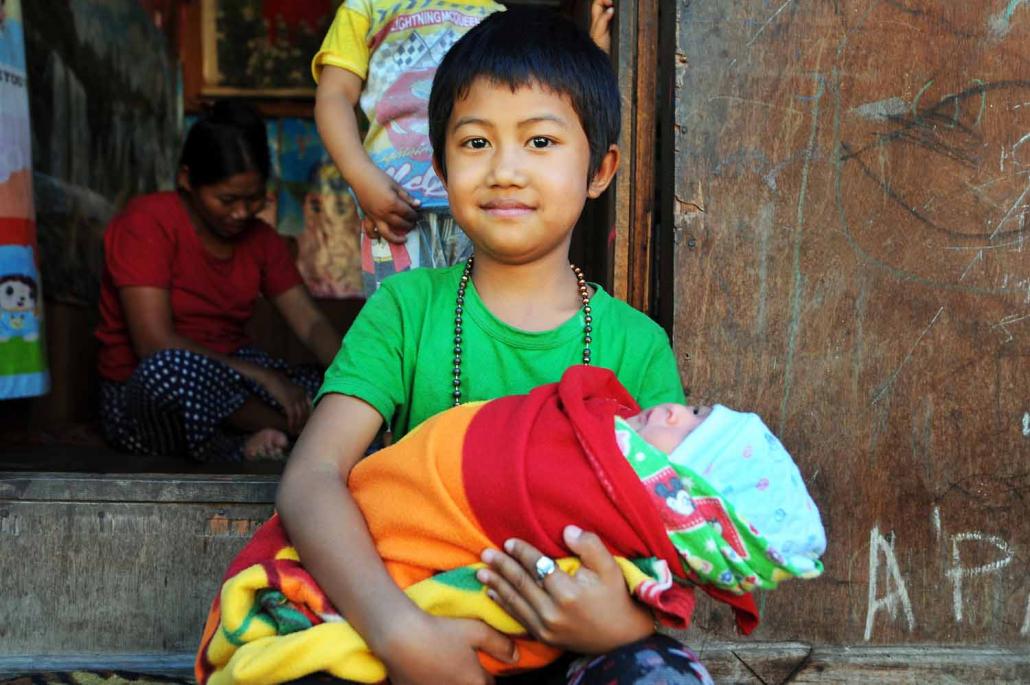 Pierre Peron, a spokesperson for OCHA, said the travel authorisation changes have "seriously affected the ability of humanitarian organisations to provide life-saving aid to tens of thousands of IDPs and other conflict-affected people".
Humanitarian access to conflict-affected areas of Kachin State was "worse than at any point in the past few years", he added.
"The humanitarian access that is needed to assist all people in need in Kachin can be achieved by easing the current Travel Authorisation system and by allowing international organisations to establish offices and full-time staff in areas beyond government control."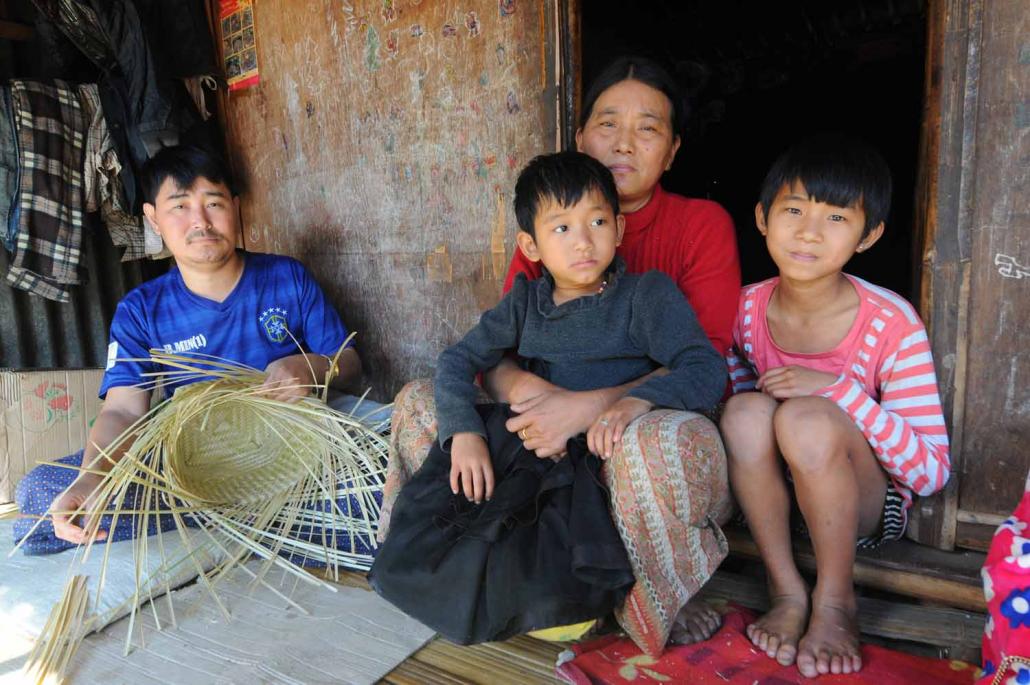 But with the conflict creeping closer to Laiza, the personal safety of IDPs in the area has also become a major cause for concern. South of Laiza are the Jeyang and Hpun Lum Yang camps with 8,970 and 2,968 IDPs, respectively.
To the north, along the road to the Kachin capital, Myitkyina, are the Woi Chyai and Mung Lai Hkyet camps, which are home to about 5,000 people in total.
Residents of Mung Lai Hkyet were terrified when it was hit by artillery just before dawn on December 18.
Zaw Raw said more than half-a-dozen 150mm artillery shells landed in and around the camp.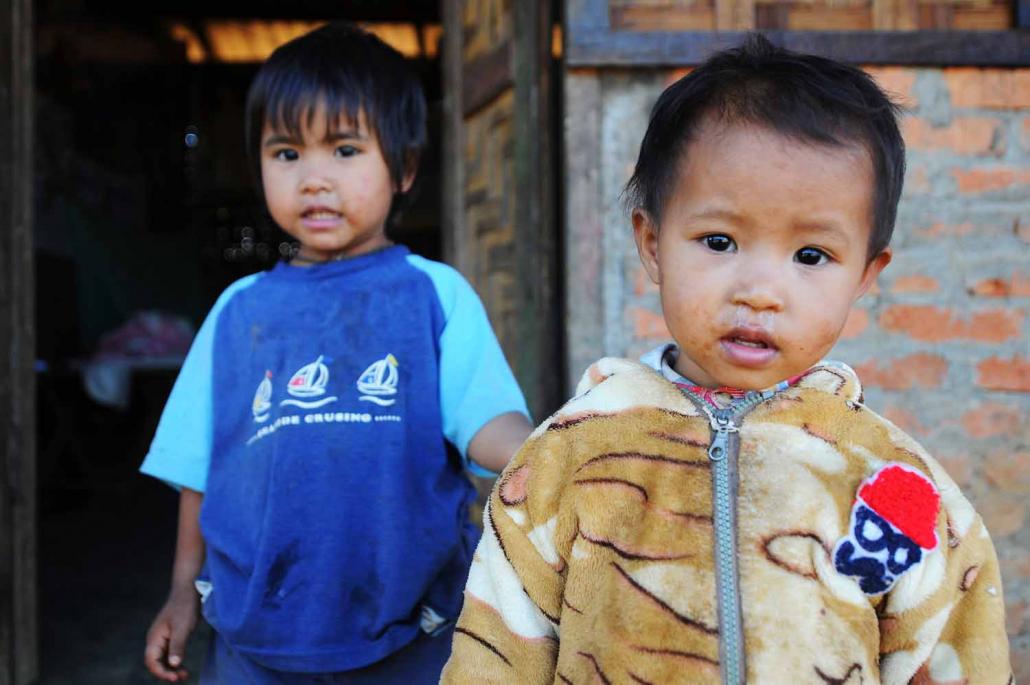 Since the attack camp residents are too afraid to stay overnight in Mung Lai Hkyet, returning only during the day to wash, cook and tend their livestock. They now sleep at a school in Laiza, reassured by solid walls that would offer better protection from artillery fire.
Evidence of the December 18 artillery attack was visible when Frontier visited Mung Lai Hkyet and was shown shrapnel damage to the walls of IDPs' shelters.
Chyahkyi Hkawn Bu said residents woke in panic when the shells slammed into the camp.
She said her 20-month-old daughter, Myi Tung Roi Aung, had cried and shaken with uncontrollable fear for a day after the incident.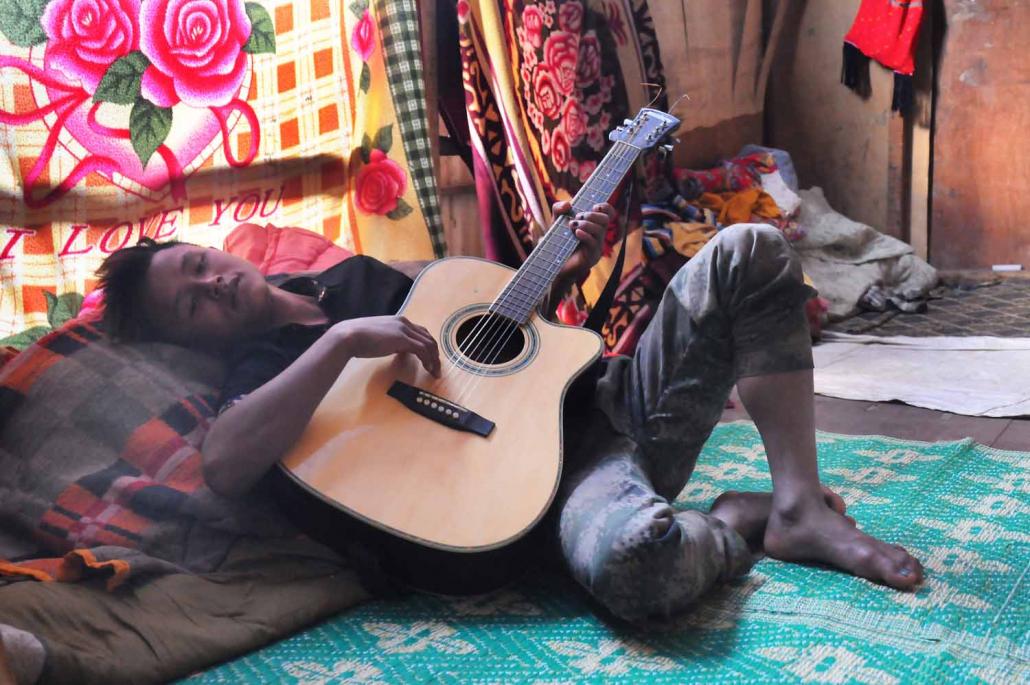 Peron from OCHA said the UN was "very concerned" at the humanitarian impact of the escalation of fighting in both Kachin and Shan states in recent months.
"We call on all parties to the conflict to respect International Humanitarian and Human Rights Law and to ensure the protection of civilians, and to take all possible steps to avoid fighting near IDP camps and other civilian areas," he said.
"We are also very concerned by the danger posed to civilians by the continued use of landmines in this conflict. We are getting weekly reports of displaced people and other civilians getting injured or killed by landmines."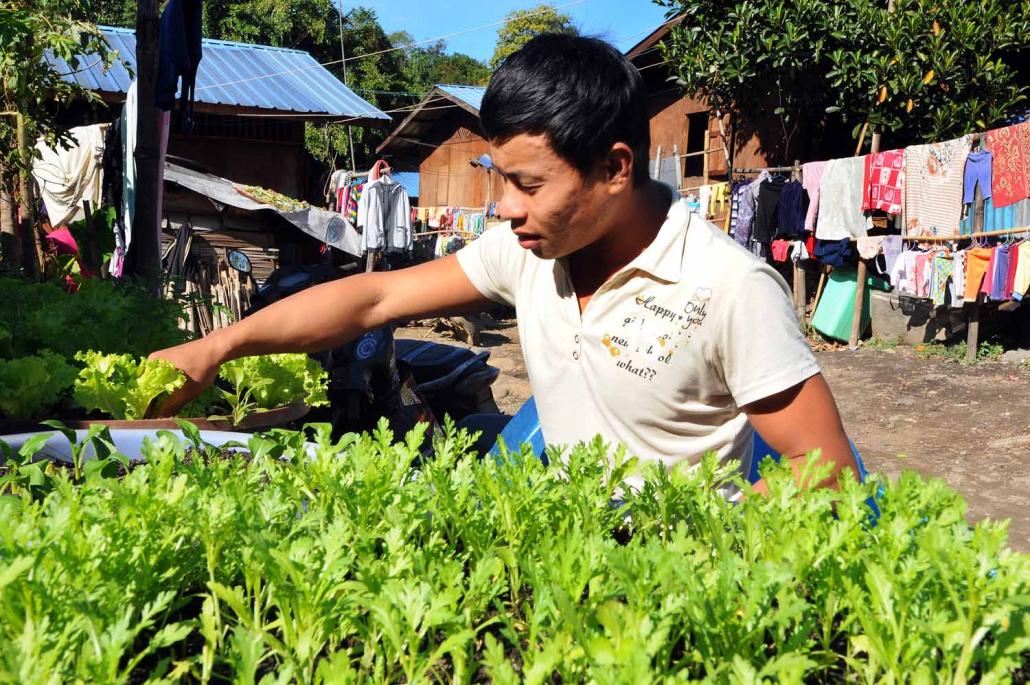 Local organisations working in conflict areas have called on the National League for Democracy government to take "immediate" action to halt offensives by the Tatmadaw.
In a statement released on December 20, 135 Kachin and Shan civil society and faith-based groups also called for urgent humanitarian aid for IDPs and warned that their situation was "perilous".
"The offensive is affecting civilian areas, with shells landing near IDPs and traumatising those in the Mung Lai Hkyet (Woi Chyai) camp. They have nowhere to flee except to Laiza, with only China beyond," the statement said.
The groups expressed disappointment over the government's "silence" at the escalation of fighting in Kachin and northern Shan states in recent months.
Some IDPs echoed the sentiment when they spoke to Frontier last week.
"When Aung San Suu Kyi speaks, she says, 'We need peace.' But in practice, the government still attacks us," said 46-year-old Nahpaw Grawng, a resident of the Woi Chyai camp who weaves baskets to supplement his family's meagre income. "If she doesn't really mean what she's saying, she shouldn't say it at all."
Top photo: A Kachin girl stands outside her plywood shelter at the Mung Lai Hkyet IDP camp near Laiza on December 30. The camp was shelled by Tatmadaw artillery at 4.30am on December 18, prompting many residents to flee. (Steve Tickner / Frontier)