By YE MON | FRONTIER
YANGON — Former Yangon Region advocate general U Han Htoo and a district judge were among six officials presented at the Yangon High Court on Tuesday to face charges for allegedly accepting tens of millions of kyat in bribes in return for having a case dismissed against three men accused of murdering Ko Aung Yell Htwe, a comedian popular on Facebook, on New Year's Eve last year.
The Anti-Corruption Commission filed the case on September 13 after completing a month-long investigation, which concluded that U Khin Maung Lay, father of one of the murder suspects, Ko Than Htut Aung, had paid bribes to the officials now being tried, totalling K72 million, along with expensive bottles of Johnny Walker-branded whisky, to have the case against his son withdrawn.
It is the most high profile anti-corruption case to go to trial since the transition to multi-party democracy in 2011. An ACC probe earlier this year into allegations against former Minister for Planning and Finance U Kyaw Win, who resigned in May, resulted in no charges being brought, after the ACC cited a lack of evidence.
The Anti-Corruption Law was amended in June to allow the ACC to initiate investigations against officials suspected of being corrupt. Previously, it was a passive body that could act only in response to complaints.
Daw Ngwe Ngwe Oo, information officer and deputy director of Yangon Regional Court, told reporters that prosecutors have sought bribery charges against former regional advocate general Han Htoo under section 55 of the Anti-Corruption Law, which carries a prison sentence of up to 15 years.
Han Htoo was dismissed from his position as Yangon advocate general after the ACC filed the case at Thuwanna police station in Thingangyun Township, according to a September 14 statement released by the President's Office.
Judge U Aung Kyi from Yangon Eastern District Court, Yangon Eastern District law officer U Ko Ko Lay, deputy district law officer Daw Thit Thit Khin, Police Lieutenant Chit Ko Ko from Thuwunna police station and Yangon Region law officer U Thein Zaw all face charges under section 56 of the law, which carries a 10-year sentence.
Ngwe Ngwe Oo said that the police officer Chit Ko Ko is being tried separately, in a case where the prosecution will present 18 witnesses. For the other five, tried under one case, the prosecution will present 39 witnesses.
"I don't know yet know who the prosecution witnesses are," said Daw Ngwe Ngwe Oo, who added she hadn't yet seen the case files.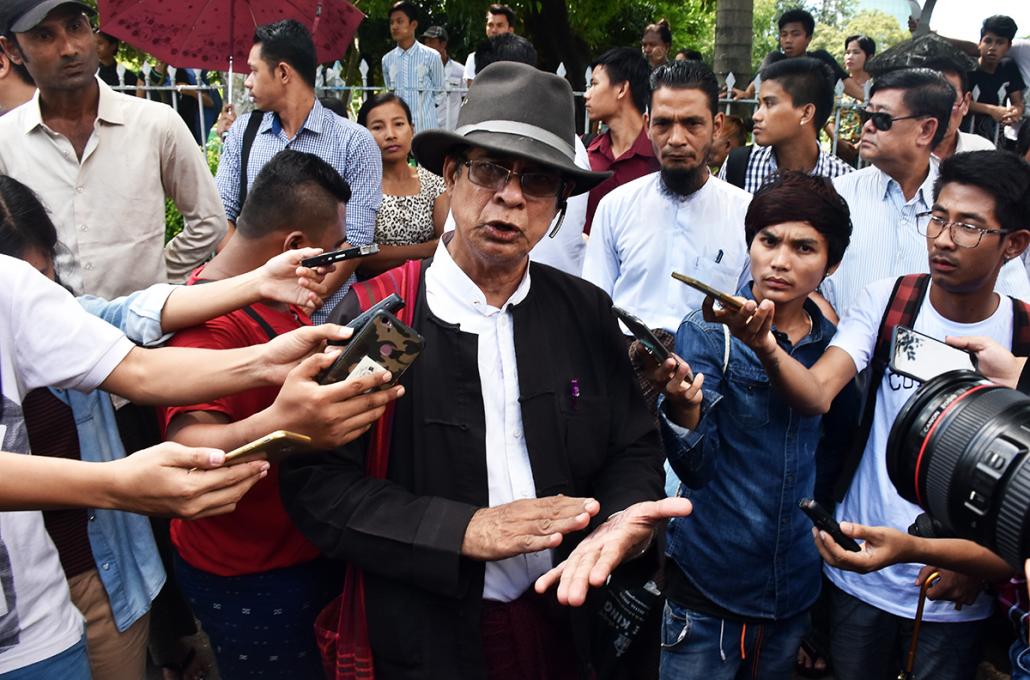 Prominent High Court lawyer U Robert San Aung, who was at the court to observe the case, told Frontier he was confident that the judge, Daw Soe Soe Aung, would handle the case fairly and efficiently.
"She has never takes a long time with [her] cases. That's why I believe in her," he said.
The next session of the pre-trial hearings, which frequently last for months in Myanmar before charges are formally brought, but which involve testimony from prosecution witnesses, will be on October 4, according to Ngwe Ngwe Oo.
She said that, after Tuesday's court appearance, the accused would be sent to Insein Prison in northern Yangon for the duration of their trial. They were previously detained in a police station, after their arrest on September 13.
On September 24, the Yangon High Court ordered that the case against the alleged murderers of Aung Yell Htwe should be re-opened in Yangon's Eastern District Court.
Frontier could not confirm the whereabouts of the three murder suspects, who were allowed to walk free on July 25, prompting public outrage and an intervention from President U Win Myint, who asked the Union Attorney General and the ACC to investigate.