A sharp increase in diagnosed cases of depression in recent years has highlighted a growing burden on underfunded government mental health services.
By WIN ZAR NI AUNG and SHARON PUN | FRONTIER
LATE LAST year, the family of Daw Khin Win Kyi, 52, was becoming increasingly concerned about the state of her mind. She was hearing voices, eating little, not sleeping well and becoming aggressive, sometimes hitting her husband and son for no apparent reason.
She desperately needed professional help but was refusing to seek treatment, so her family concocted a ruse.
One day in January, the family took Khin Win Kyi on what they told her would be an excursion to Yangon's pagodas.
Instead, they took her to Yangon Mental Health Hospital, a 1,200-bed institution in East Dagon Township, where she was diagnosed as suffering from depression and treated as an outpatient, receiving both medication and counselling.
Khin Win Kyi is one of a small but increasing number of people in Myanmar who are being diagnosed with depression. But it was only after she was taken to the hospital that she understood her condition and realised she was not alone.
"I had never even thought of going to the mental health hospital because I didn't consider myself insane," she said.
It was a comfort for Khin Win Kyi to meet and share experiences with others suffering from the debilitating mental illness. She no longer feels embarrassed about her visits to the hospital to receive treatment.
Figures from the Myanmar Mental Health Society show that the number of patients diagnosed with depression rose sharply from 130 in 2012 to 331 in 2015, before dropping to 301 last year. Depression is one of the most common mental health illnesses in Myanmar, affecting people at all levels of society, and is often a contributing factor in suicides.
Dr Tin Oo, 55, the Mental Health Society's president and head of the Department of Mental Health at the University of Medicine (1), says depression is a mental disorder that leaves a person feeling deflated for long periods and can strongly affect their lives and relationships.
Tin Oo, a psychiatrist for 20 years, said mental illnesses may be caused by biological, psychological and social factors, or combinations of all three. Some people become depressed because of traumatic experiences, as was the case with many survivors of Cyclone Nargis in 2008, some of whom lost entire families, he said.
Treatment, which depends on the illness and can include drugs, counselling and psychotherapy, is available at hospitals but patients also need more support from society, he said.
"[Providing support to the mentally ill] is related not only to the government, but society as well," Tin Oo said, adding that he also believed there was not enough public education to create awareness about mental illnesses.
Most people are confused about the concept of mental health and many people believe mental illnesses are caused by sorcery, he said.
There is also a misperception that mental illness is a weakness, which is one of the reasons why sufferers are stigmatized.  Tin Oo said the fear of being stigmatized discourages many people from seeking treatment for mental illness.
"Having a mental disease is not a reason for embarrassment, it is just like having any other kind of disease," said Tin Oo, adding that it is advisable to seek treatment when symptoms first appear to increase the chances of a complete recovery.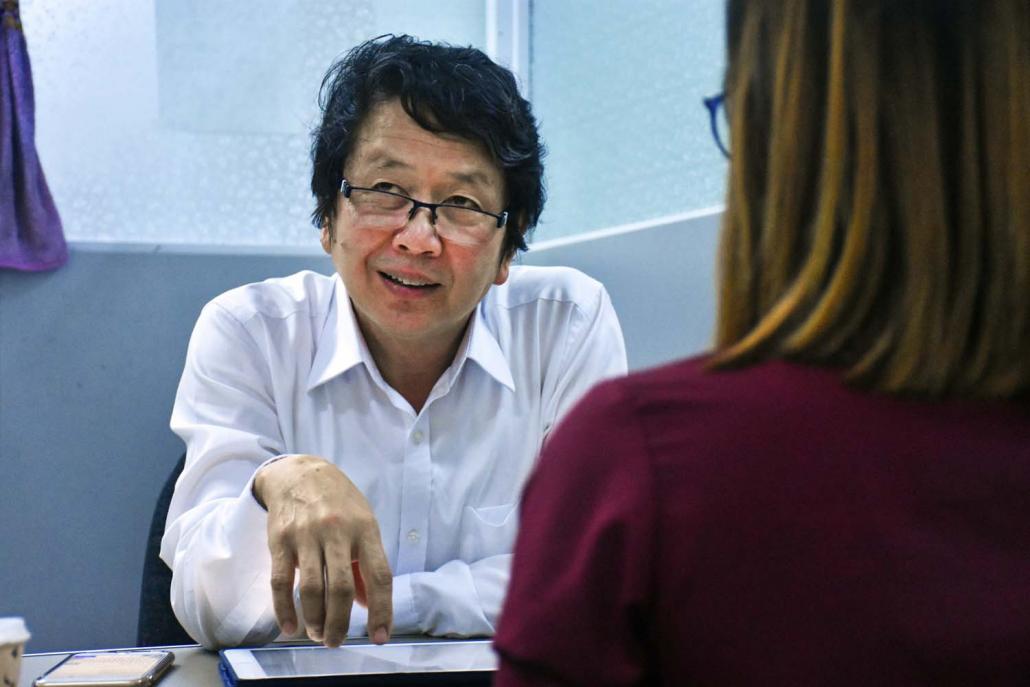 U Ye Naung, 24, told Frontier he developed depression while competing on the second season of Myanmar Idol in 2017. He attributes the onset to obscene comments from some of the audience about his performances, as well as the fact he could not go home while the show was being filmed. His illness forced him to drop out of the competition.
"At that time, I wanted to go back home. I felt uncomfortable talking to anyone. I couldn't sleep or eat. I heard someone calling my name at night. I was staying in a high building and I wanted to jump off. When I closed my eyes, I heard the sound calling me. When I opened my eyes, I saw nothing," he said.
He said he had never sought treatment and had no intention of doing so. "I don't like to express my feelings to anyone, even my girlfriend, because I don't want to annoy them," he said.
Hlaing Tharyar Township resident U Tin Soe, 68, had no qualms about admitting his son to the Mental Health Hospital, after he developed a mental disorder following a case of malaria.
"We were not shy to send him to the Mental Health Hospital because we know very well that people have to be treated according to the disease," Tin Soe said, speaking of the decision six years ago to admit his son, 28, to the hospital, where he was treated as an in-patient for a month.
The cost of treatment was a burden for the family. For the past five years, Tin Soe had to spend more than K10,000 every three months on medicine, as well as cover the cost of transport to the Yangon Mental Health Hospital on the other side of the city.
Doctors at the Mental Health Hospital in Yangon – there's another in Mandalay, as well as mental health units at 26 state and regional hospitals – were sympathetic to Tin Soe's plight and suggested he take his son to Hlaing Tharyar General Hospital, where he could receive treatment and medication free of charge.
The free care is provided by the Community Mental Health Service Team. Established several years ago, it comprises ministry staff who provide free medication to patients, some of which is donated by the public.
Most of the team's members are psychiatrists and nurses from Yangon Mental Health Hospital, who provide treatment and medication during twice-monthly visits to Hlaing Tharyar, Kawmhu and Kyauktan townships.
Team member Dr Nay Chi Tun, a 31-year-old in-service specialist psychiatrist, said it was important to ensure that communities have access to treatment because most general hospitals do not have out-patient departments for psychiatric cases.
The team usually sees up to 300 patients a visit, but when Frontier visited Hlaing Tharyar General Hospital on July 20, the team was providing care to about 500 people.
The high demand for the service means that delays are common.
When Tin Soe took his son to the hospital, they arrived about 5:30am and waited for seven hours before they could see a doctor.
Space is limited and patients crowd into a hall for consultations. Nay Chi Tun said the lack of privacy can inhibit patients from discussing their symptoms.
Nay Chi Tun was unsure how long the team could continue to offer its free service, saying it would depend on the donations it received.
Tin Oo said spending on mental health care, including salaries, medicine and equipment accounted for 0.36 percent of the total budget allocated to the Ministry of Health and Sports in 2016. There is no budget for rehabilitation, prevention or creating awareness about mental health and illness.
"We need a bigger budget for mental health care," he said.
Lack of human resources is a critical challenge, with Dr Sun Lin, a senior consultant psychiatrist at the Department of Mental Health, University of Medicine (2) Yangon, saying that in 2016 Myanmar had just 230 psychiatrists – of whom 70 were post-graduate students – as well as three clinical psychologists, 200 psychiatric nurses and five psychiatric social workers.
Myanmar has six medical universities, of which four offer masters programmes in psychiatry, but the path to becoming a psychiatrist is long and difficult.
Students have to first study for six years to get a medical degree. To specialise, they have to work in the public sector for one to two years, but competition for these positions is fierce.
After working in the public sector, graduates can sit the entrance exam for specialities, one of which is psychiatry. Between 10 and 20 are accepted each year; they study for another three years to get a master degree and become officially recognised as a psychiatrist.
As psychiatrists and patients struggle with the consequences of underfunded government mental health care, alternatives are emerging.
They include the "Live Laugh Love Care" online counselling service launched by Daw Nyo Lei Yee, 31, on Facebook in June 2017.
Nyo Lei Yee, a news editor, acts as a coordinator, putting patients in touch with another co-founder of the service, Dr Kyi Pe Lin, a psychiatrist.
"When patients need to consult the doctor urgently I ask him to speak to them and give advice, but if he is busy I talk to the patients according to the way he has instructed me," Nyo Lei Yee told Frontier.
The service is free and targets people who are too embarrassed to seek treatment at a hospital. Nyo Lei Yee said some patients prefer to communicate anonymously with the doctor. Telephone counselling is available between 8pm and 10:30pm on Wednesdays and Sundays for patients who register in advance.
Within a year, the service has grown to 400 patients in Yangon, Mandalay and elsewhere in the country, most of whom are aged between 20 and 35.
Nyo Lei Yee is a strong believer in the efficacy of sharing feelings as a panacea for mental illness.
"Sharing and giving advice is the solution for not only mental diseases, but all other kinds of disease," she said, adding that it was also important that friends and family members be prepared to listen to those with troubled minds.
Tin Oo said greater understanding of mental illness was essential, partly to ensure that patients could more easily re-integrate into society after being treated. He suggested that the Ministry of Education should add classes on mental illness to the curriculum to help create greater awareness.
Khin Win Kyi does not mind that her destination on that family outing early this year was Yangon's Mental Health Hospital and not some of the city's pagodas. She is grateful to her family for providing the care and support that enabled her to be successfully treated.
"I would not wish depression on anyone," she said, "because it creates trouble for the whole family."
TOP PHOTO: Hlaing Tharyar General Hospital. (Steve Tickner | Frontier)