As Mon State grapples with the worst flooding in years, there's been criticism that the authorities took too long to come to the aid of affected communities.
By NAW BETTY HAN | FRONTIER
Photos NYEIN SU WAI KYAW SOE
FLOODING IN southern Myanmar following torrential rain that began deluging the region on August 9 has claimed scores of lives, displaced tens of thousands of people, inundated crops, disrupted transport and led to complaints that residents in some areas waited too long to receive government help.
Mon State has borne the brunt of the natural disaster, with at least 76 people killed when a landslide buried a village and flooding forcing thousands from their homes and submerging huge tracts of farmland.
Property losses in Mon State in the week from August 9 have been put at more than K1.2 billion (US$790,000) by the state government.
Flooding had already affected eastern and southern Myanmar since early June, with 160,021 people remaining in 166 rescue camps in Bago and Tanintharyi regions and Mon and Kayin states as of August 21, according to collated figures released the same day by the Mon State government.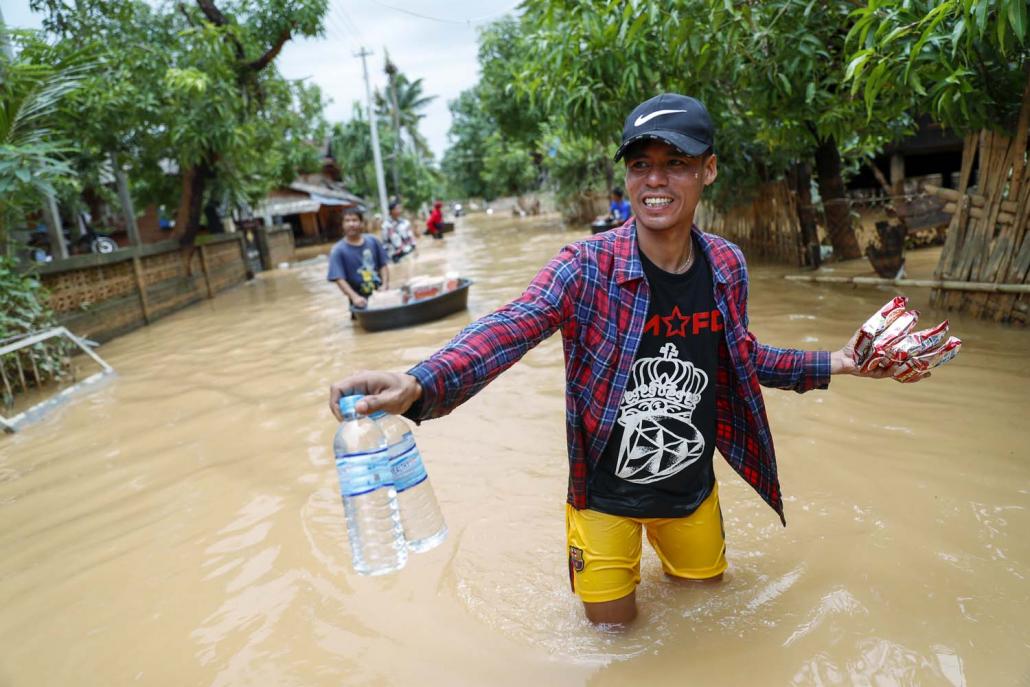 In Mon's Kyaikmayaw Township alone, 13 camps were housing 60,210 flood victims after their communities were engulfed by the swollen Ahtayan River, also known as the Attaran. The water in some villages was reported to be more than 3.6 metres (12 feet) deep, and in many areas it was common to see the entire first level of two-storey homes below water.
Water nearly a metre deep on the road linking the Mon capital, Mawlamyine, and the township had forced vehicles carrying rescue teams and donors to take a detour of more than two hours for a trip that usually took 45 minutes, said U Kyaw Myint, the administrator of Kyaikmayaw Township.
The Mon government was planning to deploy a barge on the Ahtayan River to deliver relief supplies to affected areas, Kyaw Myint said.
"This is the worst flooding in Kyaikmayaw Township for more than a decade and it is likely to persist until the first week of September," said Mon State MP U Min Aung Mon (Union Solidarity and Development Party, Kyaikmayaw 2).
The landslide that inundated Ye Pyar Gone village in Paung Township on August 9 left almost all of its residents dead or injured. The Mon government said on August 20 that the death toll had risen to 76, of whom eight were visiting the village from other areas, and nearly 90 had been admitted to hospital with injuries. The village had a population of 169.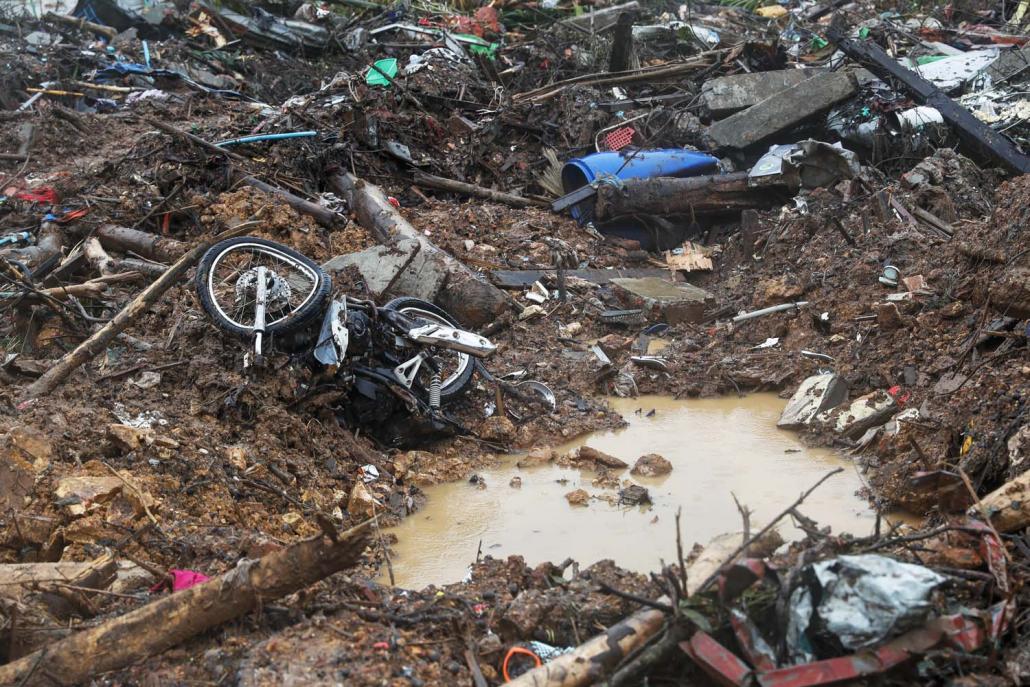 A joint team of geologists from the Irrigation and Water Utilization Department and the Yangon-based Myanmar Geosciences Society that conducted assessments at six locations in the area on August 13 and 14 said there was no further risk of landslides, the deputy permanent secretary of the Ministry of Agriculture, Livestock and Irrigation, U Myo Tint Tun, told Frontier.
The team found that illegal land clearing and the condition of the soil had contributed to the landslide, he said.
Local Pyithu Hluttaw representative for Paung, Mi Kon Chan (National League for Democracy), said illegal excavation at the base of the mountain for the expansion of residential compounds had likely contributed to the disaster.
"The ground at the base of the landslide area is soft [because of the excavations]. Combined with the recent heavy rain it led to the landslide," she said.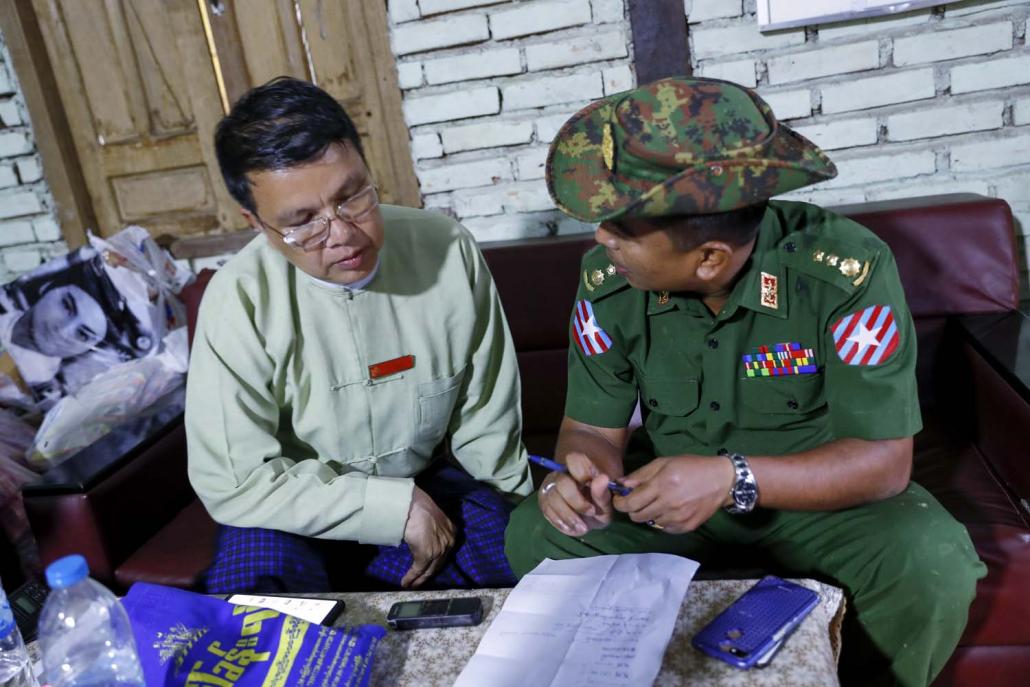 One consequence of the team's findings is that the area is unlikely to be declared a disaster zone, which would require the evacuation of residents. Mon State Chief Minister Dr Aye Zan (NLD, Kyaikhto-2) said on August 13 that the state government would wait for the geologists' report before making any announcement about danger levels around Malat Mountain.
"Whether we allow people to stay near the mountain will depend on the report and rehabilitation processes," he said.
But some residents said they are afraid to remain in the area.
"I was fortunate to escape from the landslide but my neighbours died," said U Khin Maung from Ye Pyar Gone. "I feel so sorry for them and I am afraid a landslide will happen again."
Ye Township in the far south of Mon State has also been badly affected by flooding. Most of Ye town was under water, affecting about 50,000 people, and the landmark Shwesandaw Pagoda was flooded. A landslide in the township that blocked the highway linking Mawlamyine and the Tanintharyi Region capital, Dawei, killed two people on August 10. Heavy rain and flooding also disrupted electricity supplies and telecommunications in the township, where flooding affected all 2,000 houses in Han Gan village and caused food shortages from August 9 to 13.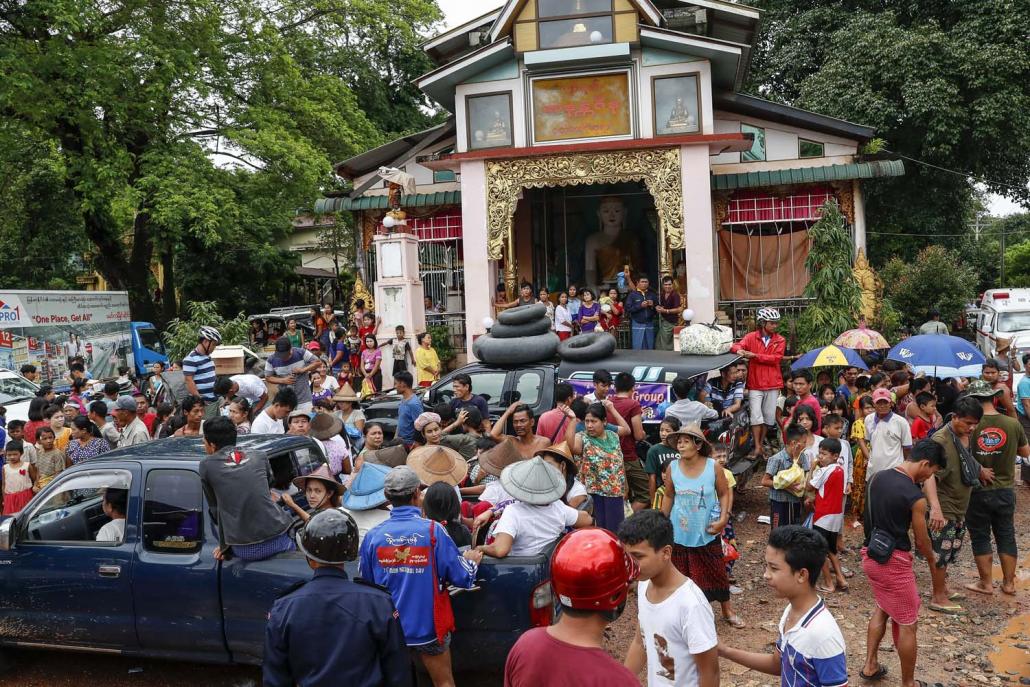 Residents of Han Gan said they began receiving emergency relief from community and volunteer groups on August 13 but did not receive help from the state government until August 21, when the chief minister visited Ye Township, said resident U Min Aung Naing Soe.
The delayed response from state government authorities was sharply criticised by the deputy speaker of the Mon State Hluttaw, Dr Aung Naing Oo (All Mon Region Democracy Party, Chaungzon-1).
The state government had so far taken no action to support Han Gan residents, Aung Naing Oo told Frontier in the village on August 13.
Flooding has long been a problem in Mon State but residents are facing additional problems because of the state government's weakness in preparing for and responding to natural disasters, he said.
"The lack of preparation and lack of announcements has caused unnecessary suffering."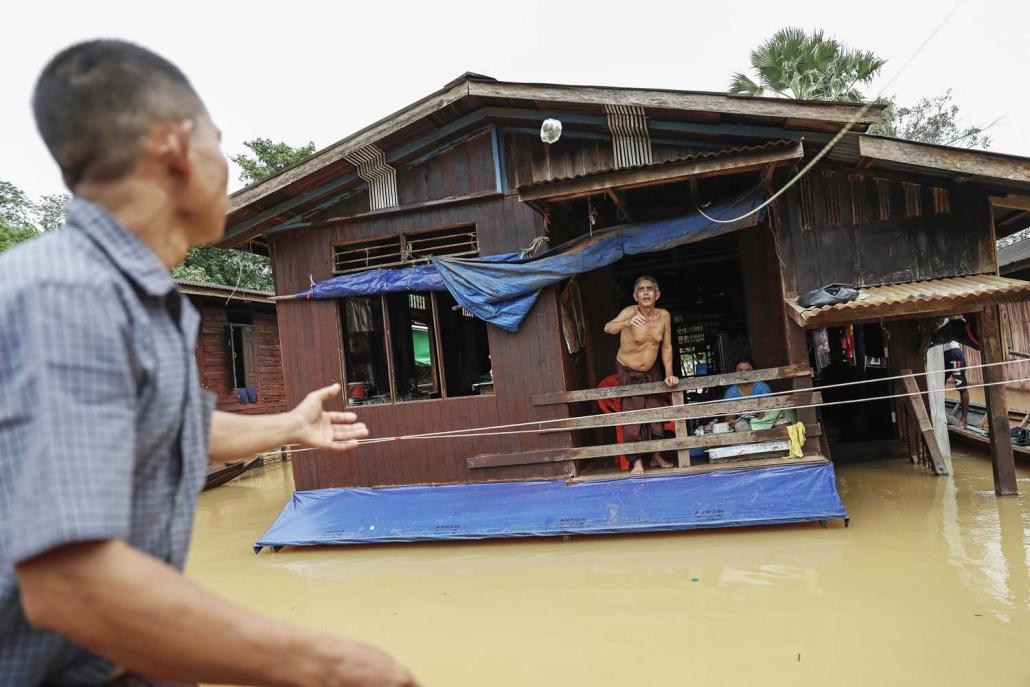 But the chief minister told a news conference on August 13 that his government had enough food and funds to meet the needs "of all flood victims".
"We had prepared and stockpiled food and made a budget available because of our experience with flooding in previous years," he told journalists, flanked by members of his cabinet.
Aye Zan also promised that the state government would build houses for flood and landslide victims after the floodwaters receded.
Myo Tint Tun, from the Ministry of Agriculture, Livestock and Irrigation, said a total of 728,000 hectares (nearly 1.8 million acres) of crops throughout the country has been affected by flooding so far this year, of which 16,000ha was destroyed.
The ministry would provide affected paddy farmers with emergency supplies of rice seeds sent by members of the Association of Southeast Asian Nations, as well as Japan and South Korea, he said.
TOP PHOTO: Deputy speaker of the Mon State Hluttaw Dr Aung Naing Oo sharply criticised the delayed response from state government authorities. (Nyein Su Wai Kyaw Soe | Frontier)