Safety equipment is in short supply for workers employed on projects to extend the national electricity grid, but despite the risks, most enjoy their jobs.
By NYAN HLAING LYNN | FRONTIER
Photos TEZA HLAING 
Under dark clouds at the edge of a deep ravine, a team of 12 workers was grappling with a rope tied to a thick electrical cable. Their working conditions were made more hazardous by light rain and a strong wind.
Despite wearing hardly any clothes, the weather did not seem to affect them. It was only six hours since Cyclone Roanu had crossed the Rakhine coast and its effects were lingering.
Words of encouragement came over the team's walkie-talkies from colleagues monitoring their progress. "Be careful!" "Is the cable stuck?" "Can you pull it?" The words of advice and caution came as the team heaved in unison to pull the cable forward and upward to connect it to a 50-metre-high (about 165 feet) pylon, perched on top of a small hill.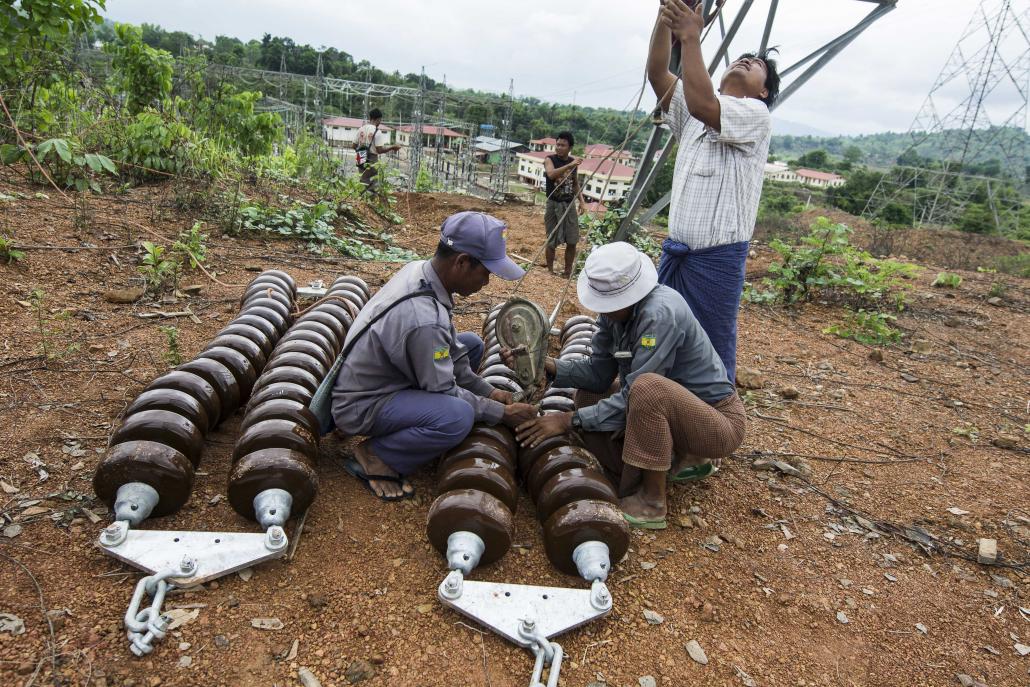 The final, precarious task of attaching the cable to the pylon was the job of Ko Kyaw Thi Ha, 20. Wearing a helmet, he crawled along the cable, using a safety belt and his leg to hold on.
Displaying an impressive amount of skill, the young man took about three minutes to disconnect a hook that had been used to temporarily attach the cable. Then he crawled back to the pylon. His only safety equipment was the belt.
It was all in a day's work for Kyaw Thi Ha and the team, who are employed on a project to extend the national grid from Minbu Township in Magway Region to Ann Township in Rakhine State. They are among 60 workers at the Parkwae camp in the Rakhine mountain ranges. It is one of nine work camps along the route of the 106-kilometre (65.9-mile) 230kV transmission line between Minbu and Ann.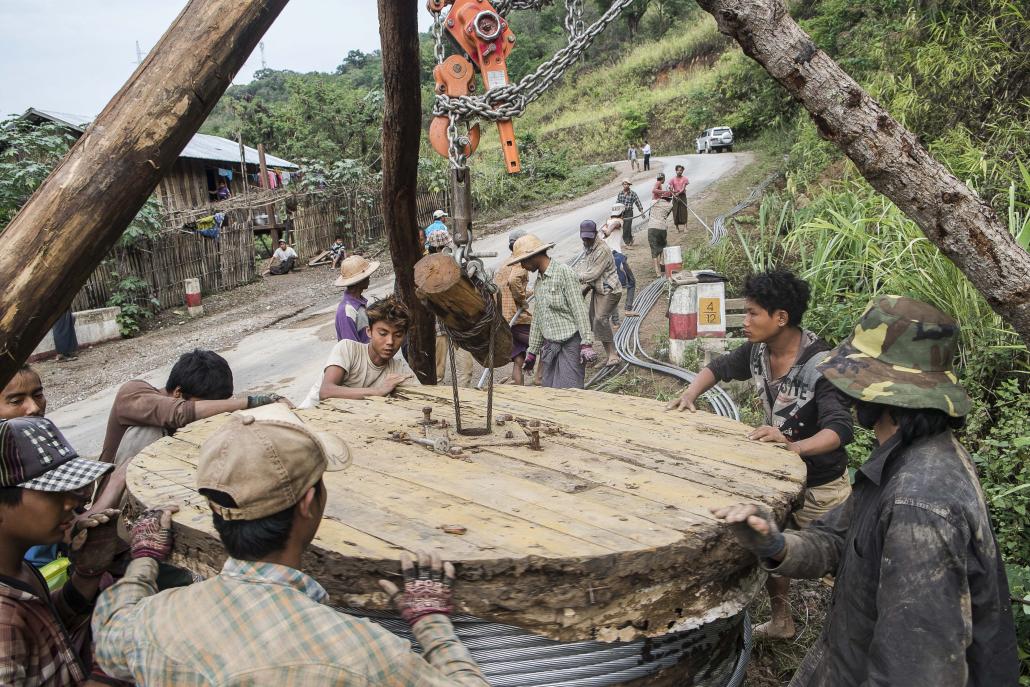 Kyaw Thi Ha, who did not finish high school, is a casual worker with four years' experience on the project to expand the national grid.
"I am not worried [for my safety] as long as I have my safety belt. I enjoy my work," he said.
Kyaw Thi Ha's father and brother are also working on the project, and their earnings support their family of five. Most of the casual workers on the national grid project are from central Myanmar, mainly Mandalay, Magway and Sagaing regions. Kyaw Thi Ha is from a village in Mandalay's Myittha Township.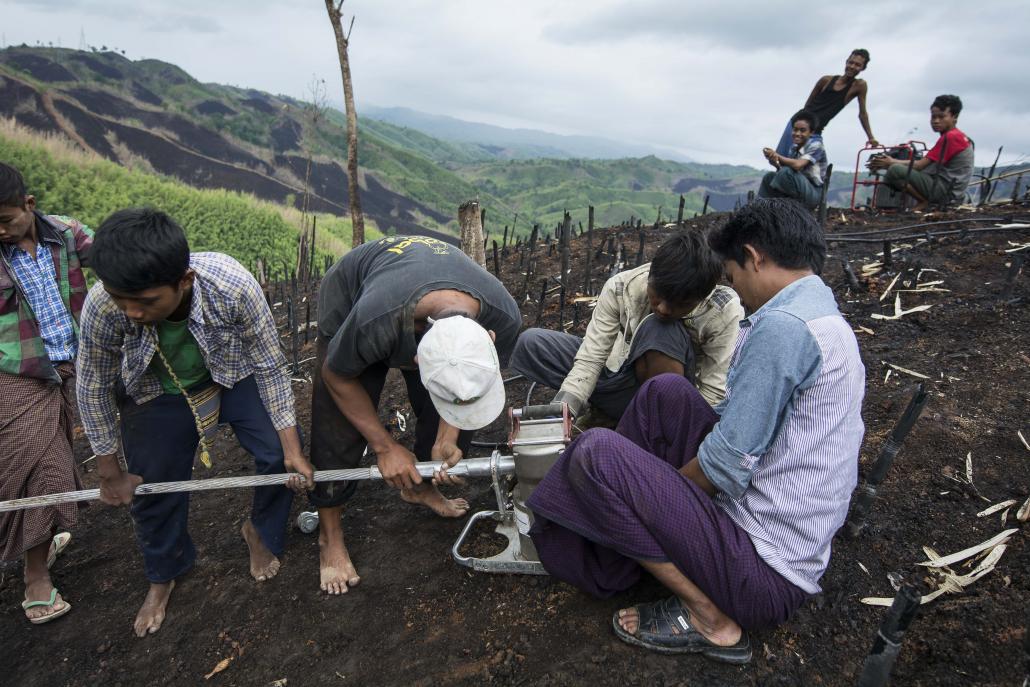 The workers' daily wages range from K4,000 to K7,000, depending on their skills. They are provided with free meals, lodging and medical care.
After work at the Parkwae camp, the men huddled in a small bamboo shelter, many chatting on mobile phones. At night, those who could added a layer of clothes or wrapped themselves in blankets because of the cold.
Most of the workers stay in small huts, where they do their cooking. They rely on the rain or jungle streams for water for drinking and cooking.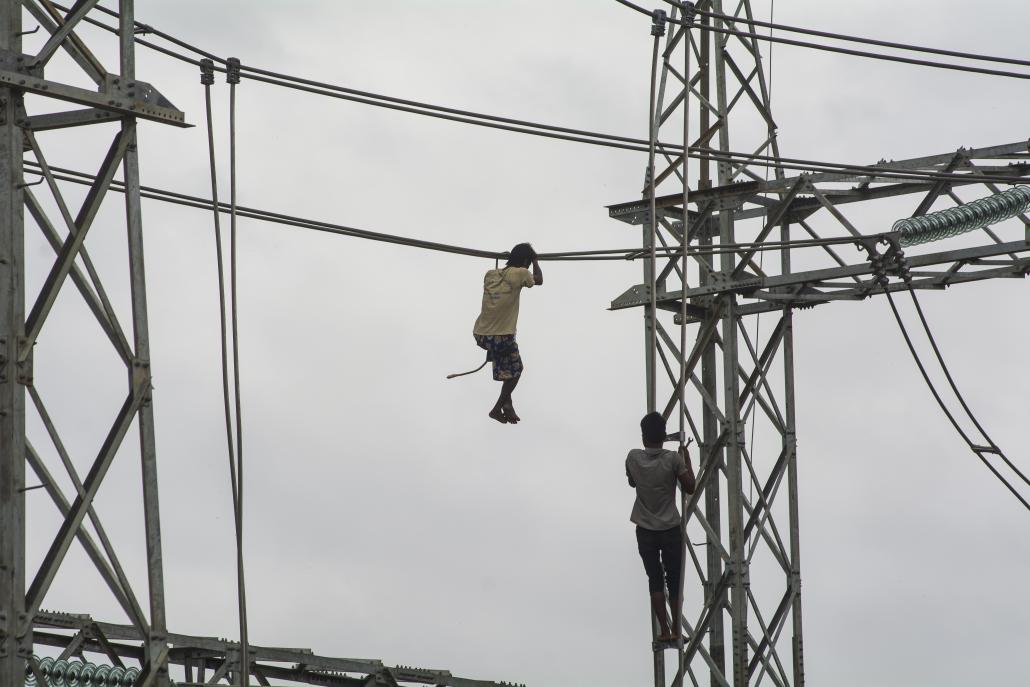 Although their jobs are helping to bring electricity to others, it is in short supply in the camp. A generator provides electricity between 6pm and 10pm but is only used to recharge the batteries in their mobile phones and walkie-talkies.
Some of the workers receive on-the-job training.
"In the past, the projects were stopped in the rainy season and we were taken to Yangon and trained at the technical school in front of the Bogyoke statue next to Kandawgyi Lake," said U Khin Maung Tun, 50. He is a grade-4 skilled government employee, who comprise about 10 percent of all workers at the site. These days, he said, the workers are given on-the-job training even during the rainy season to support the accelerated expansion of the grid.
Despite the training, health and safety awareness seems to be lacking.
Few of the workers were using safety equipment, such as helmets, boots, gloves, safety vests and safety belts.
There was an example of the lack of safety awareness at a site near a sub-station where porcelain insulators weighing 300 kilograms (about 600 pounds) were being hauled up a pylon.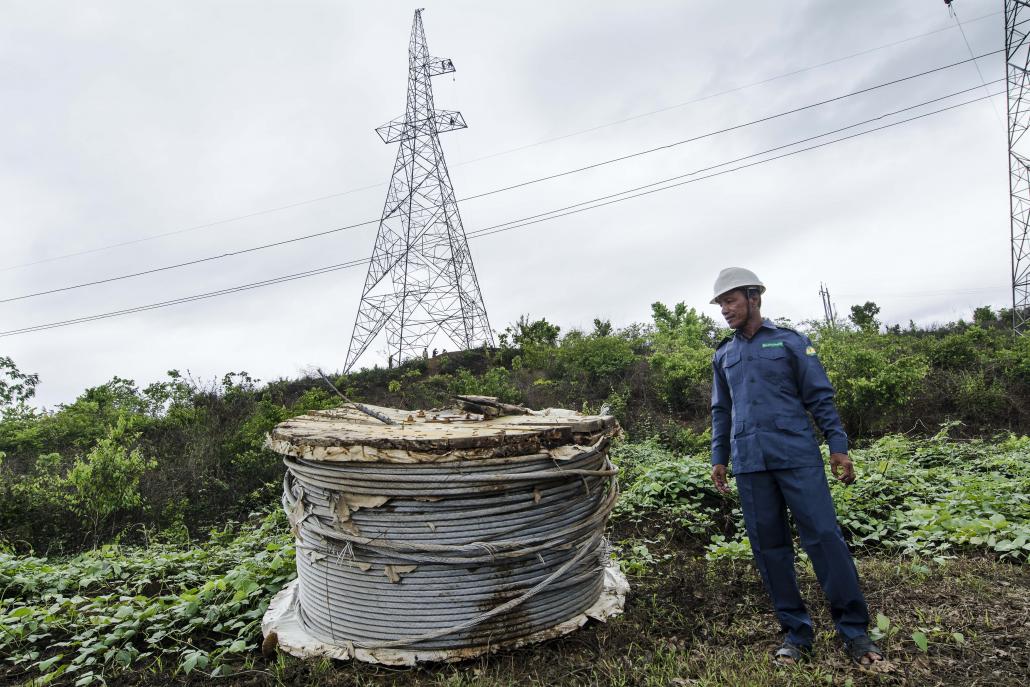 More than 20 workers were involved in hauling up the insulators but no one was wearing gloves. Of the three workers on the pylon who were helping them, only one was wearing a helmet.
"We make do with what we are given; we need a lot of safety belts," said U Kyaw Tint, a grade-1 worker and second in charge of a small team at a mountain pass between Ann and Minbu.
In 1980, after finishing monastery school, he joined the national grid project as a casual worker and became a permanent employee three years later. The work is dangerous for those who are negligent and lack constant safety awareness, he said.
Work on the project at Parkwae began in 2013 and is due to be completed in the coming weeks. This was why work was continuing despite the onset of the rainy season.
"Seeing lamp posts makes us happy," said U Kyaw Tint, the chief engineer of the project to connect Minbu and Ann, adding that both government employees and labourers on the projects are very dutiful. "They help me remember the work I have done together with my colleagues; this brings me pleasure," he said.
Kyaw Tint is due to retire in four years, but is in good health and hopes to continue working for a daily wage after his official retirement.
"Through this work, I was able to send my two children to university," Kyaw Tint said proudly.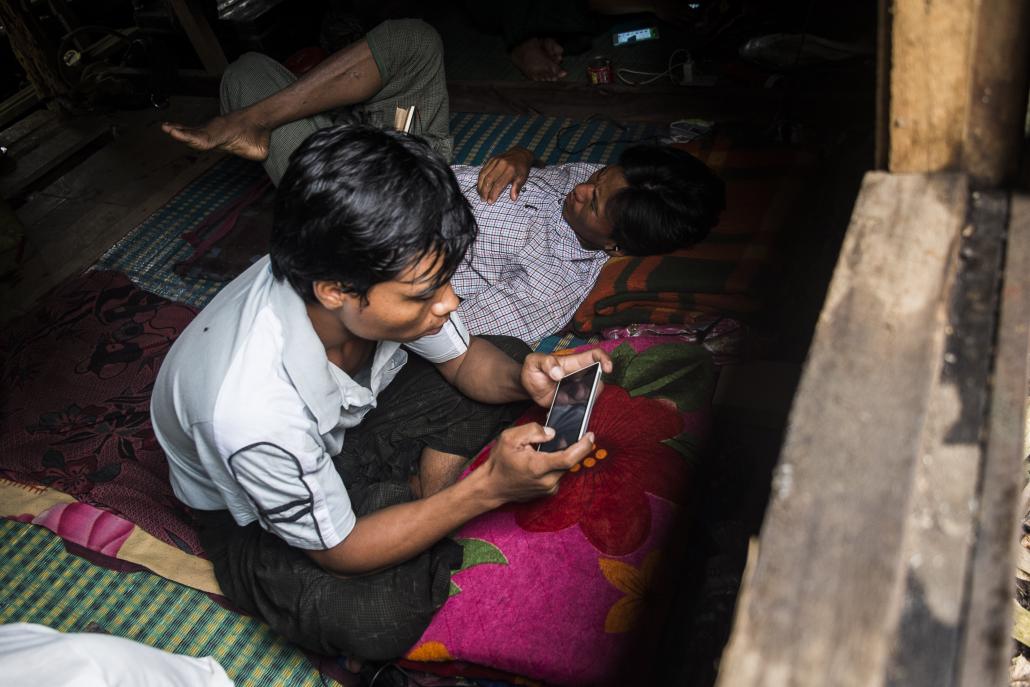 Other workers also expressed satisfaction with their work, though many declined to talk about the lack of safety equipment.
"I am happy with my life," said Ko Ne Min Tun, 25, who became a government employee on national grid projects 10 years ago. A native of Meiktila, Mandalay Region, he lives at the Parkwae camp with his wife, who works as a cook.
"I don't think about the future," said Kyaw Thi Ha, whose job includes crawling along transmission lines 36 metres (120 feet) from the ground. "I enjoy this work and I don't think about the dangers. Senior officials will look after us, I think," he said.