A court ruling in Dawei is another disappointment for journalists who had expected a free and flourishing print media under the NLD government.
By YE MON | FRONTIER
WHEN THE National League for Democracy took office in 2016, journalists believed they had good reason to expect greater media freedom than they had experienced under the military-backed government of President U Thein Sein.
Among them was Ko Myo Aung, 34, chief editor of The Tanintharyi Weekly, based in the Tanintharyi Region capital, Dawei, who had also hoped that the NLD government would support the development of news media in regional centres.
A journalist since 2009, Myo Aung worked for Trust Weekly and as a freelancer for The Voice Weekly before founding the Dawei Watch news agency with friends in 2012 to focus on quality, independent coverage of Tanintharyi Region. The agency started publishing the newspaper The Tanintharyi Weekly in 2013.
On February 18, the Dawei Township court fined Myo Aung K500,000 under the 2014 News Media Law over a satirical article published in The Tanintharyi Weekly on November 20, 2017.
The fine follows a complaint filed in December 2017 alleging that the satirical article, which was accompanied by a cartoon, defamed the reputation of Tanintharyi Region Chief Minister, Daw Lei Lei Maw, a member of the NLD.
The Tanintharyi Deputy Regional Director, U Aye Lu, who was appointed to his position by Lei Lei Maw, reportedly filed the complaint.
Myo Aung was convicted under section 25(g) of the News Media Law, for which the maximum penalty is a fine of K1 million.
It is not known why Lei Lei Maw did not refer the case to the News Media Council, which was established under the News Media Law and has dispute resolution powers that can be used to avoid court action.
Satire, with a smile
Lei Lei Maw's tenure as chief minister has been controversial. During a visit by State Counsellor Daw Aung San Suu Kyi to the Tanintharyi towns of Kawthaung, Myeik and Dawei in mid-February, members of the public demonstrated to demand Lei Lei Maw's replacement because of alleged mismanagement and nepotism in the regional government.
The lawsuit initiated by Aye Lu was the first time The Tanintharyi Weekly had been sued, despite its frequently critical coverage of sensitive issues in the region, including land conflict and environmental degradation linked to mining and big infrastructure projects.
"I was surprised when the regional government took legal action," said Myo Aung, referring to the satirical article, which was published under a heading that translates as "An electioneering smile" and was written under the pen name Mu Say Ooh by a contributor who Myo Aung declined to identify.
The article narrates a fictional story about a vain and inept female village administrator running for re-election. Though the character's biographical details, the description of her misdeeds, and the accompanying cartoon appear to closely resemble the chief minister and her record in office, Lei Lei Maw was not named.
Myo Aung said it seemed that the regional government might have misunderstood that the article was meant to be satirical.
"The story was a satire," he said. "If the government understood what kind of story it was, they might not have sued us."
Myo Aung said he had tried unsuccessfully in the regional high court and the Union Supreme Court to have the lawsuit withdrawn.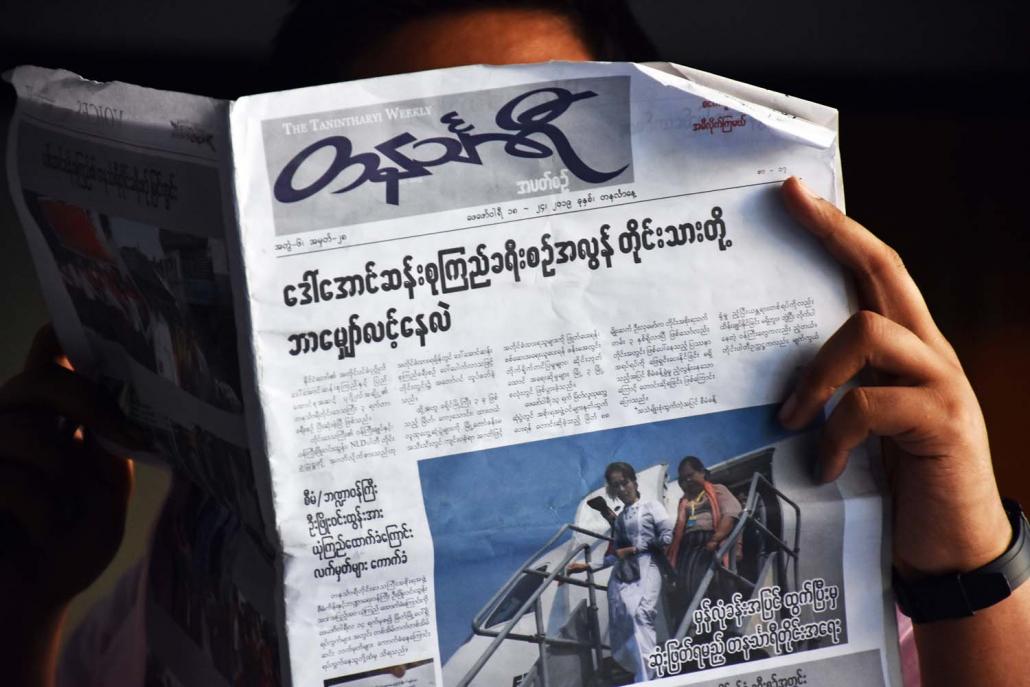 Press freedom down
Shrinking press freedom under the NLD government has been demoralising for journalists. Myo Aung recalled that before the 2015 election, the NLD had promised to protect the rights of journalists and to improve press freedom. Grim facts give the lie to the NLD's promises.
Athan ("Voice"), a civil society youth group that campaigns for freedom of expression, says 44 journalists have been charged under various laws since the NLD took office.
They include Reuters reporters Ko Wa Lone and Ko Kyaw Soe Oo, who are each serving seven-year jail sentences for breaching the colonial-era Official Secrets Act over their role in exposing the massacre of ten Rohingya men and boys by soldiers and vigilantes in northern Rakhine State in late 2017. The pair was convicted last September after a trial in which a police officer testified that they were victims of a set-up.
"It's not just that they are in jail," Maung Saungkha, a poet and the executive director of Athan, said in a tweet in January about the Reuters journalists. "It's the press freedom of the country that's in jail."
Maung Saungkha was arrested in November 2015 for writing a comic poem, in which he said he had a tattoo depicting an unnamed "president" on his penis. He was sentenced to six months' imprisonment in May 2016 under the 66(d) criminal defamation provision of the 2013 Telecommunications Law for defaming Thein Sein, who was president at the time of his arrest.
"The NLD did not live up to its promises after it was elected," Myo Aung said.
In response to his conviction and fine, eight media groups issued a joint statement condemning the failure to protect the rights of journalists and describing the verdict as a violation of press freedom.
U Myint Kyaw, joint secretary (1) of the Myanmar Press Council, said the Ministry of Information under the NLD government had failed to advance press freedom.
"The Ministry of Information should be supporting efforts to improve Myanmar's press freedom ranking," he said, referring to the index released annually by Reporters Without Borders.
The Paris-based group's latest World Press Freedom Index ranked Myanmar 137th out of 180 countries and territories, down from 131st in 2017. Before the USDP government abolished pre-publication censorship in 2012, Myanmar was ranked 174th.
At a media development conference in Nay Pyi Taw in December, Minister of Information U Pe Myint dismissed the index as "biased" towards the interests of its French funders. He rejected that media freedom had worsened and claimed, "Media can comment freely on the government".
Money problems
Myo Aung said that the previous information minister, U Ye Htut, under the USDP government had discussed with media outlets in different states and regions about possible government support, but no progress had been made in this or other areas under the current minister Pe Myint, who has served since 2016.
Beyond government hostility, Myo Aung said media organisations outside Yangon are also struggling financially and the government ought to subsidise them with the hefty advertising revenue it gains through its extensive state media network, which continues to starve independent media of crucial advertising income.
He said Dawei Watch wanted to expand its activities to include video reporting but did not have enough funds.
But Myo Aung claimed to be undaunted by the challenges facing Dawei Watch.
"We will never end our dream and shut down our media agency," he said. "We will find a way out of our financial crisis."
TOP PHOTO: Dawei-based journalist Ko Myo Aung outside the Dawei Township court. (Supplied)