By ANDREW NACHEMSON and LUN MIN MANG | FRONTIER
YANGON — As Nobel Peace Prize winner Daw Aung San Suu Kyi heads to The Hague this week to face genocide accusations in a bid to restore Myanmar's reputation – and possibly her own – international and domestic audiences express significantly different sentiments.
The Gambia, a Muslim-majority country, filed a dispute at the International Court of Justice on November 11, accusing Myanmar of genocide against the Muslim Rohingya minority, on behalf of the Organisation of Islamic Cooperation.
Myanmar has responded to previous accusations of genocide by condemning so-called foreign interference, rejecting the authority of international courts, and claiming the human rights abuses were caused by the Arakan Rohingya Salvation Army, not the Myanmar military.
When the dispute was first filed, Myanmar's ambassador to the United Nations, U Hau Do Suan stayed the course, telling Voice of America that the move was a "politically motivated international pressure tactic". But in a surprise development, Myanmar decided to meet this legal challenge head on, with Aung San Suu Kyi personally defending the country with the military's support.
A spokesperson for Aung San Suu Kyi's ruling National League for Democracy told Frontier that her personal presence was necessary at The Hague because of her political experience.
Myanmar wanted to avoid a repeat of 2012, when it was served a resounding defeat by a UN tribunal that ruled in favour of Bangladesh in a dispute over maritime territory.
"This time we don't want any misstep and we want to make sure that everything is in order," said the spokesperson, Dr Myo Nyunt. 
But Mr Andrew Ngun Cung Lian, research director at Myanmar Institute of Peace and Security, said Aung San Suu Kyi should have sent the Attorney General in her place."She does not have any legal education or training and the ICJ is not a place where the diplomats are welcome to address the world's most respected jurists about juridical disputes among nations," he said in an email to Frontier.
The response in Myanmar has been as powerful as it has been nationalistic. Almost immediately after the dispute was filed, rallies were organised throughout the country expressing support for the beleaguered leader who was once an international human rights icon.
At one event outside Yangon's City Hall, peace activist and reggae star Saw Phoe Khwar sang while hundreds of supporters danced and waved Myanmar flags. A nun threaded through the crowd carrying a portrait of Aung San Suu Kyi and seeking out photographers. 
Thousands more attended rallies in Nay Pyi Taw and Taungoo over the weekend, and more demonstrations are expected in Mandalay and Yangon during the hearing this week.
U Sein Win, 75, said in Yangon on Monday that he plans to participate in demonstrations in support of Aung San Suu Kyi this week, claiming her appearance at court will "bring the truth." He told Frontier that the case will "clearly divide who is good and who is bad".
While fierce nationalism that has erupted across the country has dominated reporting, not everybody sees the situation as black and white.
Yangon resident Ko Aung believes there has been a "misinformation campaign" about the true extent of the rights abuses in Myanmar, but he also believes the international community has exaggerated the issue.
Ultimately, he holds the military responsible and has put his faith in Aung San Suu Kyi to represent the country. "Although the civilian government does not control the military-run ministries, who else have we got to defend the country? Though I won't be participating in the protest, I support her efforts to solve the issue," he told Frontier.
Some see the ICJ as a distraction from more pressing issues at home. U Win Kyaw Htay, a taxi driver, said he's not interested in the ICJ hearing, and is more concerned with the NLD's mishandling of the Yangon Bus Service.
Myo Nyunt did not say whether the NLD had directly organised the rallies, but he said given public support, party members "should join such activities".
"This is different from the NLD ordering members to lead support campaigns," he said.
The show of support has extended well beyond the NLD's typical base – uniting people from different religions and political leanings behind one central message of defending Myanmar's "reputation". In many ways, the genocide accusation has done more to bring together a fractured nation than Aung San Suu Kyi's own floundering peace initiatives.
Nationwide ceasefire signatories such as the Restoration Council of Shan State and the Pa-O National Liberation Organisation have expressed support for the state counsellor.
Even some ethnic armed groups that are still actively at war have done the same. The Shan State Army-North put out a statement in support of Aung San Suu Kyi, as did the United Wa State Army and the National Democratic Alliance Army, which have both carved out autonomous strongholds in Myanmar.
Religious leaders have pitched in, with Cardinal Charles Maung Bo cautioning against using "extreme terms" such as genocide and ethnic cleansing, which he warned would "not assist us in our journey toward peace and democracy". He asked the international community not to "punish the people of Myanmar as a whole", while a Christian group held a prayer session in Yangon on behalf of Aung San Suu Kyi on Saturday.
Even the leader of the Myanmar Muslim Network, U Myint Thein, defended Aung San Suu Kyi's "bravery". Meanwhile, travel agencies have offered discounted rates for supporters to visit The Hague during the trial, with Facebook pages connecting visitors with homestays in the area.
Myo Nyunt denied that Aung San Suu Kyi may be seeking to drum up support among nationalists as the 2020 election draws near. 
"We never use the nation's image to profit politically," he said.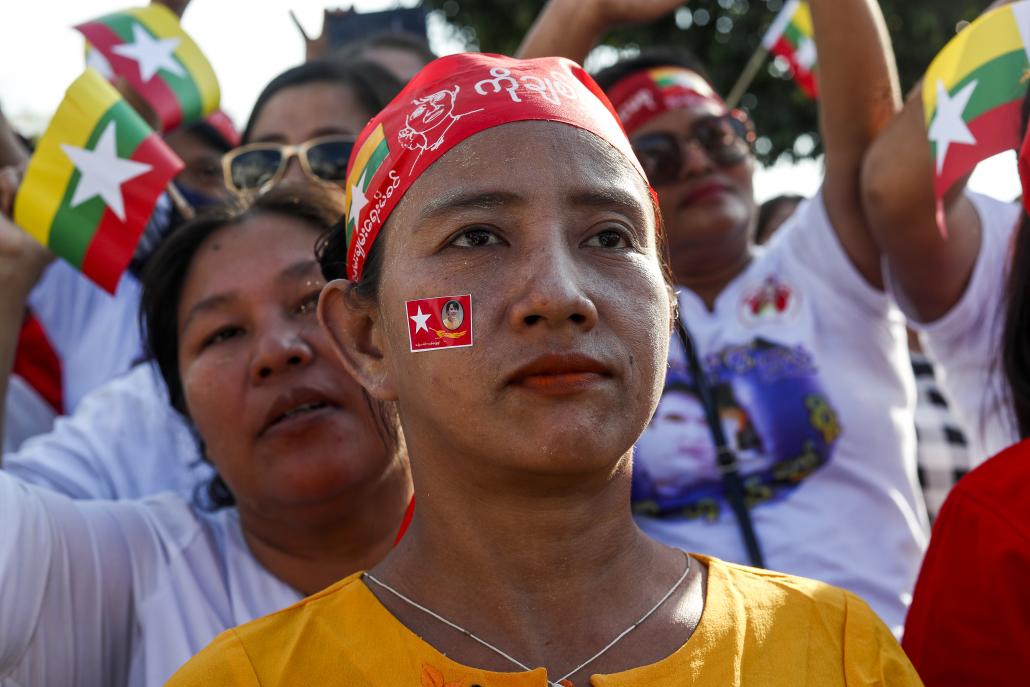 The outside world
But outside the country, the reaction has been very different, both among international organisations and the Myanmar diaspora. "Narratives on the Rohingya crisis in Myanmar and in much of the rest of the world are almost diametrically opposed," Yangon-based political analyst Mr Richard Horsey, told Frontier.
Groups such as Human Rights Watch and Amnesty International have issued statements in support of the case.
"This decision marks an important step in the fight for justice and accountability in Myanmar. It sends a strong message to the orchestrators of atrocities against Rohingya that their days of impunity are numbered," Amnesty International's Southeast Asia director Mr Nicholas Bequelin, said in a press release.
The Canadian government also welcomed The Gambia's submission, and pledged to seek ways to provide legal support.
European-based Rohingya groups have called for a boycott against Myanmar, and plan to hold their own rallies during the hearings. Other ethnic minorities abroad have expressed solidarity as well.
"It is time for us to join forces in solidarity to get justice," said Hkanhpa Sadan, foreign affairs secretary of the Kachin National Organisation, an exile group, in a statement.
The attempt to whip up nationalist sentiment in defence of Aung San Suu Kyi has unsurprisingly had some nasty side effects. U Aye Ne Win, a businessman who has been accused of economically supporting the alleged genocide, made overtly threatening comments against two Europe-based activists campaigning for Rohingya justice – suggesting they be kidnapped and put on trial in Myanmar.
Another UK-based Rohingya activist U Tun Khin also said that he fears for his safety, after filing a case in Argentina against several military and political leaders for crimes against Rohingya Muslims.
"I am very concerned to have received reports from different sources that some members of the Burmese community in the UK, including someone close to the Burmese embassy, have been trying to find out my home address," he tweeted on Saturday.
The proceedings at the ICJ will begin with a presentation by The Gambia tomorrow, followed by a response from Myanmar on Wednesday, and closing remarks from both sides on Thursday. This first round of hearings will discuss "provisional measures" submitted by The Gambia, which are demands rather than accusations. 
The demands mostly revolve around preventing further genocide and preserving any evidence that genocide may have occurred. The Gambia also demands that Myanmar submit a report on these measures within four months. Should the ICJ approve this, there is little it can do to enforce its authority. If Myanmar takes no action, the case is then referred to the UN Security Council, where China is likely to shield its ally from any further action.
"There will be a very long legal battle for this case," Andrew Ngun Cung Lian said, explaining it could take ten years or more for the court to make a decision.
Horsey said that this is an opportunity for Aung San Suu Kyi to demonstrate that Myanmar is shifting course and recognises the seriousness of what took place. "But there is also a huge risk that Myanmar's position will be interpreted as continued denial, which would do deep and lasting damage to its international relations," he said. 
But a "high-level briefing" between NLD members and military commanders in November suggests that no such shift in course is on the cards.
In a summary of the meeting published by the President's Office, Myanmar again attributed international outrage to a "lack of understanding". The summary also repeated the declaration that the conflict was fueled by "brutal attacks committed by ARSA terrorists". 
"Internationally, people are looking for acknowledgement from Myanmar's leaders of what happened and a commitment to genuine accountability. Whereas in Myanmar, many feel that the outside world has misunderstood and exaggerated the situation," Horsey said.
Myo Nyunt said Myanmar would not be defending "any organisation", but rather will defend the country with "legally founded facts".
"We hope the truth is prevailed and the nation's reputation restored," he said.
Many in Myanmar have interpreted the lawsuit as an attack on the entire nation, and therefore believe that the best way to defend the nation is to deny the genocide charges.
But many observers primarily hold the Myanmar military accountable, and recognise the NLD's limitations in controlling it.
By denying the allegations, however, Aung San Suu Kyi and the population at large are seen as tethering themselves to the military, doing far more damage to the country's reputation than if they were to acknowledge and condemn the human rights violations.
As Horsey tweeted when the rallies first began, such demonstrations "perpetuate the myth that the problem facing Myanmar is the legal cases, rather than what happened in Rakhine State in 2017. Until there's a proper reckoning with the latter, rather than current denials, Myanmar's national interest will continue to be impacted."
Although the ICJ has no punitive power, if found to have committed genocide, activists may leverage the ruling to renew calls for sanctions, including targeted measures against business connected to the Tatmadaw.
"If your business partner is on trial for genocide at one of the highest courts in the world, you might want to reconsider whether it's a business relationship you should be in," Mr Mark Farmaner, director of Burma Campaign UK, said in a press statement today.