Frontier has launched an election talk show series aimed at creating a platform for political parties and their candidates to connect with voters, and to give the public more opportunities to learn about their policies.
By AUNG PHAY KYI SOE | FRONTIER
Candidates from three leading political parties have taken part in the first episode of Election & Our Future, an election talk show series that aims to create a platform for political parties and their candidates to connect with voters.
The first episode of the weekly series is available on the Frontier Myanmar Burmese Facebook page, with the two upcoming episodes to be broadcast through the page at 7pm on October 14 and October 21.
Each week the talk show will feature representatives from a range of political parties, including ethnic-based parties, who will discuss the challenges that many citizens are experiencing in their daily lives, and which areas the parties will prioritise if their candidates are elected. The talk shows, which are supported by WaterAid Myanmar, an international NGO that focuses on improving water, sanitation and hygiene (WASH), also feature development sector and civil society leaders.
The first episode features Daw Thet Thet Khine of the People's Pioneer Party, U Jan Hkung of the Kachin State People's Party and U Stephen Tun Tun from the Kayah State Democratic Party, as well as U Alex Aung Khant, executive director of Urbanize, and Dr Than Htut, a senior adviser for WASH and health at WaterAid Myanmar. All episodes are moderated by U Thiha, a trainer at Yangon Journalism School.
Kicking off the discussion, Thet Thet Khine described the PPP, which registered in October 2019, as a "programmatic party" that employed "evidence-based policy-making and solutions-based strategies". "We don't just complain but we explore the answers to the problem," she said.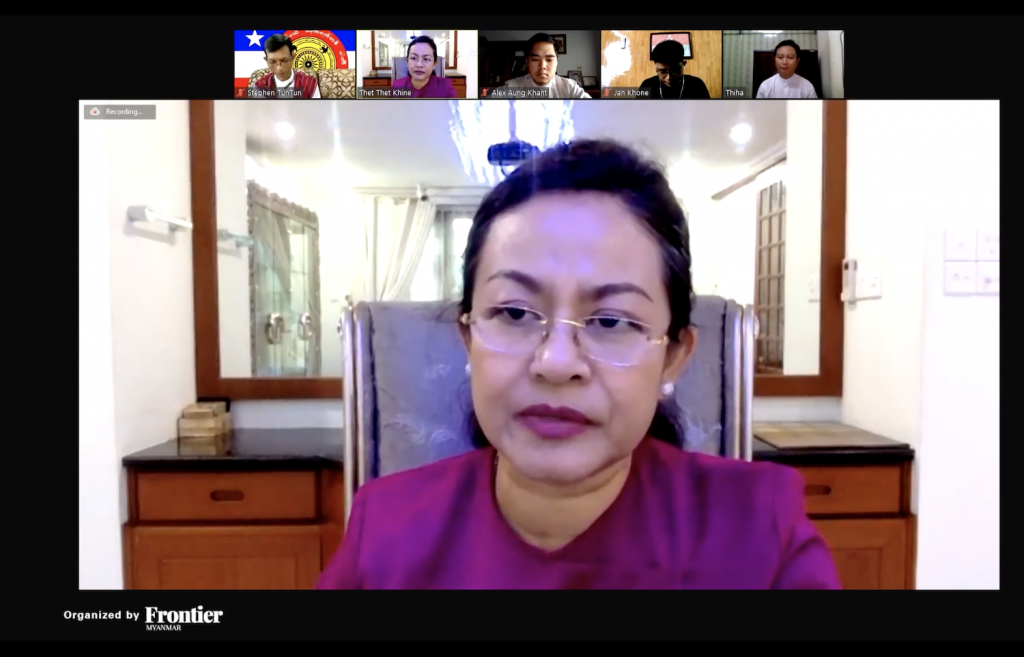 The party was established based on five values: equality, freedom, diversity, justice and accountability, Thet Thet Khine added. "If you look at Myanmar politics, you will see two opposing groups: a nationalist group and a human rights group. We believe that both nationalism and human rights are important, and we follow a middle path. This is our party's positioning."
Like the PPP, the KSPP is contesting its first general election. It was formed as a result of a merger deal between several parties based in Kachin State and registered in early 2019. Jan Hkung said the party aimed to represent all the people of Kachin State, not just the Kachin. "Ethnic Kachin are not the majority in Kachin State, there are people from many ethnic groups … so we formed our party to stand for all ethnicities and religions. When we looked at what most people in Kachin State aspire for, we found that it is peace," he said.
Other important issues in Kachin State are illicit drug use, illegal mining and environmental degradation, he said. The party is also proposing to create a legal market for jade in the state. "We mostly depend on online and social media campaigning," he said. "We're campaigning in accordance with COVID-19 rules and are planning to heighten the tempo of our campaign."
Alex Aung Khant from Urbanize, a local think-tank focused on governance, and urban and regional planning, drew attention to the priorities of Yangon residents, particularly governance. He suggested that urban planning should be managed independently of the regional government. "The term of the chief minister, mayor and deputy mayor is the same as the government – five years only. But urban planning takes 10, 15, 20 or 50 years. I think it can only improve if it is free of the regional government's influence," he said.
He said he became interested in urban planning because of his own experience as a resident of Sanchaung Township. The inner-city suburb has transformed into a high-density neighbourhood in recent decades but infrastructure has failed to keep up, which has brought problems with flooding and waste management.
"When there's heavy rain for about two minutes, water spills out from the drains … it affects everyone," he said. "In the past, Sanchaung was greener than it is now – there were big trees everywhere. People lived in their own large compound … when it rained, water percolated into the ground."
Although Kayah State has not yet recorded a single COVID-19 case, Stephen Tun Tun from the KSDP said his party still faced some challenges campaigning. "We have to abide by the rules imposed by the Ministry of Health and Sports," he said. "When campaigning, we need to restrict the number of people … we have to be careful not to invite more than the limit.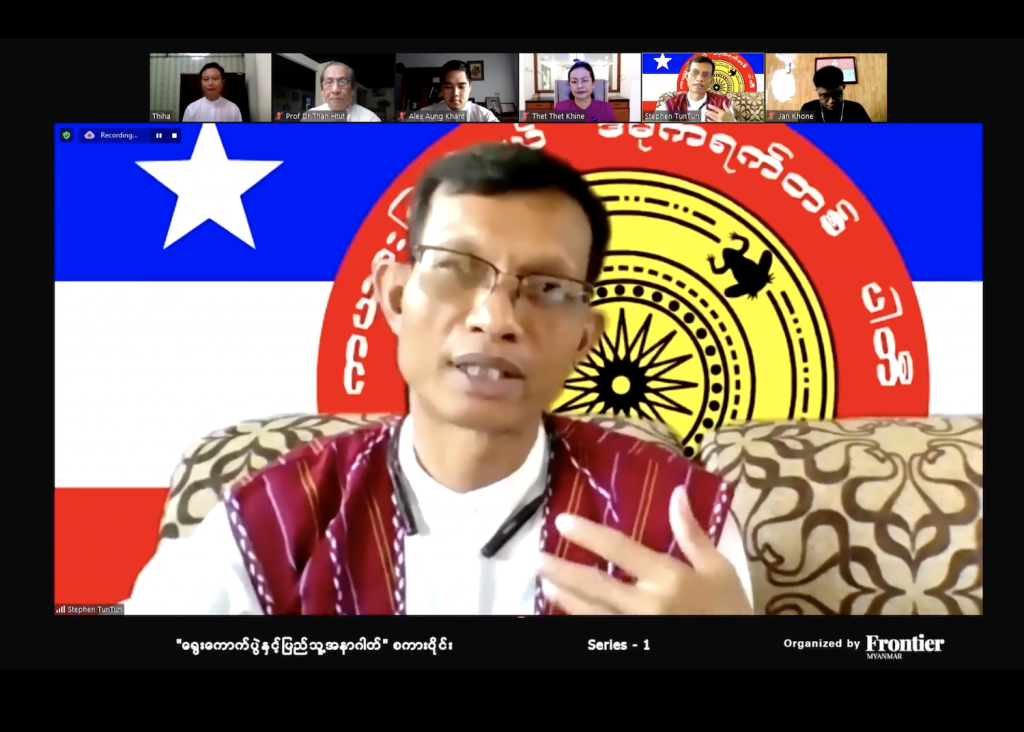 "We have to wear masks, wash our hands and practise social distancing … These restrictions are also a kind of challenge for us."
U Sonny Swe, CEO and publisher of Frontier Myanmar, said that amid the second wave of COVID-19 in Myanmar the three-episode series created an important opportunity for parties to outline their vision for the future to voters.
"Myanmar's general election on November 8 is very important for our country. But due to the severity of this second wave of COVID-19 in Myanmar, we are under stay-at-home orders and this has disrupted a lot of parties' campaign activities. The candidates don't have much of a chance to reach out to the general public," U Sonny Swe said.
"Given what is happening at the moment, at Frontier we wanted to create a space where political parties could discuss the important issues that people are experiencing in their everyday lives, and give them a chance to outline what they will do for the people if they are elected," he said.
The second episode, to be aired on October 14 at 7pm, will feature a panel comprising representatives from the People's Party, the Mon Unity Party and the Shan Nationalities League for Democracy, as well as U Kyaw Min Swe, executive director of the Myanmar Journalism Institute (MJI), and Daw Khin Win Kyi, the manager of urban WASH at WaterAid Myanmar.
The panel for the third episode on October 21 will feature representatives from the Karen National Democratic Party, the Chin National League for Democracy and the Democratic Party for a New Society, together with Daw Thinzar Shunlei Yi, an award-winning youth advocate and activist, and Dr Min Ko Ko, project manager for WASH and Health at WaterAid Myanmar.
The shows will also highlight the current situation of WASH in Myanmar, where 9.6 million people are still living without clean water and 19.2 million people don't have access to decent toilets. WASH-related issues vary from region to region in Myanmar, and this talk show aims to raise the awareness about the challenges around improved drinking water supply, access to improved sanitation and education on hygiene practices.
U Sonny Swe said he was delighted to have a diverse range of voices participating in the talk show series.
"We have tried our best to reach out to as many political parties as possible and we would like to thank everyone who has agreed to participate in our program," he said.