Just a few days ago, Rakhine State residents seemed to believe they had little to fear from COVID-19. But 53 confirmed cases in less than a week has left many scared and NGOs fearing the virus will spread to IDP camps, writes Kaung Hset Naing in Mrauk-U.
By KAUNG HSET NAING | FRONTIER
In the space of a few days, the mood in Rakhine State has turned sharply. Just a week ago, it was rare to see residents of Sittwe and Mrauk-U wearing masks; no one seemed afraid of COVID-19, despite warnings against complacency.
Now, markets are closing early, streets are locked down and, in the state capital, schools are shut and residents have been ordered to stay home. A week since Patient 375, a bank worker with no recent history of international travel or known contact with a COVID-19 patient, tested positive for the virus in Sittwe, the number of confirmed cases has risen to 53, including two cases in Thandwe Township in the state's south.
There are fears the outbreak could spread rapidly, including in camps that host hundreds of thousands of people displaced by conflict.
"People are no longer careless and negligent," said U Khaing Kaung San, director of Sittwe-based Wan Lark Rural Development Foundation.
Three of the new cases have been recorded in Mrauk-U, where a Frontier reporter and photojournalist have spent much of the past week reporting on preparations for the November election. The ancient capital has been at the heart of the conflict between the Tatmadaw and the Arakan Army, but residents are now fearful it could be a new front in the fight against COVID-19.
On August 20, the Ministry of Health and Sports confirmed that an NGO worker in the town had tested positive for COVID-19. The following day a lockdown was imposed on Kanhla-Kanbaung street in Mrauk-U's Latt Kar Zay Ward.
The civil society-led Committee for Covid-19 Pandemic Protection in Mrauk-U says that more than 70 people, including staff from the NGO, their families and 11 people living in the house where the confirmed patient was staying, are now in quarantine.
The ministry confirmed two more cases in the township on August 22, and local authorities have locked down two more streets in Mrauk-U, in Bandula and Kan Hla wards.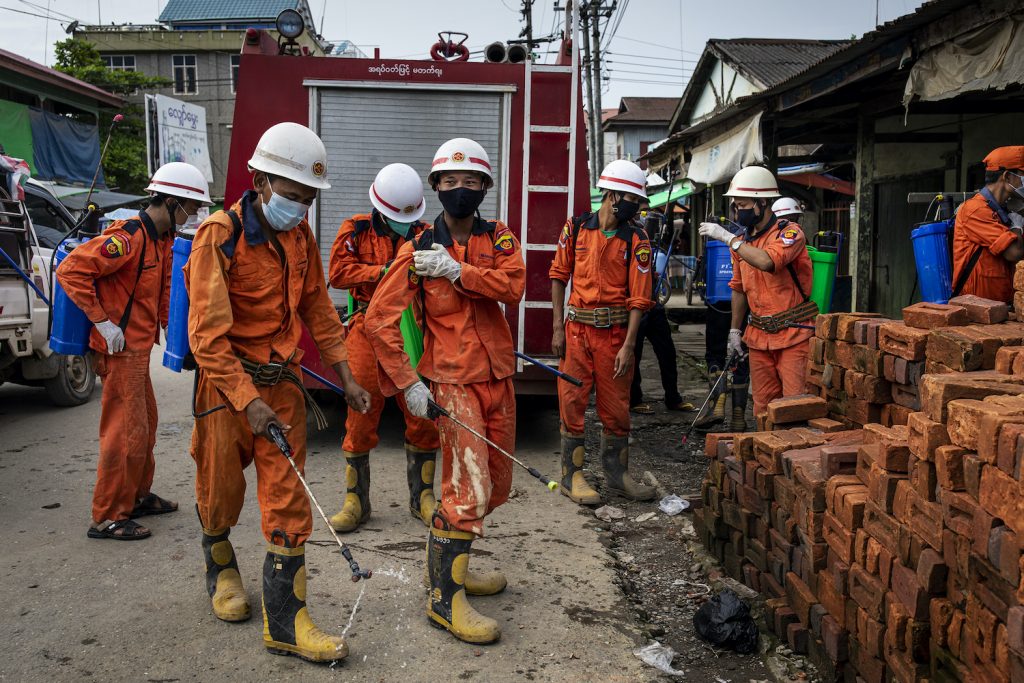 The government's township-level COVID-19 prevention committee has also limited market opening times and disinfected public areas. It is encouraging residents to wear face masks, wash their hands regularly and practise social distancing.
But no other restrictions have been introduced, and testing to date has been limited.
The CCPP says nine people in the township had been tested in recent days, and a swab team plans to test up to 30 people today. Samples are sent to Sittwe and from there to government laboratories for testing.
Members of the civil society committee fear the response might not be enough to stem a larger outbreak in Mrauk-U and other parts of Rakhine State.
"The authorities have been too slow to respond and their preparations were not good enough," said member U Ba Nyunt. "We are very worried that the situation might get worse, with more confirmed cases."
This contrasts with the response in Sittwe, which has recorded 48 cases in the latest outbreak. Authorities there have issued a stay-at-home order, with residents only supposed to leave their homes for work, medical care or to buy food, and closed all schools.
The Mrauk-U Public Health Department and Rakhine State Ministry of Health and Sports could not be reached for comment.
Mrauk-U residents, though, appear to be responding to the coronavirus threat. The streets are much quieter than normal and most people have started wearing masks. Some shops are only selling takeaway food and drivers of three-wheel motorbike taxis told Frontier that people from surrounding villages have stopped coming to the town's main market, the Myoma Zay, which now closes at noon.
"Now everyone is too scared," said driver Ko Aung Naing Win.
The picture outside Mrauk-U town is less clear. Government officials and civil society organisations say the ongoing conflict and lack of internet access have hampered the response, particularly information sharing and other prevention activities.
Ko Shwe Than Kyaw, a communications officer for the Mrauk-U Youth Association, said most rural areas in Mrauk-U are dangerous to travel around. "If COVID-19 spreads in these areas, the insecurity will make it hard to respond," he said.
Lack of internet access poses a further challenge. In June 2019, the government ordered mobile operators to switch off data access in eight townships in Rakhine State and Paletwa in Chin State, including Mrauk-U. Internet was restored in Maungdaw Township in May, and in the eight other townships 2G data access was permitted from the start of August. However, Frontier found that the 2G was so slow that it was almost impossible to perform even basic tasks, like sending a message on Facebook Messenger.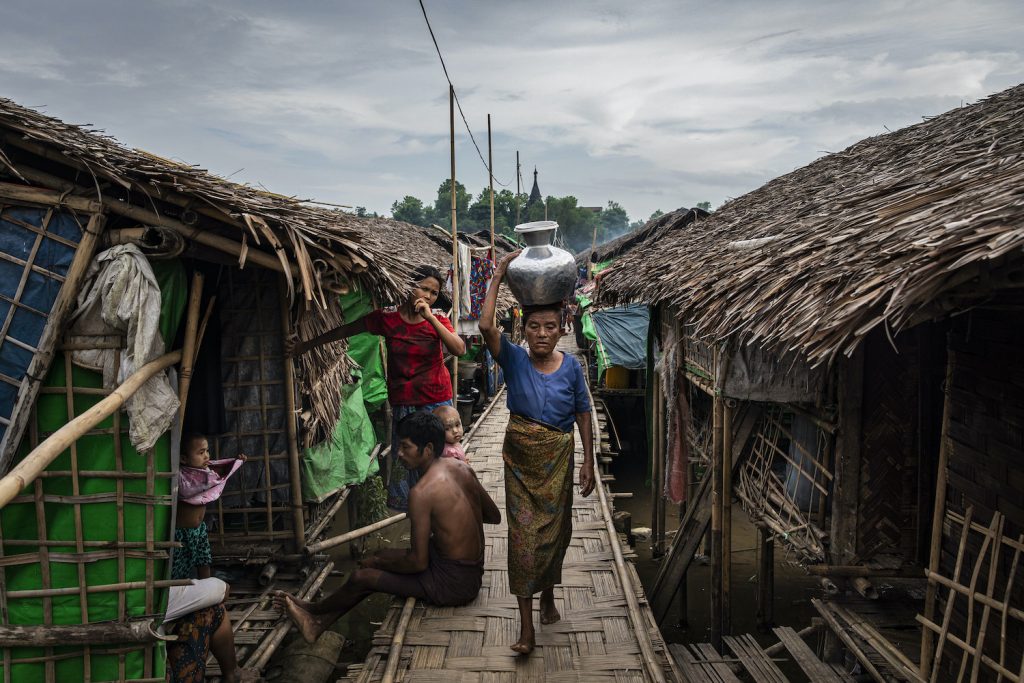 NGO officials say that the government should allow normal mobile internet access to improve communication and the sharing of information about COVID-19.
"We can't do anything with this 2G," said Khaing Kaung San from Wan Lark. "The government should turn the internet back on at this important time."
Ba Nyunt from the COVID-19 committee agreed that the lack of internet was a problem. "It makes it hard for us to contact villages," he said. "It is taking a long time for news to reach there, too."
Civil society leaders say they are particularly concerned at the threat COVID-19 poses to camps in Sittwe and Mrauk-U for people displaced by conflict between the Arakan Army and the Tatmadaw.
Government figures show that Sittwe had 4,906 IDPs living in 30 camps as of August 5, while 18,211 IDPs were living in 26 camps in Mrauk-U.
Sittwe also hosts more than 100,000 people, mostly Muslims, who have been displaced by communal conflict since 2012.
"The IDP camps are crowded with people. It's impossible for them to follow social distancing rules," Khaing Kaung San said.
Adding further to concern about IDP safety, Ba Nyunt from the COVID committee said the first confirmed patient from Mrauk-U is a nurse who is understood to have visited three camps in the township before falling ill.
As of August 23, the testing teams had not yet visited the camps, but Ba Nyunt said the Ministry of Health and Sports was preparing to carry out tests among IDPs.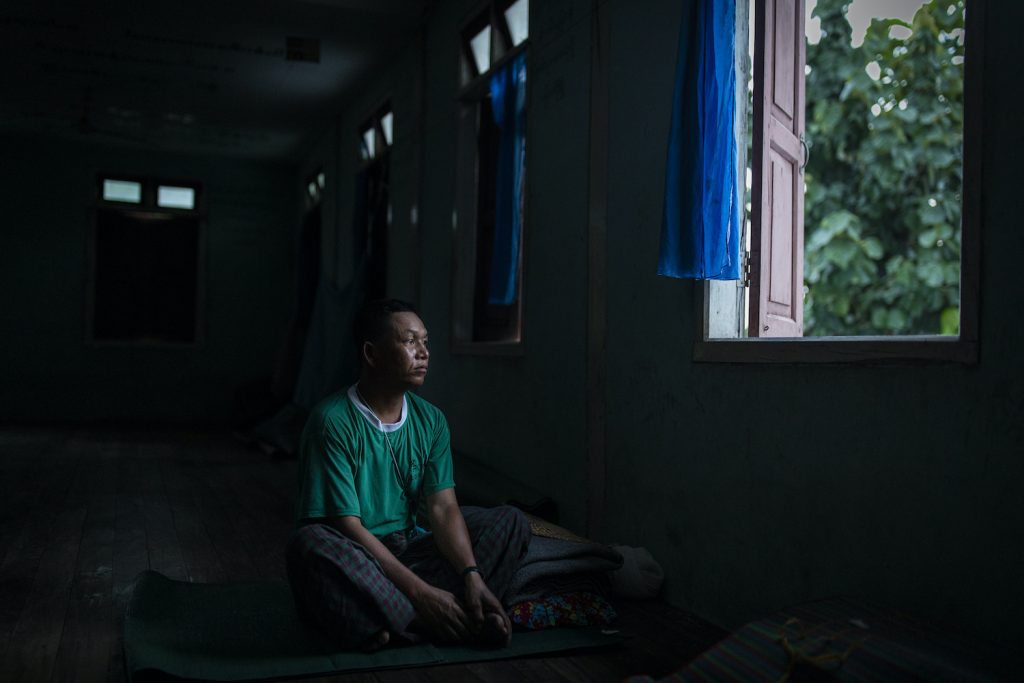 Sayadaw U Nandathara, who is in charge of Myatasaung camp in Mrauk-U town, also warned that it would be very difficult to control COVID-19 if it entered the IDP camps.
The camp, which hosts around 290 families, has now gone into lockdown. U Nandathara said the camp is ill-prepared for the challenge of stopping COVID-19; resources are limited and families at Myatasaung live in rooms that measure just 10 by 15 feet, making social distancing difficult.
"We can't even give a bottle of hand sanitiser to every family," he said. "In this situation, it would be very easy for everyone to get infected. It's very difficult to prevent the spread."
But conditions are even more difficult at some other camps, where families live together in large halls.
Shitthaung IDP camp hosts 480 IDPs from 140 families in two large halls and a few temporary shelters.
Shitthaung camp resident U Kyaw Htun, 42, supports his family by driving a motorbike taxi. He's now terrified that he'll come into contact with a COVID-positive person and bring the virus back to the camp. "If COVID-19 occurs here," he said, "everyone could be infected."