Towns and villages across Myanmar have been guarding against COVID-19 by opening quarantine centres, but a government decision to exempt domestic travellers has potentially left them more vulnerable at a time of mass travel for Thingyan.
By KYAW YE LYNN, YE MON and NAW BETTY HAN | FRONTIER
THE WARNING sign erected at the entrance to a village school in Yangon Region's outer western Twante Township carried a blunt message: "Restricted area. All entry prohibited".
The high school is in Aleh Su village and the gate to its compound has been locked almost continuously since late March, when the cluster of seven villages in Phya Tha Dike village tract began using it as a quarantine centre to prevent the spread of COVID-19.
All people returning to or visiting the area from most parts of Myanmar or abroad were forced to quarantine at the school. The only exception was for those coming from elsewhere in Yangon Region, who were instead required to self-quarantine in their homes for 14 days and have their temperature checked three times a day.
The quarantine facility at Phya Tha Dike is one of thousands – quite possibly tens of thousands – that were set up across the country in March, when COVID-19 began spreading around the region. In most cases, the facilities were a community-led response to the perceived threat posed by returning migrant workers in the absence of stronger prevention measures from the government.
Among the 20 people quarantined at the makeshift centre in Phya Tha Dike when Frontier visited on April 4 were a family of four from Mandalay. Ko Myint Naing, his wife Ma Po Po and their two children, aged four and eight, spent nearly 24 hours travelling to Twante, a journey of more than 700 kilometres, on a 125cc motorbike. They left Mandalay on the evening of March 29 to attend a wedding at Phya Tha Dike, which is Po Po's home village.
Myint Naing, who works at a car workshop in Mandalay, said he had travelled by motorbike to save money. "It was less than a quarter of the cost of express bus fares [for all of us]."
The wedding was to have taken place on March 30, but when they arrived at 4pm the next day they got a shock. "We didn't realise that the wedding of my wife's sister was postponed because of the coronavirus," Myint Naing said, standing with his wife and two children on the other side of the locked gate.
Half an hour after the family arrived at Phya Tha Dike, the village tract administrator and community elders came to tell them that they needed to be quarantined for two weeks at the school. Although April is a school holiday anyway, the village school, like others across Myanmar, is closed indefinitely because of the coronavirus, making its spacious grounds and long buildings an obvious quarantine site.
"At first, we were confused and thought it was unnecessary, but we accepted because [being quarantined] would be good for us and for the community," Po Po told Frontier. "We moved in immediately; we didn't even have time to unpack."
The quarantine centre was established under an order from the Yangon Region government issued a few days after Myanmar reported its first two confirmed coronavirus cases on March 23. State and regional administrations across Myanmar issued similar orders, and on March 26 the Ministry of Health and Sports set guidelines for quarantine facilities, including sanitary and isolation measures for the benefit of those being quarantined.
The Yangon Region government order, however, referred only to returnees from neighbouring countries and made no mention of quarantine for domestic travellers. The Phya Tha Dike village tract administrator, also called Myint Naing, said the community and the village elders had decided on their own initiative to ask all visitors to be quarantined, unless they were from Yangon Region.
"No one knows who is infected and who is not, so we thought it would be better to quarantine them," he said, referring to his namesake and his family from Mandalay.
The village tract administrator said the community had exempted those from elsewhere in Yangon Region because the tract of seven villages did not have the capacity to quarantine the large number of people from the area who worked at factories in Yangon, should they decide to return or visit.
He said the community and individual donors were providing basic necessities to those under quarantine at the school.
"We have perhaps been overly cautious, because no one at the centre has had a health problem so far," said Myint Naing, the village administrator.
However, when the administrator spoke, these cautious measures had already been nullified from above. In an order that was replicated by state and regional administrations across Myanmar, the Yangon Region government clarified on April 2 that domestic travellers were permitted to quarantine at a private home as long as they did not have symptoms. In an effort to wrest greater control of community initiatives like in Phya Tha Dike, the April 2 order also said quarantine facilities in wards and villages needed the approval of a regional committee for the prevention, control and treatment of COVID-19.
Though the village administrator was aware of this order when Frontier visited two days after it was issued, he said that domestic travellers who were already in quarantine, such as Myint Naing and his family, were being asked to complete their two-week stay at the centre. New arrivals from elsewhere in Myanmar would be allowed to quarantine at home.
Yangon Region Minister for Kayin Ethnic Affairs and regional government spokesperson Naw Pan Thinzar Myo confirmed to Frontier on April 6 that "people who return from abroad must be quarantined at centres but returnees from other parts of Myanmar are not to be quarantined".
The Union government published an additional clarification in state newspapers on April 7, saying, "Community based facility quarantine measures cover [only] those who had close contacts with COVID-19 patients and the returnees from foreign countries."
Though he said he would comply with it, the Phya Tha Dike administrator was unhappy with the requirement to exempt domestic travellers and said the community would try compensate for it by keeping a close watch on those doing home quarantine.
"We consider anyone coming from areas [of Myanmar] with confirmed cases as possible carriers of the disease, so we will closely monitor their situation even while they're self-isolating at home," he said. "Once they show any symptoms, we will take them immediately to a hospital."
He said that preventative measures like quarantine are crucial because the village tract had only one qualified healthcare worker, a midwife, and would not be able to cope with a genuine outbreak of the disease.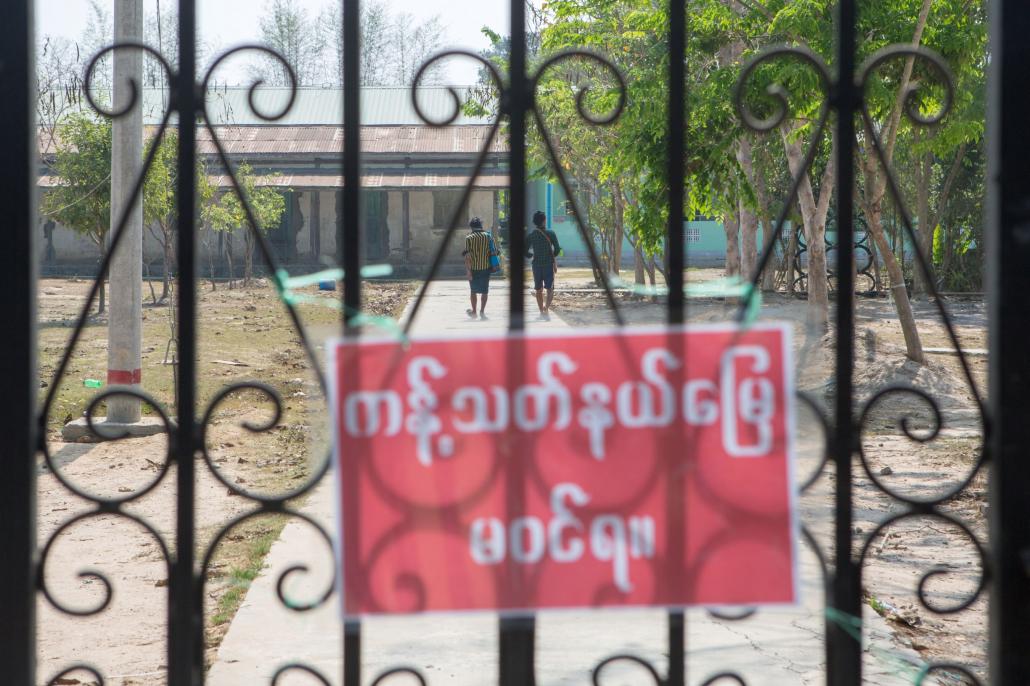 Thingyan travel proceeds
For rural communities like Phya Tha Dike that struggle to access professional healthcare, the government's decision to exempt domestic travellers from quarantine facilities has potentially left them more vulnerable to outbreaks of COVID-19 at a critical time.
The traditional New Year festival of Thingyan, which this year falls April 10 to 19, is the biggest holiday in the Myanmar calendar and a time when migrant workers in major cities travel to their home towns and villages, and when permanent city residents visit family members or travel for leisure elsewhere in Myanmar.
Although the governments in Mandalay Region and Shan State have restricted travel across their regional borders from April 7 to 21, the Yangon Region government has not imposed travel restrictions. Although Yangon residents are being asked to leave their homes only to buy food or seek medical help from April 10 to 19, the regional government did not prevent people from leaving the city in advance of the holiday.
There were anecdotal reports at the start of April that community-led measures, as in Phya Tha Dike, to quarantine internal travellers at designated facilities had deterred some migrant workers in Yangon from returning home for the holiday. However, the government's decision to exempt them from such treatment removed this deterrent, and Frontier found that seats with popular highway bus companies were sold out in the days leading up to Thingyan. Because most of the confirmed COVID-19 cases so far (currently at 88) have been in Yangon, some like Phya Tha Dike administrator Myint Naing fear that Thingyan travel could spread the virus across Myanmar, including to rural areas with few health facilities.
Frontier spoke to communities outside of Yangon Region that were also complying with the government orders, regardless of local fears about internal migrants carrying the coronavirus.
U Kyaw Aung, administrator of Kanbalar Kyun Nyo village tract in Ayeyarwady Region's Ngapudaw Township, said he had received the instruction that returnees or visitors from within Myanmar should only be asked to quarantine at private homes. The Ayeyarwady Region government had given the order on March 31, ahead of the Yangon administration.
"Now, there is no [facility] quarantine for returning local people in our village," Kyaw Aung told Frontier on April 6.
Magway Region Chief Minister Dr Aung Moe Nyo said at a public donation event for the region's COVID-19 effort on April 3 that although he was aware that some people returning to areas of Magway were being forced by communities to spend two weeks in quarantine facilities, this went against the policy of the regional government. "People from other states and regions are not subject to quarantine," he said
The chief minister explained that one of the reasons to minimise community quarantine admissions was that there were too few health workers to monitor those in quarantine.
While this suggests a pragmatic rationale for exempting internal travellers, who might overburden quarantine facilities, comments by officials elsewhere suggest a belief that local transmission of the coronavirus is still limited, despite very few tests being conducted for the virus (currently at 3,505) compared to neighbouring countries, and that the main risk remains cases imported by travellers and migrants coming from abroad.
Dr Than Tun Aung, who heads the Ayeyarwady Region public health department, told Frontier on April 6 – when 1,340 tests had been done and 22 confirmed cases reported – that he had advised the regional government that there was no need for citizens travelling internally to be quarantined in centres. "We don't need to quarantine them; the current infected persons are from abroad," he said.
A COVID-19 situation report from the health ministry dated April 16, the latest available, said that 64 out of 85 confirmed cases, or 75 percent, were due to local transmission. However, as cases mount, the government has only changed its rules on quarantine facilities to extend the length of stay rather than expand eligibility for admission to centres.
A notice from the health ministry published in state media on April 17 said the mandatory quarantine period at facilities had been extended from 14 to 21 days, to be followed by seven days' home quarantine. Though the government had previously instructed people to quarantine at home for 14 days after leaving a facility, this was difficult to enforce. The government has also published phone numbers for the Social Welfare Department in each state and region through which people in quarantine centres can receive free counselling.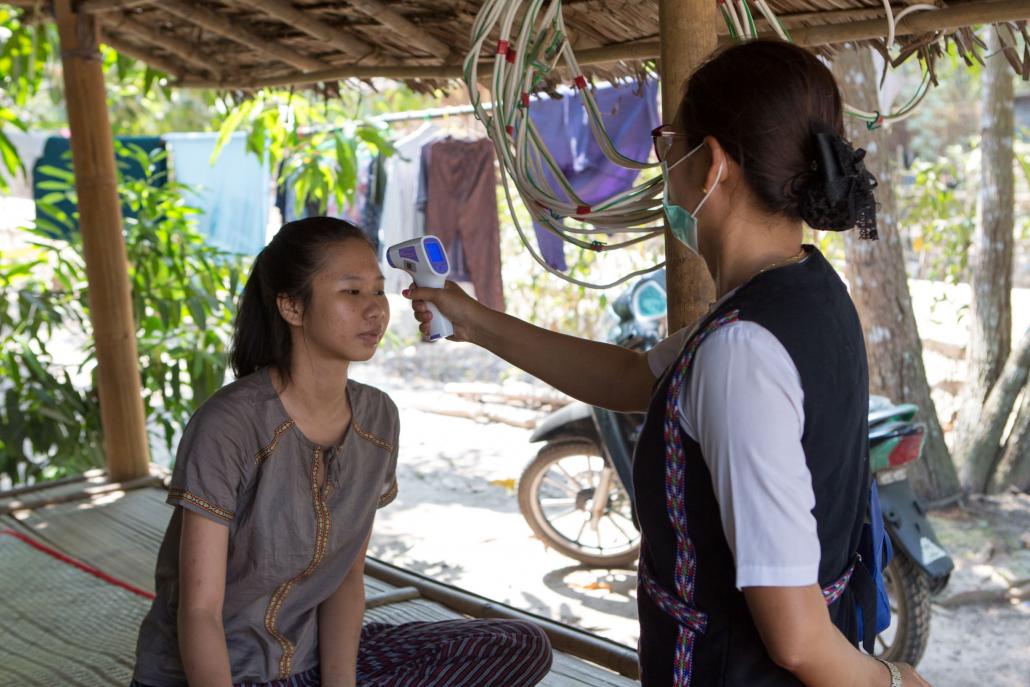 Fear and scapegoating
The ministry's April 16 situation report said that 7,169 quarantine centres were operating across Myanmar, hosting a total of 43,283 people. However, these figures are unlikely to include centres established by communities in remote areas, or those that have been set up by ethnic armed groups in areas that they control, as reported on by Frontier.
Although these quarantine centres are meant to receive people arriving from abroad, most were set up too late to receive tens of thousands of migrant workers who returned from Thailand via the border at Myawaddy in the last two weeks of March because of factory layoffs and lockdown measures in the country.
As reported by Frontier, the government was ill-prepared to manage the returning migrants. It told them to self-quarantine at home after reaching their towns and villages, but reports multiplied of returnees flouting this order and moving freely around their communities. Only later did regional authorities insist that quarantine centres be established for everyone coming from abroad, in the orders issued from the end of March.
After a migrant worker who had returned from Thailand tested positive for COVID-19 on March 29, the government warned there was a possibility that returnees from abroad would spark a "major outbreak" of COVID-19.
Communities that would normally be overjoyed to receive friends and relatives returning from abroad for Thingyan were suddenly far less welcoming. Migrants soon became scapegoats on social media for supposedly exposing Myanmar to the virus.
On April 4, Frontier visited a high school compound in the Ayeyarwady Region town of Maubin, whose designation as a quarantine facility had met local resistance.
Amyotha Hluttaw MP Daw Ei Ei Pyone (National League for Democracy, Ayeyarwady-8) said about 300 people marched to the school on the evening of March 28, the day before it was to open as quarantine centre, and called on the authorities to abort the plan.
Ei Ei Pyone was disapproving of those who organised the protest at a time when social distancing is being urged by all levels of government to slow the spread of COVID-19.
"Most people here are terrified of COVID-19. They mistakenly assumed the virus would remain in the school for a long time and could go on to infect their children," Ei Ei Pyone told Frontier. "Some people think all returnees could be carriers and spread the disease, so they don't want them to come back."
On the day Frontier visited, the quarantine centre was hosting 18 returnees from China and a man who had returned from Thailand. In the school compound, two buildings were separated by three rows of desks, across which red-and-white tape had been stretched
"That is where we keep returnees when they do their 14-day quarantine," said Ko Moe Sat, a volunteer in his 30s, pointing to the two-storey building on the far side of the tables. The building he stood by, closer to the entrance to the compound, was used by the volunteers at the quarantine centre.
Moe Sat said only two volunteers, as well as medical workers, were allowed to go past the tables to the building where people were being quarantined in dorms. Once they have done so, they are not allowed to leave before completing their own two-week quarantine.
"We don't mind having to stay here for 14 days," said one quarantined man, aged 25, who worked on construction sites in China. Frontier's conversation with him had to be conducted in shouts across the no-go area between the two buildings.
"Honestly, I think it is better this way. Otherwise, people would be reluctant to let me in the village," said the man, whom Frontier has agreed not to name at the request of the quarantine centre.
On April 8, Frontier talked by phone to one of several overseas migrants who were being quarantined in a high school in Yangon Region's outer southeastern Kawhmu Township.
Ko Ngwe Ko Ko, 36, who had been at the centre since March 28, was among the tens of thousands who returned from Thailand via Myawaddy in late March. He said he had gone home every Thingyan since he started working on building sites in Bangkok eight years ago.
"It is always good to be home, but before I came back, I noticed there were some negative comments on Facebook about returning migrants," said Ngwe Ko Ko. He said some Facebook posts said returning migrants should be refused entry to Myanmar because they might be carrying the virus. "I have no idea how anyone could write such a thing."
Ngwe Ko Ko and a friend who also travelled home from Bangkok discussed the situation and decided that they would inform the authorities of their arrival because they wanted relatives and other villagers to be comfortable with their return. "We told the village [tract] administrator and he brought us here to be quarantined for 14 days," he said.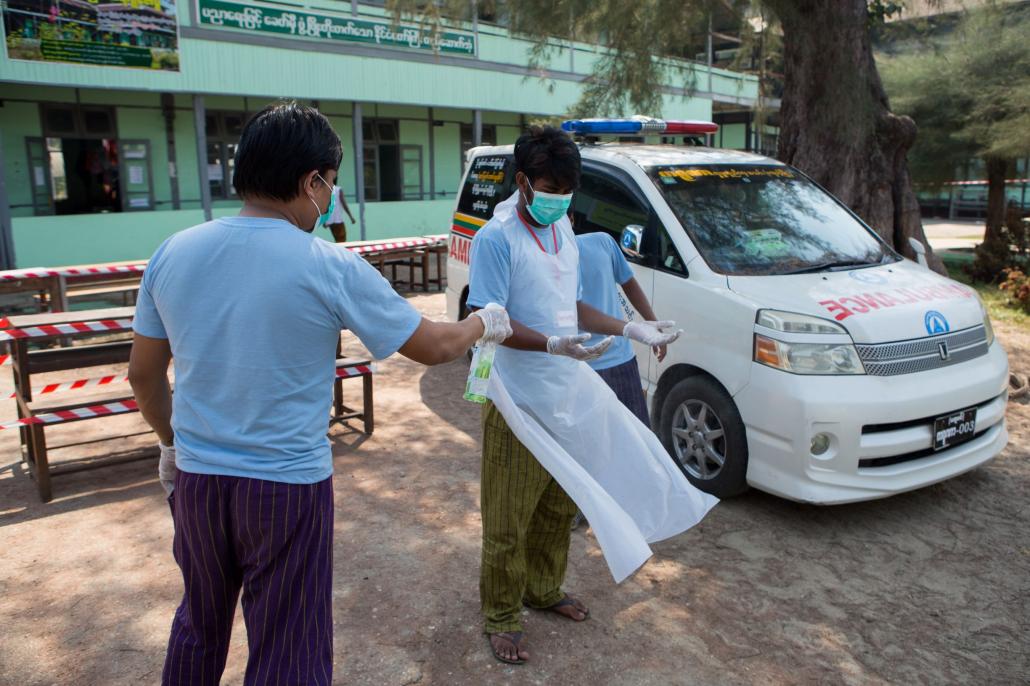 Communities shoulder the burden
Although the government has increasingly tried to assert control over quarantine facilities across Myanmar, in many areas – as in Phya Tha Dike in Twante Township – local charitable groups and the community at large continue to bear most of the burden in operating and provisioning the centres.
In Mon State's Ye Township, which like most other parts of the state has received an influx of migrants returning from Thailand in recent weeks, local charity workers told Frontier that the township's 36 quarantine centres still operate largely as a community effort.
The state government issued its directive on quarantine facilities on March 29, but local charities and civil society groups began discussing quarantine measures in early February. On their own initiative, communities opened their first local quarantines centres in the middle of March. After the order from the state government, these centres, which were often in schools and monastic compounds, were re-branded with government signage but continued to depend largely on volunteers and donations from the community.
U Aung Naing Win is the general secretary of a volunteer group in Ye Township that was formed in the first week of February to fight COVID-19. Although their inaugural meeting was at the township General Administration Department office, he told Frontier that the impetus did not come from the government. The following month, villages in Ye established quarantine centres using their own funds and help from civil society groups, he said.
He said of the state government instruction issued on March 29: "The government just gave a direction and the local residents and civil society groups continued to provide most of the necessary support."
The government has sent medical supplies to the quarantine centres in the township, which housed 777 people as of April 12. These supplies have included 1,000 protective masks, 1,000 medical gloves and 22 temperature-reading devices, and were packaged with 44 loudspeakers for the broadcasting of health information in wards and villages.
However, Aung Naing Win said the limited number of professional health workers in the area and the lack of basic medical training for volunteers meant that communities were struggling to maintain standards and adequately monitor the health of people at the quarantine centres.
"We are volunteers and not health workers," he said. "We need healthcare training. The state government ought to help us with this, but it is doing nothing about it and we are facing risks in our work."
Deputy speaker of the Mon State parliament Dr Aung Naing Oo (Chaungzon-1, All Mon Region Democracy Party) told Frontier that, despite meagre government resources, civil society and community-based organisations were well-placed to assist the state's COVID-19 prevention efforts because of their previous experience responding to natural disasters.
In devastating floods in August last year, local civil society sprang into action to help tens of thousands of displaced people while the government was criticised for being slow to respond.
Aung Naing Oo acknowledged that community efforts to establish quarantine centres were ahead of government measures, adding, "I also participated as an individual with local civil society groups in donation drives and volunteer work."
He said these volunteer groups were still not getting the government support they needed.
"I've learned that some quarantine centres don't have enough medical equipment even though they are located in hospitals, and civil society groups are still having to use their own funds," he said. "It's not enough."
Top photo: A school compound in the Ayeyarwady Region town of Maubin, seen on April 4, whose designation as a quarantine facility had met local resistance. (Thuya Zaw | Frontier)