Village savings and loan associations in four Rakhine State townships are helping to raise living standards, empower women and keep usurious money lenders at bay.
By HTUN KHAING | FRONTIER
VILLAGE SAVINGS and loan associations are transforming lives and livelihoods for the better in some of the neediest villages in Rakhine State, one of the poorest of the country's 14 states or regions.
Among the growing number of Rakhine residents who have benefitted from the introduction of VSLAs is Daw Ma Ma Than, a resident of Laung Da Reik village in Myebon Township, who has borrowed twice from her local group to invest in a general store.
"If I borrow once, I take a note in my 'bank book'," Ma Ma Than told Frontier.
In a nation where most citizens have never stepped foot in a bank, the VSLAs are providing a vital and much appreciated service for villagers in Rakhine.
They were introduced in the state under Tat Lan, a sustainable food security and livelihoods programme aimed at building resilience in 252 impoverished and environmentally vulnerable villages in remote parts of Rakhine.
Funded by LIFT, the Livelihoods and Food Security Trust Fund, Tat Lan started its work in March 2013 after an assessment revealed that Myebon, Minbya, Pauktaw and Kyaukphyu townships faced serious food security and livelihoods challenges in the aftermath of Cyclone Giri, a Category 4 storm that hit Rakhine in October 2010, killing at least 157 people.
The VSLAs enable villagers to make deposits and borrow at low interest, as well as receiving an annual dividend. They are based on a system introduced in Kenya decades ago.
"The model of VSLAs in Myanmar is exactly the same as the one implemented in Kenya," said Ms Sharon Mosin, a financial services consultant from Kenya who worked on the Tat Lan programme.
"It was important to replicate the model because it has worked well for the communities in Kenya. The only difference would be that in Kenya VSLAs are now using mobile phones to collect savings and disburse loans. With the growth of mobile money in Myanmar, VSLAs in Myanmar can utilise the service in the VSLAs as well," Mosin told Frontier by email.
"The key difference between VSLAs and other group-based systems is that first, the interest earned through loans is paid back to group members, and second, groups disband at the end of a cycle and share out their assets including interest earned," Mosin said. The cycles are usually eight months or a year.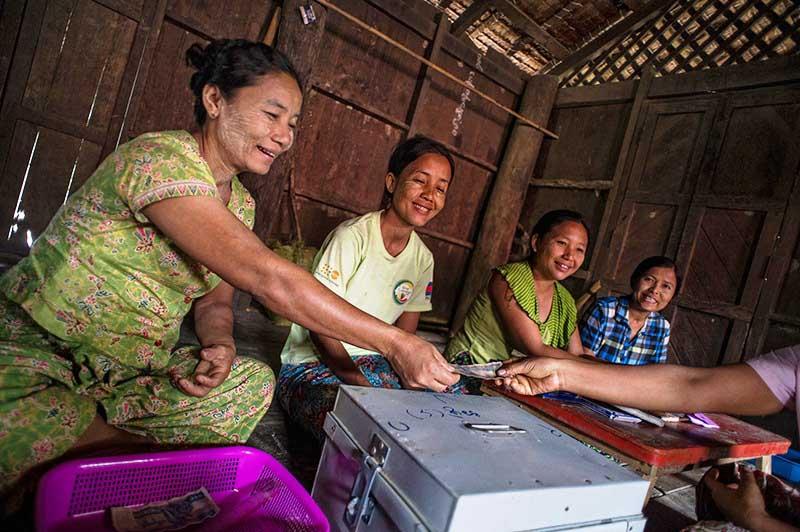 A minimum of 15 people is needed to establish a VSLA, one of whom is chosen by the group to be its leader. The group decides on the value of each share – which is typically K1,000 in the first year. Each member must save one share each month, and can invest up to five shares a month in order to increase their equity. The size of a loan someone can borrow is measured against the money saved in the box, and all transactions are noted in a member's personal Savings and Loan VSLA Record Book.
Members deposit their share money in an iron box that needs three keys to be opened. The keys are kept by three different members, to ensure the protection of the savings.
Members can borrow from the association after making a deposit every fortnight for six weeks. They can borrow three times the amount they have saved, but must repay the loan within three months. The interest rate on loans is five percent.
Ma Ma Than said she appreciates being able to borrow money at five percent interest and having three months to repay loans.
"If you borrowed from a money lender you would normally have to pay [high] interest," said Ma Ma Than. "You would also often have to give them jewellery or a precious item," as collateral, she said.
Daw Ohn Sein Than, 48, of Kyaing Chaung village in Minbya, also uses her community's VSLA as a bank. "It's not too difficult to have to make deposits every month," said Ohn Sein Than, who has set foot in a bank. "Without the discipline of compulsory deposits, you wouldn't save at all," she said, adding that she also appreciated only being able to withdraw her funds at the end of each year of saving.
Members receive a statement each year showing how much they have earned in interest, or if they have incurred financial penalties, which could include late repayment of a loan, failing to save a share each month or regularly missing meetings.
Ohn Sein Than said her statement last year showed a balance of K376,000, of which more than K100,000 was interest on her savings.
"Each participant can earn up to 27 percent interest on their savings in a year," said Ms Jennifer Macintyre, Tat Lan's communications manager.
"Previously, these people in Rakhine State were paying up to 25 percent interest on their loans to village money lenders," Macintyre told Frontier.
VSLAs have been established by 348 groups in 196 remote villages since being launched in Myebon, Minbya, Pauktaw and Kyaukphu in 2013, she said, adding that the associations have more than 8,000 members and deposits totalling more than K1 billion.
Women account for about 90 percent of VSLA members, mainly because they are able to attend meetings during the day.
"An unexpected, positive outcome is the confidence women develop in their groups, and this flows over into their willingness to take leadership position in the community," Macintyre said.
TOP PHOTO: Kaung Htet | Tat Lan