In the decades of military rule, millions of Myanmar citizens left the country in search of better opportunities abroad. Since reforms began many have returned in the hope of contributing to their country's continued growth – but most still face challenges in their homeland.
By KYAW PHONE KYAW | FRONTIER
The exodus of Myanmar's precious youth and educated middle class to greener fields abroad began with a trickle after the military seized power in 1962 and grew into a torrent after the national uprising was crushed in 1988.
It was only after the quasi-civilian government of President U Thein Sein took power in 2011 and began introducing political and economic reforms that the exodus began to ease and expatriate Myanmar began returning to their motherland.
The 2014 census showed that Myanmar has a population of nearly 51.5 million, significantly below previous estimates of about 60 million. There was speculation that expatriates might account for the difference because even the government does not know how many citizens are living abroad.
Repatriates are sometimes called "salmon" after a song by famous singer Khin One that was a hit after its release in 1981 and remains popular. "Return of the salmon" is about the belief sustaining many expatriates that they will eventually return home no matter how hard the journey, like a salmon's determined return, whatever the obstacles, to where it was born to spawn.
Frontier interviewed some of the "salmon" who returned after 2011.
Chit Tun Pe (aka Chris Tun)
Ko Chit Tun Pe, 45, has a background in IT and management. He acquired IT skills in Singapore after heading there in the chaotic aftermath of the 1988 uprising after finishing two years of a degree in industrial chemistry at Rangoon University of Art and Science. He returned to Myanmar in 1997 and founded the IT company Inforithm-Maze with friends.
In 2004, he went to the United States for further study, earning a Master of Science at Boston University. After gaining an MBA at an Australian university, he joined multinational consultancy, Deloitte, where he worked for 10 years, on strategies for transforming and modernising organisations, most of which were under the US government.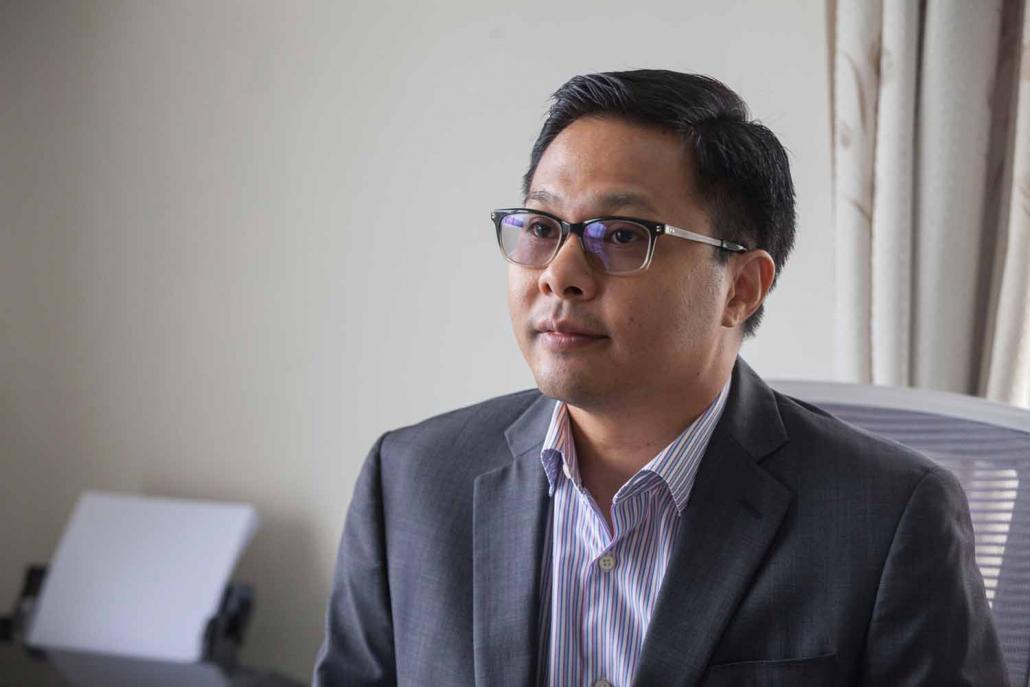 When he returned to Myanmar in 2013 it was as the country director for Deloitte. He was offered the position when Deloitte decided to open an office in Myanmar.
"The main reason I came back is the political transition," he said. "I saw the 1988 uprising, although I didn't much participate in it. So for me, the political transition is wonderful."
Chit Tun Pe said many Myanmar who live overseas want to return and make a contribution because they feel uncomfortable about being able to enjoy a high standard of living and a well-paid job when their country is in poverty.
"I want my country to change," he said.
On his return to Myanmar he was welcomed by a case of dengue fever.
"It took a while to get used to the inconveniences," he said.
Chit Tun Pe says his most memorable experience since his return was the opportunity to share his knowledge and experiences with about 900 National League for Democracy candidates shortly before campaigning began in last year's general election.
He has observed that the capacity gap is big and hopes to make a contribution towards narrowing it, though he has no involvement in politics.
Chit Tun Pe left Deloitte in August to found a consulting firm, Tun Group of Asia, that is screening licence applications for new privately owned TV channels for the Ministry of Information. With a group of friends he also co-founded another consultancy, Katalyst.
He is confident that repatriates will play a significant role towards human resources development, but is disappointed that repats, experts and experienced Myanmar who have never been abroad are working separately.
"These three groups need to work together," he said.
Chit Tun Pe believes that children from wealthy families who have gone abroad to further their education will emerge as the business leaders of the future.
"The ones who can corporatise and adapt their family businesses can be successful," he said, adding that he expects the emergence of many sectoral champions aged between 25 and 40 rather than one person controlling many sectors as in the past.
Hnin Yee Htun, Father's Office bar and restaurant
The life of Ma Hnin Yee Htun, 28, better known as Hnin Win, was also disrupted by the 1988 uprising, as the baby daughter of a political activist.
Her father was deeply involved in the uprising as a prominent member of the All Burma Students' Democratic Front, also known as the Students' Army, when she was born in the Mon State capital, Mawlamyine, on August 6, 1988, two days before the start of the 8-8-88 mass protests. Hnin Yee Htun was separated from her father when she was three months old and did not see him again until 2000 when she fled the country as a 12-year-old in ninth grade. They were reunited in a refugee camp on the Thai border.
Her family wanted to be resettled in the US but their plans were frustrated by the consequences of the terror attacks there in September 2001 and it instead headed to Australia, settling in Melbourne. She studied furniture design and technology at RMIT University as well as commercial cooking at William Angliss Institute and opened a restaurant in Melbourne.
Hnin Yee Htun returned to Myanmar in 2015 in time for the Thingyan traditional New Year festival and delighted in participating in celebrations she had greatly missed. Relatives advised her to return to Yangon and open a restaurant. She had experience in starting a business and had saved some money and liked the idea.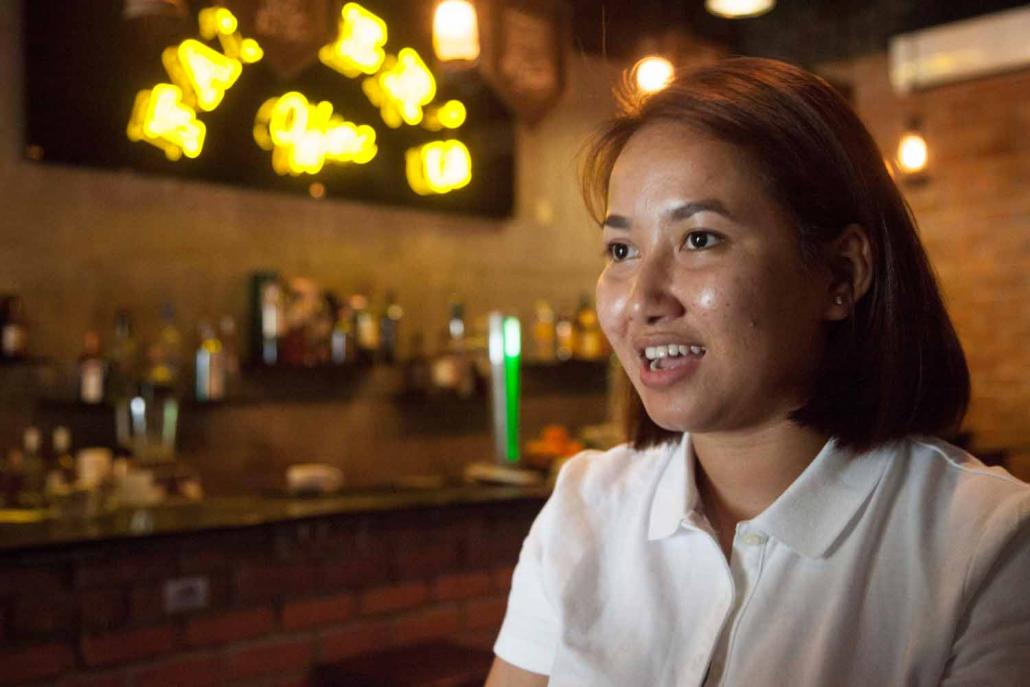 "I went back to Australia and took a month to consider before deciding to take the risk," she said. "I had a feeling that the National League for Democracy would win the election and it made me optimistic for a better situation. It was one of big factors that influenced my decision to return."
She returned and scouted for a suitable venue before opening Father's Office bar and restaurant on Bo Aung Kyaw Street in downtown Yangon, opposite the Secretariat compound. The bar is named in honour of the father of independence, General Aung San, who was assassinated in the Secretariat on July 19, 1947, with eight others, including six members of his cabinet. The restaurant opened on November 25, 2015, less than three weeks after her election prediction came true.
"I don't have any regrets about coming back," Hnin Yee Htun said in an interview in the bar that she proudly designed.
"Everything in this bar is my idea."
After a year of operation she said the bar was about 40 percent successful. "But I'm satisfied because no one can be 100 percent successful in a year," she said, adding that starting and running the business was one of the most enriching experiences of her life.
Hnin Yee Htun says that although she expects the influence of old cronies to remain in business there will be "more space" for the younger generation.
One of the main reasons she returned was the prospect of an NLD government, though she is yet to be satisfied with its performance.
"But I think we have to give them more time because they don't have experience."
Joshua Set Paing Htet, Allen & Overy
Ko Joshua Set Paing Htet, 32, an associate with London-based international law firm Allen & Overy, spent years abroad studying on scholarships. Last year, he returned to Myanmar to work with corporate law firm Allen & Overy.
Joshua Set Paing Htet, originally from Mandalay, has been an academic achiever since he passed the matriculation exam with six distinctions.
"Normally, a student who passes the matriculation exam with six distinctions does medicine but my father had a long vision and he encouraged me to apply for scholarships so I could study abroad," he said.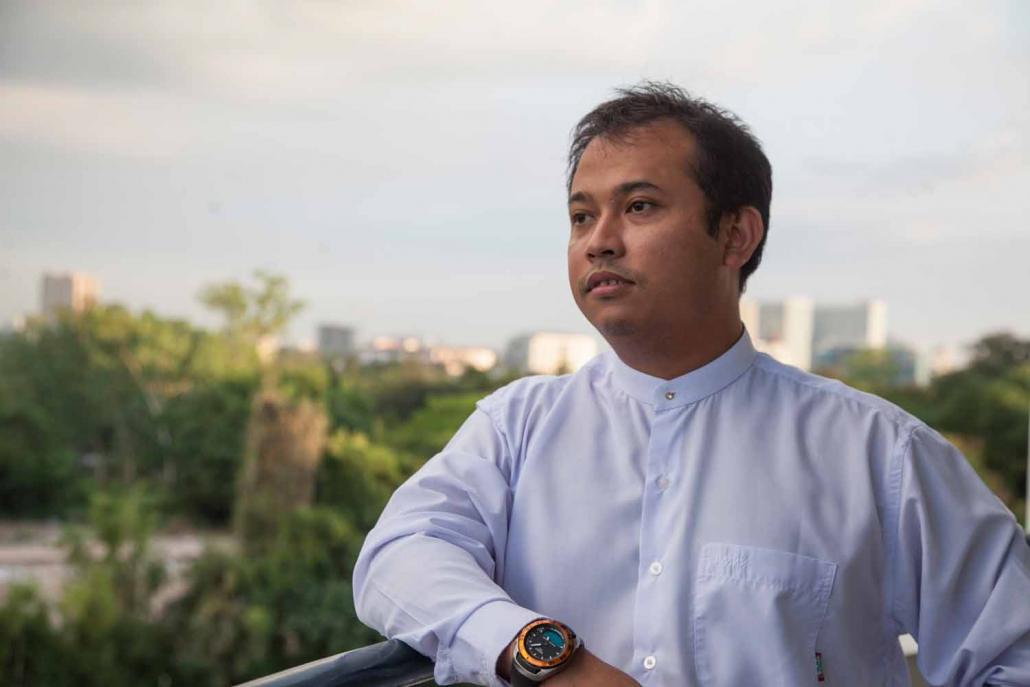 Following his father's advice led to some setbacks and changes of plan but Joshua Set Paing Htet was determined to succeed.
He initially intended to study in Japan and spent three years learning Japanese but there was a problem with the scholarship organisation and he missed the chance. Undaunted, he studied English to be able to apply for a scholarship to study in Britain. He went instead to the US in 2002 after being awarded a scholarship to study at the University of North Carolina, before moving to Britain to study history and business at the University of Surrey.
Joshua Set Paing Htet was then awarded a scholarship to study at the BPP Law School in London and later went to Oxford.
"The main thing I got from studying abroad was another way of thinking. Social life on campus was also important and the networks we developed at universities are very helpful for us," he said.
In 2013, Joshua Set Paing Htet joined Allen & Overy's projects, energy and infrastructure group in London. The law firm was Telenor's legal adviser when it applied for a telecommunications licence in 2013 under the U Thein Sein government.
Joshua Set Paing Htet returned to Myanmar in September last year as a member of Allen & Overy's Myanmar Interest Group.
"Even though there are legal experts in parliament, the laws need to be more detailed and precise. When a law is enacted, there needs to be an exact explanation of the reasoning and concept of the law. From my lawyer's point of view, this is crucial," he said.
Joshua Set Paing Htet is positive about the contribution young, educated repats can make to the development of Myanmar.
"In my father's time, young people did not have the chance to use their ability no matter how smart they were because the country was in a bad situation. Now, we can," he said.
Thura Ko Ko, YGA Capital
Not many Myanmar have had the opportunity to work for leading global investment and banking companies, but Ko Thura Ko Ko, 42, is one of the few.
He left Myanmar in 1980, aged six, when his family migrated to Britain, and launched a successful career in investment banking after graduating from the London School of Economics and Political Science with an Economics degree in 1995.
After LSE he joined American global investment giant Goldman Sachs as an assistant director, leaving after four-and-a-half years later to join British multinational investment banking company, NM Rothschild & Sons. He later spent three years working for US-based Providence Equity Partners, which specialises in investments in media, communications and information, and was vice president when he left the company.
Thura Ko Ko has about 12 years' experience in investment banking, much of it in Southeast Asia.
He returned to Myanmar in 2010 and founded YGA Capital. The initials stand for Yan Gyi Aung, the name of his grandfather's rice mill at Shwebo in Sagaing Region that was nationalised under General Ne Win's Socialist government.
His decision to return to Myanmar was partly influenced by working in Hong Kong, Vietnam and other Southeast Asian countries, and realising how much he had to depend on coworkers born in those places.
"So I thought, if I return to Myanmar, I might get a leading position," he said, adding that he was also curious to find out if his experience and knowledge could be useful in his homeland.
Thura Ko Ko said the biggest adjustment to returning to Myanmar was building a network of Myanmar friends and associates after so many years away. "Once I did that I was happier," he said.
He says repats such as himself can play a valuable role by providing a global context to Myanmar experts and policy makers.
"It is what we are good at, but we also need to learn the local context from them," he said.
Thura Ko Ko says the ability to adapt to changing circumstances is crucial for Myanmar's future success.
"The locals have to adapt to international norms, such as corporate governance. And the expatriates and repatriates have to adapt to local circumstances," he said.
Thura Ko Ko said the previous government had made significant reforms in some sectors and that the NLD government deserved credit for the stable progress of the transition.
"We know they need more time," he said, referring to the government, "but they should do something about job creation. People like me can wait but the people at the grassroots cannot."
Asked about the business climate, Thura Ko Ko expressed disappointment at the public debate over the government's priorities. "I think we need to focus on implementation," he said. "We can always offer constructive criticism if the government's reforms are wrong and they can fix it. We should not argue about it anymore."