An explosion on the edge of a village leaves three young children scarred for life in Shan State.
By ANN WANG | FRONTIER
The three young cousins were walking home from school beside a road on the outskirts of Manbain village in northern Shan State when one of them stepped on a landmine. The blast created a hole the size of a football that was still visible in early November, a month after the incident.
Neighbours bundled the three children into a pedicab and rushed them to a government hospital in Muse. The journey to the bustling trade city on the border with China took about two hours.
"They were covered in blood when they arrived at the hospital. There wasn't a clean piece of clothes I could hold on to," said their uncle Dong.
Luo Ben Qing, 12, who lost the sight of his right eye, and Lu Ben Cing, 10, who suffered severe cuts, returned home after spending a month in a hospital in Mang City, across the border in China's Yunnan Province. Lo Qiao Xiuo, 10, the only girl in the group, remains in hospital in Mang City. The blast gouged a fist-sized hole in her right calf.
"I never expected this to happen to my children," said Ben Qing's mother, Zheng Cong Di, in heavily Yunnanese-accented Chinese.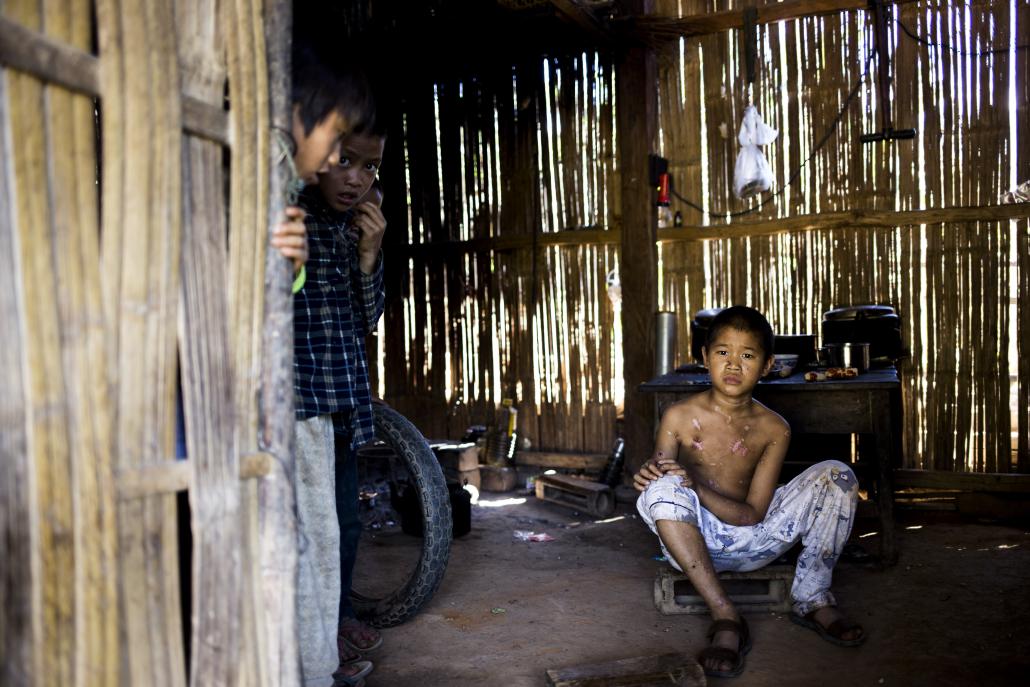 Mrs Zheng, 36, a corn farmer, and her husband, were waiting at about 8am on October 2 for their son to come home for breakfast after spending the night at school.
"We heard a loud bomb," she said. "I could see the dust from my house, but hearing explosions and gunfire is normal in my village so I didn't think anything at first."
The next time the couple saw Ben Qing it was after midnight at the hospital in Muse.
"The doctors removed the shrapnel from their bodies and wrapped it in three, separate blood-stained bags, one for each child," said Mrs Zheng. "They won't let us see the shrapnel debris; I don't know why," she said, before trying in vain to encourage the 10-year-old to stand and walk.
Ben Qing has refused to walk since returning home from hospital, where he received a skin graft to his right knee. Ben Qing was already a shy boy but now he rarely speaks, Mrs Zheng said. "Because of this he will miss school. Now that his right eye is blind what am I going to do?"
The residents of Manbain village do not know who planted the mine that injured the three children. Their teacher, Zuo Wen Jie, the principal and pastor of a Christian evangelical school in the village, wants to find out if more landmines have been laid in the area so he can warn his students.
Ben Qing's mother is outraged about the incident. "My child is innocent," she said. She is too afraid to even think about who may have planted the device that injured her only son. The idea of reporting the incident to the authorities never crossed her mind. "Report to who? The police or armed local groups?" she said.
She pushed her head down to illustrate that speaking out is not an option. "The right thing to do is to keep our head low, and stay silent, or else…"
To further emphasise her fear she made another gesture, and drew her index finger across her throat.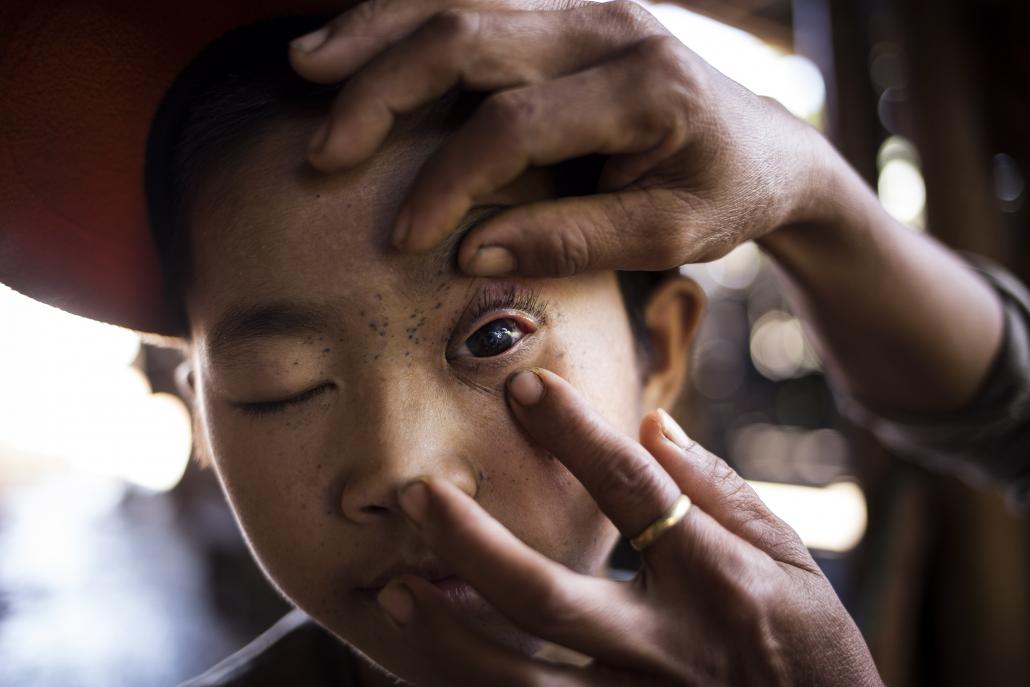 The Luo family is fourth generation Sino-Burmese. They are among about 10 ethnic Chinese families and 100 Kachin families who inhabit Manbain.
"Living here is no longer safe," said Mr Dong, 29, an uncle of the three children. "I want to take my entire family from the village to Muse," he said.
Mr Dong, who only speaks Chinese, said he has a hard time finding work. He returned to the village about two months ago after serving a nine-year jail term in China for using and selling methamphetamine.
Mr Zuo, the school principal, said the area's ethnic Chinese community is "troubled".
"The fighting between armed groups with the Burmese military, the drugs, and the dilemma between passing down the Chinese language and culture or becoming a Burmese are all factor," said Mr Zuo.
Conflict between armed groups and the Tatmadaw is affecting the lives of the villagers, he said.
"Without speaking Burmese, the villager can go work in China, but the ongoing war is causing the villagers to lose their land, their propriety, and the risk of being injured or killed," said Mr Zuo.
Since the incident the Luo family has received assistance from a Kokang social welfare association, whose members include Qi Zheng Ziang, 33, a Kokang native. Ms Qi said staff from the foundation accompanied the family to China after the children were injured and it has provided financial assistance.
"So far we were able to collect a total of 8,000 renminbi (about US$1,250) from both the public or the foundation itself," Ms Qi said in Chinese, speaking by WeChat from the hospital while helping to take care of Qiao Xiou.
"We don't know if this amount of money will be enough, because all three children will be facing a long road of recovery," she said.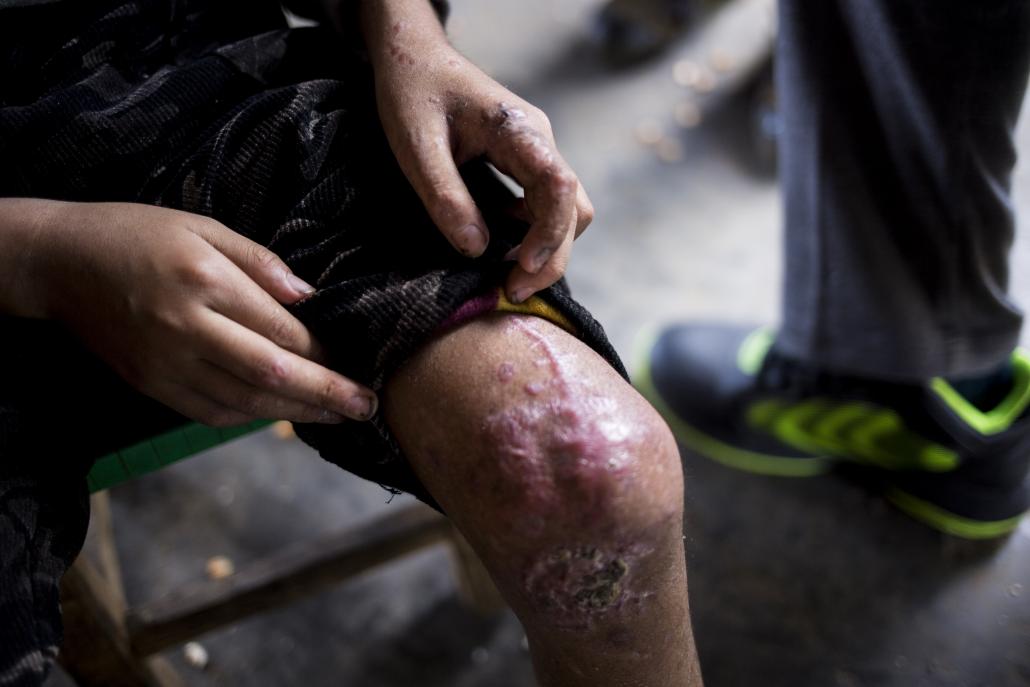 Hidden Threat
Myanmar has one of the world's highest landmine casualty rates, show figures from the annual report of the International Campaign to Ban Landmines, released this month. There were 251 landmine casualties reported in Myanmar in 2014, placing it third after Afghanistan, with 1,296 and Colombia, with 286.
Myanmar is one of about 35 countries, along with China, Russia, the United States, India, Singapore, North Korea and South Korea, that have not signed the 1997 Anti-personnel Mine Ban Convention, known as the Ottawa Treaty.
In Myanmar's protracted civil conflict, the Tatmadaw and armed ethnic groups have used and continue to use land mines. Some of the world's top anti-mining groups, including Scotland-based HALO Trust, have a presence in Myanmar but have made little progress in being able to clear mined areas. "We are the biggest operator in the world but have not cleared a single mine in Myanmar in three years of being here," HALO Trust's representative in Yangon, Henry Leach, told the Myanmar Times in July.
At least 3,145 land mine survivors have been identified in Myanmar since 1999, said the Landmine and Cluster Munition Monitor, the research arm of the International Campaign to Ban Landmines and a related group, the Cluster Munition Coalition. The LCMM believes information about landmine incidents in Myanmar is flawed because of a lack of collaboration and information sharing. A civil society group, Mine Free Myanmar, estimates the total number of land mine victims at more than 40,000.
The national ceasefire agreement signed in October by the government and eight ethnic armed groups states that the parties to the accord will not lay any landmines and will remove all remaining landmines. The groups that did not sign the agreement include the United Wa State Army and the Kachin Independence Army, which operate in areas heavily affected by landmines.