An expedition planned by three Myanmar climbers is aimed at ending years of speculation over which of two peaks is the highest mountain in Southeast Asia.
By HTUN KHAING | FRONTIER
A MYANMAR climbing team plans to travel to northern Kachin State next year on a mission aimed at ending years of speculation over which of two snow-capped peaks in the eastern Himalayas is the highest mountain in Southeast Asia.
Is it the reigning titleholder, Hkakabo Razi, at 5,881 metres (19,295 feet), or its nearby challenger, Gamlang Razi, which has been measured at 5,870m (19,259ft)?
Speculation that Gamlang Razi might deserve the title has intensified since 2013, when it was first summited by a team of American and Myanmar climbers who used GPS equipment to measure its height with precision.
Mr Takashi Ozaki, a Japanese climber who made the first ascent of Hkakabo Razi in 1996 with Myanmar's U Nyima Gyaltsen, an ethnic Tibetan also known as U Aung Tse, confirmed its elevation at 5,881m but was using equipment that predated GPS technology.
The three-member Myanmar mountaineering team will be carrying GPS equipment next August when it begins a bid to summit Hkakabo Razi that will take at least six gruelling weeks of trekking and climbing on terrain ranging from dense rainforest jungle to sheer, ice-covered slopes.
Until GPS equipment enabled Gamlang Razi's elevation to be measured by the team of five United States and two Myanmar climbers who summited the peak for the first time in 2013, maps had shown big variations in its height.
They had ranged from 5,881m, matching that of Hkakabo Razi, on an Indian map, 5,691m on post-World War II Chinese and Russian maps, and 5,758m on a chart in the Harvard Map Collection at Harvard University in the US.
"The known height of Gamlang Razi is lower than the estimated height of Hkakabo Razi and climbing it will confirm which is the higher," said U Paw Myint Oo, an executive officer of the Htoo Foundation, run by the tycoon U Tay Za, which has funded many climbing expeditions in northern Kachin.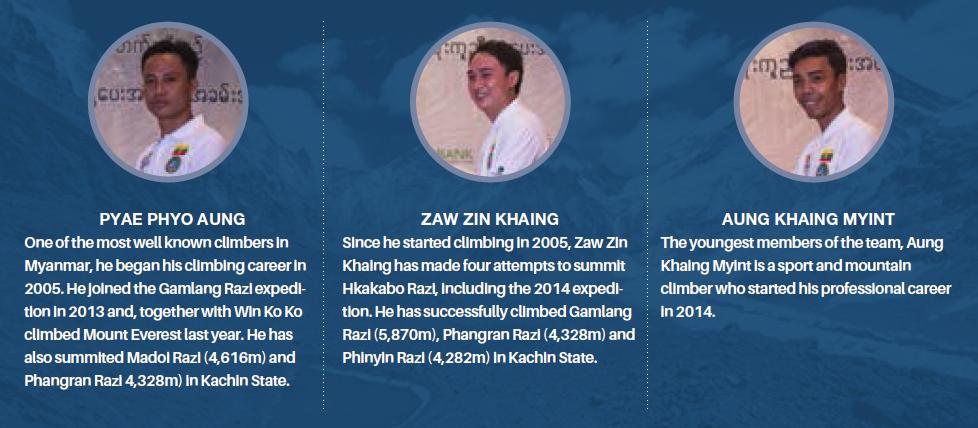 However, climbing Hkakabo Razi is easier said than done. Of the four people who have summited Hkakabo Razi since the first ascent by Ozaki and Nyima Gyaltsen in 1996, only the Myanmar Tibetan is alive. Ozaki, who made the first north face ascent of Everest in 1980, died from medical problems while ascending the world's highest peak in 2011.
The first successful attempt by a Myanmar team to summit Hkakabo Razi in 2014 ended in tragedy when two climbers with the eight-member team, Ko Aung Myint Myat and Ko Wai Yan Moe Thu, disappeared during the descent.
The University Trekking and Mountaineering Association said contact with the pair was lost after they summited Hkakabo Razi on August 31, 2014.
An operation to find the missing climbers also ended in tragedy when a Thai helicopter chartered by the Htoo Foundation to deliver supplies to a search team on the ground crashed soon after leaving Putao on September 27, 2014.
The three men aboard the helicopter survived a forced landing but the Myanmar co-pilot, U Aung Myat Toe, suffered fatal injuries. His body was recovered four days after the Thai pilot and a Htoo Foundation representative walked into a remote Kachin village on October 7, 2014.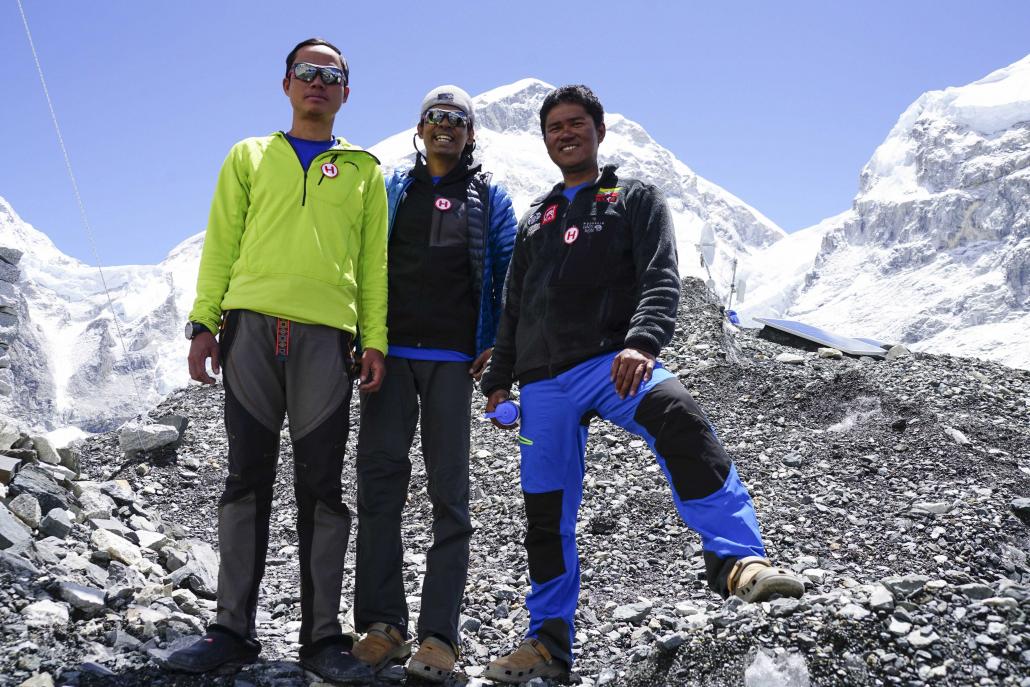 "We will give priority to safety and be careful not to take any unnecessary risks," said Ko Pyae Phyo Aung, 35, one of the three seasoned mountaineers on next year's expedition.
On May 19 last year, Pyae Phyo Aung and Ko Win Ko Ko earned the distinction of being the first Myanmar nationals to climb Everest.
Of the three routes that have been used in attempts to climb Hkakabo Razi – south, north and west – the team has opted to follow in the footsteps of Ozaki and Nyima Gyaltsen and scale the mountain by its southern ridge.
However, the decision on the climbing route may change depending on the weather, which is notoriously difficult to predict.
"Hkakabo Razi is not too high, but it is difficult to climb and the weather conditions tend to change often," said the second member of the team, Ko Aung Khaing Myint, 30.
The Myanmar mountaineers, who are all members of the Myanmar Hiking and Mountaineering Federation, will not be the first to try to determine a precise height for Hkakabo Razi.
In November 2014, freezing weather conditions forced three climbers with a six-member US mountaineering team to abandon an attempt to summit Hkakobo Razi when they were tantalisingly close to the summit.
The trio abandoned the attempt at 5,742m, and estimated that the summit was about another 240 metres higher. If their estimate was correct, it would give Hkakabo Razi a height of 5,982m, edging Gamlang Razi by 112m.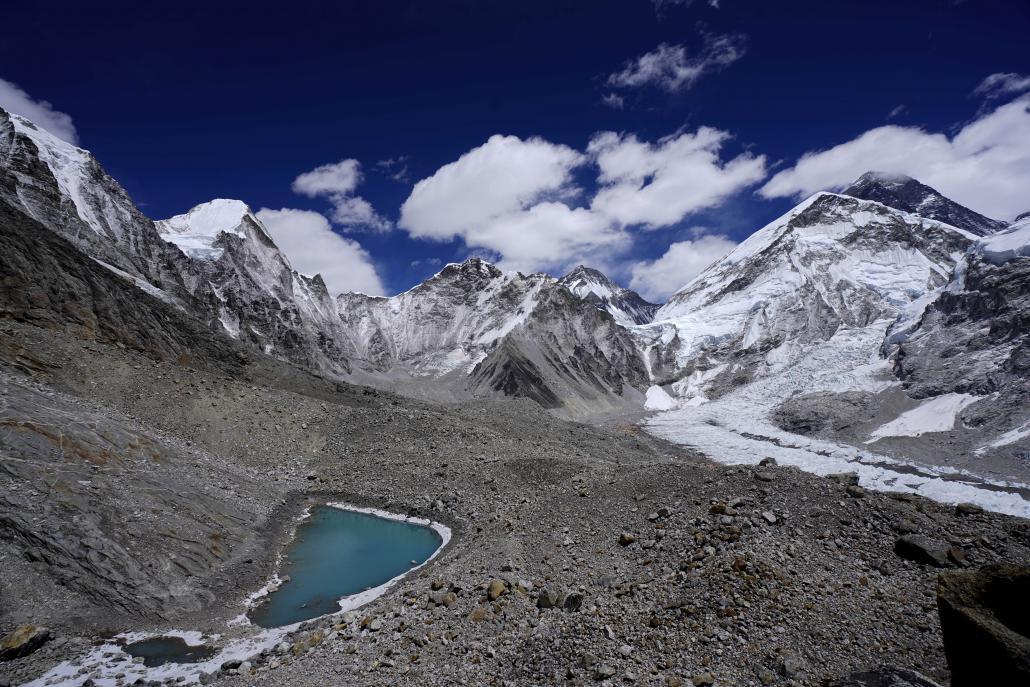 A challenge of any attempt on Hkakabo Razi is that it involves more than two weeks arduous trekking through jungle terrain just to reach the foot of the mountain and establish a base camp.
Audio-visual records made by Ozaki and Nyima Gyaltsen in 1996 showed porters negotiating muddy jungle paths and fording icy streams on flimsy suspension bridges.
If the Myanmar climbers succeed in reaching the summit of Hkakabo Razi their challenges will be far from over. Mountaineering records show that more accidents occur while descending mountains rather than climbing them.
There's an element of national pride in the team's determination to solve the mystery over which mountain is higher, said Ko Zaw Zin Khaing, 31, the third member of the team.
"If we can confirm the height of Hkakabo Razi," he said, "we will know which is the highest mountain in Southeast Asia and it will be a milestone for our country."
TOP PHOTO: Ko Aung Khaing Myint, one of three climbers taking part in the expedition, practices at a climbing wall in Yangon. (Nyein Su Wai Kyaw Soe | Frontier)