By SEAN GLEESON | FRONTIER
YANGON — Multiple trials, longer sentences and the creation of a "climate of fear" among activists have accompanied increased number of politically-motivated arrests in the last two years, according to a new Amnesty International report into Myanmar's prisoners of conscience.
Despite extensive and internationally heralded political reform since 2011, and hopes that the incoming National League for Democracy government will take steps to end the incarceration of political prisoners when it takes office next month, Amnesty reported that authorities were continuing to use Myanmar's "repressive" legal framework to imprison protesters and human rights defenders.
"Almost every group that could be viewed as a potential threat has been targeted," Champa Patel, Amnesty's Southeast Asia director, told a Thursday press conference in Yangon, adding that executive pardons issued under President U Thein Sein had little long-term impact on political prosecutions.
Amnesty's report claimed that authorities had deliberately targeted political, trade union and land rights leaders in a "disturbing number of cases" in order to stifle criticism and dissent. It cited among other cases the sentence of nearly 14-year sentence handed down in 2014 to U Htin Kyaw, who was arrested for distributing leaflets that criticised the government's inaction on land-grabbing cases.
"This is a cynical tactic by authorities to silence whole movements by targeting their most powerful voices," Ms Haigh said on Thursday.
Htin Kyaw was one of a number of cases cited in the report of authorities lodging multiple charges against activists, occasionally in separate township courts, in order to prolong the sentences of prisoners of conscience.
The report also expressed concern that authorities were waiting months or years to lodge charges against activists, leaving the possibility of a prison sentence as an apparent deterrent against future political activity.
In one instance in December 2013, civil society activist Daw Naw Ohn Hla was charged for organising a prayer ceremony that called for the release of NLD leader Daw Aung San Suu Kyi — at that time under house arrest — and other prisoners of conscience during the unrest of the Saffron Uprising in September 2007.
Charged with disturbing a religious ceremony, Naw Ohn Hla was sentenced to six months' imprisonment in June 2015, nearly eight years after the events at the centre of the prosecution's case.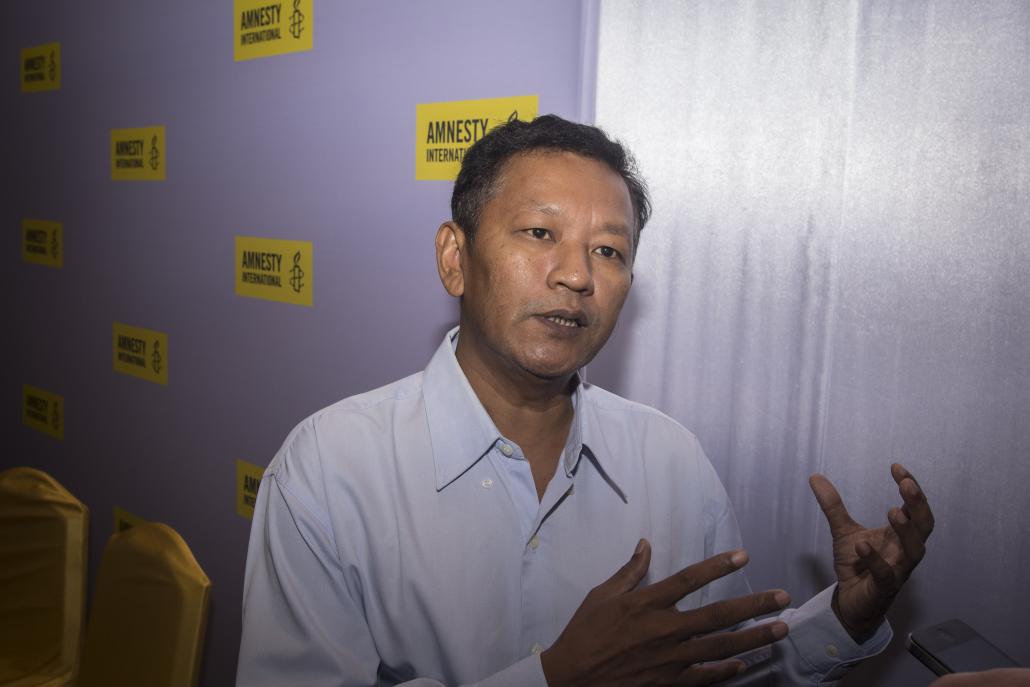 Changing of the guard
Thursday's press conference was the first time Amnesty International had staged an official event in Myanmar. Long one of the former military regime's bêtes noires, Amnesty's official presence in the country was a reminder of the dramatic changes in the national political landscape since a quasi-civilian government dominated by former military officers took control in 2011.
Speaking on Thursday, U Bo Kyi began his remarks at Thursday's press conference by thanking Amnesty for their 15 year association with the Assistance Association for Political Prisoners, of which he is joint secretary.
Himself a former long-term resident of Insein Prison — a birds-eye photograph of which hangs by the desk in his office in Mae Sot — Bo Kyi cautioned those present that the military's entrenched role in political life would prevent a quick solution to politically-motivated prosecutions.
"The new government and parliament will not have full authority to run the country under the 2008 Constitution. Under the constitution, the commander-in-chief is the most powerful person in the country," he said.
"I believe the new government will try to solve the issue of political prisoners, but without the cooperation of the commander-in-chief, solving the issue will be very difficult."
President U Thein Sein's most recent presidential amnesty in January saw the release of 52 people determined by the AAPP to be prisoners of conscience.
A number of political prisoners left behind were prosecuted for actions that raised the ire of Myanmar's military brass. They include five employees of the now-defunct Unity journal, who reported on what they alleged was a chemical weapons factory in Magway Region, and U Chit Ko, a former Air Force pilot serving 10 years in prison for asking the International Labour Organization for help in leaving his unit.
The AAPP estimated this month that by the end of February, 90 political prisoners remained behind bars in Myanmar, with a further 418 facing trial on politically-motivated charges.
Ms. Haigh said on Thursday that she remained hopeful that President U Thein Sein would release all remaining prisoners of conscience in Myanmar before his term ended on March 31, cementing his legacy as a reformer by fulfilling a pledge made during his earlier visit to London.
"I guarantee you that by the end of this year, there will be no prisoners of conscience in Myanmar," Thein Sein told an audience at Chatham House. The date was July 15, 2013.