The NLD government says fighting corruption is a priority but tackling the problem will require smart strategies, much patience and an acquiescent public service.
By THOMAS KEAN & HEIN KO SOE | FRONTIER
In a large, plain government office on the outskirts of Yangon, the official settles into his chair. He slowly undoes the buttons on his daik pone, worn for an urgent meeting earlier that morning with the new regional chief minister, U Phyo Min Thein.
Frontier has visited to ask about corruption. He gives the boilerplate response: there is no corruption in his department now, although it was sometimes an issue in the past.
But one question provokes a more animated and honest response: Do civil servant salaries need to be increased to fight graft?
"Do you even need to ask? Everybody knows the answer," he said, before turning the question around. "How much do you make a month?" He waits impatiently for the answer, and continues: "I've been working here for more than 30 years, I'm a director – and I get only K300,000 (US$255) a month."
Early strategies
For the National League for Democracy, the question is not if, but when, where and how to start fighting corruption. The party says a fair and just government is one of its priorities, and its election manifesto says it will "[t]ake effective action as necessary in order to establish a society free of corruption".
Expectations are clearly high. Less than two months after the handover of power, the President's Office has already been flooded with more than 2,000 corruption-related complaint letters.
Some measures have been announced. Daw Aung San Suu Kyi, in her capacity as state counsellor, has issued new rules that limit the type and value of gifts that civil servants can accept. She has also issued an edict that forbids government officials from hiring their relatives as assistants.
Less conventional steps have also been taken. In April, the government publicly shamed a media company for giving a K5 million gift to the assistant of a high-level government official during the water festival holiday.
Aside from these measures, though, there have been few specifics on how the government will approach the issue.
Contacted for comment, senior NLD officials were reluctant to give anything away. "If we state about our [anti-corruption] program then it will make it too difficult to tackle the problem," said U Win Htein. "It's better to stay quiet."
Even without declaring publicly a war on corruption, the message seems to be getting through to some. Anecdotal reports suggest that in the wake of the March 30 handover, government officials are increasingly reluctant to accept gifts or cash that were once standard for providing of a wide range of services. They range from fees to provide or fast-track public utility connections to bribes paid by vendors to municipal staff to operate stalls illegally in public areas. In other cases, such as Yangon's traffic police, the cash still seems to be flowing freely.
On Yangon's fringes, in Dagon Seikkan Township, two- and three-digit lottery sellers told Frontier that police were no longer accepting protection payments to allow them to operate. The payments had been a standard K30,000 a week, with the police sending a courier to collect the cash. Protection payments for other forms of gambling, such as on football, operate in the same way.
"Because of the government's 100-day plan, the police don't want to take the money. They told us that they are afraid of getting caught by their superiors," said one seller.
He said it was unclear what would happen at the end of the 100-day plan, which began on May 1. "In the past, when their superiors would come to crackdown on crime, the township police would warn us in advance. They said now they can't guarantee our security."
U Han Bo, who worked as a police sergeant for six years, said the money would filter up the ranks in the police force.
"I was responsible for one ward," he said. "After getting the money, we would divide it up, so I would get a share and some would go to different township- and district-level officers.
"Sometimes though when we hadn't met our target number of cases for the month we would still arrest the 'gambling bankers' [those who run the gambling operations] even though they'd paid us protection money," he said. "But if they didn't want to go to prison, they could pay money and substitute someone else in their place."
Corruption, though, takes many forms. A payment to a low-level government official is the most common and well known form of corruption – but not necessarily the most damaging.
Ko Naing Ko Ko, a PhD researcher at Australian National University who studies corruption, said he has documented more than 90 forms in the Myanmar context. Each type has a different impact on the economy, polity and society.
"Corruption in Myanmar is an institutionalised problem and it is also created by the failures of market, government and moral institutions. Both petty and grand corruption can be seen vividly at every layer in the society," he said.
Because it is so ingrained, fighting corruption could be a decades-long project, said Naing Ko Ko, who assisted the NLD on its election manifesto. It will require a range of measures, including higher salaries for civil servants and improved transparency (see breakout).
Naing Ko Ko expects the NLD government to focus during its five-year term on the public sector, but not touch corruption associated with the military and closely linked companies due to political sensitivities. At some point, those tougher subjects will have to be tackled.
How bad is it?
Because it takes place – at least normally – in dark corners, away from public scrutiny, the extent and impact of corruption is hard to quantify. Surveys on the topic have been rare in Myanmar because it was considered taboo until recently.
The most widely cited study is Transparency International's annual Corruption Perceptions Index, which last year placed Myanmar 147th out of 168 countries – on the same level as Democratic Republic of the Congo and Chad, and above only Cambodia in Southeast Asia.
But some additional research is beginning to emerge that paints a more detailed picture. In 2014, the World Bank conducted an enterprise survey of 642 firms in which 42.9 percent of respondents had been asked to pay a bribe, above the regional average of 35.9 percent, and well above the total average of 17.6 percent. Those surveyed estimated that in 35 percent of all public transactions it was expected they pay a bribe or give a gift – compared to the regional average of 29.3 percent and overall average of 12.9 percent.
Ms Vicky Bowman from the Myanmar Centre for Responsible Business said the World Bank survey arguably provided a better picture of corruption, because it was based on businesses' real experiences rather than perceptions.
"Overall, I suspect that corruption isn't much worse than some of Myanmar's ASEAN neighbours, and may well be better," she said.
One of the more surprising statistics from the World Bank survey is that few of the businesses surveyed regarded corruption to be a major constraint: just 9.3 percent, below both the regional (16.1 percent) and total (32.8 percent) averages.
Supporting this assessment, several Myanmar business owners told Frontier that they were concerned about the impact of anti-corruption efforts on the economy.
"Without an incentive on top of their salaries, why will civil servants do whatever you want them to do?" asked one. "They will not be willing to work. Already we have to wait too long for everything to be approved."
Another said, "The NLD wants to control everything. They should focus on encouraging businesses to grow first, because the most important thing is jobs. Look at the police crackdown on bars and massage parlours — this could leave thousands out of work."
An adviser to the NLD, who asked not to be named, said the leadership knows that civil servant salaries need to be increased, but also that broad pay rises are not immediately affordable – the most recent increase, in 2015-16, put the budget K3 trillion in the red.
Publicly, the party has promised not to embark on large-scale sackings of civil servants, but the adviser said this was dependant on government staff – including workers at state-owned enterprises – being corruption-free and open to retraining as the government seeks to reshape the bureaucracy. The party anticipates many will not meet these criteria, and this will free up room in the budget to increase the salaries of competent and professional government staff over time. "For now, they need to show us they are clean, and we'll take care of salaries later," he said.
But there are other elements that could be introduced to this carrot and stick approach to change the corruption game. Bowman calls these "system changes" – basically, ensuring transparency and cutting red tape. For example, if more government processes were handled online through electronic transactions, opportunities for graft would decline dramatically. Similarly, if fees for government services were always clearly stated, users of the services would know if officials were inflating them for personal profit.
"It needs … changes to culture, red tape and regulations, and a move away from the socialist/security control mindset, with its 1984-style requirement for multiple permits and chops, to a more streamlined system that cuts out the people in favour of automated processes," Bowman said.
Revamping the anti-corruption commission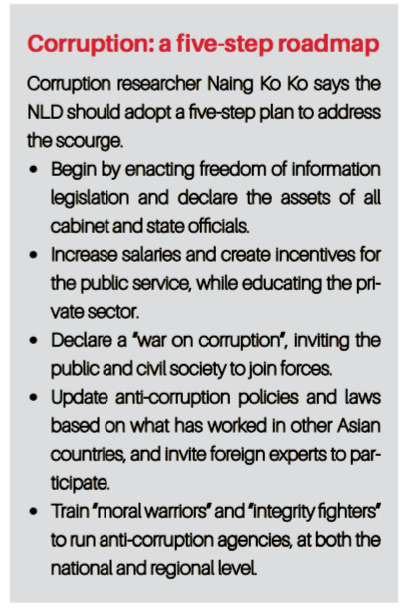 In recent weeks the NLD has made another move on the issue: amending the Anti-Corruption Law enacted U Thein Sein's government in 2013. The law mandates the formation of an Anti-Corruption Commission, which was set up in early 2014. Its current membership comprises a mix of former military officers and bureaucrats.
Few details about the proposed changes to the law have been publicly released, other than a plan to reduce the number of members from 15 to less than 10, in an effort to save money on salaries and allowances.
The law gives the commission broad powers, but a lack of high-profile targets has undermined its credibility.
The few cases that have been made public invariably involve low-ranking officials. In December 2015, the Myanmar Times reported that the rector of Meiktila University was under investigation after a construction company accused him of taking bribes totalling almost K11 million (US$9,330). The company had been given a contract to build a new wing at the university.
The case also highlighted a flaw in the law: its almost exclusive focus on civil servants. Companies that pay bribes, such as the construction firm at Meiktila, are not deemed to have done anything illegal. This means that the law, as it stands, does not comply with Myanmar's commitments under the UN Convention against Corruption.
During the past two years, the commission has become a lightning rod for the past administration's perceived failure to tackle corruption; last July, Eleven Media published an editorial titled, "Anti-Corruption Commission achieves little".
Win Htein was blunt in his assessment. "They are not practically [fighting corruption]. They are not doing anything," he said.
But commission member U Thin Maung told Frontier that the body had been working hard to investigate complaints over the past two years. He said it had faced no pressure to avoid sensitive cases.
Asked to provide examples of complaints it had investigated, he declined and said the commission's investigations were all "highly confidential" under the current law. He conceded that this strict confidentiality had undermined public confidence in the commission, but also insisted that the criticisms were unfair.
"In our committee we have an information team, but nobody contacted that committee for information. And they are saying we are not transparent – it's not fair," he said.
The commission has prepared a transfer report for the incoming members, but for now continues to fulfill its functions. Complaint letters flow in daily.
Thin Maung said he did not expect to be reselected to sit on the commission. "They [the NLD] will choose the people they trust," he said.
Learning lessons
The new government will soon benefit from a review by the United Nations Office on Drugs and Crime, which is examining Myanmar's implementation of UNCAC, the UN's anti-corruption treaty. The review should be completed by the end of the year and will include recommendations to improve the anti-corruption legal framework and enforcement capacity to ensure compliance.
Mr Akharakit Keeratithanachaiyos, anti-corruption specialist for the Bangkok-based UNODC regional office for Southeast Asia and Pacific, said corruption in Myanmar remained a top concern for businesses, particularly multinational corporations.
"The forthcoming recommendations from UNCAC implementation review will assist the Myanmar government in identifying specific measures to address loopholes and strengthen existing laws relating anti-bribery and liability of legal persons for corruption offences," he said.
The NLD can also draw lessons from the challenges the previous government faced implementing its own anti-corruption drive.
When Thein Sein took office in March 2011, he promised to introduce clean government and good governance. Most assessments would agree he made more progress on improving governance than tackling corruption. Myanmar registered only modest improvements on anti-corruption indices, but scored points for putting in place a more robust legal framework.
Former presidential spokesman U Ye Htut conceded the former administration should have done more. He said it made some progress, such as improving transparency in government procedures, such as tenders and contracts. In particular, the tender for two telecommunications licences, ultimately won by Telenor and Ooredoo, was held as a model for the government to pursue.
But these improvements were not spread evenly across the government. Tenders in some ministries still followed the familiar patterns of the past, with preferred bidders emerging triumphant. In extractive resources, the energy sector became more transparent but mining continued to lag far behind, most notably in the lucrative jade trade.
Ye Htut said the government's major failing was its reluctance to prosecute officials it knew to be corrupt, because of the divisions it feared such actions would have caused.
"We failed to take strong legal action against people who committed corruption in our government at various levels," he said. "Sometimes the government is very reluctant to take action because [those accused of corruption] are committed members of the government.
"That's why people cannot see the achievements … because in their daily lives they still face corruption."
But he also said the focus needed to be broadened, to acknowledge the "multi-faceted" nature of the problem.
"It is easy to blame the government officials," he said. "But businessmen and ordinary people are willing to give bribes to cut corners whenever they deal with the government."
Title photo: Maro Verli / Frontier