By YE MON | FRONTIER                                                                                                                             
BAGAN — Commercial development in the Bagan monument zone continued this week during an official visit by an expert from the International Council on Monuments and Sites, drawing ire from civil society groups, as authorities attempted to conceal the visit by withholding information from journalists.
ICOMOS expert Mr. Richard Mackay is researching a report for submission to the United Nations Educational, Scientific and Cultural Organization's World Heritage Committee, as UNESCO considers Myanmar's application for the ancient city to receive World Heritage status.
In January Myanmar submitted its final nomination dossier for Bagan to UNESCO, in which the government pledged to implement a management plan for the site.
U Aung Aung Kyaw, director of the Department of Archaeology, National Museum and Library in Bagan, told Frontier that UNESCO representatives would make official and unofficial visits to Bagan ahead of the decision in 2019.
"We need to be prepared for that, to avoid reports of mismanagement," he said.
But on September 19 when Frontier visited the most historically significant area of Bagan, known as the monument zone, the Aye Yar River View Resort-Old Bagan was extending its property and local conglomerate Eden Group was building a new hotel that will be managed by international brand Hilton Hotels & Resorts.
The projects have government permission to proceed, but local activists condemned the failure of authorities to stop construction because there are stupas in the hotel compounds.
U Myo Sat San, leader of Save The Bagan told Frontier on September 17 that he feared Bagan would not be granted World Heritage status after Mackay had seen the construction. Inappropriate commercial development has been a constant barrier to listing since an initial attempt was made in 1996.
"The nomination dossier said that hotels in the monument zone must be relocated to a hotel zone by 2028 when Bagan receives World Heritage status," he said. "I don't understand why they are extending hotels. The archeology department should prevent it, or at least stop construction during the visit."
Ko Naing Tun, a member of the Bagan-Nyaung U Committee for Cultural Site Implementation said he could not understand why Myanmar authorities were unable to control developers.
"Hotel construction should stop and businessmen should respect Bagan, because they are making money from the pagodas," he said.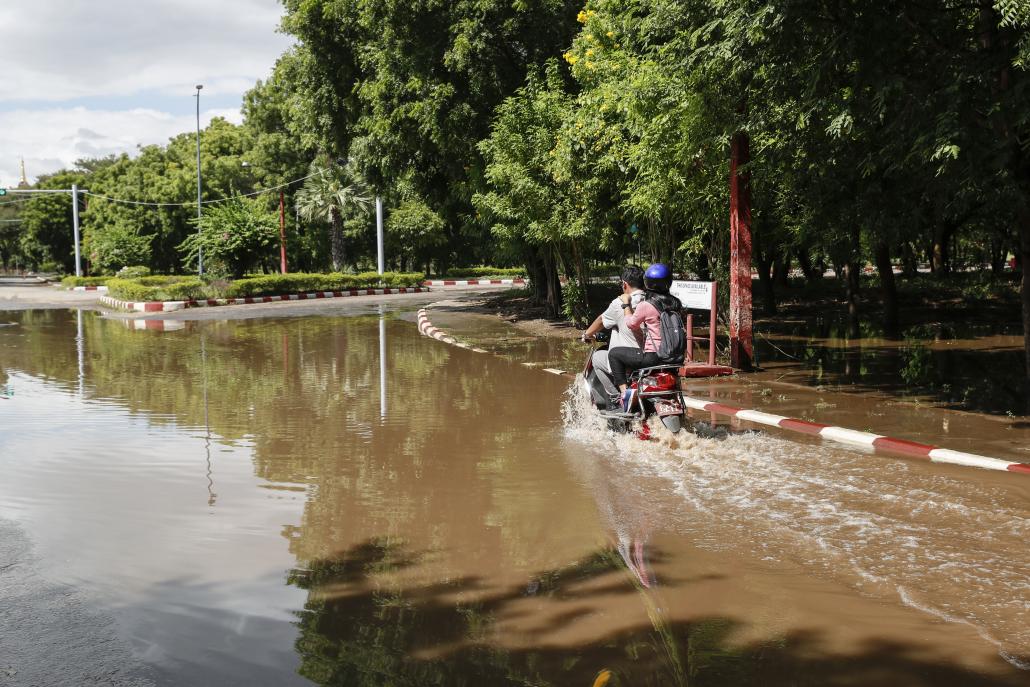 In another visible sign of mismanagement, the streets of Bagan flooded during Mackay's visit.
Even as the construction of new commercial developments continues in the monument zone, municipal authorities have failed to build a modern drainage system, said U Myo Sat San.
Myo Sat San said Nyaung-U Township authorities had a responsibility to ensure this did not happen and that hotels and restaurants in Bagan could dispose of their wastewater.
"The government should use the fees it collects from foreign tourists to build a drainage system," he said.
Hotels dispose of wastewater into the Ayeyarwady River, or underground. One hotelier told Frontier that his property had an underground tank system for storing waste, which was thrown into the fields at night.
He was aware of the impact this may have on the pagodas and the environment, but said hotels had no choice.
"We have no other way to manage our wastewater. The authorities have arranged nothing," he said.
A secret visit
Bagan authorities did not announce Mackay's visit and Frontier learned of it only from local community leaders. On September 16, Frontier encountered Aung Aung Kyaw in Bagan and asked when the ICOMOS expert would arrive. Aung Aung Kyaw replied that a visit was scheduled for an unspecified date in October.
At the time, Aung Aung Kyaw was with a foreigner, who he said had been sent by UNESCO to train Myanmar officials. It later transpired that this was not true, and that the foreigner was Mackay, the ICOMOS expert.
This became clear on September 19, when Frontier attended a meeting between Mackay and local community representatives at Bagan Archeological Museum.
Journalists were not told about the meeting, while those who attended were forbidden from taking photos. It was unclear why Aung Aung Kyaw attempted to conceal Mackay's visit and Frontier was unable to reach him for further comment.
U Thura Aung, secretary of Myanmar Archeology Association said on September 19 that the behavior of local authorities was unacceptable. They can choose to publicise visits at their discretion, he said, but should not lie to journalists.
"It's an official visit, so authorities should tell journalists the truth," he said.