Three projects totaling 900 megawatts that were due to go live on April 3 remain weeks, possibly months, away from completion. But thanks to COVID-19 and the apparent absence of a signed contract, the developers may avoid the heavy fines.
By KYAW YE LYNN | FRONTIER
YANGON — A Chinese consortium investing US$800 million in emergency power projects may escape heavy fines for failing to complete its projects on time by claiming to have been hampered by the COVID-19 global pandemic, officials say.
It is unclear whether the deadlines are even legally binding, one official told Frontier, as the consortium may not have signed a final contract with the ministry despite having already invested hundreds of millions of dollars in the projects.
Following a controversial tender, three liquefied-natural-gas-to-power projects – a 400-megawatt plant at Thaketa, 350MW plant at Thanlyin and 150MW plant at Kyaukphyu – were awarded in September last year to a consortium comprising China's state-owned China National Technical Import and Export Corporation and Hong Kong-listed VPower, with RGK+Z&A Group as a local partner.
Under the terms of the tender, the projects were due to begin producing power on April 3 – 210 days after the consortium receive letters of agreement from the Ministry of Electricity and Energy – or pay fines of K200 million a day for Thaketa, K180 million for Thanlyin and K30 million for Kyaukphyu, a combined total of almost US$300,000 a day.
However, the projects remain weeks and possibly months away from completion. When Frontier visited the consortium's Thilawa project site – from where liquefied natural gas will be offloaded for use at both Thanlyin and Thaketa – on April 2, there were few workers present and key infrastructure, including the jetty, remained incomplete.
Ministry officials have previously insisted to Frontier that they would fine the consortium if it missed the deadline, but that now appears in doubt.
Electric Power Generation Enterprise managing director U Than Naing Oo told Frontier on April 2 that the Attorney General's Office "has yet to decide whether [CNTIC and] VPower would be fined or not".
However, deputy permanent secretary U Soe Myint said a ministry executive committee would decide whether to levy the fines. "I can't disclose [when the meeting will be] as the issue is considered top secret," he added.
The consortium did not respond to repeated requests for comment.
On February 27, a consortium spokesperson said that it "has made its very best effort to mobilise firmwide resources to meet the project schedule while ensuring health and safety of its staff". 
"Support from the local government and cooperation from all parties involved will also be important to meet the tight project schedule."
The spokesperson refused to clarify whether there had been any negotiations over an extension, or whether the consortium had invoked or planned to invoke force majeure to void the deadline to begin producing power.
One ministry official said it was unclear whether there was even a legal basis to fine the consortium. Although it has already spent hundreds of millions of dollars, the consortium does not appear to have signed a final contract with the ministry.
If the consortium has signed a contract with the ministry and deposited a performance guarantee at a local bank, "the ministry will be legally bound to take legal action against the company for not meeting the deadline", the official said, adding that it could either seek a penalty or to cancel the project completely.
"I don't think there's any contract though ­– they don't even have a power purchase agreement yet – so the agreement would not be legally binding. And the main thing we want is power, so I don't think they would even be fined," he said.
"In this case, I think a decision will be made at ministry-level. There's no need to submit to cabinet or [the National Economic Coordination Committee]."
Chinese companies and acts of god
Another ministry official, who spoke on condition of anonymity, said the consortium was invoking or threatening to invoke force majeure, citing the impact of the global COVID-19 pandemic, to avoid any potential penalty.
Often referred to as "act of God", force majeure can be invoked in extreme, unforeseen circumstances – such as the outbreak of war or a natural disaster – to relieve a party of obligations under a contract and exempt them from liability for failing to meet the obligations. 
The bar is generally set high for invoking force majeure, and it often depends on the specific nature of the contract.
Nevertheless, a Chinese government-backed trade body, the China Council for the Promotion of International Trade, has issued thousands of certificates to Chinese companies certifying that due to COVID-19 they were victims of unforeseen events that prevented them from fulfilling contracts. Reuters reported that certificates issued by the agency to mid-March covered contracts worth $73 billion. China's National People's Congress also announced that Chinese companies should be able to seek relief under force majeure.
Although these might help in a Chinese court, some legal experts have questioned their legal validity in foreign settings, and energy companies including Total and Shell have already rejected requests from China National Offshore Oil Corp to suspend natural gas import contracts. 
In a note on March 26, the Yangon branch of legal advisory firm DFDL said that COVID-19 "may" fall within the bounds of force majeure. "In most contracts, the affected party wishing to enforce a force majeure clause must send a notice to the other party within a specified number of days from the occurrence of the event. Depending on the nature of the case, the contract may be terminated or an extension of time will be granted to perform the contract upon the force majeure event coming to an end," it said.
Given the large amounts already invested in the emergency power projects, a time extension seems more feasible than termination.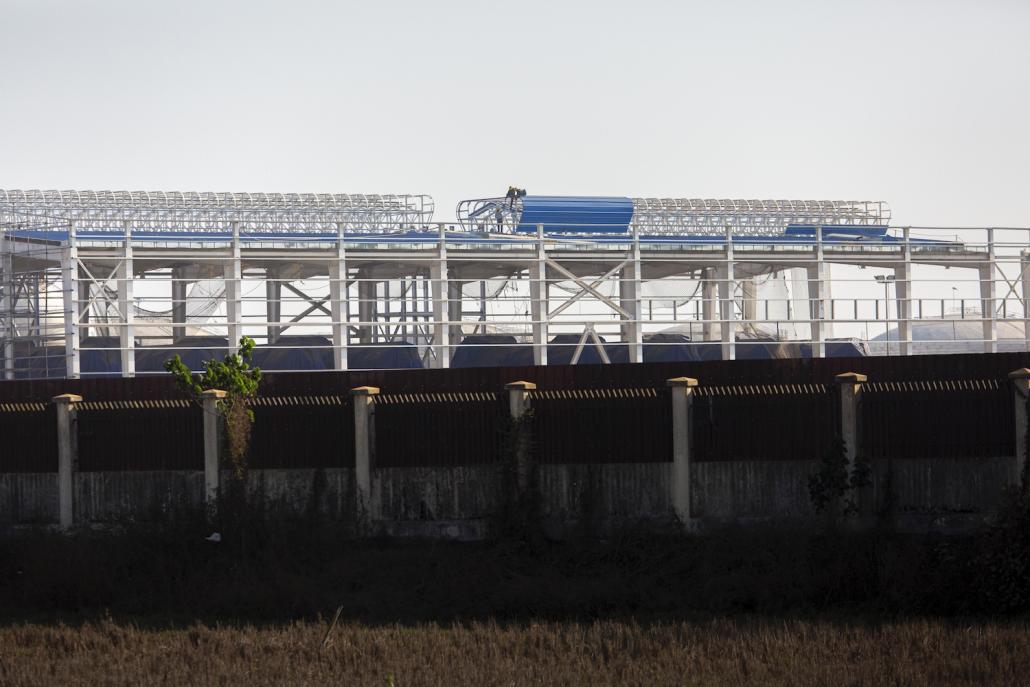 Weeks or months?
Though few had indeed foreseen the pandemic, and its effects have been extreme, it also appears to have handed a convenient excuse to a consortium facing swingeing fines for failing to meet a very tight deadline that many in the industry had considered impossible, and which had deterred most big global energy players from applying in the first place.
Despite repeated assurances from the Ministry of Electricity and Energy that the emergency power projects were on track to meet the April 3 deadline, industry and ministry sources say they have been behind schedule for months.
After Deputy Minister for Electricity and Energy U Khin Maung Win inspected the Thilawa site on March 1, the ministry revealed in a Facebook post that the jetty was only 40 percent complete and the regasification unit 15pc.
On March 25, a spokesperson for EPGE told Frontier that "we are trying hard to meet the deadline mentioned in the contracts".
"The projects will be delayed for a few days, but it will not be a few weeks," he said, declining to comment further.
However, a range of factors suggest the delay is more likely to be months than weeks. These include the amount of work that still has to be undertaken at the Thilawa site; the fact that the tanker for the project, CNTIC VPower Global, is still in Dalian, China; and that key Chinese personnel for the project have not yet arrived in Myanmar, which has closed its borders to nearly all foreign nationals until at least April 30.
Key project documents also appear to be missing, such as the PPA, which sets the price that EPGE will pay the consortium for the power generated. The ministry typically announces when it has signed a PPA with an investor, and has not yet done so for the three LNG-to-power projects.
Even when the infrastructure is ready, it will require up to a week of test runs before full operations can begin, ministry officials have told Frontier.
Myanma Port Authority general manager U Zaw Tun Lwin said he was yet to receive any information on the estimated arrival time of the floating storage unit that will be moored at the site or LNG tankers that will bring in the gas.
"For a ship or tanker with a foreign flag to enter Yangon River, the owner or the ship captain has to inform us at least a week in advance to ask for permission and instructions," he said.
"In this case, we have not received any information about the LNG tankers or the FSU so we don't know when they will arrive in Yangon … [but] we are ready to assist it because it is an important project for our country."
An unusual tender
The delays are likely to add to complaints about the tender process, which critics said was rushed and poorly designed.
Following widespread outages in May and June last year, EPGE issued tenders for five emergency power projects, totalling 1,040 megawatts: three larger projects that would use imported LNG and two smaller plants that would use gas supplied by the government.
The aim of the tender was to ensure Myanmar, and particularly Yangon, would avoid crippling power shortages in this year's hot season.
The tender terms were highly unusual, however.
There was a window of just a month to prepare bids, along with a tight implementation deadline for the LNG-to-power projects and steep penalties for missing the deadline. The government would only pay in kyat, despite most of the costs being in foreign currency. The contract was only for five years, which meant the tariff would have to be incredibly high to get a return on the hundreds of millions of dollars in investment required. For the LNG projects, bidders had to include the fuel cost, but could only bid a flat rate, despite the fact that LNG prices, like exchange rates, fluctuate.
These terms, combined with steep technical challenges – particularly the shallow draught of the Yangon River – prompted most foreign companies to look at the three LNG project tenders and walk away.
One consortium, comprising VPower and CNTIC, seized on the lack of competition. Working with Myanmar company RGK+Z&A, better known as Zeya & Associates, the consortium bid aggressively on the projects, apparently confident it could both deliver and make a profit.
On September 6, the ministry issued letters of acceptance to VPower and CNTIC for the three LNG packages, while VPower won a fourth tender for the 20MW Kyun Chaung project in Magway Region, which will use natural gas.
A fifth tender for a 120MW natural gas-fired plant in Yangon's Ahlone Township was awarded to a consortium led by Chinese state-owned firm China Energy Engineering Corporation, also known as Energy China.
In early March, the Myanmar Times reported that work on the Ahlone plant had "hit some setbacks", citing a Ministry of Electricity and Energy spokesperson. The official said that "China-based suppliers of machinery for the project have been closed because of the COVID-19 outbreak and experts from the companies have also been unable to come to Myanmar due to travel restrictions put in place to combat the outbreak".
However, the tender terms for the gas-fired plants at Kyun Chaung and Ahlone set a 270-day deadline to commence operations, meaning the Ahlone project is not due to be operational until May 30 and the deadline for Kyun Chaung is June 2.