Recent construction on militarised islands off Myanmar has sent the media into a tizzy, but despite rampant speculation, experts say it's unlikely China is behind it, though India may still have cause for concern.
By FRONTIER
Four hundred kilometres adrift of Yangon, featuring white sand beaches and crystal blue water, Great Coco Island looks like a tropical paradise. With a population of less than 2,000 as of 2014, it has the makings of a peaceful tourist haven.
Yet despite boasting a 2.3 kilometre-long runway spanning nearly half the length of the island, civilian visitors have been few and far between. Instead, for the last 30 years, Great Coco – one of five Coco islands – has been at the centre of a flurry of rumours of Chinese military activity.
"Originally it was a penal colony back in the 1960s and at that time it didn't have any real significance strategically. But since the 1990s it's become significant because of Chinese interest in the Indian Ocean and the Bay of Bengal and because India has become more assertive," said Mr Anthony Davis, a security analyst with Janes, a defence intelligence organisation.
For China – which provides vital military support to Myanmar's junta – a foothold close to the strategic Malacca Strait and Indian military bases would serve its expansionist ambitions. India meanwhile, has clashed with China over disputed border territories in the Himalayas and remains particularly sensitive to signs of Chinese encroachment.
The island is back in the spotlight following a recent report on new construction activity. Despite rampant speculation, experts say it's unlikely China is behind the upgrades. But they were unable to explain the strategic relevance of some of the new developments, and said India is right to be wary given the deepening ties between Beijing and the junta.
Dr Andrew Selth, an adjunct professor at Australia's Griffith University, traced rumours of Chinese designs on Great Coco back to a 1992 Kyodo News Agency article that reported China was building a radar facility, citing diplomatic sources in Beijing.
The rumours persisted until 2005, when India's naval chief said India had "firm information that there is no listening post, radar or surveillance station belonging to the Chinese o­n Coco Islands".
Satellite images published in March by United Kingdom-based think tank Chatham House showed new small-scale construction, triggering a fresh media frenzy. The report dismissed Chinese presence in the Coco Islands as a conspiracy theory and said "available evidence points to the facilities being operated by the Tatmadaw".
Home to a Tatmadaw naval base, the islands are administered as Cocokyun Township. Amid the National League Democracy's landslide victories in 2015 and 2020, the township was the only Yangon Region constituency where the military proxy Union Solidarity and Development Party won a seat in the national parliament. Junta leader Senior General Min Aung Hlaing even visited Great Coco Island in April to unveil a "victorious post at the focal point of the Andaman Sea and the Bay of Bengal".
A clear view of India?
The only solid information to emerge from the islands in the last 30 years has come from satellite images. Those taken by space technology company Maxar Technologies in January and published by Chatham House show new construction and land clearing efforts across Great Coco as well as on Jerry Island to its south.
One of the latest developments is a second aircraft hangar just west of the runway on Great Coco. Mr Damien Symon, a geo-intelligence researcher at Intel Lab and co-author of the Chatham House report, said a first hangar was completed in January this year and groundwork began on the second in July last year.
Mr Sean O'Connor, a satellite imagery analyst at Janes, said the unfinished hangar appears to be nearly identical to the first.
Based on satellite images taken in May, O'Connor said the completed hangar is approximately 40 metres wide, which could accommodate an aircraft with a 30m wingspan or smaller. That would include most fighter jets, including the Russian Sukhoi Su-30. In July last year, the Myanmar military acquired two Su-30s, which have a wingspan under 15m and can take off and land on a runway less than a kilometre long.
Symon said that construction also began on a causeway connecting Great Coco with the smaller Jerry Island late last year, creating "a newfound vantage point offering an enhanced field of view towards the south".
Land clearing also recently began at the southern end of Jerry Island. Maxar satellite images from early May show a new dirt road running the length of the island from the causeway to its southern tip. The images also show a V-shaped land clearing, two round paths and a circular clearing near the southern coast.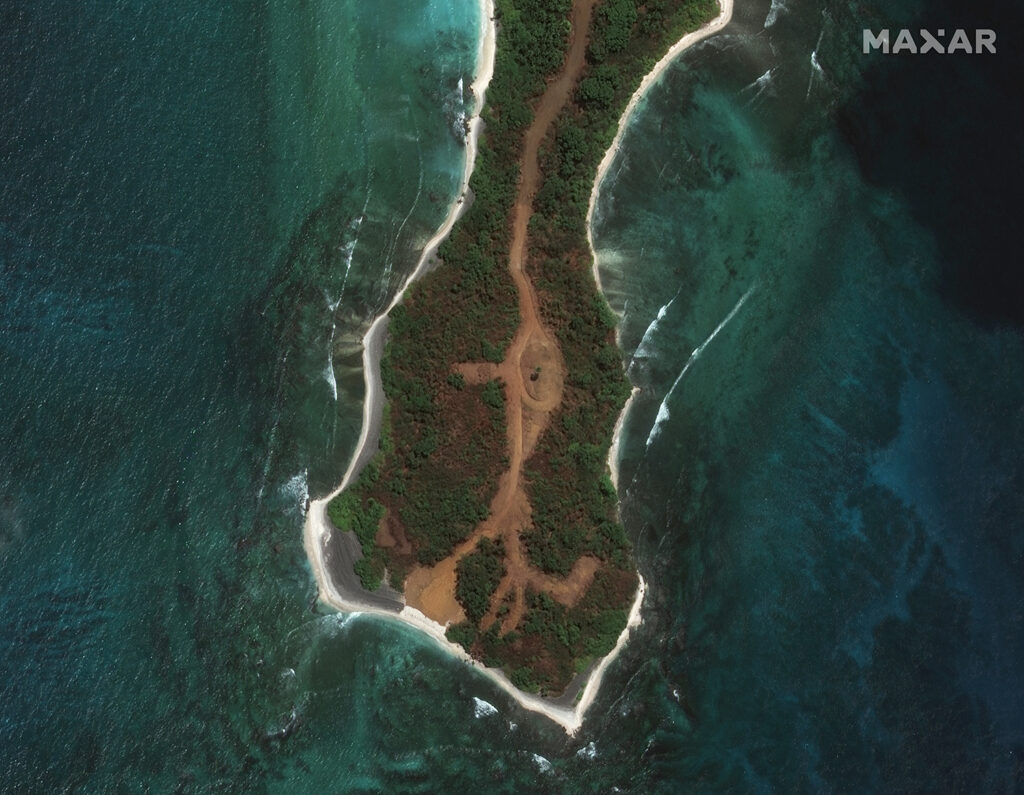 India's Andaman and Nicobar Islands lie less than 60km away to the south and host an important Indian armed forces command centre.
"The Andaman and Nicobar Command is the only integrated theatre command where all three forces – the Air Force, the Navy and the Army – are present. There is no equivalent other command. It is a hugely important military strategic post for India," said Mr Angshuman Choudhury, associate fellow at the Centre for Policy Research in New Delhi.
While Symon surmised that the land clearing on Jerry Island could offer a clear view of the Indian islands, O'Connor isn't convinced this would be any more advantageous than the radar station completed in 2016 at the southern tip of the runway on Great Coco.
He said the station "is at an altitude of 100m, which is going to give you a better field of view than Jerry Island where the highest altitude is 20m".
"The distance from the southern end of Jerry Island to the existing radar site is only 8km," he added. "Why would you want to get five miles closer to the Indians when you have a better field of view from the other radar site?"
Dr Miemie Winn Byrd, a professor at the US Asia Pacific Center for Security Studies who spoke to Frontier as an independent defence scholar, was also bemused.
"They have dwindling resources – they are being sanctioned and their accounts are being closed – and they have to focus on losing on the ground on the mainland," she said of the Myanmar military. "Why would they spend money they don't have on improving these things? It doesn't make strategic sense."
Indian concerns, Chinese denials
New construction aside, the existing radar station may already be enough of a concern for Delhi.
Unnamed representatives from the Indian government told Bloomberg in April that they had shared satellite images with their Myanmar counterparts showing Chinese workers helping to construct what looked like a listening post on Great Coco. Likewise, Indian media have alleged that Chinese nationals are "frequently seen" on the island and the "latest militarisation could pose a significant security challenge to India".
Myanmar junta spokesperson Brigadier-General Zaw Min Tun told Bloomberg the allegations were "absurd" and denied that India had ever raised the issue with Myanmar.
Choudhury said it is likely that Indian officials were referring to the existing radar station because no other construction on the island resembles a listening post.
"There may have been some kind of Chinese material and Chinese technical assistance in building that post, but it's impossible to know what kind of information was relayed, if the Chinese are using the station and until when," he said.
Mr Jason Tower, Myanmar country director at the United States Institute of Peace, said India may feel compelled to take a strong stance because it "doesn't want to appear weak" in the face of hypothetical Chinese aggression. He also said that while Delhi has "dramatically less leverage than China over the military", India's strategy to prevent the Myanmar military from falling "fully within China's orbit" has been to "court the military anytime it sees the military getting closer to China".
An Indian foreign ministry press official declined to comment and referred Frontier to an April 6 press briefing that said the government "keeps a close watch on all developments having a bearing on India's security".
But O'Connor said it was unlikely that India would be able to come to such conclusions based solely on satellite imagery.
"You can't just look at a random satellite picture and say we know where these guys came from, unless [the Chinese] have some unique kind of construction equipment and [the Indians] have the resolution to be able to pick out the distinguishing features," said O'Connor. He added that India would have likely needed to get closer to the island to have detected such activity.
Meanwhile, Beijing and the Myanmar military continue to deny any kind of Chinese activity on the islands.
U Thet Swe, managing director of the junta's press team, told Frontier that reports of a Chinese military presence on Great Coco are "only rumours and fake news". He said that, as far as he knows, "there is no construction being carried out by China at this time" and the military "is not doing anything with China to threaten India".
The Chinese Embassy in Myanmar said in an email to Frontier, "The relevant reports regarding China's role in the building of Coco Island are merely rumors based on groundless [assumptions]."
A Great Coco resident and shop owner similarly said she has not seen foreign workers. The woman, who asked not to be named, said she is confident there are "no strangers on the island because there are so few people that it would be very noticeable".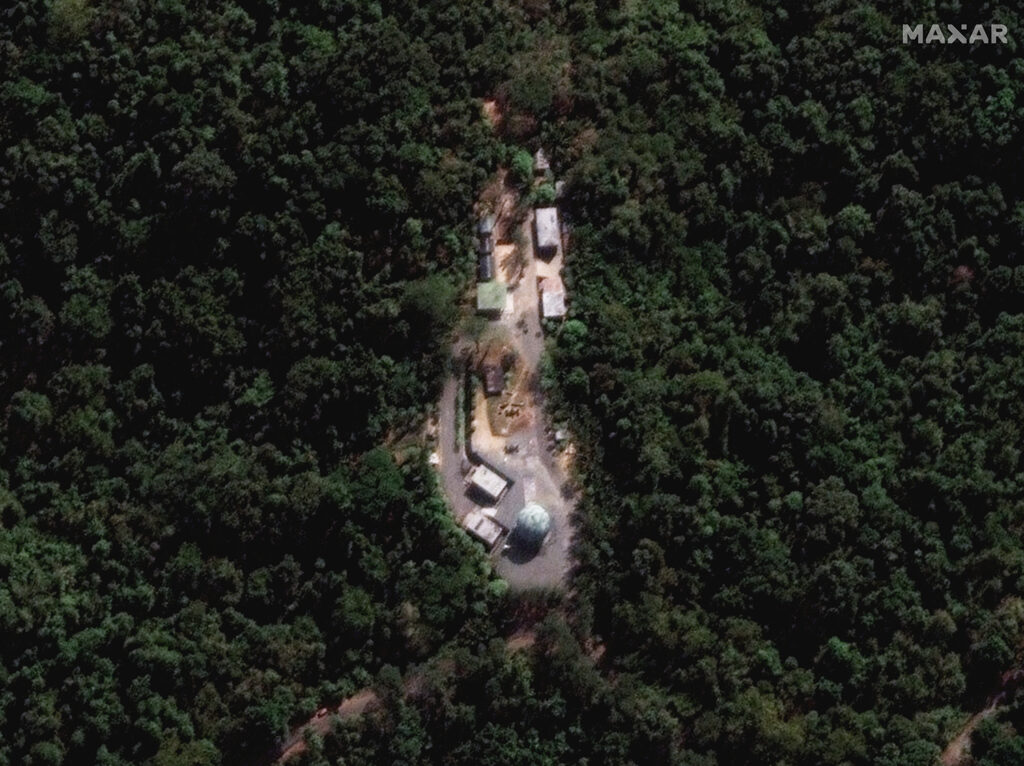 'A point of future leverage'
Despite the lack of evidence and denials from Myanmar and China, the frenzy over a potential Chinese intelligence base has not abated – and perhaps for good reason. While the Chatham House report said there is no evidence China is behind the new developments, it did not totally dismiss India's concerns.
"Myanmar's junta has few friends left and the few assets it has are increasingly dependent on Chinese capital to sustain. Great Coco is thus potentially a point of future leverage," the report says. It warns that either through espionage or pressure, Beijing could one day gain access to any intelligence gathered by the Myanmar military, including information that threatens India's national security.
"For India, Great Coco Island was in the past a place for outlandish theories. It may now become a real point of concern," the report continues.
Byrd also theorised that if China did gain access to the islands, they could serve as a jumping-off point to the Malacca Strait between peninsular Malaysia and the Indonesian island of Sumatra. Connecting the Indian and Pacific oceans, it's one of the busiest shipping routes in the world, accounting for approximately 40 percent of global trade. It's especially important for China, which relies on the strait to receive roughly 60pc of its oil supply.
"For India, it's always been a concern because if China has the Coco Islands, they can control the Malacca Strait. They can control the world economy and definitely prevent India from being able to use the strait," said Byrd.
But other experts say the Myanmar military's long-running distrust of foreign intervention, which partly comes from its foundation story as a force resisting British imperial rule, would make Chinese military presence a non-starter.
"Myanmar's recent colonial history is such that the Tatmadaw would never allow a foreign actor to base military forces within its borders, let alone lease sections of its territory," said Symon. "The regime is first and foremost a nationalist movement. The logical conclusion then is that this base is operated by the armed forces of Myanmar."