By OLIVER SLOW | FRONTIER
Chin human rights activist Cheery Zahau, 34, was born in Sagaing Region but spent most of her early life at Falam in the Chin Hills near the border with India. In 1999 she crossed the border and lived in India until 2009 when she moved to Chiang Mai, Thailand. She returned to Myanmar in 2012 and last year sought election to the Pyithu Hluttaw for the Chin Progressive Party, losing to a candidate from the National League for Democracy. Cheery Zahau spoke to Frontier about the Chin people's hopes under an NLD government and the lessons she learned during the election campaign.
Are the Chin people excited about the appointment of U Henry Van Thio, a Chin, as a vice-president?
It's actually very quiet. I ask people, am I the only person who is excited? In the cities and the Chin diaspora abroad, they are excited but in other parts it's quite quiet. I spoke to the Vice-President this morning for about 15 minutes.
No I don't think [he will make Chin issues a priority], he cannot. But of course it is better to have a good person in that position than to have a military person. That coupled with U Htin Kyaw becoming President, I think is good for the country. It is better than the past.
You left Myanmar for India in 1999, returning in 2012. Why did you leave?
I left because I was looking for a better education. At school I was told that I was a troublemaker and my teacher said that I was on the doorstep of prison. She said, "When you are in university, you will end up in prison, so there's no point for you in this country."
I grew up with a very strong sense that something was wrong for the Chin people. I asked a lot of questions. In the classroom, when we learned only about the Burman kings, I didn't like it. I wanted to learn about the Shan sawbwas, about the Mon, about Rakhine. And yes we learned about them, but always with a negative connotation. I was not happy with how the state was using Buddhism.
Then, when I finished high school I wanted to work as a mining engineer. My score was 10 points less than what I needed, but if I was a man I would have passed. I'd always had a lot of disagreements about how things worked, so when that happened I just thought, "Oh my God."
I could've taken a one-year course, but it was too expensive, so I'd had enough and decided I needed to leave. In 1999 I arrived in Aizawl, Mizoram, and immediately joined a Chin women's organisation. I learned a lot about the Chin people and also spent a lot of time with the 88 Generation there and learned a lot from them.
Did the Myanmar authorities know you were there? Did they bother you?
They knew I was there, but they didn't bother me at that point. Our organisation started looking at social issues, not human rights, but we changed.
In 2004 we formed the Women's League for Chinland and started documenting human rights violations in Chin State, and systematic sexual violence against Chin women. Within six months we documented 36 cases.
We came up with a report called "Unsafe State" released in 2007, which documented human rights abuses by the Chin National Army [armed wing of the Chin National Front] and the Tatmadaw. One thing that always came up was religious oppression. Then I started doing international human rights campaigning, in British parliament, in the US, in European Parliament.
It became very unsafe for me. I had to watch everywhere I went. I was even told I had to watch what I eat. So in 2009, I moved to Chiang Mai to study human rights and in 2012 I returned to Myanmar.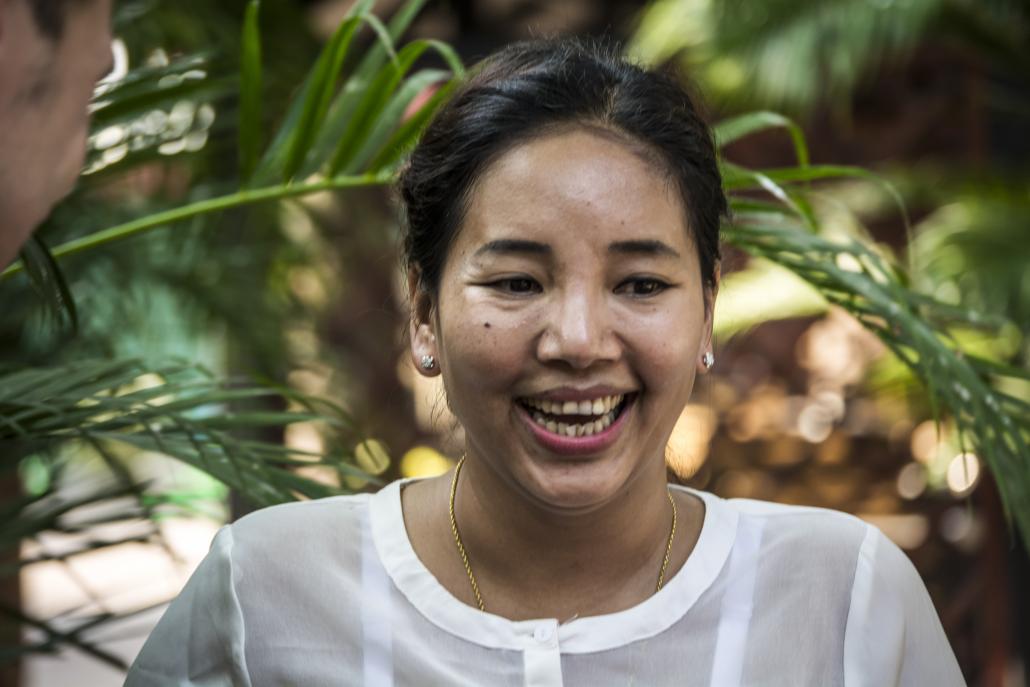 You returned because you believed in the reform process?
I chose to come. We have to make it work, that's what I believe. We cannot wait until everything is perfect, until those Tatmadaw guys leave the political scene. They will stay as long as they can and we will try to kick them out as much as we can.
I think it [Htin Kyaw's election as President] is more encouraging than the last five years. He is a technocrat, he is educated and my observation is that there are a lot of politicians who make a lot of promises, but I don't think he is that type.
The worry is that he will not have much power. Not just U Htin Kyaw, but the whole political setting, because she [Daw Aung San Suu Kyi] is so powerful. It's good in some ways, if she is pulling the strings and everyone dances accordingly, but it can be a bit worrisome to rely on one person.
Do you believe she wants to work for the rights of ethnic groups?
I think so. I have to be very honest, I was very sceptical about the transition with the Tatmadaw, but I'm very pleased now because in the upper and lower houses she appointed ethnic groups, and now the vice-president is Chin and I think it will make her job a lot easier, to have these ethnic groups around her. We didn't see this in the past 60 years, so I think it's very encouraging in that sense.
Are the Chin people optimistic about an NLD government?
The NLD has made a lot of promises in Chin State. In Falam Township, where I contested, they promised financial help, material help, so I don't know how the NLD MPs will deliver.
In Chin State, what we need is an economic plan that targets Chin State. Everything was so centralised in the past, and maybe it helped places like Mandalay and Nay Pyi Taw, but it had nothing to do with Chin State, in terms of what it could produce and supply.
So more power needs to go to the Chin State government, to fulfil the economic needs of the people.
Do you intend to stay in politics?
Yes. I have learnt my lessons from the election. It is very dirty. People can lie, people can make false promises. So for someone like us, we are very naïve and very human rights principled, and it's very difficult for us to attack people who are attacking us.
The reason my supporters withdrew from me was because they [the NLD] used the Rohingya issue against me. They said Cheery is a human rights activists, so if you vote for her and she is elected, she will bring Rohingya and Muslims to Chin State. That message came from one of my friends who I thought was very intellectual and should be more liberal minded.
I was talking to some people and we were talking about the Muslim issue. So all I said was, "Look, we can argue about this all night, who is [officially recognised] ethnic [group], who is not, but on humanitarian grounds, we cannot leave people out to sea and leave them to die. If Jesus was alive today he would not allow us to do that."
So I made that argument and they used that against me, one month before the election. It was a smear campaign. I couldn't say that I did not say it because I said it, but I said it in the hope that people would have rational thinking about the issue.