In its second year, a wide-ranging art and heritage festival in Yangon broke down barriers between artists and city residents, while organisers hope it encourages Yangonites to question what kind of an urban environment they want to live in.
Words & Photos ELI MEIXLER | FRONTIER
PATHEIN PARASOLS were suspended as if floating above the pedestrian overpass on Sule Pagoda Road, while "visual poetry" on Pansodan Road lined the last stretch of the commute from Dala, and a "Sound Suit" invited park-goers to step inside a megaphone-punctured canvas enclosure and take control of the airspace.
These public art installations were among nearly a dozen featured in the second annual My Yangon My Home art and heritage festival, hosted across the city from February 25 to March 12. The festival sought to inspire Yangon residents to reassess where art belongs in their changing city, and highlighted some of the compromises made to urban life in the pursuit of development, such as increasing traffic congestion and noise pollution.
The festival's broad range of events, performances, competitions, and galleries throughout downtown Yangon was an endurance test for even the keenest of culture hounds.
But festival organisers and artists said this scope provided a rare and vital opportunity to break down the cultural, economic or educational disparities that intimidate the average Yangonite from engaging with the city's well-established art scene.
"We have many art galleries in Yangon, but local, normal people never go to [them]; they have no time because they are struggling to get by," said acclaimed contemporary artist Htein Lin, one of the festival's three directors.
Putting art in busy public spaces eliminated those barriers. Crucially, entry to every event was free.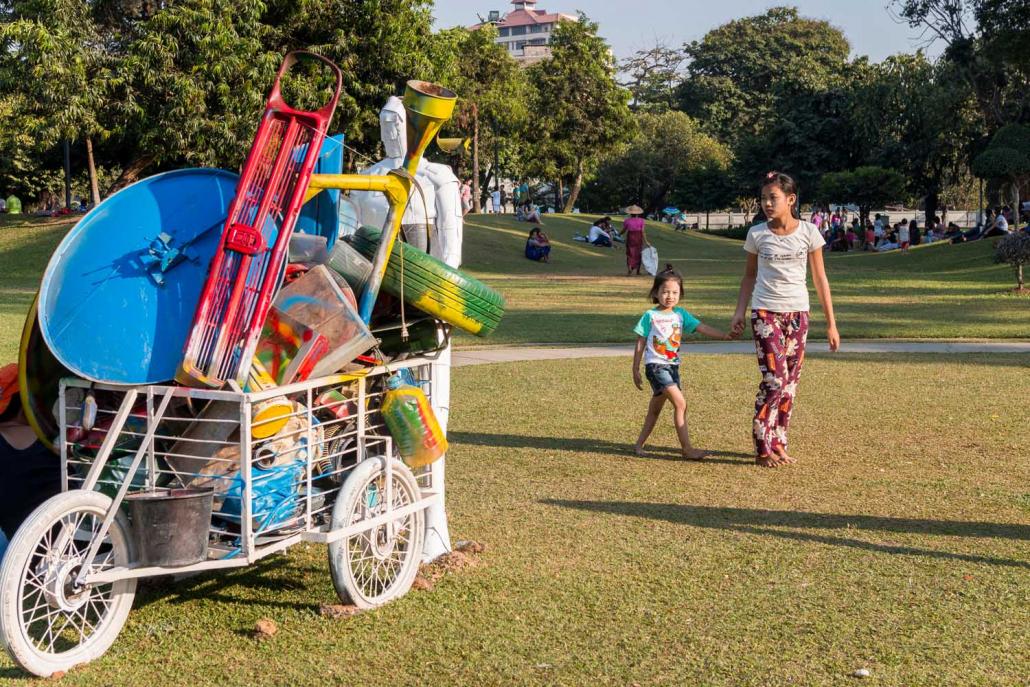 In a city where nearly all public monuments are either historical or religious, the installations in Yangon's parks, at intersections and on walkways raised a forceful argument for the merits of exhibiting art in the open, where it is not only accessible, but unmistakable.
"Empowering the people also to see new things and to make them think differently, that's one of the purposes of the festival," said Ms Diana Valarezo, another festival director.
Old canvas, new painters
Eight months after the first My Yangon My Home festival in 2015, the National League for Democracy stormed to a landslide electoral victory. Artists, activists, poets and former political prisoners were among those elected to the halls of power in Nay Pyi Taw and state and regional hluttaws.
It should therefore be of little surprise that under the NLD, Yangon has begun to host major cultural events befitting a commercial capital.
"I think that it's important to remember that the NLD, who is now the party in power in Yangon Region, has always supported art," said Ms Nathalie Johnston, founder of Myanm/art gallery and curator of the festival's Building Blocks exhibition, in which architects collaborated with children to design a playhouse that was built in Thakin Mya Park.
"They know the power of the art and they themselves were the ones who were censored," she added.
In December 2016, the Mingalabar Festival, an initiative by the Institute Francais de Birmanie and the Yangon Region government, brought together more than 100 street artists, musicians, dancers, and circus performers to a citywide stage. Crowds flooded the streets to watch 3D animations, real-time urban video-mapping, and most memorably, two eight-metre wooden puppets that ambled around the city.
"Mingalabar Festival was so emotional, I think for everyone, whether they expressed it or not. Seeing that many people … [and] closing major roads down, for a puppet! That's unheard of," said Johnston. "The fact that these conversations are even happening is incredible."
In February, the Goethe Institut held a major exhibition, Where the Land and Water Ends, in the Secretariat building. The show was extolled as a model for incorporating Yangon's beloved, underused architectural heritage into the international art circuit, and for attracting viewers from Yangon's diverse communities.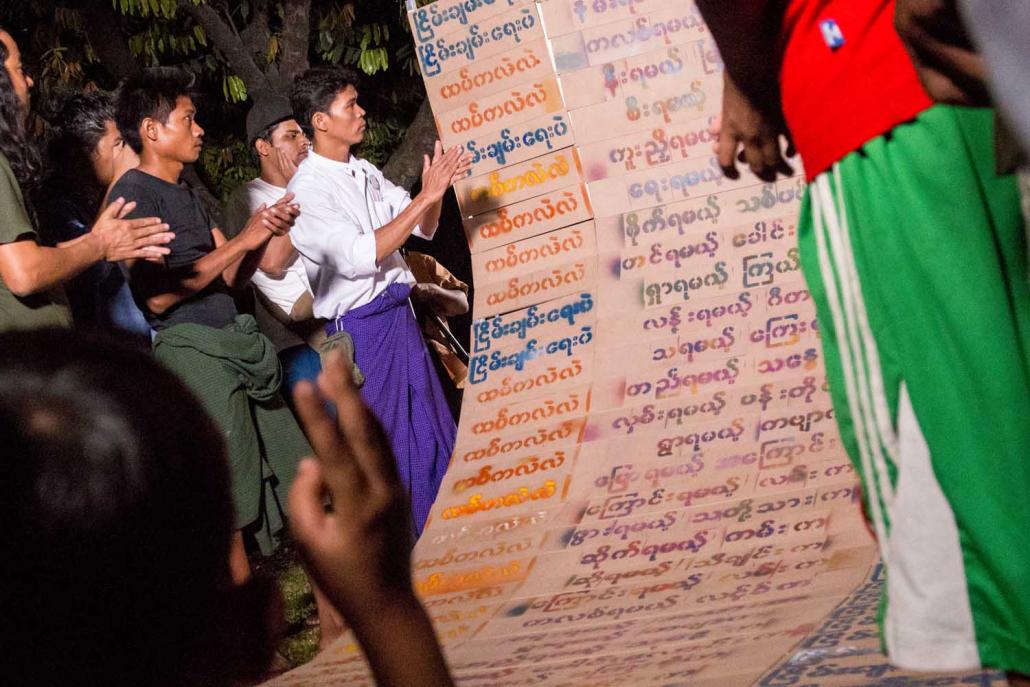 As the city rushes to develop, the My Yangon My Home festival hopes to provoke conversations about preserving its urban heritage before it's too late.
Under the theme "Memories, Objects, Spaces", the festival also put individual urban experiences at the forefront. Residents were encouraged to lend personal possessions for display at the National Museum to create a mass-curated exhibition of private family artifacts.
"By creating and putting a piece of art in the city, we wanted to get people to turn around, and think, 'What kind of city do we want to live in?'" Htein Lin said.
Public art, private homes
The La Casa series, an outdoor art walk in 2015, sought to promote art as a democratising experience, for anyone to practice and appreciate.
This year's project coordinator, Ms Sophie Waldschmidt, reconceived the program as nine "pop-up" exhibitions, artist's talks, and screenings in private homes.
For a few hours, the homes were transformed into gallery spaces where friends, neighbours, and strangers mingled with artists and writers.
"What was important to me was that we have many Myanmar homes [hosting events]. I was always pushing [because] I didn't want this to become an expat-only event that would destroy the character of the festival," said Waldschmidt.
At La Casa 7 on 31st Street, this community-building impulse was in full force: A multi-cultural crowd of 30 packed into writer San Lin Tun's front room, where Tatwin Owen Edmunds recited poetry, Mandalay-born painter Kyi Thar Aye showed stylised Yangon cityscapes, Romanian photographer Christina Chiorean discussed a photo series on balconies and windows in colonial buildings, and the host read from a forthcoming collection.
"I really enjoyed [the La Casa event], because [it allowed us to] give the message to every householder in downtown Yangon that we can turn our house into an art gallery," San Lin Tun said. "And we need people to love art; so it is a kind of art promotion, in a public house," he added.
Backyard gallery
A partnership with Doh Eain, a social enterprise devoted to heritage conservation and urban renewal, is also encouraging Yangon residents to harness the inheritance of downtown architecture and spaces.
Ms Emilie Röell founded Doh Eain ("Our home" in Myanmar) to help homeowners sustainably upgrade heritage apartments and raise property values. The restored spaces, where three La Casa events were held, inspired her to become involved in other quality-of-life issues in the downtown area.
"There's not a ton of space [downtown] where children can play, and people can sit and relax, but there are a lot of these [back] alleyways," Röell said. "So if a bit of a movement starts to take care of these alleyways and use them for nicer purposes, it could have quite an impact on the well-being of people."
Doh Eain mobilised the residents of 27th Street to transform their back alley with with murals and planters sprouting herbs and vegetables on the weekend of March 11 and 12.
There are other refurbished back alleys in downtown Yangon, but most are fetid spaces blighted by discarded rubbish that attract pests and pose a health hazard.
The project has also received accolades from ward and township authorities and was visited by Yangon Mayor U Maung Maung Soe on March 14, but Röell hopes the 27th Street garden, designed with input from the community it will serve, will act as a model for future projects. On March 20, Doh Eain launched a campaign to raise US$50,000 to transform one kilometre of back alleys.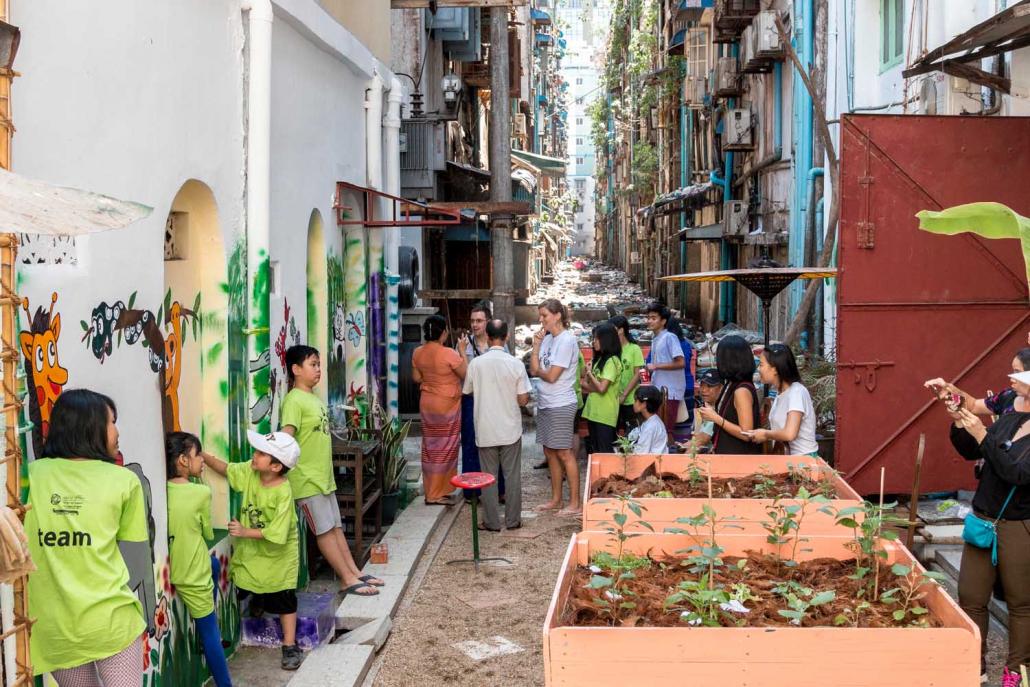 The project inspired officials from Kyauktada Township to approach Doh Eain about planning a playground between Seikkanthar Road and 38th Street. Work is due to begin after Thingyan. Doh Eain is planning two additional renovations, one in  Lanmadaw township, where wider back alleys may allow for more innovative use of community space. 
"So often heritage conservation is about public, large buildings, and it's the government, or large organisations, that are upgrading these buildings," Röell said. "But there are so many cooler, smaller heritage landscapes in and around Yangon as well, and if you really want to maintain the character of the city, and get people involved…then you also really need to work bottom-up."
Securing a green future
Yangon is at a historic crossroads, with municipal authorities caught between impulses for preservation and development as population growth strains city services.
Yangon faces energy and water shortages, as well as a housing crisis: The city needs more than 75,000 new low-cost housing units every year just to keep up with its ballooning population. Restored heritage buildings are unlikely to fill that deficit, and many stand on valuable real estate.
With only 0.37 square metres of parkland for each resident, the amount of green space in Yangon is among the lowest of any big city in the world, the Japan International Cooperation Agency said in a 2014 report.
A promised Yangon City Development Committee plan would increase green space from 12 percent to 30 percent of the municipal area, but it has stalled repeatedly since 2012. However, the YCDC has suspended work on the commercial development of prime parkland on Inya Lake under permits granted during the U Thein Sein administration in 2013 to well-connected private companies.
As well as public parks, the preservation of heritage buildings also faces challenges.
There is no legal framework for protecting heritage buildings and spaces, said Yangon Heritage Trust vice-president and director Daw Moe Moe Lwin. Existing laws only cover ancient monuments, or set a time limit of 100 years, disqualifying many of Yangon's premier heritage buildings. In 2013, the YHT proposed a Yangon Urban Heritage Conservation Law without a time-limit, but it has not been adopted.
YHT's comprehensive and visionary 2016 Yangon Heritage Strategy report emphasised the need for new conservation regulations.
"You need a law, you need technical knowledge, you need skilled labour, you need all the legal [regulations], [to figure out] how these disputes are going to be solved," Moe Moe Lwin said.
In addition to protecting "built heritage," the report also proposed plans to increase public space with new art and culture hubs, as well as a riverfront park and pedestrian walk.
It is the sort of plan that would create ample opportunities for sculptures and rotating art installations that Htein Lin hopes will one day adorn Yangon's parks, squares, and traffic roundabouts. And as experience begets familiarity and increasingly cooperative municipal authorities streamline red tape, artists will likely see more stages and spaces for their work.
"It's a moment of change. If the authorities or the people decide to pursue restoration, and to [preserve] heritage, wonderful," said Valarezo.
"What we [aimed to do] with the festival is cherish this heritage, and make people a little more conscious about it. But in the end, the only people who will decide are Yangonites."
For artist Pe Myint Way, 66, this year's My Yangon My Home festival revealed an appetite – from the public as well as the government – for less traditional cultural schemes. Pe Myint Way, the only surviving founding member of Lokanat Gallery, based in the historic Sofaer Building since it opened in 1971, expressed hope for more public events to help share artists' messages with wider communities.
"There is much more interest in many different media: installations, performance art, photographs," he said. "And this is just the beginning."
TOP PHOTO: "Your Shadow Is My Shadow", by Aung Myat Htay, provided some welcome relief from heat and traffic for pedestrians on Sule Pagoda Road. (Eli Meixler | Frontier)