A revised law that would legalise casinos has been enthusiastically backed by casino owners, and by regional governments expecting a tax windfall.
By KYAW YE LYNN and BEN DUNANT | FRONTIER
A GROUP of men and women were chatting and laughing on the boat heading to Thahtay Island from Myanmar's southernmost town of Kawthaung in Tanintharyi Region. They looked like they could be Myanmar or Thai but were speaking neither language. When Frontier offered one of the men a cigarette, he politely declined.
"No, I have my sigarilyo," he replied, smiling, using the Filipino word for cigarette.
The middle-aged Filipino said he worked on the island at the Grand Andaman Hotel, which houses the oldest and grandest casino in Myanmar. The island sits in the narrow channel between Kawthaung and the Thai border town of Ranong, on the edge of the Andaman Sea. The man said more than 100 Filipinos work at the hotel, mostly as croupiers operating the gambling tables.
The five-star casino hotel was built on Thahtay Island by a Thai company, Union Farm Engineering Co Ltd, in 1992. The 1,800-acre (728-hectare) island has been under the management of Grand Andaman Group of Companies, a Myanmar conglomerate, since October 2014.
Managing director U Myo Win Than told Frontier at his office in Yangon that, although most of the casino's employees were once Thai, about 850 of its current workforce of 1,200 were Myanmar.
Myo Win Than denied local rumours that the casino's beneficial owners were still Thais. "People would think so because our hotel has the largest number of Thai workers in the country," he said.
The Grand Andaman is one of scores of casinos that operate along Myanmar's borders with Thailand and China. They defy a blanket ban on gambling (beyond a single state-run lottery, Aung Bar Lay) due to either special, ad hoc arrangements with the government or because they are run by non-state militias who conduct business beyond the rule of law.
However, their status and exclusive hold on gamblers could soon be transformed and disrupted. Myanmar's parliament is considering amendments to the 1986 Gambling Law that would legalise casinos under yet-to-be-specified conditions. The amendments are an apparent response to lobbying by several chief ministers seeking an economic boost, and an increase in tax revenue, in the states and regions they administer.
Casino bosses who spoke to Frontier said they had nothing to fear and much to gain from their gambling halls being brought into the legal fold, anticipating increases in investment and customers. Government officials at the national and regional level echoed this optimism, in terms of economic stimulus, but said any legalisation process must be carefully and gradually implemented, starting with a few handpicked sites.  
Path to legality
Moves towards legalisation began in January last year. At a meeting with Vice President U Henry Van Thio, who chairs the government's tourism development committee, the chief ministers of Tanintharyi and Mandalay regions and Kayin, Mon and Shan states requested that casinos be legalised in their areas to boost tourism and government income.
The following month, Pyithu Hluttaw MP U Aung Hlaing Win (National League for Democracy, Mingalardon) asked in the lower house of parliament whether the government intended to legalise casinos.
"The home affairs minister told the parliament that the ministry would submit a bill to amend the gambling law that would permit casinos, so that they could be regulated and taxed," Aung Hlaing Win told Frontier.
In June, the Ministry of Home Affairs submitted the bill to the Pyithu Hluttaw's Public Affairs Management Committee. The bill then passed through the lower and upper houses, with disagreement between the two over details, before being sent to the Joint Bill Committee of the Pyidaungsu Hluttaw, the Union Parliament.
"The joint bill committee discussed it today," Aung Hlaing Win told Frontier on February 7. "I am pretty sure the [amended] law will be enacted and casinos will be legalised within the current government's term," he said. That term ends in March 2021.
U Kyaw Soe Lin (NLD, Pyigyitagon), secretary of Pyithu Hluttaw's Bill Committee, told Frontier the same day, "Both hluttaws agree that casinos should be legalised". However, he added that the bill contained only broad language about the need for casinos to be authorised by certain government departments; the licensing process would need to be outlined in by-laws to be drafted by the home affairs ministry after the law was enacted.
A date for the Pyidaungsu Hluttaw to vote on the revised bill had not been set at the time of going to press.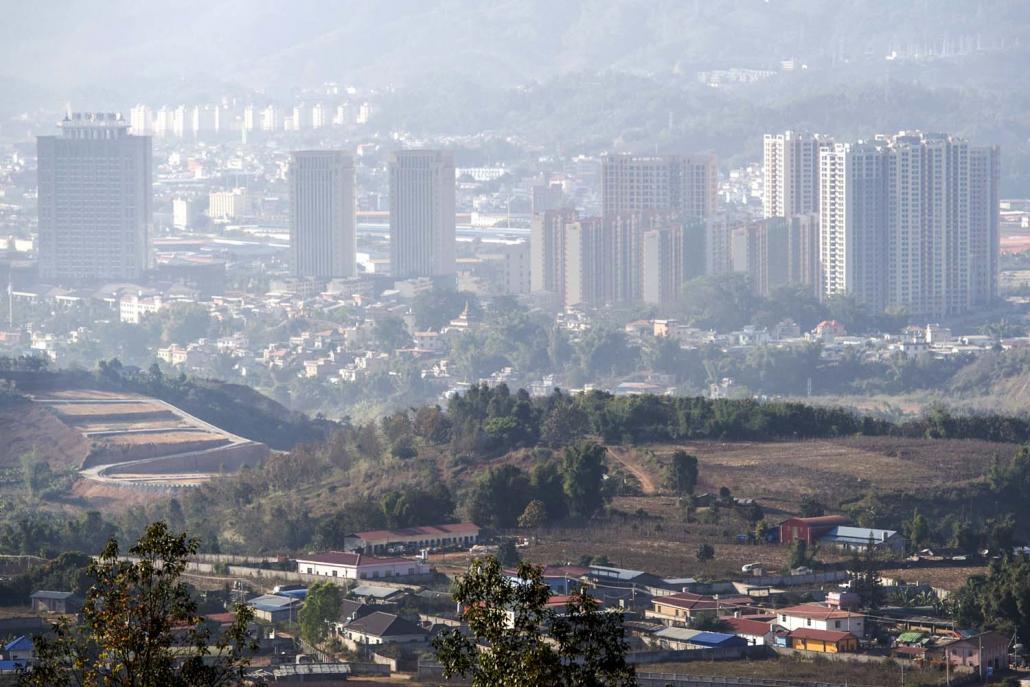 The takeover
Union Farm Engineering built the hotel and casino on Thahtay Island after agreeing with the former Myanmar junta in 1992 to a 30-year Build-Operate-Transfer contract, with the possibility of two five-year extensions.
BOT contracts, which have been favoured by cash-strapped but asset-rich Myanmar governments since the 1990s, typically allow a private company to keep the proceeds of any venture after investing its own capital and paying rent on a land concession.
The Thai company agreed to pay the Myanmar government a $0.5 million annual land lease during the first five years of operation, from 1995, $1 million a year during the second five years and $1.5 million a year during the third five-year period, said Myo Win Than.
"It however paid just $4.447 million over 19 years," he said.
Because the Thai company was either unwilling or unable to pay arrears of $11.325 to the government, its contract was terminated by President U Thein Sein's administration in 2014.
"Our chairman negotiated with the government and the Thai company though he was new to the hotel and tourism business," Myo Win Than said, referring to U Kyaw Lwin, owner and chairman of the Grand Andaman Group of Companies. "No one would benefit if the contract were just terminated."
According to the three-party agreement that resulted, Kyaw Lwin paid the Thai company's debt to the government with a loan from two Myanmar private banks and took over the same BOT agreement. The Myanmar Investment Commission approved the change in the venture's ownership from a foreign to a Myanmar investor in June 2015, and enabled Grand Andaman to enter into a new BOT contract that expires in 2065.
Speaking in January, Myo Win Than said that since the new contract came into force, "We have paid more than K10 billion in rent and taxes."
He insisted that the casino had operated legally, despite gambling being against the law, and cited MIC notification 1/2013.
The notification lists "casino businesses for foreigners" as an enterprise that can operate "in restricted areas in the country which is permitted by the Ministry of Home Affairs". The notification stresses, "Myanmar citizens are not allowed to play."
In the absence of adequate regulation or formal guidance, he said the company negotiated with the government to pay an ad hoc "casino tax" starting in April 2017.
"We pay K10 million per month as casino tax. We've paid 220 million so far," he said.
A regional race
On arrival at Thahtay Island, visitors are processed at immigration counters that have enabled Thai and other foreign gamblers to travel direct from Ranong without a Myanmar visa since the hotel opened in 1995.
In an interview on the island on February 2, Kyaw Lwin told Frontier that Myanmar urgently needed a law that would license casinos and that the current informal arrangement was a barrier to growing his business.
"My hotel has the best casino in the country, but it is not first class, just third class compared to Singapore and Macau," he said. The Grand Andaman chairman claimed it would be difficult to attract the investment needed to upgrade his casino unless it was properly licensed.
However, he cautioned that casino legalisation itself would not significantly boost tourism, and that other attractions would have to be developed simultaneously. "A casino alone is nothing. We have to create a whole package to attract visitors," he said.
He added that time may be running out in what he thought was a regional race towards legalisation. "Casinos in Myanmar, legal or illegal, rely on foreign visitors, especially from China and Thailand," he said. "If these countries legalise casinos, we are done for."
He believed that because Thailand's parliament had passed legislation late last year permitting the medical use of marijuana, it would soon likely approve a law to legalise casinos.
Kyaw Lwin claimed that the delay in legalising casinos in Thailand was due "to the desire of late King Bhumibol," who died in October 2016. "I think Thailand would do it under the new king."
Out of the shadows
Two other casinos in Tanintharyi Region – one also near Kawthaung and the other at Myeik – as well as a casino at Tachileik in eastern Shan State on the Thai border, have also been allowed to operate under MIC notification 1/2013. However, dozens of casinos in Kayin and Shan states are operated by armed militias without official government permission.
Kayin State Minister of Planning and Finance U Than Naing firmly believes that casinos should be legalised, regulated and taxed in his state.
"Even police are unable to enter the casinos. How can we regulate them properly in this environment?" he told Frontier at the state government office in Hpa-an in November, referring to at least six casinos in the town of Myawaddy on the Thai border.
"We don't even know what is going on inside the casinos," he said. "We need to take them out of the grey zone."
Several casinos in Myawaddy are jointly owned by Colonel Saw Chit Thu, commander of the Kayin State Border Guard Force, an armed group formally under Tatmadaw command but granted considerable autonomy to pursue business and local development.
BGF Major Naing Maung Zaw told Frontier by phone in November that they also wanted to operate their casinos legally.
"Of course, we want a licence. We would accept the regulation and taxation under the law," he said, adding that the proceeds would be used to "contribute to the community".
He said that if casinos were legal, foreign gamblers would feel safer, "We would definitely attract more visitors," he said.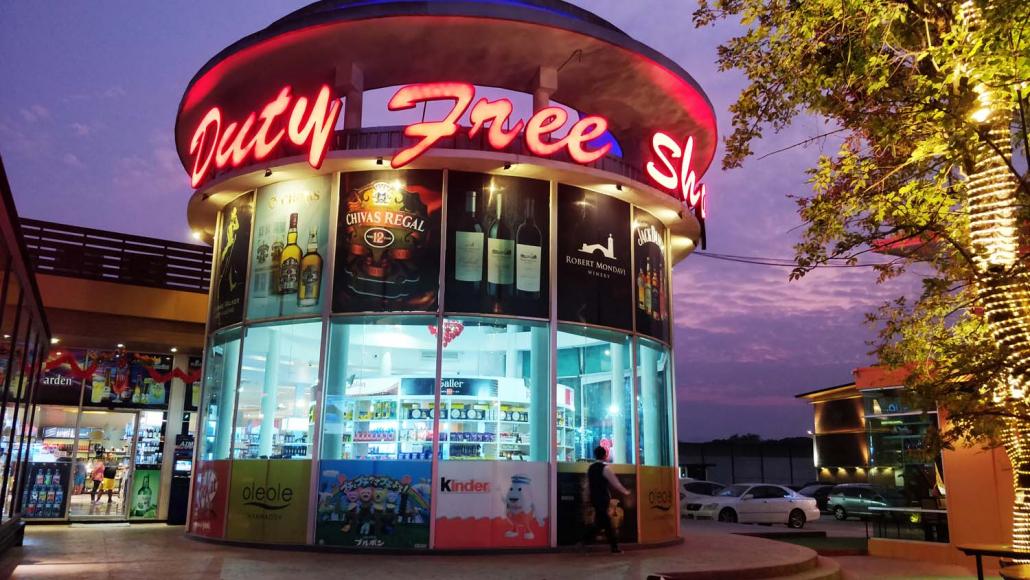 Militias and craft beer
On February 1, Frontier went to the northern outskirts of Myawaddy to visit the Myawaddy Complex, which contains a casino, hotel, duty free shop, Chinese restaurant and a bar serving craft beer. A passenger ferry was constantly travelling back and forth across the narrow Moei River, which marks the border between the Myanmar and Thailand at Myawaddy.
Unlike at Thahtay Island, visitors from the Thai town of Mae Sot did not have to pass any checkpoints or present any documents to visit the casino.
A Myanmar man working at the duty free shop confirmed to Frontier that the complex was operated as a joint venture between Saw Chit Thu and Thai investors. He said he had travelled from Yangon to work at the casino soon after it opened in 2015, and was attracted by the wages. He said his monthly salary was THB12,000 (about K580,000 or US$380), which is considerably higher than the Thai minimum wage of THB325 a day.
In the main gambling hall, a gaudy marbled structure with chandeliers, a mostly Thai crowd was playing card games and roulette, placing bets not with chips but with baht notes. At the rear of the complex, past an incongruous shanty settlement, was Lucky Fish, a dingy gambling hall where working class Myanmar men and women deposited stacks of K5,000 and K10,000 notes on card tables and computerised tabletop games.
Shan State Planning and Finance Minister U Soe Nyunt Lwin admitted to Frontier that, as in Kayin State, weak rule of law prevented the authorities in Shan from regulating casinos,
"There are casinos along Shan State's border with Thailand and China," he said, referring to Tachileik and some towns bordering China that are under militia control such as Laukkai in the Kokang Self-Administered Zone and Mong La, which is administered by the National Democratic Alliance Army.
"We should focus on legalising instead of banning them," he said.
Laukkai has a well-established casino trade, which was interrupted in early 2017 by a cross-border raid by the Myanmar National Democratic Alliance Army, a Chinese-speaking, ethnic Kokang armed group, which targeted casinos as well as security posts, left part of the town in flames and resulted in the deaths of several civilians.
"Gambling is still a major business here," said a mid-ranking officer in the Kokang Militia Force who oversees business operations, talking to Frontier on condition of anonymity. "Right now, the town has more casinos than before the 2017 attacks."
'Inevitable'
Mon State and Mandalay Region have never had formal casinos, but illegal gambling dens are as plentiful there as they are throughout Myanmar.
Mandalay City Development Committee member U Kyaw San Myint told Frontier that, along with prostitution, gambling cannot be eradicated and should instead by regulated.
"Despite being banned, gambling and prostitution still exist. Legalising them sooner or later is inevitable," he told Frontier by phone on February 5.
He claimed that Mandalay, Myanmar's largest city after Yangon, was well positioned to host casinos because of a growing influx of Chinese visitors, who are considered a ready market for gambling.
"In addition to the tourists, there are many Chinese residents and many wealthy Myanmar people here," he said. "So why shouldn't Mandalay have casinos?"
However, he added that legalisation "should not be done hastily. Without proper management, it would turn into a curse for the community."
Deputy speaker for the Mon State parliament U Aung Naing Oo said great care must be taken in drafting any legislation to legalise gambling.  "They need to consult with experts as well as with local communities," he told Frontier by phone on February 5.
He said there needed to be some restrictions, such as on where casinos could be established. However, barring Myanmar nationals from casinos while allowing foreigners to gamble would be unworkable in practice, he believed. "Instead of banning people, tax the wealthy and use the money to help the poor."
TOP PHOTO: A casino in the Kachin Independence Organisationcontrolled town of Laiza that was abandoned as fighting edged closer to KIO territory in 2012. (Steve Tickner | Frontier)