While urban areas are plastered with colourful signs for Wave Money, KBZ Pay and other fintech services catering to consumers, mobile money might first take hold in the business-to-business sector.
By KONRAD STAEHELIN | FRONTIER
KO Kyaw Zaya is on the front lines of the war on cash.
Every day, the 25-year-old collects bricks of notes – equivalent to many times his K300,000-a-month salary – from businesses in northern Yangon's Insein Township.
After counting the notes, Kyaw Zaya adds the balance to the mobile banking account of each business and deposits the cash with an agent for Yangon-based fintech company Ongo.
Kyaw Zaya is one of 1,900 employees at Ongo, which has operations in around 70 towns and cities across the country.
If you've never heard of the company, it's probably because it caters mostly to businesses rather than individual customers. Unlike other mobile money operators such as Wave Money, KBZ Pay or OK Dollar, you won't see many colourful signs around town promoting Ongo's name or services.
Although large numbers of consumers are now using mobile money applications in Myanmar, it's possible that cash transactions might disappear first in the so-called B2B (business to business) market rather than the P2P (peer to peer) or B2C (business to consumer) segments.
This is because consumers can be slow to embrace change but mobile money offers efficiencies that are often attractive to large businesses. These businesses tend to have the leverage to force their partners to switch from cash-based systems.
To do this, you need a platform that's fit for purpose. Since launching three years ago, Ongo has signed contracts with 150 corporate clients, ranging from global giants like Coca-Cola and car tire manufacturer Bridgestone to local restaurant chains. It has partnered with Myanmar Oriental Bank to offer the service under the Central Bank's 2013 Mobile Banking Directive.
By using Ongo's service, a company like Bridgestone no longer has to accept cash payments when it delivers stock to a repair shop, while branches in a restaurant chain can use the platform to send their earnings digitally to head office.
Ongo is the only mobile money provider in Myanmar focused on the B2B market, but both Wave Money and True Money told Frontier they planned to launch B2B products to complement their consumer offerings.
Technically, these platforms could already be used for business purposes, as the principle of all mobile money apps is similar: a customer has a digital account – sometimes referred to as an e-wallet – connected to a phone number, and they can deposit or withdraw cash at a participating agent. The account owner can use the e-wallet balance to do many things, including top up mobile credit, shop online or send money to another account.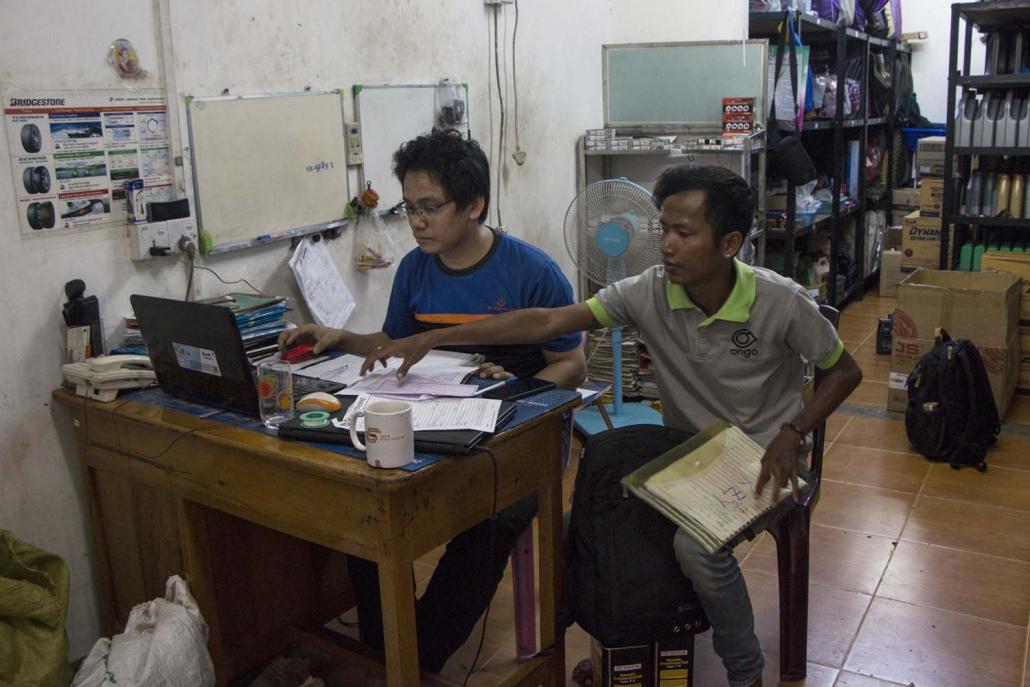 The problem for a business is the amount of cash that is being handled. Because most retail purchases are still cash, depositing it all through an agent for a consumer-focused platform would require time and manpower – it may not be any easier than using a bank.
This is where Kyaw Zaya comes in: he is one of two Ongo employees responsible for collecting cash from the 30 merchants in Insein that use Ongo.
"Per day, I visit around six of them. But most businesses I only visit once a week," he said.
When Frontier spoke to Kyaw Zaya, he had more than K1 million in his backpack that he'd just collected from a branch of restaurant chain YKKO.
When he arrived at his next stop, a travel agency, the manager was out of the office. "I'll be back in two hours," Kyaw Zaya said, and walked into the café next door. The owner still pays the bulk of his expenses in cash, but the producer of the fruit puree he ordered wanted the K132,000 payment to be made through Ongo.
"Before Ongo services, stacks of bills collected by our clients had to be transported and counted multiple times before the money would be registered on the company's bank account a few days later," Ongo CEO Mr Allen Gilstrap told Frontier. "Now, our client collections are a hundred percent digital and payment is received in real-time with each transaction on our app. Ongo customers are experiencing 25 to 35 percent operating efficiency increases in their cash handling with our digital process."
At the end of the day, Kyaw Zaya hands over the collected cash – typically about K10 million – to a non-mobile Ongo agent, of which there are 10 in Insein alone. They work on a commission scheme.
Any person using the Ongo app – including individual users – can cash in and out at these agents, just as they would with other mobile money platforms. The difference with Ongo agents is that they focus exclusively on mobile money – they don't sell drinks, chewing gum or potato chips, or act as agents for other mobile money services. They are company employees, they wear a grey shirt with the green and black Ongo logo, and they receive training on a regular basis.
Gilstrap said this was an important difference when catering to the B2B market.
"When consumers walk into many mobile money agent locations, other than Ongo, and want to do a mobile money transaction, often times the young clerk behind the counter does not have any idea what you are talking about," he told Frontier, referring to a survey that Ongo had conducted with researchers posing as customers.
"And often, if you want to withdraw cash, there is insufficient liquidity because the agent can only use the money that his shop has earned during the day. Like a bank, Ongo provides its agent employees with a separate cash drawer as it is essential to servicing its corporate clients who would not tolerate a single instance of insufficient liquidity."
While using Ongo helps Bridgestone operate more efficiently, the benefits are less clear for the Insein repair shop Desire Autoworks.
Store manager Ko Htet Wai Min still has to count the money for the tires. Before, he gave it to a Bridgestone cash collector, now he gives it to Kyaw Zaya or another Ongo employee. Now he has to manage a phone app and receive the Ongo employee, which could be considered extra work.
Asked what's in it for the merchants, Gilstrap said, "Well, it enables them to purchase goods and services from the companies who are committed to digitising their collections."
Essentially, merchants have little choice but to adopt Ongo if they want to continue working with these wholesalers and distributors. But Gilstrap adds: "Merchants using the Ongo app can also benefit from the convenience of making bill payments, topping up airtime and P2P money transfers with the Ongo wallet. And after using the app for six months, the merchant may also qualify for a cashflow loan from one of our lending clients."
TOP PHOTO: Ko Kyaw Zaya from B2B mobile money operator Ongo counts cash at a YKKO branch in Insein Township on October 10. (Thuya Zaw | Frontier)