Police were ready and waiting when a river gang tried to rob cargo vessels for the third time in five days on the Twante Canal in September.
By SU MYAT MON | FRONTIER
A DRAMATIC encounter between police and a brazen pirate gang on the Twante Canal has left two men dead and another missing, believed drowned, and highlighted challenges faced by an understaffed Myanmar Police Force to maintain law and order.
Police opened fire on the gang early on September 4 when it threatened them with knives and jinglees (catapults firing sharpened bicycle spokes) after returning to rob the skipper and crew of two cargo boats for the third time in five days.
The police officer who led the raid was stabbed in the head and hospitalised for five days after the incident.
Police had been lying in ambush after being alerted to the previous raids on the boats in Yangon's outer western Seikgyikanangto Township.
The cargo boats loaded with stone had arrived from neighbouring Ayeyarwady Region on August 31 and the first robbery occurred at about 10pm while the skippers and crew were sleeping.
"We were woken by the gang because one of them was holding a knife to the neck of one of my men," said Ko Win Htet Aung, 28, from Ayeyarwady's Einme Township, who led a four-man crew on one of the boats. "They also had their jinglees ready, so we could not resist them."
The three-member gang made off with K110,000 in cash, two mobile phones, the boat's battery and his wristwatch, he said.
The same gang, which travelled in a small boat equipped a powerful engine, returned on the night of September 2.
"I had nothing left to steal and asked them not to rob me," said Win Htet Aung. The gang turned its attention to the other boat, skippered by U Hla Win, 41, from which it took K85,000 in cash, two batteries, four mobile phones, and crew members' clothing and shoes.
"They stole all they could take," said Hla Win, from Ayeyarwady's Wakema Township.
"They warned us the second time that we might be killed if we reported them to the police, but after being robbed twice in four days we had no choice," Win Htet Aung told Frontier.
When the gang returned the next night, Police Second-Lieutenant Zaw Min Htaik from Seikgyikanaungto Township police station was waiting in a boat nearby with three colleagues and a group of community leaders.
The group, which had been in position since 9pm, was considering abandoning the operation when it heard the sound of another boat coming from the opposite bank shortly before 1am.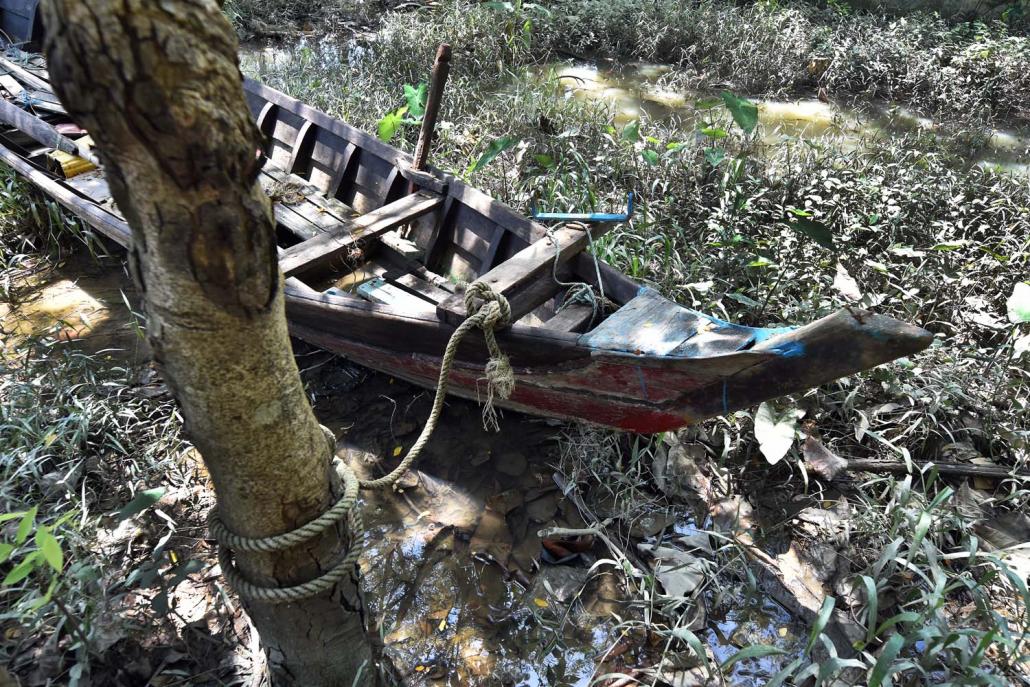 "We wanted to arrest them red-handed so we waited in silence until they boarded one of the cargo boats," said police officer Myat Thu. "We did not expect they would dare to attack us," he said.
Zaw Min Htaik challenged the gang and ordered them to drop their knives.
"Police or not, we don't care who you are; we dare you to try and arrest us if you are brave enough," came the bold reply, Myat Thu recalled.
When one of the gang members suddenly lunged at Zaw Min Htaik, inflicting a deep would in his forehead, he ordered his men to open fire.
Myat Thu said two of men were hit and fell back into their boat with fatal wounds to their upper body. The other jumped overboard.
"I fired two shots but I don't know if I hit him," he said. The man's fate remains unknown.
It was the first time Myat Thu had used his service revolver since joining the MPF and he described the experience as exciting.
"We did not want to kill, but if we had not opened fire our lives would have been at risk," he said. "We were carrying out our duty for the sake of the people."
Seikgyikanaungto Township police station commander Deputy Superintendent Thein Toe, named the dead men as Ko Sithu Lwin, 22, and Ko Sithu Phyo, 20, and said they had travelled from neighbouring Dala Township, only a few minutes away.
One of the men was married and the other lived with his parents in Dala, Thein Toe told Frontier.
There had been similar incidents in the past and the victims were often fishermen who had been robbed at knifepoint by gangs travelling in small, fast boats that the police could not catch, he said.
Thein Toe said one reason why the cargo boat skippers had initially been reluctant to report the armed robberies was because they came from Ayeyarwady Region. Taking legal action would have created difficulties for them because they would have had to attend court regularly, he said.
He said that although serious crimes were rare in Seikgyikanaungto, there were regular cases of robbery and theft. A shortage of police meant that maintaining enough patrols around the clock was a challenge.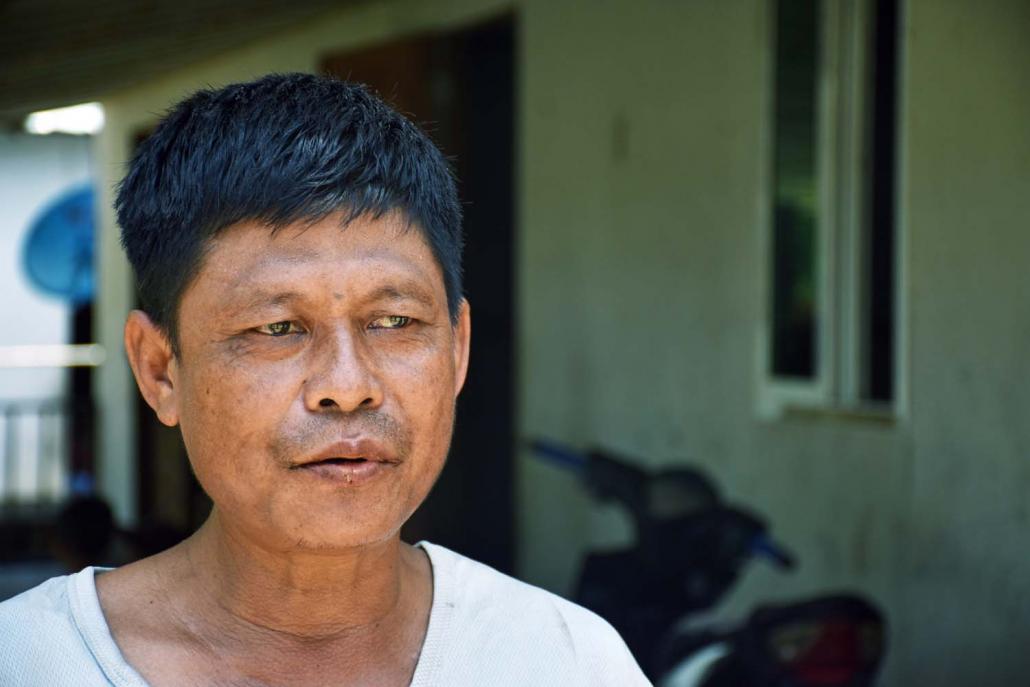 Thein Toe said police were overloaded with work because the MPF is understaffed, though it has launched recruiting campaigns in recent years and doubled the number of training academies to four. Recruitment was difficult because few people were interested in joining the MPF, for reasons that included its negative image and being required to work at all hours, he added.
Seikgyikanaungto police station had 23 personnel, but should have more than 80 staff, Thein Toe said. The township had a population of more than 34,000 when the 2014 census was conducted.
He said it would have been safer to deploy 10 police for the operation to confront the robbers, rather than four.
In June 2014, the then Deputy Home Affairs Minister Brigadier-General Kyaw Kyaw Tun told the Pyithu Hluttaw that the MPF needed to be doubled to nearly 160,000 personnel to perform its law and order roles more effectively, Mizzima reported.
The MPF was structured to have 158,685 personnel but had 74,165 staff, which was not adequate to ensure the safety of the public, Kyaw Kyaw Tun said.
Doubling the number of personnel would also bring the force up to international policing standards on the ratio between the police and the population.
Kyaw Kyaw Tun said the current ratio was 116 police personnel to every 100,000 people and the MPF needed to achieve a ratio of 250 police for every 100,000 people to be in line with international standards.
The minimum standard recommended by the United Nations is 222 police for every 100,000 people.
The gang confronted by police on the night of September 3 was not the only one active in the area, boat skipper Hla Win said. Earlier the same day he was robbed by another group of four men armed with machetes and knives, who demanded K100,000.
"I told them I didn't have any money because I had already been robbed and one told me that I would be held hostage until I provided the money," he said.
Alert citizens reported the incident to police, who went to the scene at about 8pm and arrested two of the men, while the other two escaped in their boat.
However, the two men were freed the following day, police confirmed. Thein Toe said they could not be charged because they did not brandish their knives when they demanded the money and because no weapons were found on them when they were detained.
Section 392 of the Penal Code says anyone convicted of robbery is liable to a maximum of 10 years' "rigorous imprisonment". Section 386 says anyone who commits extortion by putting a person in fear of death or grievous hurt is liable to up to 10 years in prison and a fine.
Hla Win said he was waiting at the police station when a person he didn't recognise came and demanded that the two men be released.
"They were released at the intervention of someone who seems to be influential," Hla Win said. "They even gave me a smile" as they left the police station, he added.
Hla Win said the robbery had alarmed his crew and they had quit their jobs.
"They told me they had only seen robberies in movies and experiencing one themselves had left them terrified," he said. "They have stopped working for me and I am facing difficulties to continue my business." 
TOP PHOTO: Seikgyikanaungto Township police station commander Deputy Superintendent Thein Toe. (Steve Tickner | Frontier)