Microfinance is no longer touted as the silver bullet to poverty reduction, but in credit-starved Myanmar many think it can still make a big difference if the right policies are put in place.
By HEIN KO SOE | FRONTIER
IT'S THE Yangon entrepreneurial dream: a teashop in the suburbs to call your own. But for Ma Thandar, a 39-year-old mother of two, it is just a dream – and one she's unlikely to be able to attain.
"I want to start a teashop in South Dagon's low-cost housing estate because there aren't many shops or teashops there at the moment. I think I can make money, but I don't have any capital," she told Frontier.
With no land or gold to use as collateral, a bank loan is out of the question. A microfinance institution would seem like Thandar's best bet, but government regulations limit their loans to just K5 million. However, on her salary of K150,000, she would qualify only for a much lower amount.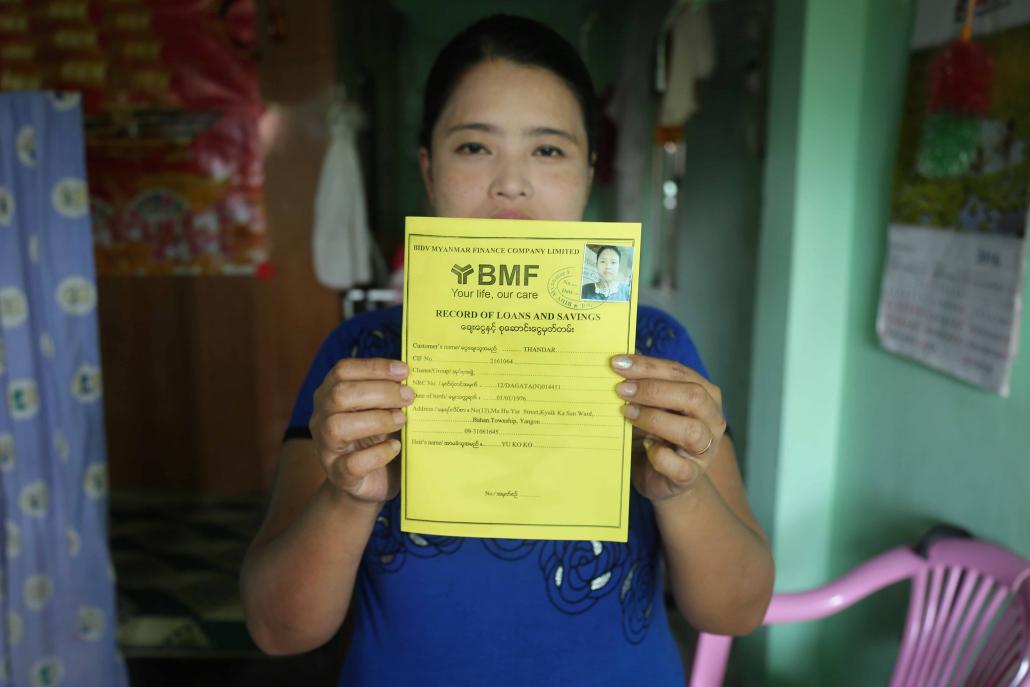 The loans on offer are not enough to secure her an apartment, but Thandar has still made use of the growing number of microfinance providers in urban areas.
Thandar rents an apartment in Tarmwe Township's Myitta Nyunt Ward for just K60,000 a month. While the market rate is K150,000 a month, the landlord agreed to drop the rent if she paid a K3 million deposit. She had K2.5 million in savings and borrowed the remainder from a Vietnamese-owned microfinance firm, BIDV Myanmar Finance.
But she still hopes that one day she might be able to realise her teashop dream.
"I want my own place to call home, but I don't think it can happen unless microfinance providers or the government decide to really help the grassroots people like us. If they do, then I think we can buy a home and start our own business," she said.
Access to finance
Thandar is far from alone in Myanmar, where access to finance is one of the most critical constraints to equitable economic growth. In 2012, the United Nations estimated that unmet demand for microcredit was close to US$1 billion. Meanwhile, a 2009-10 national household survey found the poverty rate was almost 26 percent, although a significant number of households were just above the poverty line.
For many in need of cash, the only option is informal moneylenders, who often charge as much as 10 percent or 20 percent interest a month.
Nevertheless, the microfinance sector is growing, albeit from a low base. State and cooperative microfinance has a long – and chequered – history in Myanmar, while NGO programs were only introduced in the mid-1990s.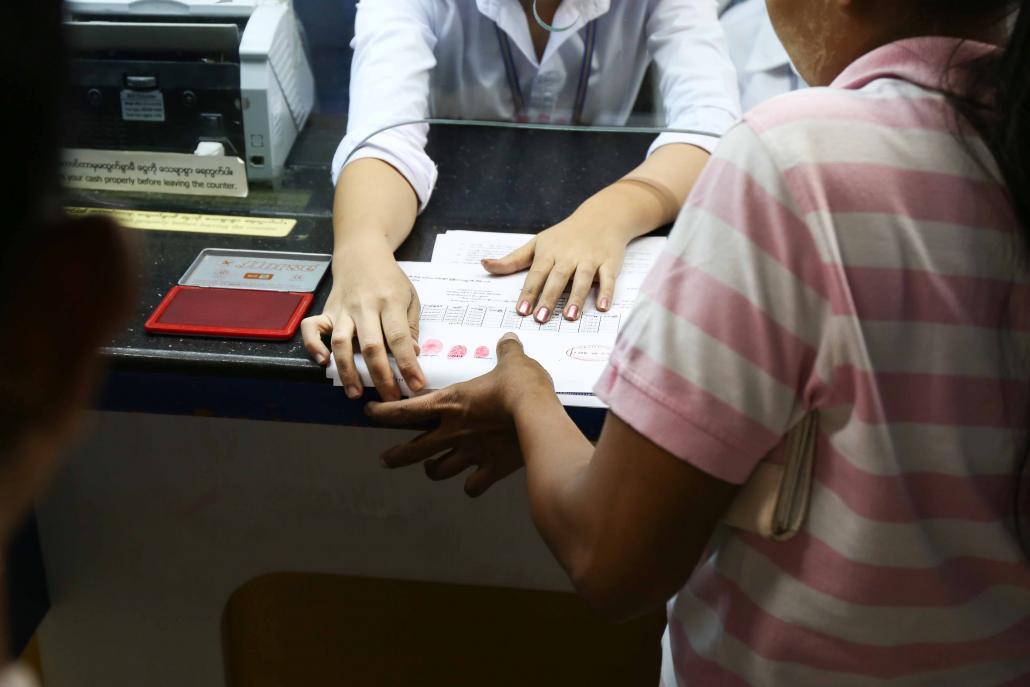 In 2011, President Thein Sein enacted a Microfinance Law, providing greater security for existing institutions and enabling private operators into the sector. As a result, the number of microfinance institutions, or MFIs, has mushroomed, according to data from the Financial Regulatory Department in the Ministry of Finance and Planning, with the private sector beginning to play a larger role.
In 2012-13 there were 126 MFIs servicing 574,085 clients. Three years later, this had risen to 167 MFIs and 1,874,387 clients in Myanmar. The institutions included five international and 24 national NGOs, 112 local companies, 22 foreign companies and four joint ventures.
These figures do not include state-run Myanmar Agricultural Development Bank, which lends to farmers at concessional rates, because it is officially considered a bank, rather than a microfinance provider.
Julie Earne, a microfinance expert at the International Finance Corporation's Yangon office, said there was "exceptional demand" for loans from MFIs, but that the regulatory framework was holding them back. Existing MFIs reach maybe one million people, while MADB serves more people in rural areas but only through very small loans to rice farmers.
"There is a large number of under-served people in this market," she told Frontier. "People need financial services for lots of different reasons. They need education loans to send their kids to school. They need secure savings.
"What happens when people do not have access to the formal sector is they go to the informal sector – to moneylenders and pawnbrokers – and they end up paying much higher interest rates. We want to be able to provide regulated, formal services that are easily accessed."
Currently there is a big gap in the loan market between the maximum that MFIs can lend and the minimum that commercial banks are willing to lend. Earne said the aim should be to narrow that through developing strong microfinance institutions that can grow with their clients.
Stifling regulations
While the previous government undertook some important changes, such as enacting microfinance legislation and associated regulations, it took a mostly cautious approach to the sector.
Like their clients, MFIs are starved of credit. This is the main reason they are unable to meet the massive demand.
Foreign MFIs cannot borrow from Myanmar banks and the cost of currency conversion and hedging makes it prohibitively expensive to access foreign loans. While local MFIs can borrow from Myanmar commercial banks, the MFIs rarely have the required collateral, and the cap on loan interest rates at 13 percent makes it uneconomic for the banks to do so.
Restrictions on the services they can offer, and caps on loan sizes and interest rates have also limited the impact of MFIs and their ability to grow.
Earne said that MFIs are currently restricted to one product: loans of up to K5 million. But there is a need a range of services – not just loans of larger sizes, but also insurance, transfer services and a place to make deposits.
"MFIs need to be able to offer a range of services, not only small loans. They need to be able to leverage their equity by getting debt, and those that are capable and well governed should show that they are able to adhere to stricter regulations in order to provide more services," she said.
An industry body, the Myanmar Microfinance Association, has proposed a range of policy reforms to accelerate growth in Myanmar.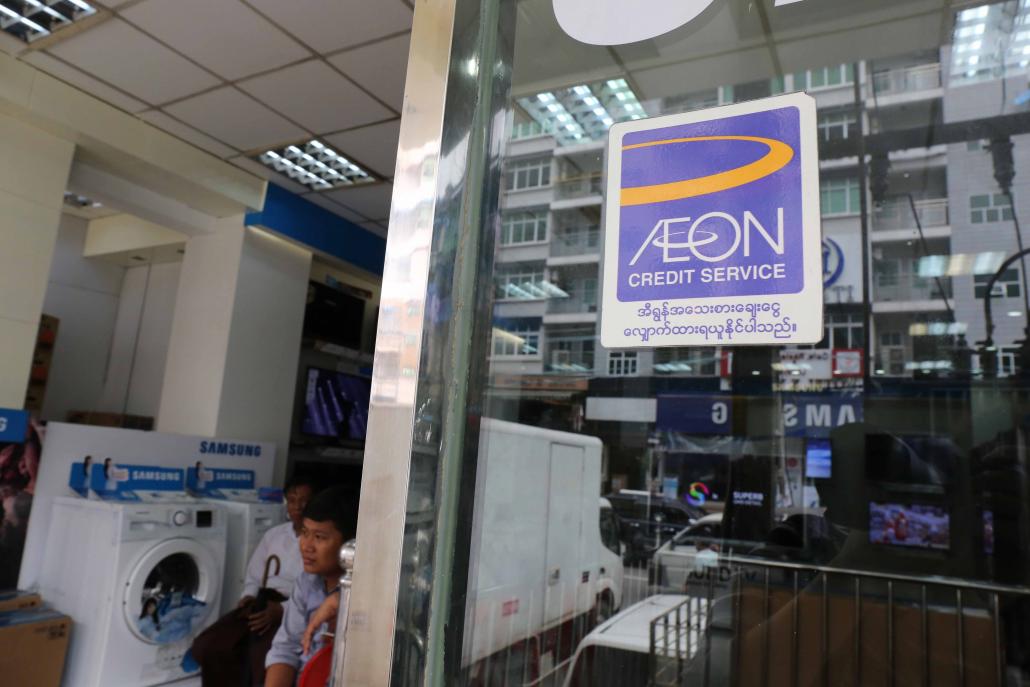 In March 2016 the association wrote to the Ministry of Finance's Financial Regulatory Department, which oversees the sector, outlining its desired changes.
These include phasing out restrictions on customer deposits and access to finance for MFIs, and reducing liquidity ratios and minimum interest rates on deposits. The association also urged regulators to allow MFIs to be allowed to expand the range of services they can provide, and to ensure transparency in policymaking and enforcement.
The head of the department, director general Daw Sandar Oo, provided only a short response to questions from Frontier. She said the Ministry of Finance and Planning and the former Ministry of Cooperatives – now part of the Ministry of Agriculture, Irrigation and Livestock – drafted a financial inclusion roadmap under the previous government, and it has now been put forward to the new administration.
The development of the microfinance sector would require more capital, improved human resources and an increase in financial education for clients, she said.
Frontier understands that Sandar Oo is "very supportive" of the sector; one source said she had received the association's petition and was considering the proposed reforms. The new government, the source said, had adopted a collaborative approach based around regular dialogue with those in the sector.
This is not necessarily surprising. The government has publicly identified microfinance reform as a priority, particularly to support poverty alleviation in rural areas and growth in the agriculture sector.
In part, its interest is due to the politics of reform: because the regulator is the Ministry of Finance rather than the semi-autonomous Central Bank of Myanmar, it can move faster in terms of implementing changes.
Sean Turnell, an economic adviser to the National League for Democracy, said another reason for prioritising microfinance sector reforms is that they could have a relatively rapid impact.
"Microfinance is usually very nimble, and responds quickly to demand. Banks and the like are slower. Myanmar has many good MFIs, many of which are in a position to scale up," said Turnell, an associate professor of economics at Sydney's Macquarie University who was written extensively on banking in Myanmar.
City vs country
The picture varies significantly between the city and the country, said Ma Phyu Yamin Thet, an executive member of the Myanmar Microfinance Association.
Speaking at a discussion on the future of the finance sector on June 12, she said that most MFIs lack the capital and resources required to offer credit in rural areas.
"There are so many MFIs in the cities, but if they have a small amount of capital they can't go to rural areas. Only the biggest organisations and NGOs can work there," she said.
No single institution can meet farmers' credit needs, so where possible they borrow from multiple providers. The MADB, for example, lends up to K200,000 an acre for monsoon paddy, but the estimated cost of cultivation is more than K300,000.
In Ayeyarwady Region's Pantanaw Township, UNDP is the only other microfinance institution offering loans, said farmer Ko Ye Min Htun.
Each monsoon season he grows paddy on his parents land – more than 20 acres – while in summer he grows beans. But the loans on offer are only in the K50,000 to K100,000 range, he said.
"I don't borrow from UNDP because the amount is too small to be useful for my farm. But I do know some farmers who borrow from UNDP," he said. "If the MFIs could loan K1 million or K1.5 million to each farmer, I might be more interested."
Daw Kyi Lay, from Ohn Tone Pin village in Monywa Township, Magwe Region, said she had recently applied for a loan from Proximity Finance. Proximity is one of three MFIs in the area, and offers loans of up to K250,000, she said. Last year, she also borrowed K200,000 from the Ministry of Co-operatives, under a loan project funded through loans from China, and has since repaid the money.
She farms 7 acres, spending from K500,000 to K700,000 a season cultivating onions.
"The amount [from MFIs] is very small but when you don't have any other support, it's better than nothing. It can help to some extent," she said.
Even in urban areas, microfinance access can still be limited.
ACLEDA MFI Myanmar, a subsidiary of Cambodia's largest private bank, is one of the new entrants into the sector.
ACLEDA manager Ma Htet Htet Khaing said the MFI lends to low-income households in Yangon and Bago regions, in both urban and rural areas. First-time borrowers can take K100,000 to K500,000, while for returning customers the limit is K1.5 million. All loans incur monthly interest of 2 percent.
But not everyone is eligible. The loan limits are based on an applicant's income and monthly expenses, Htet Htet Khaing said, meaning those without stable work will likely not qualify.
They also need to have official identity documents, such as a Citizenship Scrutiny Card and a household registration list.
This means many of the poorest in society – particularly those in illegal housing – are unable to access loans from MFIs.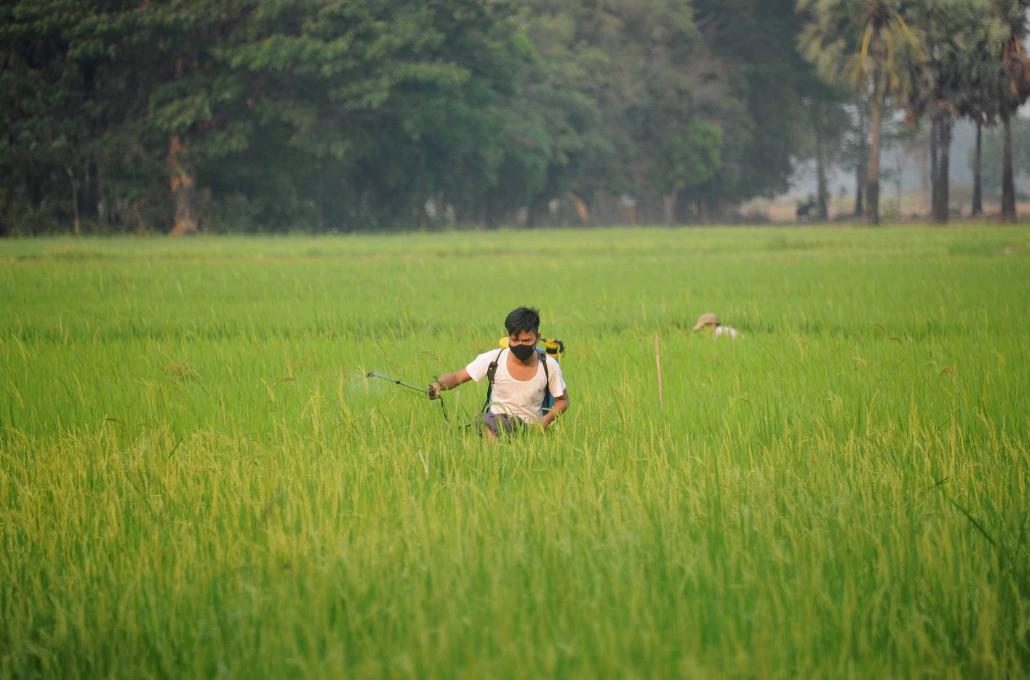 Motorbike taxi driver Ko A Kyi Kaung lives in an illegal settlement in Dagon Seikkan Township. He told Frontier he had never heard of microfinance. When it was explained to him, he said, "I don't think they would lend money to me. I have no [identity] card."
When he gets into financial trouble, he borrows from local moneylenders at an interest rate of 25 percent a month. But even at this price they are often unwilling to lend him money.
"Sometimes I borrow money, especially for motorbike repair – say K10,000 – from individual lenders but it's very difficult. Some don't want to lend because I have no property, but some understand me," he said.
Even those who are eligible for microfinance loans doubt whether the amounts currently on offer are enough to make much of a difference. "If the MFIs can only lend a small amount," said Thandar, the aspiring teashop owner, "I'll never be able to get ahead – I'll always be on the edge of poverty."
Making microfinance work
Microfinance was once considered the silver bullet to alleviating poverty, but enthusiasm has been tempered in recent years. Indeed, scholars are deeply divided over whether microcredit and access to microcredit has a positive impact at all on either poverty or growth of microenterprises.
One 2014 meta-analysis of 25 empirical studies by a researcher from Australia's Monash University found "no robust evidence of any significant impact on microenterprises". There was also "no evidence [of] any strong positive impact" on poverty levels. However, the briefing document also concluded there was a need for more and better research on the impact of microcredit, and acknowledged some of the studies included have been widely criticised.
Some argue that microcredit cannot be viewed in isolation from other forms of support to communities. They remain optimistic that, in the right conditions, microloans can bring benefits for credit-starved communities in Myanmar.
"Despite the 'bad press' it has got globally in recent years, microfinance is vitally important – but only as a package," Mr Adam McCarty, chief economist at Mekong Economics, told Frontier. "Also needed, basically at the same time, is better health, education, and access to markets and information. The need for 'a package' – where one change supports and is dependent on others – is what makes development so difficult."
McCarty said competition was also important – and it should come from the private sector. "The government should only set the rules, enforce the rules, and ensure competition," he said.
Earne from the IFC said that in a country as credit-starved as Myanmar, microfinance would be "a very important tool" for supporting economic growth.
"Not many people have a job with a paycheque, a job with a company. Many people have their own small businesses and those small businesses need financial services, they need access to capital, they need insurance, they need a safe place to save money, and so the more micro, small and medium businesses that have access to financial services the better the economy will be able to grow."
With good regulation, microfinance institutions could meet much of the demand for financial services in Myanmar, Turnell said.
"Ninety percent of Myanmar's population don't have a bank account, cannot access affordable credit that doesn't send them into deeper poverty, and have no formal financial services to make precautionary savings," he said. "Microfinance can deliver all of these things, and has done so in many places around the world."
Top photo: A teller at microfinance provider ACLEDA MFI Myanmar in Bahan Township explains the terms of a loan to customers. (Victoria Milko / Frontier)